AFTER months of speculation and secrecy surrounding the highly anticipated launch of American online retailer Amazon, it now looks likely it will do a soft-launch in Australia on Thursday.
It appears that Amazon launch a day before "Black Friday" which is a well known massive sales event in the US on the day after Thanksgiving Day.
Lifehacker reports that Amazon will start an internal testing phase with a small number of customers from 2pm AEDT on Thursday.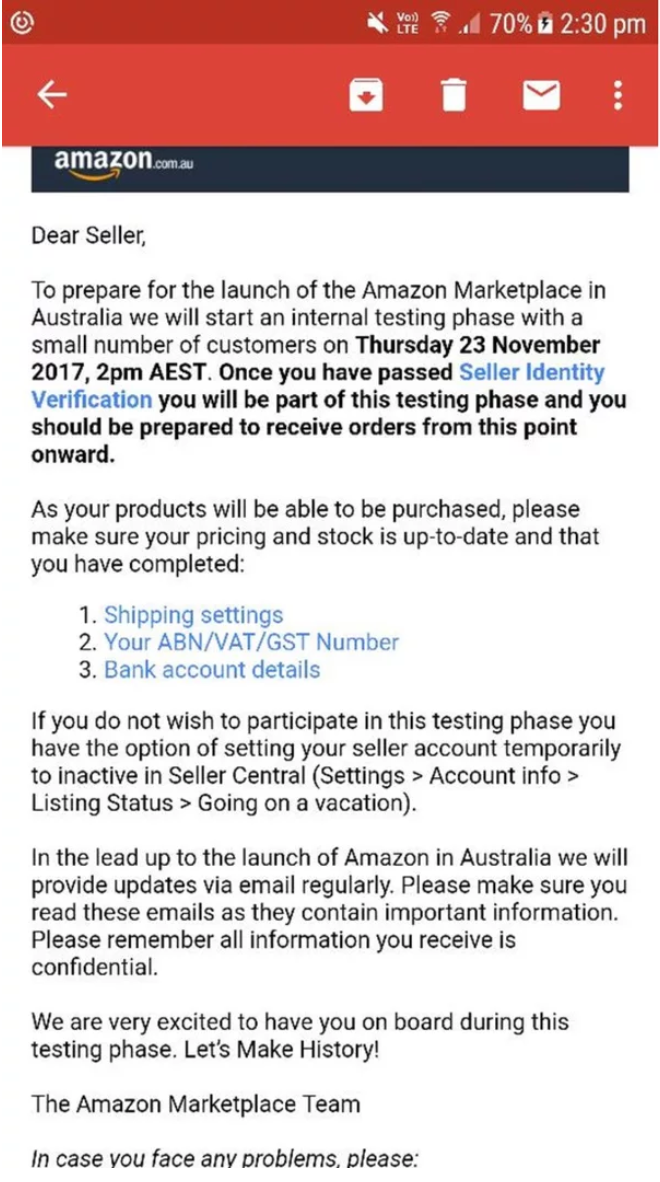 While it is unclear as to how many customers Amazon means by "a small number of customers" this is the first indication the company has given to suggest they will be launching.
Earlier this month, Australia manager of Amazon.com.au, Rocco Braeuniger, said it will launch in Australia "before Christmas".
While many small businesses have chosen to embrace Amazon's entry into the Australian market and have signed up to the Amazon Marketplace initiative, others have cause for concern about the retail giant's arrival in the country.
Head of global e-commerce solutions provider SAP Hybris, Stuart O'Neill, says the e-tailer's arrival will have a huge impact on Australia's retail environment.
"Amazon's launch marks a major shake-up for Australian retailers," says O'Neill.
"But there is an upside. Not only does it represent a new, digital outlet for small retailers to reach their audiences, but will hopefully increase the focus on customer experience across the entire retail industry."
"Smart retailers know success in this market is achieved by focusing their efforts on their customers not their competition. A recent SAP survey revealed clear demand from Australian consumers for high-quality, seamless and personalised experiences across online and physical stores. Whether you're a global giant like Amazon, or a family-run shop on a suburban street, they will flock to the retailers who deliver on this expectation."
With the entry of Amazon, the online shopping industry in Australia is expected to grow at an annualised 13.5 per cent over the five years to 2017-18, to reach $20.1 billion, according to information researchers IBISWorld.
The research firm believes department stores and electronic goods retailers are expected to be the hardest hit by Amazon's arrival.
"Technology products are anticipated to be the highest selling category for Amazon, which will disrupt the electronic goods industry," says Kim Do, Senior Industry Analyst for IBISWorld.
Currently, Australian online sales are expected to account for an estimated 7.4 per cent of total retail spending, although this figure is projected to reach 15 per cent by 2022-23.
Never miss a news update, subscribe here. Follow us on Facebook, LinkedIn, Instagram and Twitter.
Business News Australia
Get our daily business news
Sign up to our free email news updates.