AS THE Australian population continues to grow, analysts are predicting what the country is likely to look like within the century.
Research conducted by IKEA Australia in its People & Planet Positive Report shows that the headcount is likely to reach 70 million in the next hundred years, but only a fraction of the current population is anticipating and preparing for this change.
All signs point to co-living as the next frontier for the population, where neighbours share cooking and dining spaces as well as gardens, living rooms and laundries.
The report found that 68 per cent of Australians believe the country is not prepared for a population increase, while 59 per cent do not believe that significant changes to housing conditions will occur within their lifetime.
Kate Ringvall, sustainability manager at IKEA Australia, says a population growth which meets the forecasts will likely result in the rise of new cities where developers seek to make the most out of available space.
"There's a very real chance that as a society, we may not be that realistic with our vision of the future of our society," says Ringvall.
"Australians need to be open-minded about our sustainable future. As our cities become denser, this presents an enormous opportunity to actively create the cities we want, as opposed to inheriting the legacies of previous generations."
In Copenhagen, Denmark, IKEA has created a future-living lab called SPACE10 where it has been developing new solutions to address the changing needs of the world's population.
One of these solutions is the 'Growroom' which is an open-source pavilion that introduces the idea of food production and sharing to the urban market.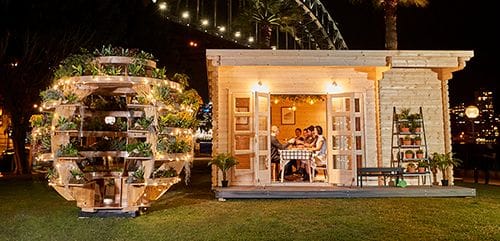 Simon Caspersen of SPACE10 says sustainable innovations like the Growroom are important to consider as part of future living.
"The next 20 years are going to be much more important for humanity than most people realise," says Caspersen.
"With a growing population, rapid urbanisation, millions of people emerging from extreme poverty every year, climate change and growing pressure on natural resources such as fresh water, energy and food, we as humans need to rethink our way of life."
IKEA hosted its sold out Shared Dining Experience in a Scandinavian backyard cabin in Sydney earlier in the month, where people experienced innovations including the Growroom first hand.
Never miss a news update, subscribe here. Follow us on Facebook, LinkedIn, Instagram and Twitter.
Business News Australia
Get our daily business news
Sign up to our free email news updates.