An Indonesian-born scientist, whose PhD at the University of Newcastle unlocked the secret to extracting potent 'activated phenolic' antioxidants from apples, is now entering a new stage of his Australian business journey after Renovatio Bioscience secured a contract worth more than $5 million with retailer Coles Group (ASX: COL).
This adds to Renovatio's existing stockist deals for its health & wellness product range with Woolworths Group (ASX: WOW) and Mr Vitamins, as well as exports in Asia.
"Not only are our products Australian grown and made, they also support Australia's apple farmers," said Renovatio founder Dr Vincent Candrawinata, who is grateful to industry bodies Hort Innovation and Apple and Pear Limited (APAL) that supported his research.
"We have grown so quickly over the last few years given the level of support and interest we have gained from consumers all over the country and now overseas, that we could fill jumbo size planes with the amount of apples we are processing and utilising for our products."
Candrawinata, who was a finalist in last year's Sydney Young Entrepreneur Awards, told Business News Australia the company takes apples that are not suited for supermarkets because of their shape, size or colour, and turns that fruit that would have either been thrown away or sold cheaply into a high-value product.
This is because of technology invented in 2012 by the food nutritionist that allows for the extraction and activation of phenolic antioxidants from plants without the use of any chemical solvents. He said this natural method achieved "unprecedented" potency of up to 97 per cent, with antioxidant extracts that are highly bioavailable and absorbable.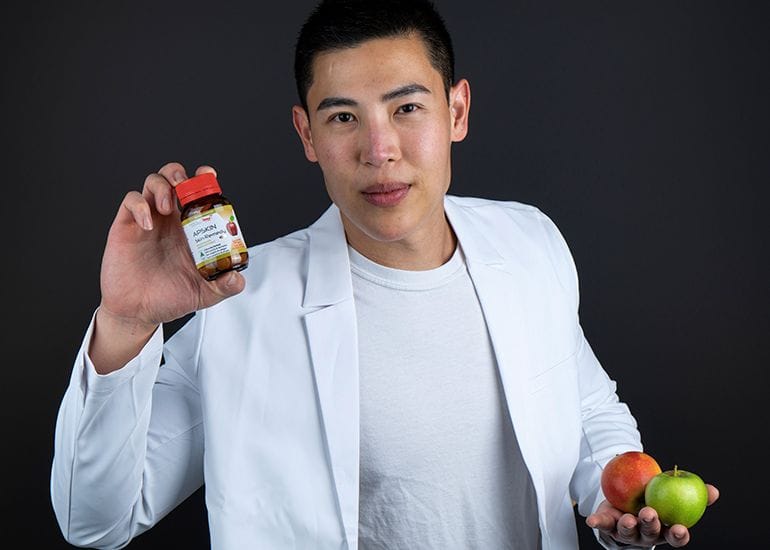 After the technology was patented, it was Dr Candrawinata's grandmother who inspired and urged him to commercialise the discovery.
"I went back to Indonesia that year and saw my grandma was suffering from really bad arthritis in both of her knees," he explained.
"She was initially scheduled for surgery however her friend with the same condition underwent surgery and it was not successful, causing her to change her mind. My grandma was a ballroom dancer and her conditions rendered her basically wheelchair-bound.
"I told her I was working on an anti-inflammatory substance and asked if she would try it."
His grandmother took the product, and three months later came to Australia where she was able to walk from Dr Candrawinata's home at the time in Haymarket all the way to the Sydney Opera House.
"My Grandma told me that I have given her the best gift because I have given her a new life," he said.
"Fast forward to 2014 when I finished my PhD, I was already teaching at the time however my grandma encouraged me to commercialise my research, because she believed it would help more people when they can access the products rather than letting the thesis collect dust in a library.
"I initially hesitated because I could not reconcile scientific endeavour and making money, but my Grandma told me to reconsider."
Thus, in 2015 he formed the company Renovatio, which means 'new life', developing a range of supplements and skin care products. The company has also recently moved into pantry items as well, launching its activated apple cider vinegar.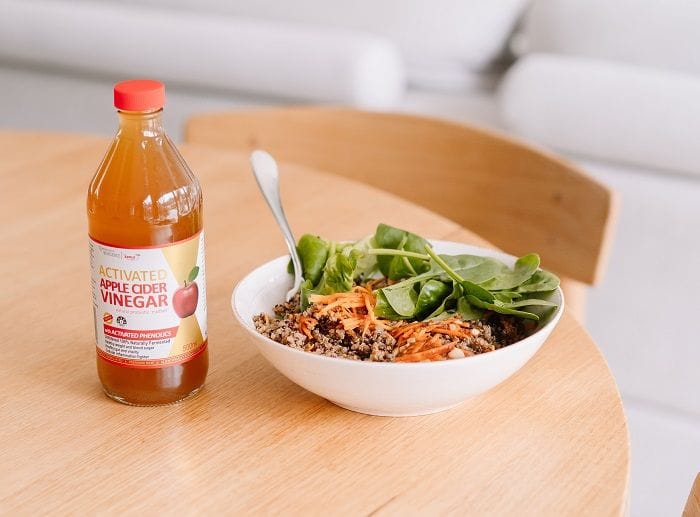 For the Coles deal just announced, the company's Activated Phenolics An Apple A Day Tablets, Immunity Plus+ and Mental Resilience Chewable will be available at all Coles supermarkets nationwide.
"It is wonderful that three of our products will now be available for sale with the supermarket, and we hope over time that we can expand the number of products on shelf at Coles to include our entire range.
"Activated phenolics support cellular health. They help the body to remove free radicals that damage our cells and support good overall health and wellness."
Get our daily business news
Sign up to our free email news updates.