Very few business success stories begin with a second-hand campervan sitting in a backyard in suburban Brisbane. In fact, this is probably the only one.

It's the 1970's and Gus and Carloyn Trouchet love taking their two young sons on school holiday getaways in that motorhome but in between those times, what to do with the thing?

The answer is a simple one: rent it out to
other people and make a little money. By 1985, the Trouchet's founded Apollo with one vehicle and today their two sons, Luke and Karl, head what is now a true multinational business which manufactures, imports and retails a range of recreational vehicles including motorhomes, campervans and caravans.
Apollo is also a major player in the rental fleet operator segment and is one of the largest RV operators in the world with more than 4,000 vehicles in Australia, New Zealand, USA and Canada.
Apollo's business is a complex one, but its model and sales strategy is relatively simple: build or buy it, rent it and then sell it.
Luke and Karl (pictured left and right) finished their university degrees and then took over the family business in 2001 as the CEO and CFO respectively as their parents retired. They listed Apollo Tourism and Leisure (ASX: ATL) in November 2016 at $1 a share. Shares in ATL are now worth around $1.68 and it has a market capitalisation of around $300 million.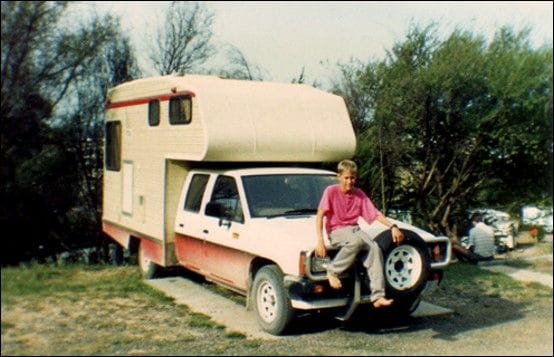 Luke Trouchet with the family motorhome
Under their guidance, the company has a simple aim. It wants to become the world's first global rental van brand, and it's raised money to fund an aggressive acquisition and expansion strategy, both here in Australia and in North America and is also looking to Europe and the UK.

Since listing, the Brisbane-based company has purchased the TSX-listed CanaDream which is one of the largest RV rental and sales companies in Canada.

Apollo also picked up Kratzmanns, an Australian retailer of new and used caravans and motorhomes along with Sydney RV and invested in Camplify which is an online RV and caravan sharing community that connects owners with renters.

Business News Australia spoke with Apollo Tourism and Leisure CEO and managing director Luke Trouchet and asked him to explain the evolution of the family's backyard business.
Q: When you and your brother Karl took over the business from your parents, did you have a plan in mind that you were going to get to where you are today?
We certainly didn't have a plan to get to become a global business by any means. At that point it was step by step, so we went from Brisbane to Sydney. We then went to Cairns and opened up Australia wide. But we were never sitting back on our laurels. We always wanted to go to the next step but we didn't have that green ambition at that stage, so, it was really step by step, building the blocks. But once we'd achieved something, we'd then go 'well what's next'. And that meant from Australia, to New Zealand to the US to Canada.
Q: Have you ever mapped out where you want to be by a certain time? What sort of projections do you have in your business plan?
It was 17 or 18 years ago when we took over Apollo. Since then, we've had the opportunity of sitting back and we've got a very detailed strategic plan now of how we put together everything in the whole ecosystem. So yes, we have a very deliberate strategy and we've earmarked other places around the world we want to get to. Other dealership locations in Australia, other rental locations in the States. What we don't have is the specific timeline, because it will happen, but it'll happen as we feel that the business is ready for it.

Carolyn Trouchet in the early days of Apollo
Q: You've identified North America as a real growth market. What potential do you see there?
At the moment, we're the third biggest player but the largest player is USA number two, three, four and five together and you still don't get number one. So, it's just huge population base, huge inbound tourism numbers and big cities all throughout the country that can sustain experiential outlets going in there. We've got seven locations in the States. We would like to get up to 20 locations.
Q: And Asia? That's a bit of a challenge to get the Asian market into motorhomes and the like. How are you going to achieve that?
We're just doing the basics with translating all of our information into Chinese and getting payment gateways that the Chinese use. So, they use Union Pay. We didn't have Union Pay previously and now we've now got Union Pay. We've got our business China accredited, so we've trained our staff in how to be ready for the Chinese guests when they turn up at the branch. There's cultural nuances. We've got to have all the operation videos, instruction books translated into Chinese.

Then from the sales and marketing perspective, we've employed a Chinese lady and her job is to go into market, visit the travel agents over there, but also develop some social digital platforms for us to engage Chinese guests. So, it's a long journey, but there's so many visitors from China coming here, all we need is a little bit to change our whole channel.
Q: You're set to launch a new Apollo app. What's happening with that and what can we expect from it?
The app is with Apple at the moment to be approved. So, we hope to go online in the next week or two. And again, we've got essentially a beta version out there, but guests can book their holidays, holiday parks so they can search for a holiday park in Byron Bay. See the different four that have sites available, then book straight online. You can book attractions and experiences. You can go skydiving, whale watching. You can go to Dreamworld, Sea world, et cetera. And it shows where fuels stations are, where shopping centres are and over time we'll continue to develop that.

And the guest app will be linked into the GPS tracking in the motor homes so we can send them a push notification, for example, if they're driving past Australia Zoo. Hey, you're in this area, here's some great restaurants to go to, here's some great theme parks or attractions to go to and you get a discount for being an Apollo guest plus we get a clip of the business on the way through.
Q: You see that as a big revenue driver for the business, do you?
We do. We've got lots of people who use our product. Our approach is 'how can we maximise any victories, or any sales?'. And it's not only the rental guests. When we sell someone a Winnebago, they use that product for the next 10 or 20 years. They're staying at holiday parks all the time, so we will be offering the app to not only rental guests but to people who buy the product from us.
Never miss a news update, subscribe here. Follow us on Facebook, LinkedIn, Instagram and Twitter.
Business News Australia
Get our daily business news
Sign up to our free email news updates.