Sydney-based drone defence company DroneShield has completed the largest order in its history, selling a record number of its tactical DroneGun products to the Middle East.
The deal, which is also reportedly the largest known order of its kind in the world, is worth $3.2 million and involves the sale of 70 DroneGun units to a classified allied country in the Middle East.
DroneShield's products are currently being used around the world in warfare situations, as well as by governments protecting critical infrastructure and major events, to detect and disable hostile drones.
CEO Oleg Vornik says the company's latest deal is a defining moment and cements the relationship with an allied Ministry of Defence which has one of the largest budgets in the world.
"This is a company-making sale... a large order by one of the most sophisticated users of security and defence equipment in the world," says Vornik.
"We view this order as just a start of our relationship with the Ministry of Defence and expect to receive substantial additional orders."
The deal comes as dangerous drone activity in the Middle East continues to rise.
There have been dozens of drone attacks in the region since the beginning of the year, including Israel's reported intercept of an Iranian drone, a reported organised attack on a Saudi Aramco facility by Yemen's Houthi rebels and an attempted attack on a Saudi airport by a terrorist drone.
The order of 70 DroneGuns remains subject to regulatory approval by the United States, but if granted, the company expects to receive notice within the next two months.
In the past year, DroneShield products have been deployed at several major world events including the PyeongChang Winter Olympics, the Gold Coast Commonwealth Games and the 2018 NASCAR Cup Series at the Texas Motor Speedway.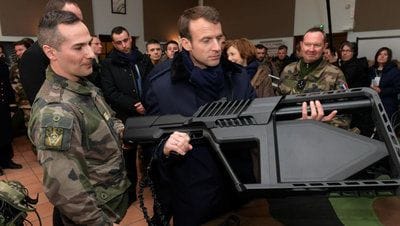 French President Emmanuel Macron reviewing DroneGun
The product has also been reviewed by French President Emmanuel Macron, which helped spur DroneShield's foray into the European market.
Following its significant deal in the Middle East, Vornik expects the company will soon have the capacity to target even larger defence contracts.
"We have previously advised the market of our discussions with larger industry participants about a range of potential corporate transactions," he says.
"Larger defence 'prime contractors' and security integrators are looking to ascertain which companies emerge as the winners in the anti-drone 'arms race'."
"This order places DroneShield at the forefront of the industry and is likely to have a substantial positive effect on DroneShield's corporate discussions with larger industry players."
Shares in DroneShield spiked on annoucment rising 19.4 per cent at $0.21.
Never miss a news update, subscribe here. Follow us on Facebook, LinkedIn, Instagram and Twitter.
Get our daily business news
Sign up to our free email news updates.