An Australian smartphone skincare analysis technology developed with the world's largest consumer products company is being showcased at innovation conference CES in Las Vegas.
Perth-based OBJ (ASX:OBJ) reached a patent and know how license agreement for its electro-magnetic technology with Procter & Gamble (P&G) in March last year.
At the time, OBJ managing director Jeffrey Edwards (pictured) claimed the platform brought a "very new and exciting approach" to skin care advancement across all market channels including online sales.
Greater market reach is now in OBJ's sights with products based on its development - also known as In-Field Programmable Array Technology - on display at the International Consumer Electronics Show (CES), running from 9-12 January.
Edwards tells Business News Australia this is actually the first time P&G has had a stand at the event. Within its range there are two OBJ products on display - one is a magnetic power booster with the SK-II brand which was launched in 2014, and the other is a smart system for Olay to combine skin analysis software with new wand tracking technology.
"For the Olay brand we've done what we consider to be the world's first interactive skincare wand. It talks to your smartphone which runs some very special skin diagnostics," he says.
"You take a picture of yourself, the skin diagnostics scan the face and determines if you need hydration here, moisture here, anti-ageing here, and it creates what's called a virtual mask.
"In the picture in front of you it shows you the areas, and as you move the wand across your face it drives the correct active ingredient into your skin according to your personal skincare."
Edwards describes it as a great honour to present alongside P&G at such a prestigious expo, through a "very public demonstration" of the strong technical and working relationship that exists between the two companies.
"We've got devices here doing demonstrations and you tend to do about 50 an hour," he says.
"It's pretty hectic but it's an exciting place where you go and see what's happening worldwide, and we think we're right up there with everybody else."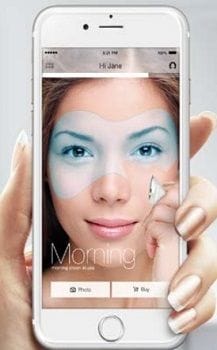 He says OBJ has now manufactured 1.6 million products for P&G in the market, with an "ongoing and upward growing business in the skincare space".
"What we're presenting now will become the next generation in the norm in the P&G skincare business in the next year or so," he says.
OBJ saw revenue rise marginally in FY2018 to $2 million, running at a loss of $1.6 million. But according to chairman Tony Varano the results show promise, including increased royalty revenue, lower costs and the lowest loss per share since 2014.
"The strategy adopted has been to continue to invest in our core technology whilst strengthening the trading aspect of the business, with a strong focus on the health and wellness space," Varano said following the release of OBJ's Annual Report in September.
"What the figures do not show is the other work that has been done to improve our existing licencing agreements - a good example being the reduction to the scope of exclusivity that P&G has in skin care," he said.
"OBJ Management has continued to be very active in ongoing negotiations with several multinationals in fields where our technology can be utilised."
When asked about the path to profitability, Edwards also points to strong growth and a prospective pipeline of new product introductions.
"Since we launched the first product with P&G we've been doing 300 per cent increase in gross sales year-on-year, so it's an upward path," he says.
"We currently have more new products for P&G in the development pipeline than we have had since 2014, so the number of new products will now exceed all the products we've made for them combined.
"That's certainly a larger haul of products getting into much larger volumes as they move into different parts of the world.
Never miss a news update, subscribe here. Follow us on Facebook, LinkedIn, Instagram and Twitter.
Business News Australia
Get our daily business news
Sign up to our free email news updates.