I RECENTLY watched the federal treasurer, Scott Morrison, proudly proclaim that Australia was in "surprisingly good shape".

Indeed, Australia has just snatched the world record from the Netherlands, achieving its 104th quarter of growth without a recession, making this achievement the longest streak for any OECD country since 1970.
I was pretty shocked at the complacency, because after twenty six years of economic expansion, the country has very little to show for it.
"For over a quarter of a century our economy mostly grew because of dumb luck. Luck because our country is relatively large and abundant in natural resources, resources that have been in huge demand from a close neighbour."
That neighbour is China.
Out of all OECD nations, Australia is the most dependent on China by a huge margin, according to the IMF. Over one third of all merchandise exports from this country go to China - where 'merchandise exports' includes all physical products, including the things we dig out of the ground.

Outside of the OECD, Australia ranks just after the Democratic Republic of the Congo, Gambia and the Lao People's Democratic Republic and just before the Central African Republic, Iran and Liberia. Does anything sound a bit funny about that?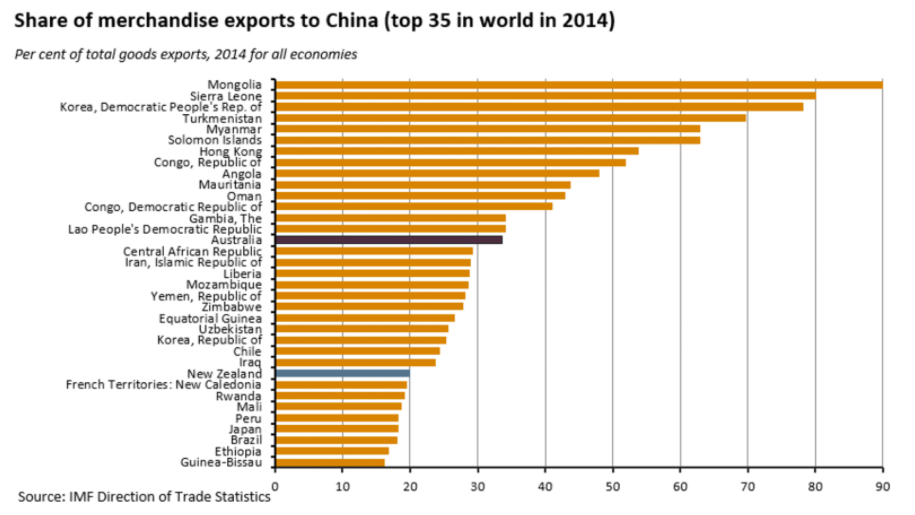 "As a whole, the Australian economy has grown through a property bubble inflating on top of a mining bubble, built on top of a commodities bubble, driven by a China bubble."
Unfortunately for Australia, that "lucky" free ride is just about to end.

Societe Generale's China economist Wei Yao said recently, "Chinese banks are looking down the barrel of a staggering $1.7 trillion worth of losses". Hyaman Capital's Kyle Bass calls China a "$34 trillion experiment" which is "exploding", where Chinese bank losses "could exceed 400 per cent of the US banking losses incurred during the subprime crisis".

A hard landing for China is a catastrophic landing for Australia, with horrific consequences to this country's delusions of economic grandeur.

Delusions which are all unfolding right now as this quadruple leveraged bubble unwinds. What makes this especially dangerous is that it is unwinding in what increasingly looks like a global recession- perhaps even depression, in an environment where the US Federal Reserve (1.25%), Bank of Canada (1.0%) and Bank of England (0.25%) interest rates are pretty much zero, and the European Central Bank (0.0%), Bank of Japan (-0.10%), and Central Banks of Sweden (-0.50%) and Switzerland (-0.75%) are at zero or negative interest rates.

As a quick refresher of how we got here, after the Global Financial Crisis, and consequent recession hit in 2007 thanks to delinquencies on subprime mortgages, the US Federal Reserve began cutting the short-term interest rate, known as the 'Federal Funds Rate' (or the rate at which depository institutions trade balances held at Federal Reserve Banks with each other overnight), from 5.25 per cent to 0 per cent, the lowest rate in history.
When that didn't work to curb rising unemployment and stop growth stagnating, central banks across the globe started printing money which they used to buy up financial securities in an effort to drive up prices. This process was called "quantitative easing" ("QE"), to confuse the average person in the street into thinking it wasn't anything more than conjuring trillions of dollars out of thin air and using that money to buy things in an effort to drive their prices up.

Systematic buying of treasuries and mortgage bonds by central banks caused the face value of on those bonds to increase, and since bond yields fall as their prices rise, this buying had the effect of also driving long-term interest rates down to near zero.

In theory making money cheap to borrow stimulates investment in the economy; it encourages households and companies to borrow, employ more people and spend more money.
"An alternative theory for QE is that it encourages buying hard assets by making people freak out that the value of the currency they are holding is being counterfeited into oblivion."
In reality, the ability to borrow cheap money was mainly used by companies to buy back their own shares, and combined with QE being used to buy stock index funds (otherwise known as exchange traded funds or "ETFs"), this propelled stock markets to hit record high after record high even though this wasn't justified the underlying corporate performance.

Europe and Asia were dragged into the crisis, as major European and Asian banks were found holding billions in toxic debt linked to US subprime mortgages (more than 1 million US homeowners faced foreclosure). One by one, nations began entering recession and repeated attempts to slash interest rates by central banks, along with bailouts of the banks and various stimulus packages could not stymie the unfolding crisis. After several failed attempts at instituting austerity measures across a number of European nations with mounting public debt, the European Central Bank began its own QE program that continues today and should remain in place well into 2018.

In China, QE was used to buy government bonds which were used to finance infrastructure projects such as overpriced apartment blocks, the construction of which has underpinned China's "miracle" economy. Since nobody in China could actually afford these apartments, QE was lent to local government agencies to buy these empty flats.
"Of course this then led to a tsunami of Chinese hot money fleeing the country and blowing real estate bubbles from Vancouver to Auckland as it sought more affordable property in cities whose air, food and water didn't kill you."
QE was only intended as a temporary emergency measure, but now a decade into printing and the central banks of the United States, Europe, Japan and China have now collectively purchased over US$19 trillion of assets. Despite the the lowest interest rates in 5,000 years, the global economic growth in response to this money printing has continued to be anaemic. Instead, this stimulus has served to blow asset bubbles everywhere.

So if one naively were looking at markets, particularly the commodity and resource driven markets that traditionally drive the Australian economy, you might well have been tricked into thinking that the world was back in good times again as many have rallied over the last year or so.

The initial rally in commodities at the beginning of 2016 was caused by a bet that more economic stimulus and industrial reform in China would lead to a spike in demand for commodities used in construction. That bet rapidly turned into full blown mania as Chinese investors, starved of opportunity and restricted by government clamp downs in equities, piled into commodities markets.

This saw, in April of 2016, enough cotton trading in a single day to make a pair of jeans for everyone on the planet, and enough soybeans for 56 billion servings of tofu, according to Bloomberg in a report entitled "The World's Most Extreme Speculative Mania Unravels in China".
Market turnover on the three Chinese exchanges jumped from a daily average of about $78 billion in February to a peak of $261 billion on April 22, 2016 -- exceeding the GDP of Ireland. By comparison, Nasdaq's daily turnover peaked in early 2000 at $150 billion.
While volume exploded, open interest didn't. New contracts were not being created, volume instead was churning as the hot potato passed between speculators, most commonly in the night session, as consumers traded after work. So much so that sometimes analysts wondered whether the price of iron ore is set by the market tensions between iron ore miners and steel producers, or by Chinese taxi drivers trading on apps.

Steel, of course, is made from iron ore, Australia's biggest export, and frequently the country's main driver of a trade surplus and GDP growth.

Australia is the largest exporter of iron ore in the world, with a 29 per cent global share in 2015-16 and 786Mt exported, and at $48 billion we're responsible for over half of all global iron ore exports by value. Around 81 per cent of our iron ore exports go to China.

Unfortunately, in 2017, China isn't as desperate anymore for iron ore, where close to 50 per cent of Chinese steel demand comes from property development, which is under stress as house prices temper and credit tightens.

In May 2017, stockpiles at Chinese ports were at an all time high, with enough to build 13,000 Eiffel Towers. Last January, China pledged "supply-side reforms" for its steel and coal sectors to reduce excessive production capacity. In 2016, capacity was cut by 6 per cent for steel and and 8 per cent for coal.

In the first half of 2017 alone, a further 120 million tonnes of low-grade steel capacity was ordered to close because of pollution. This represents 11 per cent of the country's steel capacity and 15 pe rcent of annual output. While this will more heavily impact Chinese-mined ore than generally higher-grade Australian ore, Chinese demand for iron ore is nevertheless waning.
Over the last six years, the price of iron ore has fallen 60 per cent.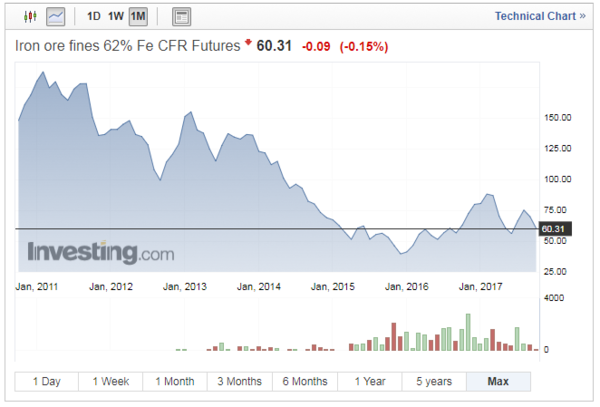 Australia's second biggest export is coal, being the largest exporter in the world supplying about 38 per cent of the world's demand. Production has been on a tear, with exports increasing from 261Mt in 2008 to 388Mt in 2016.

While exports increased by 49 per cent over that time period, the value of those exports has collapsed 38 per cent, from $54.7 billion to $34 billion.
Losing coal as an export will blow a $34 billion dollar per annum hole in the current account, and there's been no foresight by successive governments to find or encourage modern industries to supplant it.
"What is more shocking is that despite the gargantuan amount of money that China has been pumping into the system since 2014, Australia's entire mining industry - which is completely dependent on China - has struggled to make any money at all."
Across the entire industry revenue has dropped significantly while costs have continued to rise.
According to the Australian Bureau of Statistics, in 2015-16 the entire Australian mining industry which includes coal, oil and gas, iron ore, the mining of metallic & non-metallic minerals and exploration and support services made a grand total of $179 billion in revenue with $171 billion of costs, generating an operating profit before tax of $7 billion which representing a wafer thin 3.9 per cent margin on an operating basis. In the year before it made a 8.4 per cent margin.
Collectively, the entire Australian mining industry (ex-services) would be loss making in 2016-17 if revenue continued to drop and costs stayed the same. Yes, the entire Australian mining industry.
Our "economic miracle" of 104 quarters of GDP growth without a recession today doesn't come from digging rocks out of the ground, shipping the by-products of dead fossils and selling stuff we grow any more. Mining, which used to be 19 per cent of GDP, is now 6.8 per cent and falling. Mining has fallen to the sixth largest industry in the country. Even combined with agriculture the total is now only 10 per cent of GDP.

In the 1970s, Australia was ranked 10th in the world for motor vehicle manufacturing. No other industry has replaced it. Today, the entire output of manufacturing as a share of GDP in Australia is half of the levels where they called it "hollowed out" in the US and UK.

In Australia in 2017, manufacturing as a share of GDP is on par with a financial haven like Luxembourg. Australia doesn't make anything anymore.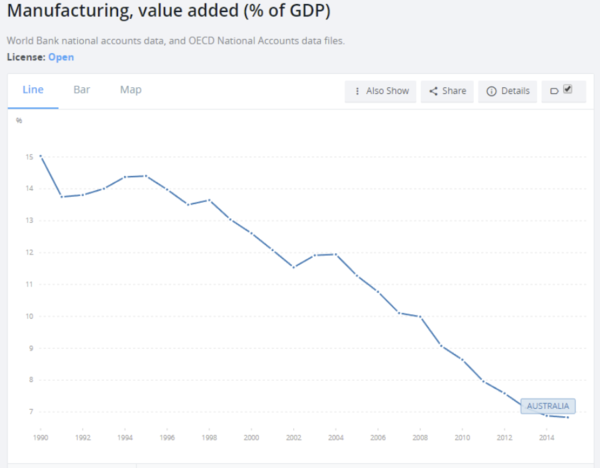 "With an economy that is 68 per cent services, as I believe John Hewson put it, the entire country is basically sitting around serving each other cups of coffee or, as the Chief Scientist of Australia would prefer, smashed avocado."
The Reserve Bank of Australia has cut interest rates by 325 basis points since the end of 2011, in order to stimulate the economy, but I can't for the life of me see how that will affect the fundamental problem of gyrating commodity prices where we are a price taker, not a price maker, into an oversupplied market in China.

This leads me to my next question: where has this growth come from?
"Successive Australian governments have achieved economic growth by blowing a property bubble on a scale like no other."
A bubble that has lasted for 55 years and seen prices increase 6556 per cent since 1961, making this the longest running property bubble in the world (on average, "upswings" last 13 years).
In 2016, 67 per cent of Australia's GDP growth came from the cities of Sydney and Melbourne where both State and Federal governments have done everything they can to fuel a runaway housing market. The small area from the Sydney CBD to Macquarie Park is in the middle of an apartment building frenzy, alone contributing 24 per cent of the country's entire GDP growth for 2016, according to SGS Economics & Planning.

According to the Rider Levett Bucknall Crane Index, in Q4 2017 between Sydney, Melbourne and Brisbane, there are now 586 cranes in operation, with a total of 685 across all capital cities, 80% of which are focused on building apartments. There are 350 cranes in Sydney alone.

By comparison, there are currently 28 cranes in New York, 24 in San Francisco and 40 in Los Angeles. There are more cranes in Sydney than Los Angeles (40), Washington DC (29), New York (28), Chicago (26), San Francisco (24), Portland (22), Denver (21), Boston (14) and Honolulu (13) combined. Rider Levett Bucknall counts less than 175 cranes working on residential buildings across the 14 major North American markets that it tracked in 3Q17, which is half of the number of cranes in Sydney alone.

According to UBS, around one third of these cranes in Australian cities are in postcodes with 'restricted lending', because the inhabitants have bad credit ratings.

This can only be described as completely "insane".

That was the exact word used by Jonathan Tepper, one of the world's top experts in housing bubbles, to describe "one of the biggest housing bubbles in history". "Australia", he added, "is the only country we know of where middle-class houses are auctioned like paintings".

Our Federal government has worked really hard to get us to this point.

Many other parts of the world can thank the Global Financial Crisis for popping their real estate bubbles. From 2000 to 2008, driven in part by the First Home Buyer Grant, Australian house prices had already doubled. Rather than let the GFC take the heat out of the market, the Australian Government doubled the bonus. Treasury notes recorded at the time say that it wasn't launched to make housing more affordable, but to prevent the collapse of the housing market.

Already at the time of the GFC, Australian households were at 190 percent debt to net disposable income, 50 per cent more indebted than American households, but then things really went crazy.
"The government decided to further fuel the fire by "streamlining" the administrative requirements for the Foreign Investment Review Board so that temporary residents could purchase real estate in Australia without having to report or gain approval. It may be a stretch, but one could possibly argue that this move was cunningly calculated, as what could possibly be wrong in selling overpriced Australian houses to the Chinese?"
I am not sure who is getting the last laugh here, because as we subsequently found out, many of those Chinese borrowed the money to buy these houses from Australian banks, using fake statements of foreign income. Indeed, according to the AFR, this was not sophisticated documentation - Australian banks were being tricked with photoshopped bank statements that can be bought online for as little as $20.

UBS estimates that $500 billion worth of "not completely factually accurate" mortgages now sit on major bank balance sheets. How much of that will go sour is anyone's guess.

The astronomical rise in house prices certainly isn't supported by employment data. Wage growth (see graph below) is at a record low of just 1.9 per cent year on year in 2Q17, the lowest figure since 1988. The average Australian weekly income has gone up $27 to $1,009 since 2008, that's about $3 a year.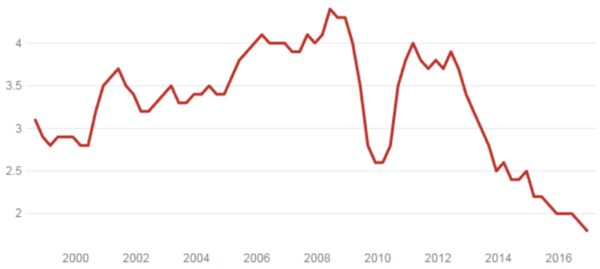 Foreign buying driving up housing prices has been a major factor in Australian housing affordability, or rather unaffordability.

Urban planners say that a median house price to household income ratio of 3.0 or under is "affordable", 3.1 to 4.0 is "moderately unaffordable", 4.1 to 5.0 is "seriously unaffordable" and 5.1 or over "severely unaffordable".

At the end of July 2017, according to Domain Group, the median house price in Sydney was $1,178,417 and the Australian Bureau of Statistics has the latest average pre-tax wage at $80,277.60 and average household income of $91,000 for this city. This makes the median house price to household income ratio for Sydney 13x, or over 2.6 times the threshold of "severely unaffordable". Melbourne is 9.6x.

This is before tax, and before any basic expenses. The average person takes home $61,034.60 per annum, and so to buy the average house they would have to save for 19.3 years but only if they decided to forgo the basics such as, eating. This is neglecting any interest costs if one were to borrow the money, which at current rates would approximately double the total purchase cost and blow out the time to repay to around 40 years.

If you borrowed the whole amount to buy a house in Sydney, with a Commonwealth Bank Standard Variable Rate Home Loan currently showing a 5.36% comparison rate (as of 7th October 2017), your repayments would be $6,486 a month, every month, for 30 years. The monthly post tax income for the average wage in Sydney ($80,277.60) is only $5,081.80 a month.

In fact, on this average Sydney salary of $80,277.60, the Commonwealth Bank's "How much can I borrow?" calculator will only lend you $463,000, and this amount has been dropping in the last year I have been looking at it. So good luck to the average person buying anything anywhere near Sydney.

Federal MP Michael Sukkar, Assistant Minister to the Treasurer, says surprisingly that getting a "highly paid job" is the "first step" to owning a home. Perhaps Mr Sukkar is talking about his job, which pays a base salary of $199,040 a year. On this salary, the Commonwealth Bank would allow you to just borrow enough- $1,282,000 to be precise- to buy the average home, but only provided that you have no expenses on a regular basis, such as food. So the Assistant Minister to the Treasurer can't really afford to buy the average house, unless he tells a porky on his loan application form.

The average Australian is much more likely to be employed as a tradesperson, school teacher, postman or policeman. According to the NSW Police Force's recruitment website, the average starting salary for a Probationary Constable is $65,000 which rises to $73,651 over five years. On these salaries the Commonwealth Bank will lend you between $375,200 and $419,200 (again provided you don't eat), which won't let you buy a house really anywhere.

Unsurprisingly, the CEOs of the Big Four banks in Australia think that these prices are "justified by the fundamentals". More likely because the Big Four, who issue over 80 per cent of residential mortgages in the country, are more exposed as a percentage of loans than any other banks in the world, over double that of the US and triple that of the UK, and remarkably quadruple that of Hong Kong, which is the least affordable place in the world for real estate. Today, over 60 per cent of the Australian banks' loan books are residential mortgages. Houston, we have a problem.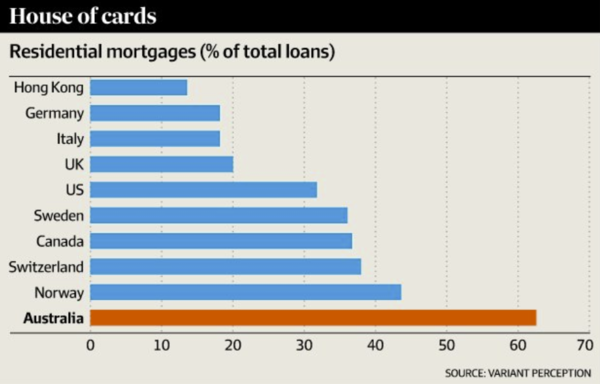 It's actually worse in regional areas where Bendigo Bank and the Bank of Queensland are holding huge portfolios of mortgages between 700 to 900 per cent of their market capitalisation, because there's no other meaningful businesses to lend to.
"I'm not sure how the fundamentals can possibly be justified when the average person in Sydney can't actually afford to buy the average house in Sydney, no matter how many decades they try to push the loan out."
Indeed Digital Finance Analytics estimated in a October 2017 report that 910,000 households are now estimated to be in mortgage stress where net income does not covering ongoing costs. This has skyrocketed up 50 per cent in less than a year and now represents 29.2 per cent of all households in Australia. Things are about to get real.

It's well known that high levels of household debt are negative for economic growth, in fact economists have found a strong link between high levels of household debt and economic crises.

This is not good debt, this is bad debt. It's not debt being used by businesses to fund capital purchases and increase productivity. This is not debt that is being used to produce, it is debt being used to consume. If debt is being used to produce, there is a means to repay the loan.

If a business borrows money to buy some equipment that increases the productivity of their workers, then the increased productivity leads to increased profits, which can be used to service the debt, and the borrower is better off. The lender is also better off, because they also get interest on their loan. This is a smart use of debt. Consumer debt generates very little income for the consumer themselves. If consumers borrow to buy a new TV or go on a holiday, that doesn't create any cash flow. To repay the debt, the consumer generally has to consume less in the future.

Further, it is well known that consumption is correlated to demographics, young people buy things to grow their families and old people consolidate, downsize and consume less over time. As the aging demographic wave unfolds across the next decade there will be significantly less consumers and significantly more savers. This is worsened as the new generations will carry the debt burden of student loans, further reducing consumption.

So why are governments so keen to inflate housing prices?

The government loves Australians buying up houses, particularly new apartments, because in the short term it stimulates growth - in fact it's the only thing really stimulating GDP growth.

Australia has around $2 trillion in unconsolidated household debt relative to $1.6 trillion in GDP, making this country in recent quarters the most indebted on this ratio in the world. According to Treasurer Scott Morrison 80 per cent of all household debt is residential mortgage debt. This is up from 47 per cent in 1990.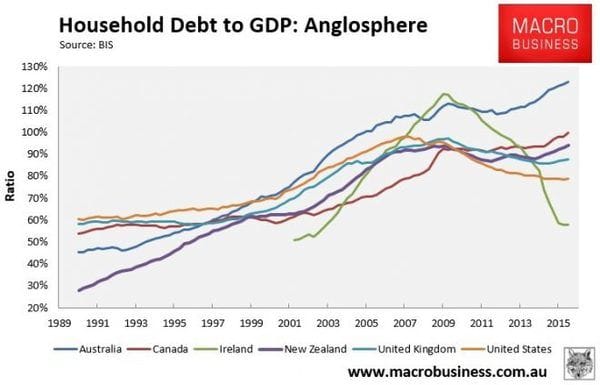 Australia's household debt servicing ratio (DSR) ties with Norway as the second worst in the world. Despite record low interest rates, Australians are forking out more of their income to pay off interest than when we had record mortgage rates back in 1989-90 which are over double what they are now.
"Everyone's too busy watching Netflix and cash strapped paying off their mortgage to have much in the way of any discretionary spending. No wonder retail is collapsing in Australia."
Governments fan the flame of this rising unsustainable debt fuelled growth as both a source of tax revenue and as false proof to voters of their policies resulting in economic success. Rather than modernising the economy, they have us on a debt fuelled housing binge, a binge we can't afford.

We are well past overtime, we are into injury time. We're about to have our Minsky moment: "a sudden major collapse of asset values which is part of the credit cycle."

Such moments occur because long periods of prosperity and rising valuations of investments lead to increasing speculation using borrowed money. The spiraling debt incurred in financing speculative investments leads to cash flow problems for investors. The cash generated by their assets is no longer sufficient to pay off the debt they took on to acquire them. Losses on such speculative assets prompt lenders to call in their loans. This is likely to lead to a collapse of asset values.

Meanwhile, the over-indebted investors are forced to sell even their less-speculative positions to make good on their loans. However, at this point no counterparty can be found to bid at the high asking prices previously quoted. This starts a major sell-off, leading to a sudden and precipitous collapse in market-clearing asset prices, a sharp drop in market liquidity, and a severe demand for cash.

Today 42 per cent of all mortgages in Australia are interest only, because since the average person can't afford to actually pay for the average house- they only pay off the interest. They're hoping that value of their house will continue to rise and the only way they can profit is if they find some other mug to buy it at a higher price. In the case of Westpac, 50 per cent of their entire residential mortgage book is interest only loans.

And a staggering 64 per cent of all investor loans are interest only.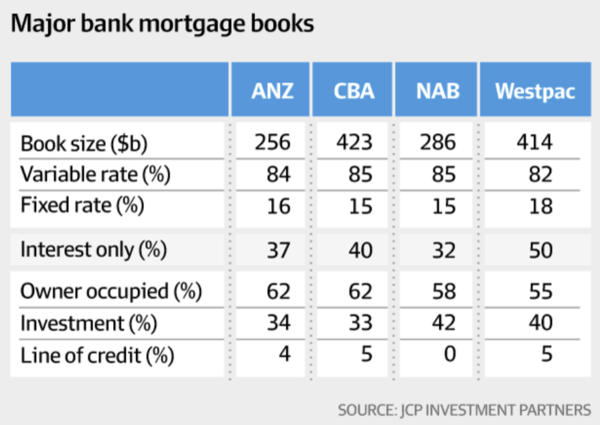 "This is rapidly approaching ponzi financing. This is the final stage of an asset bubble before it pops."
Today residential property as an asset class is four times larger than the sharemarket. It's illiquid, and the $1.5 trillion of leverage is roughly equivalent in size to the entire market capitalisation of the ASX 200. Any time there is illiquidity and leverage, there is a recipe for disaster - when prices move south, equity is rapidly wiped out precipitating panic selling into a freefall market with no bids to hit.

The risks of illiquidity and leverage in the residential property market flow through the entire financial system because they are directly linked; today in Australia the Big Four banks plus Macquarie are roughly 30 per cent of the ASX200 index weighting. Every month, 9.5 per cent of the entire Australian wage bill goes into superannuation, where 14 per cent directly goes into property and 23 per cent into Australian equities - of which 30 per cent of the main equity benchmark is the banks.

In 2015-16 there were 40,149 residential real estate applications from foreigners valued at over $72 billion in the latest data by FIRB. This is up 244 per cent by count and 320 per cent by value from just three years before.

Even more shocking, in the month of January 2017, the number of first home buyers in the whole of New South Wales was 1,029 - the lowest level since mortgage rates peaked in the 1990s. Half of those first home buyers rely upon their parents for equity.

This brings me onto Australia's third largest export which is $22 billion in "education-related travel services". Ask the average person in the street, and they would have no idea what that is and, at least in some part, it is an $18.8 billion dollar immigration industry dressed up as "education". You now know what all these tinpot "english", "IT" and "business colleges" that have popped up downtown are about. They're not about providing quality education, they are about gaming the immigration system.

In 2014, 163,542 international students commenced English language programmes in Australia, almost doubling in the last 10 years. This is through the booming ELICOS (English Language Intensive Courses for Overseas Students) sector, the first step for further education and permanent residency.

This whole process doesn't seem too hard when you take a look at what is on offer. While the federal government recently removed around 200 occupations from the Skilled Occupations List, including such gems as Amusement Centre Manager (149111), Betting Agency Manager (142113), Goat Farmer (121315), Dog or Horse Racing Official (452318), Pottery or Ceramic Artist (211412) and Parole Officer (411714) - you can still immigrate to Australia as a Naturopath (252213), Baker (351111), Cook (351411), Librarian (224611) or Dietician (251111).Believe it or not, up until recently we were also importing Migration Agents (224913).

You can't make this up. I simply do not understand why we are importing people to work in relatively unskilled jobs such as kitchen hands in pubs or cooks in suburban curry houses.

At its peak in October 2016, before the summer holidays, there were 486,780 student visa holders in the country, or 1 in 50 people in the country held a student visa. The grant rate in 4Q16 for such student visa applications was 92.3 per cent. The number one country for student visa applications by far was, you guessed it, China.

While some of these students are studying technical degrees that are vitally needed to power the future of the economy, a cynic would say that the majority of this program is designed as a crutch to prop up housing prices and government revenue from taxation in a flagging economy. After all, it doesn't look that hard to borrow 90 per cent of a property's value from Australian lenders on a 457 visa. Quoting directly from one mortgage lender, "you're likely to be approved if you have at least a year on your visa, most of your savings already in Australia and you have a stable job in sought after profession" - presumably as sought after as an Amusement Centre Manager. How much the banks will be left to carry when the market turns and these students flee the burden of negative equity is anyone's guess.

In a submission to a senate economics committee by Lindsay David from LF Economics, "We found 21 Australian lending institutions where there is evidence of people's loan application forms being fudged".

The ultimate cost to the Australian taxpayer is yet to be known. However the situation got so bad that the RBA had to tell the Big Four banks to cease and desist from all foreign mortgage lending without identified Australian sources of income.
Ken Sayer, Chief Executive of non-bank Mortgage House said "It is much bigger than everyone is making it out to be. The numbers could be astronomical".

"So we are building all these dwellings, but they are not for new Australian home owners. We are building these dwellings to be the new Swiss Bank account for foreign investors."

Foreign investment can be great as long as it flows into the right sectors. Around $32 billion invested in real estate was from Chinese investors in 2015-16, making it the largest investment in an industry sector by a country by far. By comparison in the same year, China invested only $1.6 billion in our mining industry. Last year, 20 times more more money flowed into real estate from China than into our entire mineral exploration and development industry. Almost none of it flows into our technology sector.
"The total number of FIRB approvals from China was 30,611. By comparison. The United States had 481 approvals."
Foreign investment across all countries into real estate as a whole was the largest sector for foreign investment approval at $112 billion, accounting for around 50% of all FIRB approvals by value and 97% by count across all sectors - agriculture, forestry, manufacturing, tourism - you name it in 2015-16.

In fact it doesn't seem that hard to get FIRB approval in Australia, for really anything at all. Of the 41,450 applications by foreigners to buy something in 2015-16, five were rejected. In the year before, out of 37,953 applications zero were rejected. Out of the 116,234 applications from 2012 to 2016, a total of eight were rejected.
According to Credit Suisse, foreigners are acquiring 25 per cent of newly completed housing supply in NSW, worth a total of $39 billion.
In some circumstances, the numbers however could be much higher. Lend Lease, the Australian construction goliath with over $15 billion in revenue in 2016, stated in that year's annual report that over 40% of Lend Lease's apartment sales were to foreigners.
"I wouldn't have a problem with this if it weren't for the fact that this is all a byproduct of central bank madness, not true supply and demand, and people vital for running the economy can't afford to live here any more."
What is also remarkable about all of this is that technically, the Chinese are not allowed to send large sums of money overseas. Citizens of China can normally only convert US$50,000 a year in foreign currency and have long been barred from buying property overseas, but those rules have not been enforced. They've only started cracking down on this now.

Despite this, up until now, Australian property developers and the Australian Government have been more than happy to accommodate Chinese money laundering.

After the crackdown in capital controls, Lend Lease says there has been a big upswing with between 30 to 40% of foreign purchases now being cash settled. Other developers are reporting that some Chinese buyers are paying 100% cash. The laundering of Chinese cash into property isn't unique to Australia, it's just that Transparency International names Australia, in their March 2017 report as the worst money laundering property market in the world.

Australia is not alone, Chinese "hot money" is blowing gigantic property bubbles in many other safe havens around the world.
"But combined with our lack of future proof industries and exports, our economy is completely stuffed. And it's only going to get worse unless we make a major transformation of the Australian economy."
Instead of relying on a property bubble as pretense that our economy is strong, we need serious structural change to the composition of GDP that's substantially more sophisticated in terms of the industries that contribute to it.

Australia's GDP of $1.6 trillion is 69 per cent services. Our "economic miracle" of GDP growth comes from digging rocks out of the ground, shipping the by-products of dead fossils, and stuff we grow. Mining, which used to be 19 per cent, is now 7 per cent and falling. Combined, the three industries now contribute just 12 per cent of GDP thanks to the global collapse in commodities prices.

If you look at businesses as a whole, Company tax hasn't moved from $68 billion in the last three years - our companies are not making more profits. This country is sick.

Indeed if you look at the budget, about the only thing going up in terms of revenue for the federal government are taxes on you having a good time - taxes on beer, wine, spirits, luxury cars, cigarettes and the like. It would probably shock the average person on the street to discover that the government collects more tax from cigarettes ($9.8 billion) than it collects from tax on superannuation ($6.8 billion), over double what it collects from Fringe Benefits Tax ($4.4 billion) and over thirteen times more tax than it does from our oil fields ($741 million).

But instead of thinking of intelligent ways to grow the economy, the focus is purely on finding more ways to tax you.

Here's a crazy idea: the dominant government revenue line is income tax. Income tax is generated from wages. Education has always been the lubricant of upward mobility, so perhaps if we find ways to encourage our citizens to study in the right areas - for example science & engineering - then maybe they might get better jobs or create better jobs and ultimately earn higher wages and pay more tax.

Instead the government proposed the biggest cuts to university funding in 20 years with a new "efficiency dividend" cutting funding by $1.2 billion, increasing student fees by 7.5 percent and slashing the HECS repayment threshold from $55,874 to $42,000. These changes would make one year of postgraduate study in Electrical Engineering at the University of New South Wales cost about $34,000.

We should be encouraging more people into engineering, not discouraging them by making their degrees ridiculously expensive. In my books, the expected net present value of future income tax receipts alone from that person pursuing a career in technology would far outweigh the short sighted sugar hit from making such a degree more costly - let alone the expected net present value of wealth creation if that person decides to start a company. The technology industry is inherently entrepreneurial, because technology companies create new products and services.

Speaking of companies, how about as a country we start having a good think about what sorts of industries we want to have a meaningful contribution to GDP in the coming decades?

For a start, we need to elaborately transform the commodities we produce into higher end, higher margin products. Manufacturing contributes 5 per cent to GDP. In the last 10 years, we have lost 100,000 jobs in manufacturing. Part of the problem is that the manufacturing we do has largely become commoditised while our labour force remains one of the most expensive in the world. This cost is further exacerbated by our trade unions - in the case of the car industry, the government had to subsidise the cost of union work practices, which ultimately failed to keep the industry alive. So if our people are going to cost a lot, we better be manufacturing high end products or using advanced manufacturing techniques otherwise other countries will do it cheaper and naturally it's all going to leave.

Last year, for example, 30.3 per cent of all manufacturing jobs in the textile, leather, clothing & footwear industries were lost in this country. Yes, a third. People still need clothes, but you don't need expensive Australians to make them, you can make them anywhere.
"That's why we need to seriously talk about technology, because technology is the great wealth and productivity multiplier. However the thinking at the top of government is all wrong."
The largest four companies by market capitalisation globally as of the end of Q2 2017 globally were Apple, Alphabet, Microsoft and Amazon. Facebook is eight. Together, these five companies generate over half a trillion dollars in revenue per annum. That's equivalent to about half of Australia's entire GDP. And many of these companies are still growing revenue at rates of 30 per cent or more per annum.

These are exactly the sorts of companies that we need to be building.

With our population of 24 million and labour force of 12 million, there's no other industry that can deliver long term productivity and wealth multipliers like technology.
"Today Australia's economy is in the stone age. Literally. "By comparison, Australia's top 10 companies are a bank, a bank, a bank, a mine, a bank, a biotechnology company (yay!), a conglomerate of mines and supermarkets, a monopoly telephone company, a supermarket and a bank."
We live in a monumental time in history where technology is remapping and reshaping industry after industry - as Marc Andreessen said "Software is eating the world!" - many people would be well aware we are in a technology gold rush.

And they would be also well aware that Australia is completely missing out.

Most worrying to me, the number of students studying information technology in Australia has fallen by between 40 and 60 per cent in the last decade depending on whose numbers you look at. Likewise, enrollments in other hard sciences and STEM subjects such as maths, physics and chemistry are falling too. Enrolments in engineering have been rising, but way too slowly.

This is all while we have had a 40 per cent increase in new undergraduate students as a whole.

Women once made up 25 percent of students commencing a technology degree, they are now closer to 10 percent.

All this in the middle of a historic boom in technology. This situation is an absolute crisis. If there is one thing, and one thing only that you do to fix this industry, it's get more people into it. To me, the most important thing Australia absolutely has to do is build a world class science & technology curriculum in our K-12 system so that more kids go on to do engineering.

In terms of maths & science, the secondary school system has declined so far now that the top 10% of 15-year olds are on par with the 40-50% band of of students in Singapore, South Korea and Taiwan.

For technology, we lump a couple of horrendous subjects about technology in with woodwork and home economics. In 2017, I am not sure why teaching kids to make a wooden photo frame or bake a cake are considered by the department of education as being on par with software engineering. Yes there is a little bit of change coming, but it's mostly lip service.

Meanwhile, in Estonia, 100% of publicly educated students will learn how to code starting at age 7 or 8 in first grade, and continue all the way to age 16 in their final year of school.

At my company, Freelancer.com, we'll hire as many good software developers as we can get. We're lucky to get one good applicant per day. On the contrary, when I put up a job for an Office Manager, I received 350 applicants in 2 days.

But unfortunately the curriculum in high school continues to slide, and it pays lip service to technology and while kids would love to design mobile apps, build self-driving cars or design the next Facebook, they come out of high school not knowing that you can actually do this as a career.

I've come to the conclusion that it's actually all too hard to fix - and I came to this conclusion a while ago as I was writing some suggestions for the incoming Prime Minister on technology policy. I had a good think about why we are fundamentally held back in Australia from major structural change to our economy to drive innovation.

I kept coming back to the same points.

The problems we face in terraforming Australia to be innovative are systemic, and there is something seriously wrong with how we govern this country. There are problems throughout the system, from how we choose the Prime Minister, how we govern ourselves, how we make decisions, all the way through.

For a start, we are chronically over governed in this country. This country has 24 million people. It is not a lot. By comparison my website has about 26 million registered users. However this country of 24 million people is governed at the State and Federal level by 17 parliaments with 840 members of parliament. My company has a board of three and a management team of a dozen.

Half of those parliaments are supposed to be representatives directly elected by the people. Frankly, you could probably replace them all with an iPhone app. If you really wanted to know what the people thought about an issue, technology allows you to poll everyone, everywhere, instantly. You'd also get the results basically for free. I've always said that if Mark Zuckerberg put a vote button inside Facebook, he'd win a Nobel Peace Prize. Instead we waste a colossal $122 million on a non-binding plebiscite to ask a yes/no question on same sex marriage that shouldn't need to be asked in the first place, because those that it affects would almost certainly want it, and those that it doesn't affect should really butt out and let others live their lives as they want to.

Instead these 840 MPs spend all day jeering at each other and thinking up new legislation to churn out. Last year the Commonwealth parliament alone spewed out 6,482 pages of legislation, adding to over 100,000 pages already enacted. That's not even looking at State Governments.
"What about trying to attract more senior people to Sydney? I'll tell you what my experience was like trying to attract senior technology talent from Silicon Valley."
I called the top recruiter for engineering in Silicon Valley not so long ago for Vice President role. We are talking a top role, very highly paid. The recruiter that placed the role would earn a hefty six figure commission. This recruiter had placed VPs at Twitter, Uber, Pinterest.

The call with their principal lasted less than a minute "Look, as much as I would like to help you, the answer is no. We just turned down [another billion dollar Australian technology company] for a similar role. We tried placing a split role, half time in Australia and half time in the US. Nobody wanted that. We've tried in the past looking, nobody from Silicon Valley wants to come to Australia for any role. We used to think maybe someone would move for a lifestyle thing, but they don't want to do that anymore.

"It's not just that they are being paid well, it's that it's a backwater and they consider it as two moves they have to move once to get over there but more importantly when they finish they have to move back and it's hard from them to break back in being out of the action.

"I'm really sorry but we won't even look at taking a placement for Australia".

We have serious problems in this country. And I think they are about to become very serious. We are on the wrong trajectory.

I'll leave you now with one final thought.

Harvard University created something called the Economic Complexity Index. This measure ranks countries based upon their economic diversity- how many different products a country can produce - and economic ubiquity - how many countries are able to make those products.

Where does Australia rank on the global scale?

Worse than Mauritius, Macedonia, Oman, Moldova, Vietnam, Egypt and Botswana.

Worse than Georgia, Kuwait, Colombia, Saudi Arabia, Lebanon and El Salvador.

Sitting embarrassingly and awkwardly between Kazakhstan and Jamaica, and worse than the Dominican Republic at 74 and Guatemala at 75.
"Australia ranks off the deep end of the scale at 77th place. 77th and falling. After Tajikistan, Australia had the fourth highest loss in Economic Complexity over the last decade, falling 18 places."
Thirty years ago, a time when our Economic Complexity ranked substantially higher, these words rocked the nation:

"We took the view in the 1970s it's the old cargo cult mentality of Australia that she'll be right. This is the lucky country, we can dig up another mound of rock and someone will buy it from us, or we can sell a bit of wheat and bit of wool and we will just sort of muddle through In the 1970s we became a third world economy selling raw materials and food and we let the sophisticated industrial side fall apart If in the final analysis Australia is so undisciplined, so disinterested in its salvation and its economic well being, that it doesn't deal with these fundamental problems Then you are gone. You are a banana republic."

Looks like Paul Keating was right.

The national conversation needs to change, now.

(This is an edited version of Matt Barrie's "House of Cards" opinion feature and was co-authored with Craig Tindale)
Never miss a news update, subscribe here. Follow us on Facebook, LinkedIn, Instagram and Twitter.
Business News Australia
Get our daily business news
Sign up to our free email news updates.
Help us deliver quality journalism to you.
As a free and independent news site providing daily updates
during a period of unprecedented challenges for businesses everywhere
we call on your support