These young business men and women are our future business leaders fuelling the nations vibrant business culture, making our local economies tick and inspiring us with their drive and innovation.

They are well informed risk-takers who think outside the box. They have worked hard at building their empires and are prepared to act on ideas and implement new technologies to create thriving businesses.
From those working in new technologies like artificial intelligence and data, to those inspiring a generation online as influencers and others making a killing in online retail, every entrepreneur on this list has that something special that sets them apart from the rest.
Entrepreneurs are never content, always pushing forward, and breaking new ground in industries ripe for disruption.
This year we've seen the old guard in a number of key sectors fail to keep up. In retail, giants of the shopping world have floundered and Australian entrepreneurs have kept up, building businesses that have shone through and changed the environment for good.
The banking and finance sector too, previously seen as irreplaceable, has been rocked by scandals uncovered during the Banking and Finance Royal Commission. Entrepreneurs in the Top 100 have been building companies in the background of this turmoil that are set to take over from the slow-moving, and seemingly untrustworthy giants by employing the best in technological advancements and tapping into a new generation of consumers who expect more.
Marketing and advertising has changed rapidly too with influencers and those savvy about data reigning supreme. It's a social media influencer's world right now; we're just living in it.
It goes without saying that entrepreneurs doing social good are seeing tremendous returns on investment and using this income to build businesses having a net positive impact on Australia. This is keenly reflected by a number of our Top Entrepreneurs who understand that the public reacts positively to generous displays of giving back.
The first ever Business News Australia Top 100 Young Entrepreneurs list is a comprehensive dive into the colourful and creative business community that we are so lucky to have in this country.
Whilst starting a business is certainly not an easy task, it takes guts, determination, and some serious grit to build empires; something many of these Young Entrepreneurs have achieved.
So, without further ado, we present the Top 100 Australian Young Entrepreneurs.
---
1. Mike Cannon Brookes (39) & Scott Farquhar (39)
Atlassian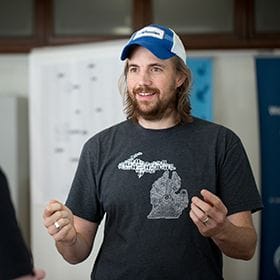 Described by Samantha Wong of Blackbird Ventures as a "17-year overnight success story", software giant Atlassian is a benchmark of success in the global technology sector.

Like with Uber or Netflix, it is not uncommon to hear budding Australian entrepreneurs aspiring to build 'the next Atlassian'.

Since listing on the NASDAQ in 2015 the group's share price has tripled and its founders Mike Cannon-Brookes and Scott Farquhar have made two of the most expensive house purchases in Australian history.

But how did it all come about?

One of the toughest challenges for offices worldwide is workflow coordination, so with products that make teamwork easier in IT departments the Sydney-headquartered group is reaping the rewards.

The company continues to be buoyed by its tracking software 'Jira' and the team collaboration platform 'Confluence', but its leaders do not rest on their laurels and spend significant sums on R&D US$415 million in 2018 to be precise.

Both Cannon-Brookes and Farquhar work as co-CEOs, and in 2018 they helped lead the company to 41 per cent revenue growth to reach a whopping US$874 million. Currently, the company is sitting on a market cap of US$19 billion.

"IT departments are being transformed as they enable and support technology-driven innovation, as well as manage the increasing number of applications their organisations deploy through the "bring your own software" movement," the pair said in Atlassian's Annual Report.

"Today's IT teams are more service-driven and agile-oriented, and our products are well suited to help them streamline workflows and better manage all the moving pieces across their organisations.

Adding to its offices in five countries (Australia, the US, the Netherlands, Japan and the Philippines), the company opened a new office in Bengaluru, India in May, and released a more modern rebrand in September.
---
2. Ruslan Kogan (36)
Kogan.com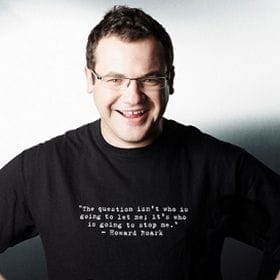 Heavy lies the crown for Australia's leading pure play online retailer, which despite phenomenal earnings growth and a surge in active customer numbers has seen its share price plummet by 65 per cent since June.

Ruslan Kogan continues to lead the e-commerce giant he founded in 2006, and as far as the ASX is concerned 2018 has been the toughest test yet since listing 2.5 years ago.

The market may have been fazed by sales falls for the global brands product division, and new GST laws for low-value e-commerce imports have yielded competitive pressure from foreign websites, but Kogan's eponymous company is getting on with business.

In the last two months alone Kogan.com has launched a "no frills" superannuation partnership and has also partnered up with Citigroup to release a "Kogan Money Credit Card".

As of September the group had seen 41.6 per cent year-on-year active customer growth, and in an October trading update the son of Belorussian immigrants was very upbeat about the company's prospects. With a $319 million market cap and a FY18 NPAT of $14 million, Kogan has every reason to smile.

"We continue to execute our long-term strategy to grow our eCommerce footprint and make the most in-demand products and services more affordable for all Australians," Kogan said.

"We are better prepared for this busy Christmas sales period than we've ever been with warehouses in Victoria, New South Wales, Queensland and Western Australia fully stocked with the most in-demand products.
---
3. Tomas Steenackers (40)
National Veterinary Care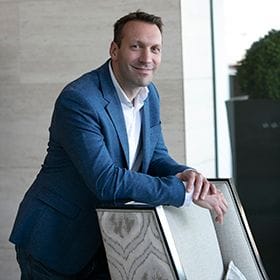 Tomas Steenackers is on a mission to bring vet care into the future.

By utilizing the best in tech, the veterinaries underneath the NVC umbrella are the best in the business.

Best of all, to maintain the community spirit that's so important to pet owners, clinics owned by NVC keep their original branding and identity.

Steenackers' company has gone from strength to strength since listing on the ASX in 2015 with a community-focused approach to vet clinics across Australia and New Zealand. At the start of 2018 National Veterinary Care had 30 clinics but the figure has shot up to almost 100 since then.

This year, Steenackers took out the first ever Australian Young Entrepreneur of the Year Award.

After winning the award Steenackers said it was validation for the efforts made by the whole company, especially over the last year.

"It feels incredible. After two and a half years of working to be recognised with this title....it'sjust amazing," says Steenackers.

"We just wanted to do something different. In this industry a lot of people need a lot of support and we always wanted to do something better than what was available out there."

"Though we only own 97 clinics now, we look after over 500 vet clinics that are independent but come to us to ask for help. We're really looking after 23 per cent of the vet industry just by putting the best systems out there and the best support systems."

Steenackers says the most rewarding part of running National Veterinary Care is being able to provide a solid support system for the independent vets in the sector.

"Suddenly there's a corporate that's happy to share their IP and give back to the industry. And that's why we're really excited," says Steenackers.

"At the end of the day when you look at it there's probably 60 per cent of the industry that's a bit small that will struggle to continue evolving over the next few years so what we're trying to do is give them the tools to be able to compete against people in corporate and people with more investments."
---
4. Nicholas Molnar (28)
Afterpay Touch Group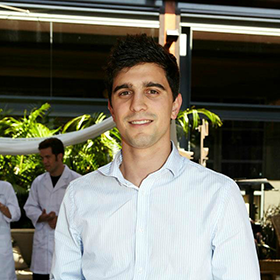 Nicholas Molnar and Anthony Eisen took on the 'buy now pay later' (BNPL) market with an 'invest early, get paid later' attitude.

Their company Afterpay is yet to turn a profit but its shares are now worth four times what they were upon listing in mid-2017, and the company is comfortably sitting on a market cap of $2.97 billion.

In August, Afterpay completed a $117 million capital raising for its overseas expansion, which has involved a push into New Zealand, as well as early steps in the US and the acquisition of UK business ClearPay Finance.

The platform is a national phenomenon that has polarised critics, enabling our guilty pleasure purchases and stepping in to fill the void of the credit card which has been mostly shunned by the Millennial generation.

With massive partners like ASOS, Target and Jetstar utilising the buy-now pay-later tech solution as an accepted payment form, it seems likely the company will be around for quite a while in the Australian retail landscape, but competitor Zip Co is on its heels.

As one of the most prominent platforms in the Australian landscape, retailers may have found their saving grace.

Whilst customers might be able to get cheaper deals from overseas online retailers, Afterpay is almost exclusively an Australian phenomenon, pushing customers back through the doors and onto the websites of Australian retailers.

The company has also been very cooperative with the Australian Securities and Investments Commission's (ASIC) investigation into the BNPL market.

Afterpay claims it is the only company in ASIC's investigation that does not charge "other" fees apart from late ones, while even those are capped at $2,000 and users need to prove their ability to pay over time before getting to that level.

"We believe that the intervention powers present a proportionate regulatory response that recognises Afterpay's unique business model and ensures we can continue to serve our millions of responsible customers and our 20,000+ retailers," Afterpay said in a statement in late November.

"Afterpay appreciates that having clear oversight from ASIC will further increase public confidence in our product and ensure additional consumer protection is provided in the case that our product is used in an unintended manner."

In the last two years the number of consumers who have used buy now pay later has increased five-fold to two million, while in June this year there were some 1.9 million transactions.
---
5. Larry Diamond (36)
Zip Co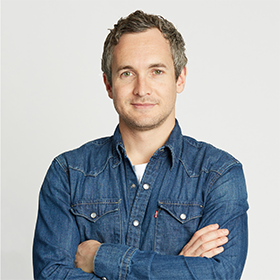 As a service that's particularly focused on a Millennial demographic, it makes sense that founders of some of Australia's top 'buy now pay later' (BNPL) services are young guns themselves.

Larry Diamond co-founded ASX-listed Zip Co with Peter Gray, and while the company's market capitalisation is nowhere near that of Afterpay, shares have risen steadily over recent years.

Zip Co, formerly known as ZipMoney but still carrying that brand as well as Zip Pay, has a star-studded line-up of partnership deals signed this year: OfficeWorks in June, Virgin Australia in August, Target in September and Bunnings in November.

But these are just a few names in a partnership portfolio of 10,000 retailers, and from a user base of 1.3 million that is rising Zip Co is aiming to process $1 billion worth of transactions.

Given the rate of take-up the company has achieved with its current annualised transaction processing value of $750 million, that goal may not be far away.

"Zip was founded five years ago with a mission to disrupt the unfriendly credit card market by providing consumers with a better, fairer, digital alternative," says Diamond, emphasising transparency and responsibility are at the core of the group's values.

With the support of an app launched this year and staff the executive charmingly calls 'Zipsters', Diamond described FY18 as a "watershed year" for the company with so many new high-profile partners.

"Also, after a successful beta trial, we can now offer customers the ability to use Zip to pay bills through BPAY, interest free," he says.

While both Diamond and Gray sold around 9.6 million shares in Zip Co in early December, they still have shareholdings of 18 per cent and 6 per cent respectively.
---
Receive the latest news as it breaks
Sign up to Business News Australia's daily news updates. Get the latest news, trends and special offers straight to your inbox
---
6. Ben Bradshaw (35)
Disrupt Digital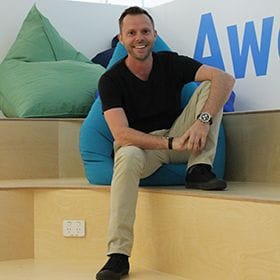 With a sprinkle of magic, Ben Bradshaw turned a tough situation into a thriving business.

Alongside co-founder Shannah Whitford-Lowe, Bradshaw established SponsoredLinX in 2006, now the go-to company for the digital marketing needs of SMEs.

12 years later and Whitford-Lowe and Bradshaw have a collection of successful digital agencies, all designed to empower SMEs to best utilise tech.

"Having recognised that SMEs were, and still are, struggling to keep up with the rate at which the technology curve was moving, I felt obliged and a desire to share my findings and my knowledge," says Bradshaw.

In addition to SponsoredLinkX, the duo run Get More Traffic underneath the umbrella brand of Disrupt Digital, both tools which SMEs can utilise to improve their businesses.

Most recently, the team launched LinX; a world first digital marketing app exclusive to SponsoredLinX users, that enables clients to monitor their campaigns directly from their smartphones.

"We understood that most people and SME owners conduct a majority of their business via their mobile phone, so we developed, tested, and released LinX," says Bradshaw.

"LinX has transformed the ways that we work and build relationships with our clients."

READ MORE: Digital disruptor wins Brisbane Young Entrepreneur of the Year 2018
---
7. Karl Brown (39)
Instyle Solar, Rokkit Performance Marketing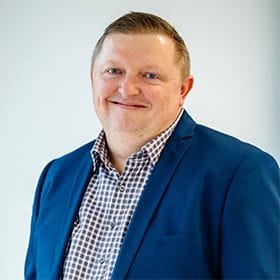 Karl Brown certainly knows how to brighten up a room. But it's his business, Instyle Solar, that shines bright.

When Brown decided to go out on a limb and start his own solar company he only had $2,500 to play with.

Now he runs one of Queensland's largest privately-owned solar companies.

How did he do it? Brown says it's all down to changing your perspective.

"Like most entrepreneurs, I've tried a few times, done some things that work, some haven't," says Brown.

"What makes our strategy different is we don't focus on the actual product we are selling, we focus on the solution."

READ MORE:
Why now is the best time for your business to go solar
Brisbane's king of solar power reveals startup journey
---
8. Travis Erridge (40)
TM Insight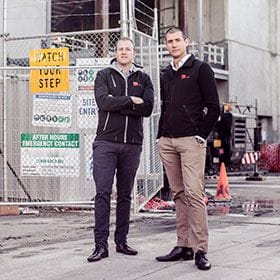 TM Insight is an Australian end to end supply chain, property and project management consultancy business.

Founded by Travis Erridge and Milan Andjelkovic, the company works for both large-scale ASX and global organisations including giants like Woolworths, Coles, Kmart, Bunnings, Target and DHL (just to name a few!).

The company was a two-man show for its first two years, with its main clients being Bunnings and Kmart.

Erridge says that the success of the business came from doing good work resulting in building brilliant connections and securing amazing referrals.

"We have disrupted the Australian Industrial Property Sector in a significant way through the large-scale facilities and pre-leasing market," says Erridge.

"We now have major real estate firms trying unsuccessfully to replicate our model in the past 24 months due to not being able to purchase us and due to the large market share we are now taking in this space."

The company has a presence in Melbourne, Brisbane and Sydney, with Erridge eyeing international expansion in the short-term future.

"We are at the forefront of one of the most disruptive times for retail in Australia," says Erridge.

"We are creating the online distribution centres and redesigning retail supply chains to enable the e-commerce revolution in Australia."

But when endeavour began with co-founder Andjelkovic there wasn't a deliberate "we're going to go out and change the world" attitude, says Erridge.

"I worked for a company called Maquarie Equipment that later became Goodman, and our entire development arm of our business got laid off in the GFC," he says.

"It was really off the back of a few phone calls from clients who came to me and asked if I would be willing to contract to them to help them develop their own facilities.

"It was very scarce work absolutely in 2009 and 2010, there wasn't much around and we struggled along, but then the market started to pick up."

And the rest, as they say, is history.

"We have just opened in office in Brisbane to complement Melbourne and Sydney, and are looking to open a Singapore office in the next 12 months to service South East Asia," he says.

"Our existing clients have been asking for us to help them in Thailand, Singapore and India and to date we have been too busy in Australia and New Zealand to assist. We are now making the strategic decision to move into the South East Asia market to cement our regional presence for our clients."

"It's not a matter of whether we'll do work there; it's a matter of how we do the work there. The amount of work is extraordinary."
---
9. Megan Ziems (33)
Grace Loves Lace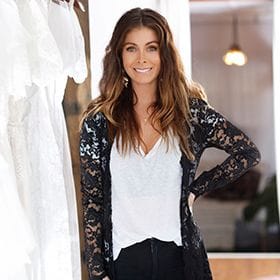 The highly Awarded wedding dress disruptor came up with the idea of owning her own business after failing to find the perfect dress for her special day.
Uninspired by traditional, repetitive and lacklustre designs, Ziems saw an opportunity to showcase her designs to the woman not 'the bride' and Grace Loves Lace was born.

In 2016 one of Grace Loves Lace's iconic designs, the Hollie 2.0 dress, was 'pinned' on Pinterest more than 2.5 million times, making it the most pinned dress of the year.

The e-commerce business delivers to over 65 countries annually with products available exclusively online and through showrooms in Burleigh Heads, Venice Beach California, Shoreditch London, and most recently New York City.

"Our first European Showroom in London opened April 2017 and as a result of a combination of customer demand, market research and keen interest from the UK Government," said Ziems.

"We engaged PR companies in London, LA, and Sydney to assist in our growth into our international markets including the appointment of bilingual stylists."

"International headlines have spread our brand message to a broader audience than we could ever reach on our own."

Collaborations with leading brands in the wedding, beauty, and jewellery scene including US cosmetic brand Too Faced, have also contributed to the brand's success.

"We have had multiple collaborations with venues, photographers, models, influencer, florists and fashion brands," said Ziems.
---
10. Rouad Elayoubi (40)
Alliance Project Group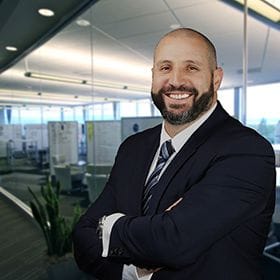 Alliance Project Group is a turnkey design construction company that delivers impressive projects spanning a wide range of sectors and needs in the NSW capital.

When Elayoubi founded Alliance back in 2012 the company mainly worked on designing and constructing luxury homes for independent clients.

The following year Alliance was commissioned to construct more than 100 units in Waitara, catapulting the company on its path to success.

Currently Alliance has multiple high-rise projects around Sydney, constructing an average of 500 units per year.

Elayoubi's projects are impressive, to say the least. Earlier this year, the Alliance team completed an $84 million apartment complex in Hurtsville complete with sky gardens, glass bridges, and shimmering metallic facades.

The company is currently building a $31 million 18 storey building in Burwood to be complete in late 2019, and a 95-apartment building in Ryde worth $36 million.
---
11. Jiaheng Chan (31) & Adelene Teh (31)
Beulah International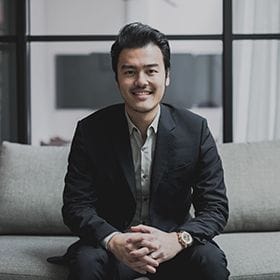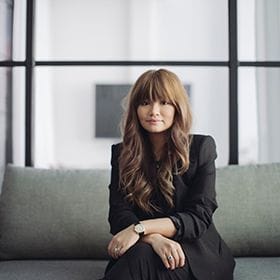 Beulah International has become a veritable powerhouse in Melbourne's booming construction sector since its inception in 2014.

Over the last four years, under the guidance of Jiaheng Chan and Adelene Teh, the company has focused on building luxury living towers with a significant focus on ensuring green, clean living for all residents.

Lately, the founders have branched out into creating townhouses to add spacious, luxurious dwellings to their fast-growing portfolio of properties.

With a background in business analysis, Teh says she always dreamed of running her own property development company.

"I saw a business opportunity to create a development company which involved creating residential masterpieces," says Teh.

"We wanted to make a positive contribution to the property development industry and the lives of those living in new developments. This desire inspired me to start Beulah International."
---
12. Jon Tarrant (36) & Rebecca Tarrant (33)
LeisureCom Travel Group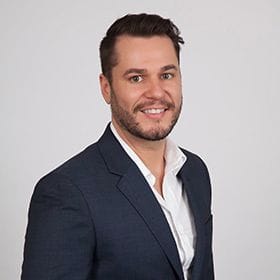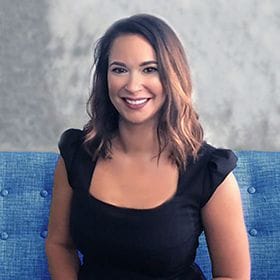 Getting in before the influx of online travel platforms, Jon and Rebecca Tarrant's Discover Queensland site revolutionised the industry.

In addition to Discover Queensland, the duo run a membership-based travel brand called HighTide Holidays which has 220,000 members in Australia and New Zealand, offering discounted travel to over 26,000 resorts and hotels worldwide.

The duo are veritable Queensland ambassadors, and are behind a unique live call centre service where customers can receive their own holiday professional dedicated to crafting an unbeatable Queensland experience.

Never ones to let an opportunity slip by, the pair started a schoolies venture called 1800schoolies to compete with the only schoolies company on the Gold Coast; schoolies.com. In true entrepreneurial fashion, the pair sold 1800schoolies to their competitor.

The advantage LeisureCom has over its competitors is based in their high-tech systems, according to Rebecca.

"We are powered by our own purpose-built Online Distribution and Management System, an intelligence so futuristic, fast and flexible it enables outcomes, opportunities and real time responsiveness no other travel company comes close to," says Rebecca.

As for the future, the pair have artificial intelligence squarely in their sights.

"Artificially intelligent technology will be the next big thing in travel," says Rebecca.

"We are working on a new platform which will take travel to a whole new place."
---
13. Daniel Wessels (30)
Jacaranda Finance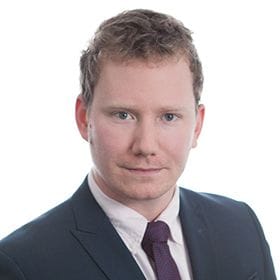 Daniel Wessels' business model certainly isn't brand new, but it's giving the dinosaurs a run for their money.
Jacaranda Finance is a digital-only online short-term lending platform that's primed and ready for the Millennial generation, now in their prime buying years.
After working for a more traditional lending business, Wessels realised he could do it better.
"The younger savvy market was turning away from traditional bricks and mortar financial institutions and instead choosing online only lenders," says Wessels.
"It made sense for me to try and inject some new life into the short-term lending industry in Australia."
In the last year, Jacaranda has broadened its horizons into larger loan amounts, still targeted at the younger demographic.
"People are loving it," says Wessels.
"It's going crazy, the feedback has been phenomenal."
---
14. Jürgen Himmelmann (29)
The Global Work and Travel Co.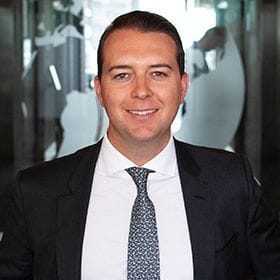 The Global Work & Travel Co offers meaningful travel experiences to school leavers and those looking for a break from the rat race who want to be more than just a tourist.
The group's core product allows customers to go overseas for up to 24 months and work in a job that they organise in advance to fund their stay and future travels.
Himmelmann started the company inspired by his parents' enthusiasm for travel from a young age, and wanting to give people that opportunity to see the world too.
"I've always travelled from a young age. My parents made it a priority to book trips 12 months in advance, even though they couldn't afford it, and then used it as a goal to work out how to make it happen," says Himmelmann.
"This passion for travelling and seeing the world has been the driving force in starting, building and growing this company to what's now a multinational company."
"I want other people who don't know what to do or where to start to be able to see this amazing world."
The Global Work and Travel Co. sends thousands of people per year to the UK, Canada, and into Australia on working holidays. Their trips include everything anyone needs from transfers, accommodation, excursions, mobile phones and bank & tax set up.
They also offer other trip styles like volunteering tours, paid teaching placements, Au Pair programs and student internships for those wanting to work overseas.
"We simply offer a product and concept that no one else is doing to our scale. What has previously always been a very niche, small business-operator market we've managed to mainstream and build a corporate business from," says Himmelmann.
---
15. Peter Ward (39)
Wardy Group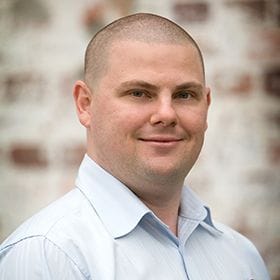 Drawn to the sunny weather in Queensland Peter Ward decided pack up shop in Melbourne and moved to Brisbane to start his innovative business solution, Wardy IT Solutions
Ward's business helps medium to large organisations unlock the value from their business data in whatever form it exists.
The company designs, builds, and maintains comprehensive data solutions, and is recognised as Australia's leading provider of Microsoft Data Platform consultants, trainers, and data analytics specialists.
Since its founding in 2004, Wardy IT Solutions has grown from a one-man show into a business with 68 employees, astronomical revenues, and has even won Microsoft's Worldwide Partner of the Year award.
In 2016, Ward launched into the US, signifying massive boost for the company.
"To date, our growth has been continued and sustained as a result of consistently delivering customer service excellence," says Ward.
---
16. Jonathan Dwayre (38)
Orbitz Elevators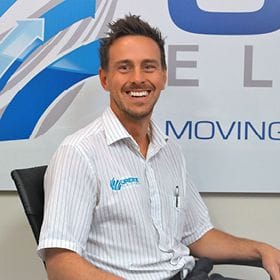 Orbitz Elevators are experts in the supply, installation, maintenance, repair and modernisation of elevators and escalators in Australia.
With over two-decades of experience in the industry, Dwayre has built a formidable business scoring pivotal contracts with the world's biggest and best suppliers.
Dwayre's experience in the niche industry started in 1994 when he helped his father with his elevator business servicing the UK Northwest.
Upon moving to Australia for what he thought would be just a few months, Dwayre fell in love with the country.
It wasn't until 2014 that Dwayre took the plunge and left his career in the industry to start his very own business.
"At that time, I was getting married, having children, building a house, with very little money in the bank," says Dwayre.
"I was working 20 hours a day, solely operating from my small room at home, I truly believed in my purpose and the business I was creating."
Less than four years later, Orbitz Elevators now employs 69 staff members across Australia and offshore, with branches on the Gold Coast, Brisbane, the Sunshine Coast, Sydney, Melbourne, Perth and Port Moresby in Papua New Guinea.
"I am a very strong advocate for providing job opportunities for many young individuals. Orbitz Elevators currently have a 50 per cent apprentice to technician ratio as is a big believer in opportunity and people," says Dwayre.
---
17. Brett Boulton (34)
Bold Living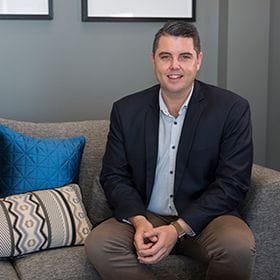 Like father like son, Brett Boulton carried on a family tradition by establishing his own residential building company in 2010.
Boulton admits he "fell" into the industry a little bit by accident after working as a labourer for his father's building firm while studying for a business-marketing degree.
"I started labouring for Dad to make a bit of money while studying and after a short time we all realised I was quite good at speaking to clients and eventually I was in the business with him full time," Boulton says.
Earlier this year, Boulton opened a multi-million-dollar purpose-built corporate headquarters in North Lakes open to the public seven days a week.
"We are now looking forward to continuing to stretch our reach across south east Queensland and are now building from the Sunshine Coast to the Tweed and west out to Plainland."
---
18. Dr Ameer Hamza (40) & Dr Tanya Unni (39)
Amtan Medical, Amtan Health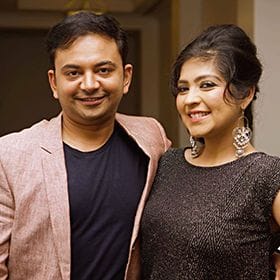 After moving to the Gold Coast at the turn of the decade Dr Ameer Hamza and Dr Tanya Unni were blown away by the city's entrepreneurial spirit and proud business community.
In the years since, they've built one of the largest private medical groups in South East Queensland, and had considerable success branching out into skin-care products.
Within eight years, the two have eight medical centres, a specialist centre, cardiology centres, and a skin laser and cosmetic clinic.
The pair also patented a skin exfoliation device with smooth edge microgroove technology. This product was sold out within 90 minutes on the TV Shopping Network.
Thanks to their success with their skincare products the team have branched out from Australia to India, China, the UK and the USA.
In addition to their work on the Gold Coast, both Dr Hamza and Dr Unni are involved in charitable activities including providing support for HIV affected children in India, as well as working closely with the Australian Government running campaigns against child abuse.
---
19. Tammy Hembrow (24)
Tammy Hembrow Fitness and Saski Collection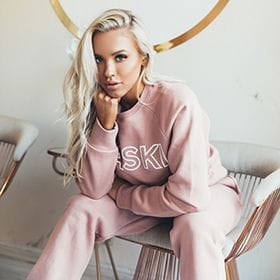 With more than nine million followers on Instagram, Tammy Hembrow's fitness gospel reaches every corner of the globe.
As the founder of Tammy Hembrow Fitness and Saski Collection, Hembrow has well and truly leveraged her success online into a business to be reckoned with.
The young mum has partnered with some of the biggest celebrities in the world including Khloe Kardashain in just a few years.
With the celebrity exposure and support of her fans, Hembrow has created a health and fitness empire which now includes a clothing line.
"Since launching, we have had to get a second warehouse to hold more stock as we have not been able to keep up with demand," says Hembrow.
"We are currently working on inventory strategies to address this problem," she says.
Hembrow recently launched her second season of Saski Collection at New York Fashion Week as part of the Australian Showcase to much acclaim.
The only direction for Tammy is the blue skies, as she transforms success on social media into a fitness and fashion empire.
---
20. William Edwards (29)
Archie Rose Distilling Co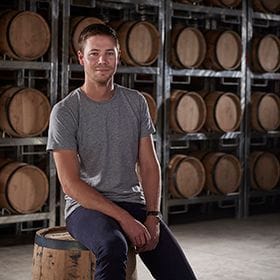 Brewing spirits used to just be a bit of a hobby for Archie Rose founder William Edwards.
After realising how he was not enjoying the corporate grind, Edwards took some annual leave, flew to New York City for a holiday, and checked out some of the distilleries that were popping up in Brooklyn.
Inspired, Edwards returned home to build a successful, independent distillery in Sydney.
The culmination of his dream is Archie Rose Distilling Co a custom-designed boutique distillery and bar in Rosebery, Sydney.
The team at Archie Rose hand-craft spirits on site including gin, vodka and whisky.
The acclaimed Archie Rose Bar is just three metres from the distillery and was created as a place where people could gather to savour the company's award-winning spirits.
If you're feeling brave, the Archie Rose team even has a program where you can distil your very own personalised bottle of gin.
---
21. Andrew Barnes (30) & Vu Tran (29)
GO1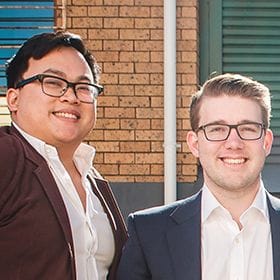 GO1 founders Andrew Barnes and Vu Tran have a long history of running businesses together. Since high school to be precise.
Before founding what is now one of the world's largest corporate training marketplaces, the two co-founded a web agency.
The two established GO1 in 2015 - an online hub of educational courses for business, students, and professionals after a stint at Y Combinator, a highly lauded incubator in the US.
"We decided to just refocus all of our energies on workplace learning, and what we decided to do in 2015 was go through a really important incubator called Y Combinator," says Tran.
"Dropbox, Airbnb, you name it, they've come out of the Y Combinator."
Since 2015, GO1 has trained approximately one million people, and has offices around the world in Brisbane, Sydney, Melbourne, Perth, Kuala Lumpur, Ho Chi Minh City and San Francisco.
The unique model of GO1 is what has driven the platform's swift growth according to Barnes.
"In many ways we are one of the largest training providers and at the same time we don't create any training courses ourselves," says Barnes, comparing the business to how Airbnb is the world's largest accommodation provider without owning or managing a single hotel room.
"As a result, customers have found that GO1 provides a more diverse and high-quality training experience to cover the full gamut of corporate training than traditional training providers."
READ MORE:
GO1:
The tech tiger that changed its stripes
---
22. Tasmin Trezise (26)
TANDA
Sometimes the best ideas are also the simplest.
Taking stock of how companies often struggle with some of the most bare-bones organisational problems, Tasmin Trezise got to work on building a platform that could iron out managerial kinks.
TANDA is a software-as-a-service company that primarily provides small to large businesses with a timesheet, rostering, and pay wage calculation software solution.
"I believe that workforce success makes businesses easier to manage, easier to grow, sustainable, and more profitable," says Trezise.
The group's most recent milestone came in 2017 when the group opened their second office in Los Angeles in March and a third office in London in August.
A global partnership with Domino's Pizza saw the group's fortunes soar, along with partnerships with Telstra, Subway, Australia Post and Nike.
With a number of high-profile awards for the business and a globally scalable platform there's no stopping TANDA now.
READ MORE: Tanda clocks up big-name clients as live wage tracker goes global
---
23. Thuy Lam (40)
Blackbook.ai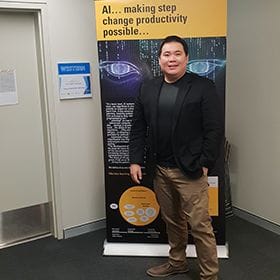 The term 'blockchain' is enough to send most people into flight or fight mode; impossible to understand, complicated and apparently set to change the world.
Thuy Lam, however, has built a business around the tech.
Blackbook.ai is a startup that specialises in developing technologies that are on the cusp of becoming part of everyday life. Automation, artificial intelligence, and blockchain are all in Blackbook's wheelhouse.
Since founding the company in 2017, Lam's Blackbook.ai has just shot from strength to strength, securing clients like RACQ, Suncorp and Virgin Australia.
Lam's secret? Being better than the big guys.
"We have won every single tender we have been involved with," says Lam.
"We are really starting to prove ourselves as better than the multinationals."
READ MORE:
How Blackbook is trailblazing the world of AI and automation
---
24. Brad Illich (35)
NewBook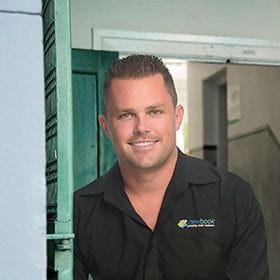 Serial entrepreneur Brad Illich founded NewBook to bridge the fundamental gap between travellers and tourism businesses.
NewBook offers cost effective solutions to streamline operations, improve efficiency, and enhance guest experiences for any sized business.
NewBook isn't Illich's first tourism play. After finishing high school in 2000 he founded Xtreme, a B2B IT company which serviced a large portion of the hospitality and tourism service.
However, when cloud technology was adopted in most sectors the tourism industry was left behind Illich spotted this gap and built NewBook to fill it in.
"NewBook's cloud technology is helping tourism businesses to embrace technology, maximise efficiencies that come with cloud software and exceed expectations of Gen-Y travellers," says Illich.
"Any sized business can use NewBook, regardless of their size or complexity. We provide small businesses with access to world-class tools that not only meet, but exceed those of large, corporate operators and our tools allow them to remain competitive against major global online travel agencies and conglomerates, such as Airbnb."
"NewBook is easy-to-use and makes running an accommodation business like using Facebook. Many of our clients have switched from outdated, clunky desktop products where the systems are older than the staff using them, to NewBook, an all-in-one cloud-based system that's so easy to learn, staff are up and running within a day."
---
25. Sean Connolly (37) & Lachlan Adams (37)
My Generator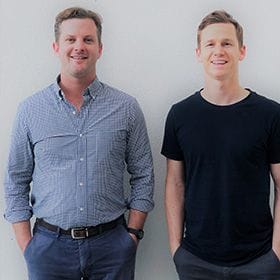 Sean Connolly and Lachlan Adams believe they've created an online retail experience that's totally Amazon-proof.

Initially selling electric generators online, the pair found success and moved into a number of related categories like caravan appliances, marine goods, and concreting equipment.

After noticing the disruption eCommerce was having on bricks and mortar retail the pair identified an opportunity to disrupt a very traditional retail distribution model to benefit consumers and partner brands.

"We focus on product categories where the incumbent distribution model is dominated by highly fragmented independent retailers," says Connolly.

"My Generator runs a platform business model providing a highly curated digital shopping experience to our loyal customer base."

"Our success has involved focusing on large, bulky, technical products that traditional retailers find difficult to move on scale."
---
26. James Grieg (35)
iVvy & Bloomtools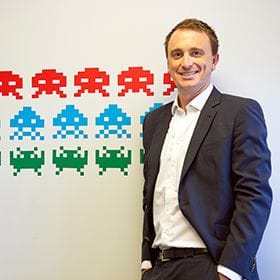 iVvy is a leading online booking platform for venues and Bloomtools is a software as a service company selling web tools like email marketing, CRM, and CMS, to small businesses.
Greig spent eight years building the software which allows venues to see live availabilities, and allows event organisers to make instant bookings.
iVvy was started with Grieg's partner, Lauren, and is the world's first online booking platform for venues.
Recently, iVvy opened offices in New York City and South Africa, and the group hopes to continue expanding in those markets.
The group is currently focused on its partnerships with large companies like Flight Centre, Dimmi and MPower.
In an exclusive partnership with Flight Centre, the live corporate meetings management platform will streamline the entire meetings planning process, providing complete visibility over spend and saving significant time for planners and procurement managers alike.
There are no limits to the type or size of meeting that can be booked on the platform, from a corporate cocktail function or an intimate board meeting, to a multimillion dollar exhibition for thousands all with a simple click.
---
27. Sabri Suby (33)
King Kong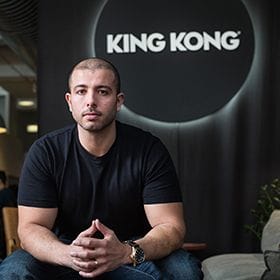 Digital marketing is perhaps the most important thing to get right for businesses of any size, and Sabri Suby's King Kong is leading the charge from its base in Melbourne.
The company, bootstrapped out of Suby's bedroom with zero capital and no connections, has quickly grown.
"The astronomic growth comes down to the values of the company and our dedication to providing a return on investment to our clients," says Suby.
"We practice what we preach and trial and test digital strategies for our own company, taking the proven strategies and then implementing this for our clients."
"We take the time to educate and nurture our clients, turning their previous negative experiences with digital marketing into good ones, and creating goodwill in the industry."
Suby's clients are some of the most well known in the country, and include mattress giants Koala Mattress, the Sydney Swans, Raine & Horne, Slater + Gordon and 13CABS.
"Digital marketing is not rocket science, but many agencies use its perceived complexities to overcharge and under-deliver," says Suby.
"Our goal is to dominate the Australian market, being the go-to agency for medium to large businesses seeking online advertising guidance."
---
28. Jake Robinson (35) & Mark Deacon (28)
AchiX Group (incl. Superdraft, VIZ360, ROBICO)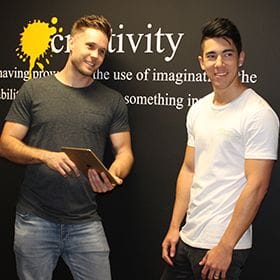 In terms of disruptors, it's hard to come by Australian start-ups who've been as successful as Jake Robinson and Mark Deacon.
Superdraft Australia is a fast growing, multi-award-winning company on track to disrupt and capture large portions of the global architecture industry.
Robinson and Deacon have created a design collaboration platform which guides users from inspiration to construction as efficiently as possible, connecting the project to the most suitable consultants and providing added layers of transparency for all involved.
Since its inception in 2011, the company has successfully completed over 1000 residential and commercial architectural projects across Australia.
This isn't the first time Robinson and Deacon have featured on our list; in 2015, 2016 and 2017 the pair won the Professional Services award at the Gold Coast Young Entrepreneur Awards.
Over the last year the duo have been making a strong push into the fast growing area of 3D virtual reality and have launched a platform around that technology.
---
29. Trent Meade & Matt Blyth
Celissa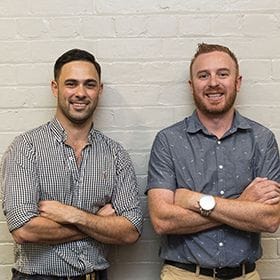 The owners of classic Brisbane nightclub spots The Met and GPO recently opened their second restaurant as part of a diversification into the gastro-pub hospitality space.
As a combination of their wives' names 'Cecilia' and 'Melissa', co-founders Trent Meade and Matt Blyth decided on the new name 'Celissa'
"They've been enormous supporters of ours. The last seven years have been big and we've been growing - they've given us our families, and our core values as a company are all key attributes of theirs," says Meade.
After feeling pigeon-holed as nightclub operators, the two decided to step out of those boundaries and into something more diverse.
As a result, Meade and Blyth opened Isles Lane on Post Office Square in the CBD in April, followed by the November launch of Beirne Lane on the Brunswick Street Mall in Fortitude Valley.
Meade recognises the Valley's edgy heritage and hopes it retains some of its former glory as changes sweep the district, but is conscious of how the space is evolving.
"We don't see that in Fortitude Valley with the daytime economy, but that's coming with all the residential towers there, businesses are moving their head offices into that area, and in the last seven years that landscape has changed substantially," he says.
READ MORE: Iconic Brisbane nightclub owners beat "brutal" late trading laws, pour into daytime dining
---
30. Tim Johnson (36)
Corbett & Claude, Comuna Cantina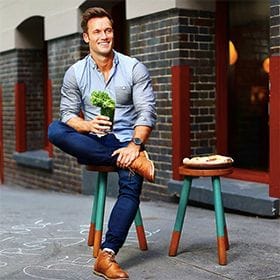 With food delivery services changing the way we all eat, the hospitality business is rapidly changing.
No longer just a place to grab a bite, restaurants and cafes are now becoming places to socialise, get work done and relax.
Tim Johnson, founder of Corbett & Claude and Comuna Cantina, two great Brisbane food and drinks hubs, says he had to do something to stay relevant.
"There's a lot of pressure on restaurants with Uber Eats and Deliveroo, because now people can purchase restaurant quality food and eat it at their home," says Johnson.
"The important thing for us was to be able to create an environment where people would want to come to us."
Johnson has been showered with accolades over the past 12 months; Claude & Corbett won best pizza restaurant in Queensland.
Look out for Johnson's brand-new rooftop bar, opening in a hip joint near you very soon.
---
31. Sam Hardy (34) & Hamish Ellingham (35)
Peak Marketing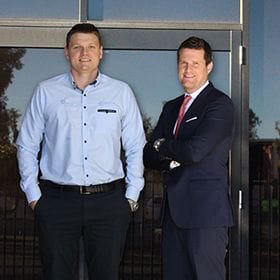 Founded in 2009, Peak Marketing creates, designs and manufactures marketing products for some of the world's biggest brands.
Whether it be designing uniforms for Komatsu, developing a unique Father's Day design for Darrell Lea or concocting a new coffee cup exclusively for the Coffee Club, Peak Marketing is everywhere.
Founders Sam Hardy and Hamish Ellingham say Peak is selected over competitors because quality is assured.
"Our single point solution is key to our success," says Hardy.
"We specialise in design, sourcing, warehousing, and distribution. We offer it all and we execute it very well."
---
32. May Chan (33) & Reuben Sim (34)
Dental Boutique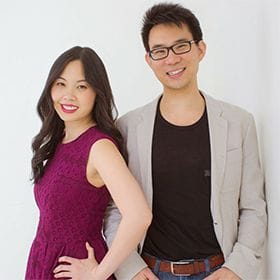 For founders of Dental Boutique, dental treatments are more than just a quick fix it's about restoring self-confidence in their patients and making the process as comfortable as possible.
Dr Chan and Dr Sim wanted to build a dental practice that places the care of the patients as paramount to everything else.
"After working in several dental practices, I realised that there was a lack of "care factor" in many dental offices," says Dr Sim.
"Many dentists do not take time to listen to patients' emotional needs and wants nor their desires for the smile they've always dreamed of."
"We believe that everyone deserves the freedom of expression, to be able to smile freely, and to be confident in themselves."
---
33. Sam Fairless (30)
LEAD Consultants, LEAD Design Group, INCON, Expert Planning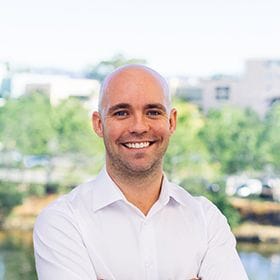 LEAD Consultants was born in 2012 when Sam Fairless, its fearless founder, was just 25 years old.
After working alone for 18 the project management company finally brought on its first employee. Fairless now has 10 full-time staff, all under the age of 35.
LEAD Consultants offers project management and other services to sectors like aged care, retirement living, education, residential and commercial projects, and the industrial sector.
INCON and LEAD Design Group offer services like town planning, landscape architecture, master planning, and construction & building contracting.
"Having such a young energetic team we are always looking at adopting new technology to not only increase our efficiency but also be able to offer our clients better value for money," says Fairless.
"I believe no matter what your role is in a business, you should always have a voice when it comes to doing things better and being innovative. Too many companies, particularly in our industry are stuck in their ways and processes which I believe limits what they can offer their clients and limits their efficiency."
---
34. Chris Christofi (39)
Reventon & CHC Planning Solutions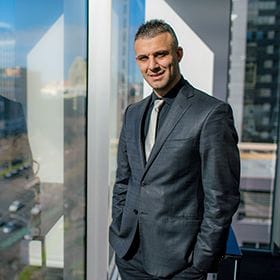 Like a fine wine, Chris Christofi's Reventon gets better as it matures.
Starting off with a strong foundation in property investment, the financial services provider now offers a complete range of property investment and financial services.
Christofi says understanding his clients is what helps Reventon stand out.
"Understanding clients' needs, offering the right solutions with the right support channels, is what gives us an edge and helps our clients achieve their financial goals," says Christofi.
"For me it's not about one brand succeeding and making money, it's about a customer experience. We're very big on return on experience. This has enabled our company to thrive and grow."
"Every year we've managed to grow our brand and our client base exponentially. We've grown to three offices from just me to what it is now."
---
35. Daniel Holden (38)
HoldenCAPITAL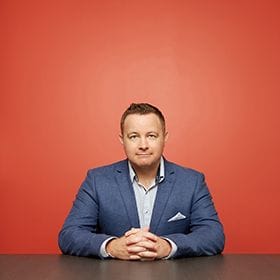 Whilst Daniel Holden might have started his career selling new Holden HSV cars, his own business isn't in the world of V8s.
HoldenCAPITAL provides bank and bank alternative debt and equity funding to middle-market entrepreneurial property developers.
After losing his job at one of Australia's premier specialist firms where he worked in finance and project delivery, Holden decided to go out on his own and start his own firm.
"I thought that if I could create a platform that delivered a range of options on both debt and equity that would be valuable to so many property projects and the people behind them" says Holden.
"I learnt through first-hand experience of sourcing funding myself how integral project funding can be to delivering a great project."
Since starting in 2011 in Holden's spare bedroom on Queen Street, HoldenCAPITAL has grown rapidly with 20 staff across four offices in Brisbane, Sydney, Melbourne, and Hong Kong.
---
36. Leigh Rust (38) & Nathan Rust (35)
Safetyline Jalousie, SMR Designs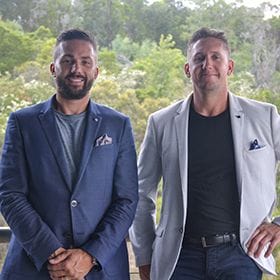 Working with some of the most well-known Australian construction companies, Leigh and Nathan Rust's Safetyline Jalousie has become an iconic mainstay in apartments the country over.
The brothers supply a high-end, hybrid European designed louvre window system into the construction sector.
The two work with Meriton, Mirvac and Frasers to get their product shipped around the country.
Strong alliances with Government and private sector giants have helped the pair's business soar, and there's no sign of it slowing down.
The company supports the Tiny Home Project which gives the homeless a place to call their own.
---
37. James Strathdee (34)
One Power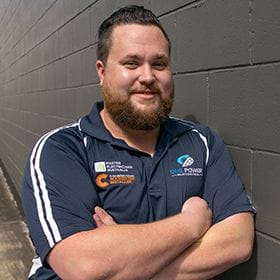 One Power is a solar power retailer that works with leading wholesalers to bring clients the best offers possible.
James Strathdee's business is a one-stop-shop, and carries out all applications, installations, and works with his clients after installation to ensure they're receiving the maximum savings possible.
Strathdee founded the business after working for a large solar retailer that he says was more focused on the sale than the customer experience.

"I decided that we could create a more streamlined process for the customer to help navigate the challenges of the industry," says Strathdee.
The team has recently expanded their geographical reach and are looking to expand their electrical training programs to those areas now.
---
38. Andrew Copley (34)
AJC Portables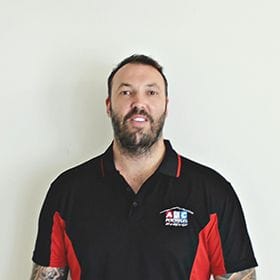 From what began as a business supplying granny flats, Andrew Copley's AJC Portables has gone on to distribute portable accommodation and offices across the country.
Reaching as far as Cape York with it in-demand structures, the Queanbeyan-based company expanded with a second factory in Sydney and in June this year it set up an operation in Newcastle.
"From Queanbeyan I've done jobs 4,000km away in Cooktown, Queensland, and we go down to the Victorian border," he says.
"It started out definitely aimed at granny flats and they were definitely the majority of our customers. But the more I've gone bigger and the way I've tinkered my range, it's a 60-40 split between residential and commercial.
"Councils would probably have to be our number one returning clients. We do jobs for numerous councils in New South Wales."
And if all goes well following the expansion to Newcastle, Copley hopes to set up an office further south.
"If it does what I think it will do and looks like it's doing, I'll then look at doing the same thing in Melbourne and opening up a factory there," he says.
---
39. Layton Mills (31)
CannPal Animal Therapeutics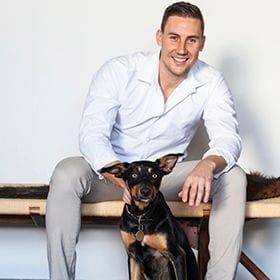 When you think of cannabis you probably don't think of it as a drug for pets, but Layton Mills' ASX-listed CannPal is taking common preconceptions off the leash
Having worked in developing consumer goods for nine years, Mills was fascinated by the potential cannabis had particularly in the veterinary sector.
"The more I researched the benefits of medical cannabis the more I saw the opportunity for the development of cannabis derived therapeutic products for animals and developed a concept and investor presentation to raise capital and begin the journey," says Mills.
With the latest results from a dosing study of CannPal's cannabis-based drugs for dogs, Mills says the company is ready to take a big step with the US Food and Drug Administration (FDA) in early 2019.
An INAD (Investigational New Animal Drug) application in the US may not sound exciting to most, but in pharmaceutical development it signifies a leap seldom seen in cannabinoid drugs for animals or humans.
"Having the data now to actually move forward and file an INAD is definitely what we're excited about," says Mills.
"Filing an INAD is actually pretty significant. There aren't too many companies globally that have filed an INAD for animal health or an IND for human health for the cannabinoid drug. They're few and far between."

He says much of the reason behind this lack of similar applications from US companies is the fact it's still illegal to hold the substance.

"It's hard to do research in the United States with these actives...a lot of people haven't had the opportunity to do it."
---
40. Sharne (39) & Nigel Patient (40)
Head Mark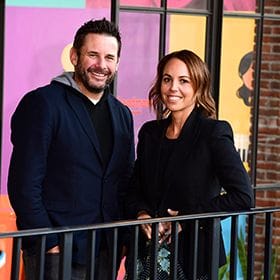 Frustrated by what founders Sharne and Nigel Patient describe as a loss of creativity in the marketing world, the two founded Head Mark to bring a spark back into the industry.
"Head Mark was built on the foundation that we wanted to increase and develop creativity," says Sharne.
"We felt that through diversity, collaboration and passion we could creatively solve challenges and help brands, people and businesses to become the most creative version of themselves."
Since founding the company in 2007 the pair have worked on campaigns for both Australian and global companies.
In Australia, the team have worked with Muffin Break, Jamaica Blue, and Montezuma's.
To inspire the best out of their team, the Patients regularly take their employees out to successful and left-field locations in Sydney to see how business can be done differently.
---
41. Scott Chapman (35) & Shae Chapman (34)
SS Chapman


Though the Chapmans are known for their excellent operation of Zambrero Restaurants on the Gold Coast, their company SS Chapman does so much more.

As part of the business, SS Chapman has a consulting arm where they work with QSR clients on profit and operational strategies.

The pair have won multiple Gold Coast Business Excellence Awards, and last year they were the International Franchise Partners of the year for Zambrero.

Keep an eye out for the duo as they have some exciting plans under wraps.
---
42. James Marshall (34)
MWM Advisory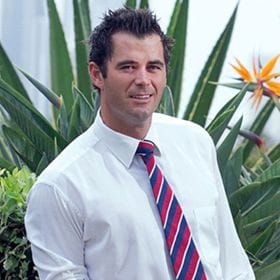 The desire to be more than a number at one of the 'big four' has seen James Marshall's service orientated accounting, and advisory business thrive since being founded in 2013.
The group operates in an untapped world of businesses with potential for growth; those without the budget to hire a full in-house finance function but are willing and able to outsource to Marshall's incredible team.
The business was born from a distinctive gap in the market to service Queensland's growing small business sector.
"Looking around, I recognised that the Gold Coast was a hub for entrepreneurship and there were many significant Gold Coast businesses that weren't receiving the level of support they required," says Marshall.
"Our target market is small-to-medium businesses with the potential for growth; businesses that may not have the budget to hire a full in-house financial function but are willing and able to take on external compliance assistance and financial advice."
"As a mid-tier accounting firm, our organisational structure has been developed to provide deep, yet affordable resources," he says.
---
43. Peter Tsokelenis (34) & Tanya Abbey (32)
Black Wolf Field Service, Black Wolf Consulting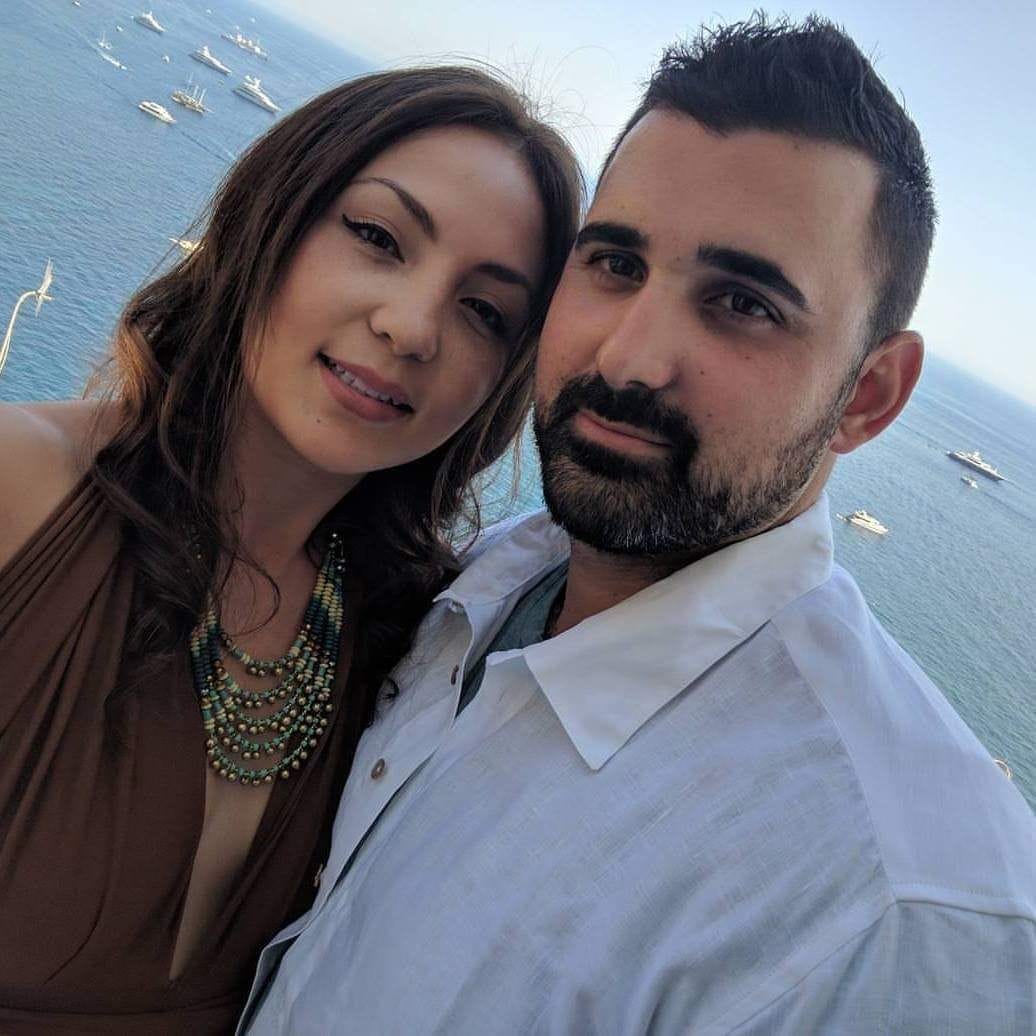 Before founding Black Wolf, Abbey and Tsokelenis worked together in multi-million dollar multinational businesses but figured they could improve on some of the things they saw the big companies were doing wrong.
Black Wolf is a traditional recruitment firm, but Peter Tsokelenis and Tanya Abbey say what differentiates their firm from others is a genuine passion for their clients.
"We actually do care about our guys," says Tsokelenis.
"We have people all the time trying to poach our guys, but they say no way. We call our team the wolf pack, and everyone looks out for each other. Our guys even howl to each other on the two-way radio."
The group, with its two arms (Consulting and Field Service), works with some of the major mining companies in Australia. The company has seen considerable growth over the last three years, having tripled in size, and has even expanded into Mackay with a mining services arm.
Black Wolf has definitely staked its claim of the mining services industry, with the Consulting arm being able to deliver up employees for the white-collar side of the business and Field Service being able to provide stellar workers in labour hire, mining, and construction.
---
44. Peter Matthews (36)
Solar Service Guy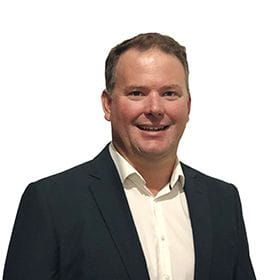 Everyone from businesses to mums and dads have been on the solar train for the past few years, and Peter Matthews is one of the few who seized that opportunity at the right time early.
Solar Service Guys (SSG) is a national installer of solar services around Australia, with operations in Brisbane, Sydney, Newcastle, Melbourne and Adelaide.
The SSG team roll out to an average of 50 sites per day, providing maintenance services for solar as well as new solar installations.
The company has a national view and hopes to deliver more services around Australia.
Matthews is also looking into linking products with Internet of things, smart homes, batteries, and peer to peer electricity sharing, making SSG a forward-thinking company with limitless potential.
---
45. Anthony Simon (40)
ApprovalBuddy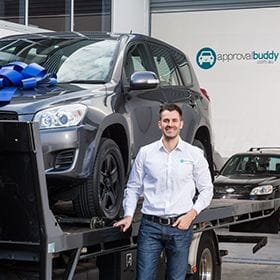 After years of working with corporate car dealerships and a stint selling his own brand of designer jeans in between, Anthony Simon has found his true calling with ApprovalBuddy.
The platform acts as a 'virtual dealership' which allows you to buy a car online and have it delivered, with the financing, mechanical inspection and transfer papers all taken care of.
"They don't even have to see the car in person. When they're happy to go ahead with the purchase, we deliver it to them without having to test drive it - that's the new generation."
Simon plans to open soon in Sydney, and then conquer the rest of the country.
A partnership deal struck with Gumtree just months ago will allow ApprovalBuddy to operate through Gumtree's platform in Queensland.
---
46. Hamish Buckley (31)
Coco Vodka, Bean Body, Mr Bright.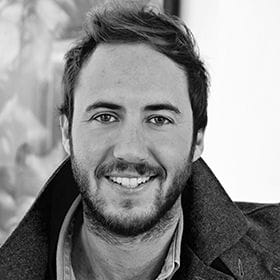 Hamish Buckley is one of Melbourne's top serial entrepreneurs and is behind some of the country's most noticeable brands.
Inadvertently or not, you've most likely seen the striking social media presence of Bean Body, Buckley's caffeinated facial mask, scattered throughout your social feeds.
The unmistakable imagery was exactly how Buckley hoped the social media campaign would go flooding feeds with selfies of women with the product all over their faces.
This was an integral part of getting his products into some of Australia's largest retailers like Coles.
His coconut water and vodka RTD product was an obvious hit before it launched. Tapping into the health-conscious voice in all of us, Coco Vodka is the clear choice for Instagrammers Australia wide.
As the first to try and manufacture the drink, Buckley has seen major alcohol producers try and latch onto his success which he believes is a great thing.
"Since we launched a lot of the bigger alcohol companies like Smirnoff and Vodka Cruisers have all taken a bit of a leaf out of our book by removing sugar and lower calories," says Buckley."
"The market is slowly changing."
---
47. Alex Hainstock (28) & Douglas Hainstock (31)
DVNT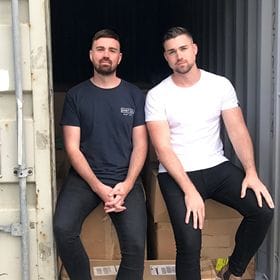 Four years ago Alex and Douglas Hainstock jumped in a van with a box of sample designs and drove around the east coast of Australia.
Fast-forward to today and the Hainstocks' clothing brand DVNT is stocked in over 4,500 stores worldwide.
Derived from the word 'deviant', DVNT embraces and celebrates the underground, the gritty, and the edgy; it's a branding tactic that's well and truly paid off for the brothers who've found a home in retailers like THE ICONIC and City Beach.
Alex says the best part of the job is seeing how far and wide their brand has travelled.
"The coolest thing is going to a store in New York and seeing our product or being out on the street in LA and seeing people wearing our product," says Alex.
---
48. Paul Eastwood (35)
Pollen Consulting Group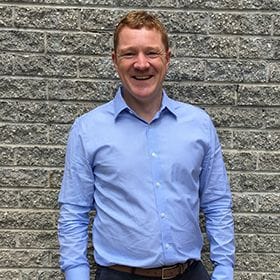 Pollen Consulting Group is the go-to business on value chain transformation, bottom-line performance and fostering collaboration for the food and beverage sector in Australia.
The company, led by founder Paul Eastwood, differentiates itself from more traditional management consultancies by focusing on values, not process, in its work with family-run businesses through to ASX listed companies.
Founded in 2016, Pollen has already secured long-term contracts with leading companies in the food and beverage sector like Woolworths.
Eastwood believes his approach of collaboration rather than finding a single fix gets the best out of the businesses he consults.
"Rather than a traditional model of trying to fix problems or put out fires I believe consultancies can forge a more sustainable business by helping clients collaborate and look for ways to innovate in their own businesses for future growth and profitability," says Eastwood.
---
49. Fady Hanna (30)
Flagship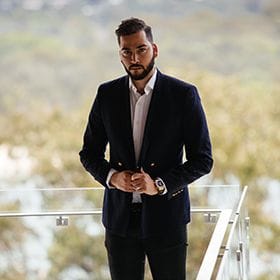 When Fady Hanna set out to create Flagship he wanted to fill a void he saw most big multinational marketing groups neglecting.
"There was definitely no shortage of agencies that had amazing, creative marketing campaigns, but there was very little focus on tangible results," says Hanna.
"I saw a massive void when it came to strategic branding as opposed to simply creative branding."
His gamble clearly paid off, and Flagship Digital has grown incredibly fast since it was founded in 2012.
Hanna recently opened an office in the United States where the group has partnered with several multi-national PR firms to assist with the brand development of their artists, athletes, and entrepreneurs.
"There's a big misconception around what branding is," says Hanna.
"Firms charge a stupid amount of money for a fresh coat of paint without taking an in-depth understanding of every different department. When we come in and show clients it's not about the coat of paint it's about the engine behind the car, that has attracted nothing but amazing things."
---
50. Taryn Williams (33)
theright.fit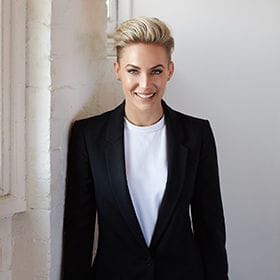 Taryn Williams founded her first company WINK Models 10 years ago, which now has more than 650 models Australia-wide with offices in Sydney, Melbourne and Brisbane.
But Williams wasn't about to be hemmed in by the traditional business model. The advent of social media and influencers has given rise to a new kind of talent agency, and that's a space theright.fit slipped into perfectly.
Launched in 2016, theright.fit connects brands, advertising agencies, and content creators with hand-picked models, influencers, photographers and stylists.
Brands like LG, Jacobs Creek and Menulog use Williams' system, balancing out an otherwise tilted market.
"I decided to found theright.fit to create a seamless market network to put the power back in the hands of the people it belongs with, clients and talent, and remove the need for agency middlemen," says Williams.
"We built a scalable technology platform using cutting edge technology and algorithms to match clients and talent and talent with jobs they are suitable for."
---
51. Jeff Stenner (35)
2J Electrical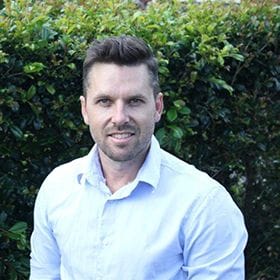 Starting off small, Jeff Stenner and two employees slowly grew 2J Electrical into the powerhouse it is today.
By focusing on customer service, Stenner was able to attract more jobs through word of mouth and positive reviews.
The group grew steadily in size, and 2J gradually cemented themselves as the go-to electrical on the Gold Coast for new builds in the luxury house market.
2J was one of the leading installers for solar on the Gold Coast, and the group has recently begun installing electric car charging stations in new homes exemplifying the forward thinking and innovative drive Stenner and 2J have.
"This flexibility to try new things and provide a one stop shop gives us a competitive edge," says Stenner.
"We also like our employees to upskill so they can challenge themselves and provide the company further advantages."
---
52. Hien Nguyen (36) & Benjamin Germein (35)
Happy Way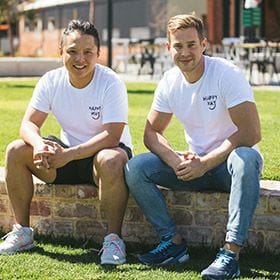 Gym junkies Hien Nguyen and Benjamin Germein founded Happy Way because they could not find any natural protein products without all those nasty additives.
With a product that stands out in the cluttered protein supplement market, the pair have expanded the operation internationally with a warehouse in the UK to keep with European demand.
The product is made out of grass fed whey, and packed with superfoods like chia seeds, matcha powder, and coconut flour, which helps it stand out from the cluttered market of proteins supplements.
The two started the business after working in the health and fitness industry for a number of years. Germein's history has seen him owning 11 Antyime Fitness gyms around Australia, and Nguyen has been working in women's health for 13 years.
Being good friends with online megastar Ashy Bines has given the brand a boost to the international stage. Germein and Nguyen recently joined the influencer in May this year when they joined Ashy on her Squad Tour in London.
"We're providing a product that's going to positively improve someone's life," says Germein.
"It's a growing industry, the health industry is huge, and that's what's very motivating. We're in this space and we're mainly an ecommerce business as well, and we like to positively influence our community on a daily basis. It's very motivating for both of us."
---
53.Ben Wong (31)
Academy Xi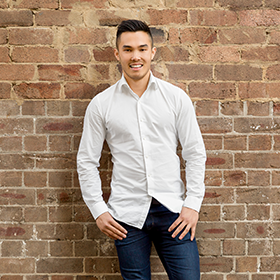 Academy Xi is an education platform teaching the next generation of skills required to operate in a widely digitised world of work.
The company offers skill-specific practical courses in design and emerging technology, with specialties including UX, augmented reality and virtual reality design.
Founder Ben Wong says he wanted to create a platform that would empower people with skills to further their careers.
"These programs are typically for working professionals looking to skill up or transform their careers," says Wong.
"Alternatively we help train companies increase their internal capabilities. We're creating a life time learning hub, for all to learn regardless of what stage they're at."
Founded in 2016, the company has seen significant success in its two years of operation, thanks to its massively scalable and unique market position.
---
54. Ashleigh McInnes (33)
Papermill Media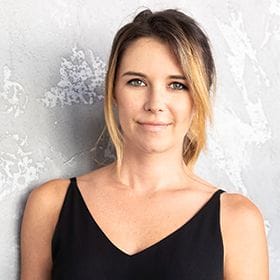 Sometimes the best businesses are born from a leap of faith and that's certainly the case for Ashleigh McInnes.
After graduating from university, and after cutting her teeth in a boutique PR firm (which eventually folded), McInnes decided to do something crazy and start her own firm.
"I was 24 at the time and barely even had enough experience at an Account Manager level, let along driving campaigns," says McInnes.
"But being young and naïve, and against everyone's warnings that I was too inexperienced, I decided to take the plunge."
In 2010 McInnes launched Papermill Media, an integrated digital, PR, events and communications agency.
Papermill has survived because it has always been on top of the changing trends in the sector, according to McInnes.
"We started out as a more traditional PR agency, offering only media relations services," says McInnes.
"As the media landscape started to diminish, I identified that these services would be harder to utilise to deliver results and so had to look at diversifying our offering instead."
As such, McInnes has focused on building the strength of her team's social media marketing skills and diversifying into content marketing, allowing the company to weather whatever storms come its way.
---
55. Michael McGovern (34), Dan Norris, & Eddie Oldfield (34)
Black Hops Brewing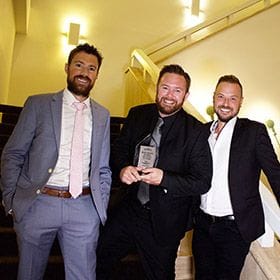 Michael McGovern and Eddie Oldfield heard the cries from passionate Gold Coasters screaming for a craft beer scene in the city, so they started up Black Hops Brewing.
Not only do they make damn good beer, but they support and mentor upcoming brewers looking to get a start in the exciting industry.
McGovern had been a commercial craft brewer for almost ten years before starting Black Hops, a decision he, Norris and Oldfield made together.
"We make good beer for good people, in our local community and around the country," says McGovern.
"We support and mentor other upcoming brewers looking to make a start in the industry and we also train brewers and help them achieve qualifications in the brewing trade."
Since opening their doors in 2016 the team have experienced almost unmeasurable growth. They have tripled their production capacity and are set to open a second production facility on the northern end of the Gold Coast.
"We have pioneered new and exciting styles and brewing techniques, we also have shown the importance of transparency in our business to other breweries - championing competition."
---
56. Kane Sajdak (30) & Bernard Mangelsdorf (32)
BITS Technology Group, BITS Wireless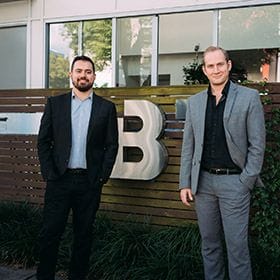 If you want a full-service IT team, but don't necessarily want to part with the cash to hire one in-house, Bernard Mangelsdorf and Kane Sajdak are the guys to speak to.
Mangelsdorf and Sajdak's business BITS Technology is a managed IT services and IT consulting firm, it does everything that a regular on-site IT team does at a fraction of the price.
"We do everything from IT strategy to day-to-day support," says Sajdak.
The duo's clients include ASX-listed giants G8 Education and National Vet Care as well as private company Maven Dental Group.
In the last year business has boomed and Sajdak says a touch of personality and class is all part of the BITS offering.
"We are not the team of traditional IT guys, we are all approachable and not basement-dwelling super nerds," he says.
"We employ people who want to talk about business. There is more to life than just sitting in front of a screen all day."
---
57. Dylan Crowe (34)
Catapault Property Group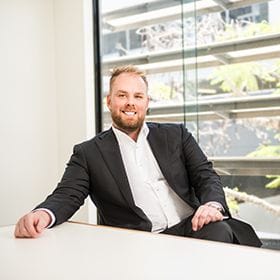 Catapault Property Group, under the careful leadership of founder Dylan Crowe, is certainly a property group to watch.
Since launching in 2013, Catapault has secured a number of high-profile projects in Queensland and Northern New South Wales.
Developments like Northrise in Lawnton, Creeks Edge in Morayfield and Park Hill in Toowoomba are the key projects for Crowe.
With over $170 million of developments in the pipeline, Catapault could soon be launching for the big guns in Queensland's competitive property development sector.
---
58. Ryan Hartshorn (34)
Hartshorn Distillery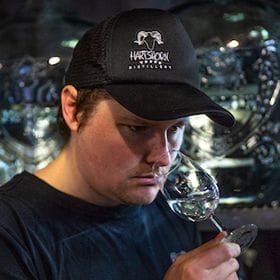 When there's a will there's a way, and when there's whey there's...vodka?
From the family sheep's milk farm south of Hobart, Ryan Hartshorn has built a spirit producer that's the envy of the world.
Hartshorn Distillery won top honours in the World Vodka Awards 2018 in London, while its gins are held in high regard.
But a business cannot thrive on accolades alone. Through a creative "full circle" approach to ingredients, the Hartshorn's Grandvewe Farm has lifted its cheese game while two luxury products mix a potent tourism cocktail.
"It came about because the cheese side of the business wasn't making enough money to sustain the three families that are currently in the business. Something major needed to change," he says.
"I took it upon myself to come up with a business idea where even if it wasn't going to be relevant to the cheesery, it could basically get enough income for us all. We were paying ourselves less than the minimum wage at the time."
That business idea was distilling, and with a team of scientists Hartshorn worked out how to ferment lactose sugars into alcohol.
While the two businesses are very different, the entrepreneur finds cross-overs after more than a decade supplying cheese to high-end markets.
"You start to understand what chefs are looking for. You start to understand what that consumer market's after. Even though it's spirits, it's still the same values," he says.
He says Australian bottle shops were ahead of the curve in stocking Hartshorn's products before the prestige of the World's Best Vodka award, but the distinction has helped advance the business.
"I think the award just gets people listening to what you have to say a little bit more now, more than anything else, or watching your space rather than thinking you're just another product in the market.
"Even if it didn't have awards, it's the only vodka in the world made from sheep's whey, and probably only one of a few spirits where the whole bottle is hand-painted. We spray paint the bottle black and then we hand-paint the bottle."
---
59. Cameron Bray (39)
Bray Management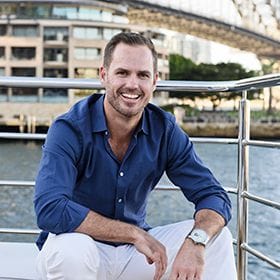 International trips, boat shows and high-profile clients are all in a day's work for Cameron Bray.
Bray Management takes over the day-to-day running of a superyacht on behalf of its owners, including the option of chartering the vessel to bolster returns on the asset.
In the past year Bray Management has more than tripled the size of its fleet and currently has 18 yachts under management, including the 4-cabin 120ft crown jewel Sahana, which significantly drives high-end international tourism to the country.
The company now operates the largest fleet of yachts under management in Australia.
Bray was also recently elected chairman of Superyacht Queensland, the state body responsible for working with the government to achieve change and progress in the industry.
He looks forward to spearheading his company's next phase of growth following an exceptional year of investing in new vessels, hiring new staff and adding to the product offering.
---
60. James Gilmour (34)
Gilmour Space Technologies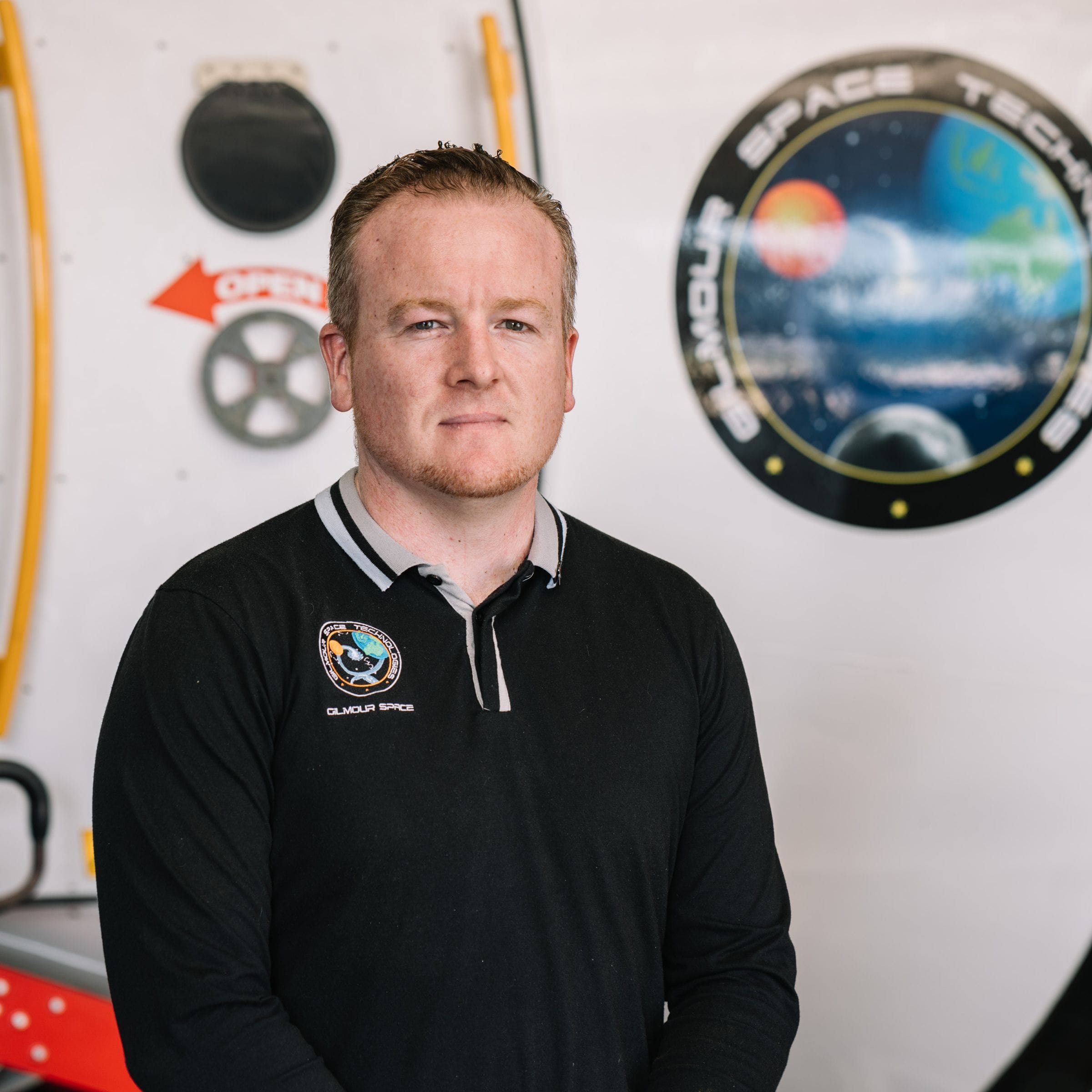 If you were to describe the Gold Coast business landscape, in a nutshell, rocket science and space engineering probably wouldn't be the first industries that spring to mind.
Gilmour Space Technologies is out to change that perception.
Founded by brothers Adam and James Gilmour, the company's mission is to provide low-cost access to space through its own designs of small payload suborbital and orbital rockets.
The launch of Gilmour Space Tech's first suborbital rocket is scheduled for 1Q19, and earlier this year the company signed a Space Act Agreement with NASA to test out new innovations.
Gilmour Space Technologies is an Australian private space company headquartered in Queensland with a subsidiary in Singapore.
The company is developing new hybrid-engine rockets and associated technology to support the development of a low-cost space launch vehicle.
---
61. Daniel Jukic (40)
Pro9 Global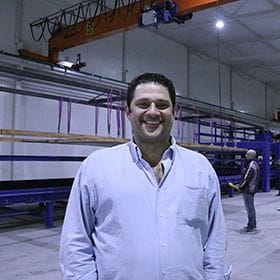 At 31 Daniel Jukic was restless after selling a Perth-based mining services company he built called MIE Enterprises to Danish group FLSmidth for $63.7 million.
He started that enterprise in his early twenties and grew it to employ 300 people, but he "couldn't say no" to the offer that was on the table.
A non-complete clause in the contract meant he couldn't set up something new in the mining sector, but the serial entrepreneur was back with a new project in no time.
What caught his eye was the lightweight R9 building material that could have a range of applications for construction.
"I looked around and invested in what I thought was the best system at the time, the R9 system, and became the largest shareholder in that business," says Jukic.
But Jukic wasn't fully on board with the business model, realising manufacturing needed to be taken in-house.
"I learned that you can't go to panel manufacturers and ask them to manufacture your panel. They are moulded and set up on a line for a design they can't break that down to make yours," he says.
The answer was the creation of Pro9Global in a bid to make home construction cheaper and more efficient.
Undeterred by investor disinterest at home, he piloted the business in Europe before returning to Australia where he has recently signed two substantial contracts in Victoria.
---
62. Emilly Hadrill (31)
Emilly Hadrill Hair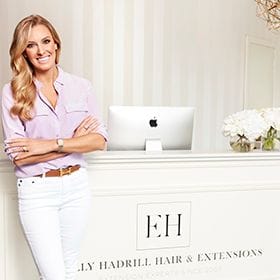 Emily Hadrill's entrepreneurial journey began in high-school but really took off once she turned 20 and decided to start a specialized hair extension salon.

This idea exploded and now includes four Emily Hadrill Hair salons in Brisbane, the Gold Coast, Sydney and Melbourne.

Initially, Emily Hadrill Hair was just a specialised hair extension salon, but its since grown and become a full-service hair salon for all of a client's needs.

"We offer a high-end experience in our salons, providing hair extensions that are perfectly blended to look and feel completely natural," says Hardill.

"With four locations, and around 25 team members we are growing quite rapidly and have been able to maintain an extremely high standard and receive daily messages of praise from our clients which makes it all worthwhile!"

"The concept of a hair extension only salon in the early days was unique to the market in the first place, but I was not a hairdresser so I followed solely my passion for business and for providing a service that was limited."
---
63. Jacob Banks (31), Dan Kerr (31), & Dexter Devlin (32)
Service.com.au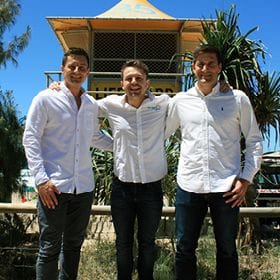 Finding a tradie online might be a quick Google search away, but how do you sort the best from the rest?

Service.com.au offers a free service to locate local, verified trades and service providers, and is giving Google a real run for its money.
"We do this through two different methods firstly, we have a fully comprehensive directory where users can browse through all the relevant businesses in the area," says co-founder Dan Kerr.
"They can identify which businesses are verified, read real reviews and view information on the businesses including links to their website and social media.
"Secondly, they can input the details of the job they're looking to get completed and the area that they're based in, this then gets sent out to the relevant businesses in the area who can then quote on the job or contact the user directly."
From a business point of view he says it allows for exposure in the directory with 50,000 unique visitors coming to the platform every month, while for the users it saves them the "ring around" for due diligence.
"Nowadays the businesses can also receive notifications of jobs in their area and accept or decline these at the touch of a button," says Kerr.
The company was established in 2012, but it didn't really start to gain traction until the end of 2014 following the completion of the Bond Business Accelerator.
"The following year saw over 500% growth in traffic to the website and has continued to grow ever since," he says.
"We also have been fully self-funded till this day and been able to grow the business organically through our sales revenue.
---
64. Braden Voigt (35)
Lynkz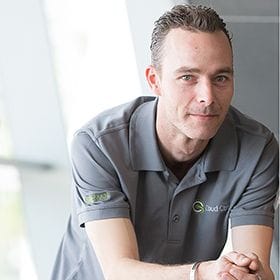 Braden Voigt's latest venture Lynkz is a software development company that is revolutionising how big businesses in Australia approach artificial intelligence.
The company specialises in the development of software solutions using AI, thrusting customers well and truly into the next generation of automation.
Having founded software development company SixPivot in 2016, and cloud automation management platform Cloud Ctrl six months later, Voigt has had his finger on tech's pulse for many years now.
Over the last year, Lynkz has been developing solutions in the AI space for a variety of industries including mining, logistics and telecommunications.
The company is currently in the process of developing its first product that will aid in the training process of AI systems, providing customers with the ability to go to market faster with these complex yet potentially beneficial systems.
---
65. Vincent Fletcher (31)
CartonCloud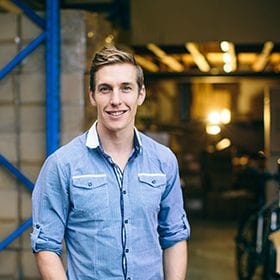 CartonCloud is a cloud-based transport and warehouse management system for the SME market.
Vincent Fletcher and co-founder Nic Comrie's clients generally approach CartonCloud with no pre-existing computer systems or a massive enterprise-level application which they struggle to use. CartonCloud comes in at the middle.
"We provide a low-cost, easy-to-use application that really resonates with SME business," says Fletcher.
In the future, the team is going to focus on one thing: staff.
"By focusing on our staff, making sure they're challenged, making sure they're happy, and making sure they feel their work is appreciated, this in turn makes them feel empathetic toward our customers, which means they develop software which is easy for our customers to use," says Fletcher.
---
66. Simon Livingstone (32) & Kris Simmons (34)
Simmons Livingstone & Associates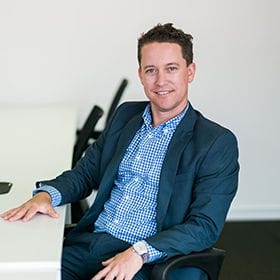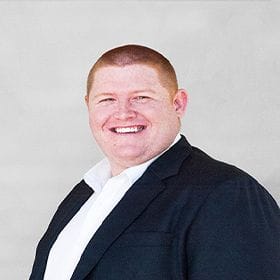 Simmons and Livingstone, directors of accounting firm Simmons Livingstone & Associates, have led the expansion and growth of their company into a solid standalone practice.
Since taking out the Gold Coast Young Entrepreneur of the Year 2016 Professional Services category, they have diversified into financial planning and insurance.
"One of the biggest mistakes in the industry is focusing on key clients," says Simmons.
"Whether we're looking after a Mum and Dad's tax return or working on a $100 million business the service and attention to detail is the same."
The duo's unique business model is designed to support clients from the initial start-up phase through to succession planning for retirement.
---
67. Nick Hill (33) & Andrew Walker (34)
Walker Hill Chartered Accountants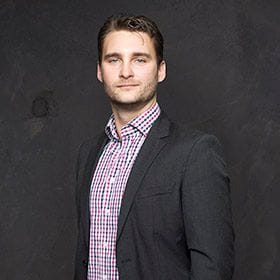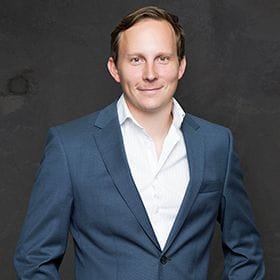 Tired of working for companies that didn't really align with their values or goals, Nick Hill and Andrew Walker started an accounting firm with the idea that theirs would be bigger than the people with their names on the door.
"Initially, Andrew and I wanted to create the firm that clients wanted to be a part of, and staff never wanted to leave," says Hill.
Hill earned his stripes in some of the largest accounting firms in Australia. Walker also has a background in accounting as a qualified Chartered Accountant.
After travelling for a year abroad and getting married, Walker convinced Hill to plunge into business co-ownership with one key focus don't fail.
"Our powerful duo created the balance of business partnership that leads to success," says Hill.
"A combination of Andrew's sales skills paired with my operations and management meant that Walker Hill had the best foundations to become everything it was envisioned to be; an amazing and innovative firm."
---
68. Shaun Rose (36)
Rose Litigation Lawyers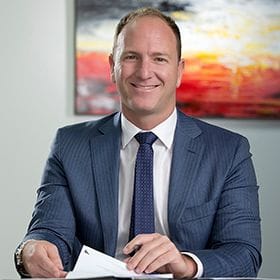 In true entrepreneurial fashion Shaun Rose gave up a comfortable job as a salaried partner of a law firm to establish his own practice, emboldened by a vision to offer something different to the market.
After starting in 2013, the Gold Coast-based firm opened a Brisbane office in 2016 and boasts ASX-100 and national clients.
"I thoroughly enjoy fighting for my clients and achieving great outcomes for them. Assisting people in difficult situations and the satisfaction of the clients when we achieve a great result for them is why we exist," says Rose.
"That is what drives me and our team every day."
He says the firm's client value proposition is to be "proactive, direct and honest, and commercial".
"What we offer and deliver to the market is what sets us apart from our competitors," he says.
"We are extremely specialised and this has allowed us to have a team of experts in our areas of specialisation. Our clients receive value for money as our experts get to the bottom of the issue efficiently and quickly.
Those specialties include litigation and dispute resolution, debt recovery, corporate insolvency and bankruptcy.
Rose also embraces new technology with the business having been on a full cloud-based platform from the outset.
"The use of technology in various areas has assisted greatly in getting a jump on our competitors.
"Our business has averaged over 20 per cent growth consecutively over the past four years."
---
69. Karina Irby (29)
Moana Lifestyle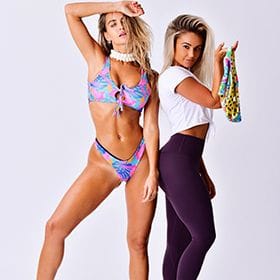 Designing swimsuits for curves and staying ahead of them has seen Karina Irby become one of the most recognised Bikini lifestyle gurus online.
Irby has amassed nearly 1.5 million followers across various social media channels in addition to a dedicated base of customers she affectionately calls her 'army of Moana Babes.'
Not only is Karina Irby staying ahead of the curve, she is also adding curvy designs to her burgeoning collection.
"I started off with 10 pairs of wholesale San Lorenzo bikinis; I did a photoshoot, nothing too glamorous, and they sold out instantly," says Irby.
"Within just under 12 months we were ordering that much wholesale stock that our suppliers couldn't keep up.
"That's when I started teaching myself about fashion design and business, to come up with my own suits."
Moana Bikini was, and continues to be, first-to-market in a number of areas, but primarily in social media marketing initiatives and the development of consumer-generated marketing."
"This consumer-centric focus has fostered an army of Moana Babes who love the product, the brand and everything we represent," says Irby.
---
70. Katie Jones (29)
Country Girl Management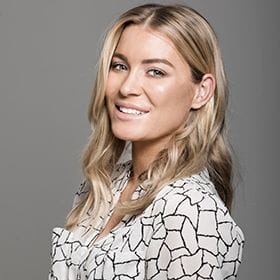 There's plenty of talent out bush, and Katie Jones knows how to find it.
But her agency Country Girl Management (CGM) goes a step further than just building the careers of models from regional areas, with a motto of "empowering young women to love themselves and realise their value within the world".
Her two-pronged modelling and confidence building agency helps women find their true potential, running workshops and seminars to inspire and embolden young women while also scouting fresh faces for the international market.
"I wanted to create a platform that could not only help the youth overcome experiences like bullying but to also provide them with life changing modelling opportunities that they would not normally get within their community," says Jones.
Jones herself came from country New South Wales but moved to Sydney without her family at 15, working for brands such as Miss Universe Australia and Cosmopolitan Models.
Her business has gone international as well, with CGM New Zealand launching this year and the group's North American journey beginning in 2018 with CGM Canada.
Jones' big goal in 2019 is to launch the business in the USA.
"Our models have work both nationally and internationally and have modelled for brands like RUSSH Magazine, Universal clothing, Lee Denim, General Pants, Bonds Australia, Supré and the list goes on."
---
71. Hayden McEvoy (27)
A Team Tuition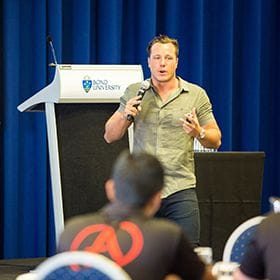 After overcoming academic and personal struggles in school himself, Hayden McEvoy wanted to relay the lessons learned to help the next generation succeed in life.
The business started small with just a few students, but word of mouth led the customer base to grow. From 2012-14, McEvoy was pitching in person at school reception desks in Brisbane and the Gold Coast in a bid to expand the company's scope.
"I had no clue what I was doing. In 2013 we had grown from 8 staff to 18 through word of mouth and I was ready to move forward and expand faster," he says.
In 2014 the service changed from tutoring to 'academic personal training', emphasising the model was about much more than tutoring with the inclusion of mentoring and academic strategising.
"This is similar to the concept of teaching a man how to fish as opposed to giving him a fish," says McEvoy.
"Basically, it was my personal program that changed my life and the same one I was using to change my students lives up until that point."
A Team Tuition has scaled up in the last four years with impressive growth in both student numbers, staff and revenue.
"In the last year we have partnered with the Australian Boarding Schools Association as the Head of Academic Support within Australian Boarding Schools across the next five years," he says.
"Through this we have opened larger corporate contracts and new revenue streams through some major Queensland schools we now are partnered with.
"These involve TSS, Emmanuel College, Varsity College, Miami State High School, Kings Christian College, Nudgee College and Ipswich Girls Grammar School."
McEvoy's vision for the decade ahead is to expand Australia-wide and become "the most influential education entity" in the Australian market.
---
72. Nic Nichols (30)
40/40 Creative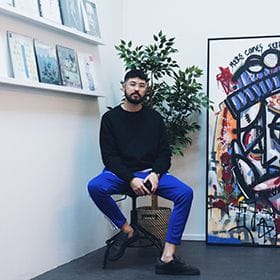 At 40/40 Creative, Nicholas Nichols and his team works with businesses to provide brand strategy and creative assistance for their campaign and advertising needs.

Since its founding in 2012, the company has experienced significant growth, and has worked with major national and international brands like Uber, Uniqlo, and Randy Jackson.
Nichols says what makes 40/40 stand out from the crowd is the group's edgy attitude.

"We're a very young dynamic team and we carry a lot of brand attitude through our work," says Nichols.
"We like unconventional advertising and being a little crude with our tone. We're very honest with our clients too with our creative direction, we call a square a square and a circle a circle if your branding looks terrible we're going to tell you and help you fix it."
---
73. Benjamin Thomas (29)
Spencer Constructions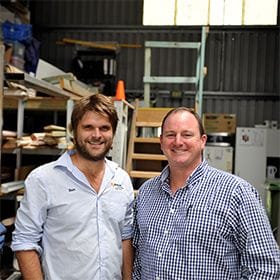 Fed up with the poor craftsmanship, ineffective communication and low productivity that Benjamin Spencer saw too often on worksites as a site supervisor, he decided to do it his own way.
Born in 2012, Spencer Consultations aims to be the best of the best.
"Our vision is for Spencer Constructions to be synonymous with quality in the eyes of all stakeholders," says Spencer.
"Our purpose is to set new standards in construction through communication and commitment to quality. Our goal is to become a leader in the building and construction industry through refining what our customers can expect when engaging a builder."
Using technology to enhance communication to ensure both the client and workers feel safe, respected, and responded to, Spencer Constructions is a building company for the modern age.
---
74. Clare Sheng (35)
The Fitting Room on Edward, The Modern Gentry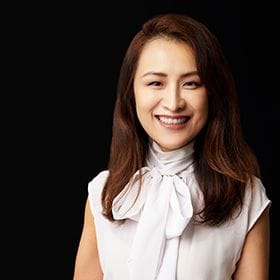 If you want to look dapper, look no further than Clare Sheng's The Fitting Room on Edward.
Not only does The Fitting Room focus on clothing alterations and repairs, but Sheng has made sure to go above and beyond every single time to ensure clients leave feeling comfortable.
Sheng works in partnership with some of the biggest and best names in men's fashion like Hugo Boss to make sure Brisbane is looking snappy.
With The Modern Gentry, Sheng's quest to sharpen up businessmen around the city continues. Founded in 2018, The Modern Gentry's mission is to teach modern professionals about how to be well-rounded in their presentation and appearance.
By partnering with corporate firms, universities and chambers of commerce, The Modern Gentry hosts pop up tailors to educate and raise awareness on the importance of dressing well.
"By understanding their own body shapes, how clothes should fit, and the importance of dressing well, men and women are able to easily purchase any clothes they like," says Sheng.
---
75. Naomi Spies (38)
Ruby Communications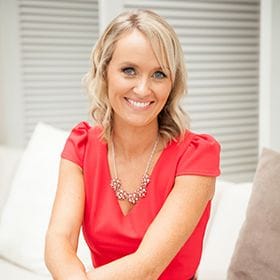 Naomi Spies and her PR agency, Ruby Communications, got their great Gold Coast reputation by underpromising and overdelivering.
After doubling the size of her team in Brisbane over the last year, Spies has plans to dominate in the South East Queensland market and introduce some brand new departments.
"I think our reputation is so strong because not only do we do what we say we're going to do, but then we do more," says Spies.
Recently, Spies has leveraged her great reputation to make the big expansion up into Brisbane where she says she's seen considerable success already.
In terms of the future, Spies is looking forward to opening an office in Melbourne, Sydney, and Auckland so expect to hear a lot more about Ruby Communications in the coming years.
---
76. Hugh Rees (37)
Expose Media, Inturo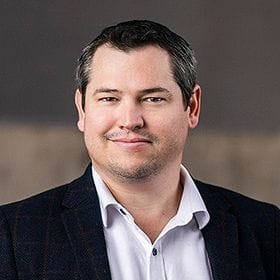 According to founder Hugh Rees, Expose Media is a digitally-led creative agency for leaders who seek greatness, not sameness.
The agency combines strategy, creativity, and technology to build value for clients through the management of web, mobile, social and print media campaigns.
Also playing in technology is Rees' Crosschecker, which is a software as a service product built by his other venture Inturo.
Crosschecker is a compliance tool bringing together legislation and corporate policies on one side, with in-house business expertise and data services on the other.
Over the last few years, both businesses have grown exponentially and secured some big clients.
Rees looks forward to pushing expansion into the US next year.
---
77. Danielle Lewis (33)
Scrunch Enterprises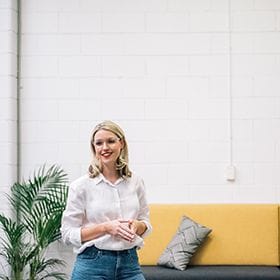 Marketing has come a long way in just the last few years alone, but Scrunch Enterprises is at the forefront of new technology for building exciting enterprises.
Founded by Danielle Lewis and Salvatore Garozzo, Scrunch is a data-driven influencer marketing platform that brings together data and AI to drive better insights for marketers.
Operating more than 100 campaigns at any given time with global brands like Youfoodz, Under Armour, NewsCorp and TK Maxx, Lewis and Garozzo have certainly got their hands full.
Lewis says Scrunch is helping improve the complicated and messy world of influencer marketing.
"There is a severe lack of data and transparency in the influencer marketing industry," says Lewis.
"By building our whole business around data we have been able to provide a level of service that is unavailable in the Australian market."
---
78. Adam Di Marco (32) & Lachlan Webb (30)
The Urban Developer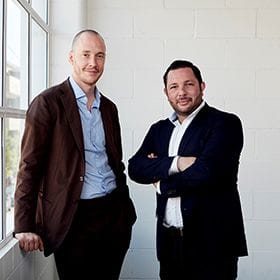 With over a decade of professional experience in property development, Adam Di Marco and Lachlan Webb created The Urban Developer in response to a need for greater engagement, information and transparency in the property sector.
From relatively humble beginnings, Adam has driven the growth of The Urban Developer into an integrated media, events and education network that has established an enviable reputation in both media and property circles.
Sustainability is more than just a buzz word for these young entrepreneurs who prioritize community building and engagement in everything they do.
"Our vision is to grow a global network of people and businesses that are contributing to the development of smart and sustainable cities around the world," says Di Marco.
"In doing so, we believe we will empower our community to make better decisions that will result in better outcomes for the built environment."
---
79. Philip Gannon (34)
Edisun Group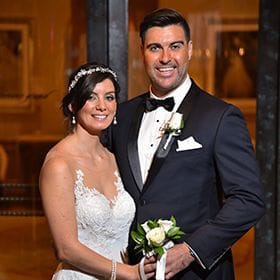 After immigrating to Australia from the UK in 2010, Philip Gannon was "starting from scratch" but has since built a turnkey renewable energy solutions provider with national and global ambitions.
The first step for Gannon was to have his qualifications and skills recognised by the Australian electrical industry a task that was to take four years but after that his entrepreneurial streak appeared quickly with Edisun Group.
"As I was passionate about the Industry and also new business ventures, I decided to take the plunge to branch out on my own," says Gannon.
With its focus on electrical engineering, solar installations, air conditioning and wholesale, Edisun Group services large commercial businesses as well as domestic properties.
He says Edisun has a large team with multiple office bases from Brisbane to Gold Coast, but the work goes much further afield.
"Our HQ is based on the Gold Coast, and we have completed projects as far north as Doomadgee, Queensland down to Orange, New South Wales and everywhere in between. In 2018 we have been out to New project sites as far as Perth and Karratha.
"The Renewable industry can be very rewarding at times and also quite competitive. We often refer to it as the "Solar-coaster" because of the ups and downs and twists and turns that can come about.
"Our approach has been to take a bird's eye view of the industry to target and attach to reputable businesses that are in in for the long haul."
This strategy has helped Gannon grow the business, keeping overheads low and staff secure.
"We opened other sectors of the business to keep work flow. Our aim is that when one arm of the business is slow-moving, the other branches will offset and balance it out.
"This keeps our cash flow moving, our staff supported and also our clients have a larger scope of services that they can access. We identify strong employees and grow them together with the business for where we strive to be."
"Our current goal to become a National service for Australian Companies. Our future endeavours are to aspire to become an international leader in our industry."
---
80. Craig (27) & Lucy Johnston (30)
Temp Chef Labour Hire and My Private Chef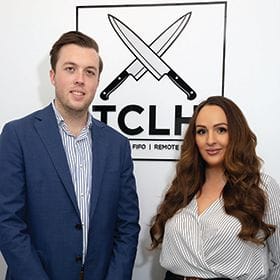 Husband and wife power couple Craig and Lucy Johnston saw the way labour hire was being run on the Gold Coast and decided to do something better.

Since 2015, the company has expanded throughout Queensland and into Western Australia and the Northern Territory, servicing mines, superyachts and everything in between.
Self-confessed workaholics, the couple started out in hospitality at mines Craig as a chef and Lucy as a bartender.
"We both always thought that we could do things better than the companies out there, and give more value with better service and standards," says Lucy Johnston.
"We have just seemed to flourish since we both bit the bullet and went full time with the business, Craig in 2016 and myself in 2017."
"We market ourselves on our point of difference, and that we actually care about the food being served, the staff working on site and the quality of service received by our clients.
"There are many other remote hospitality companies that offer labour hire and camp management like we do, but our unwavering high standards, our belief in our unbelievably capable staff and our low overheads have allowed us to really start cementing ourselves in the industry as ones to watch."
---
81. Sam Hussey (31)
Lightweave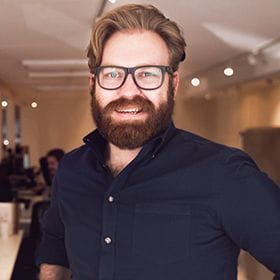 Virtual and augmented reality might be in their early stages of development still, but founder of Lightweave Sam Hussey knows it's the next frontier of a tech ripe with potential for every business.
Hussey decided to launch his company in 2015 to help other businesses tap into the emerging tech.
Lightweave delivers licensable VR and AR to businesses around Australia, making it easy and simple for clients to use these new immersive technologies.
Since launching in 2016, Lightweave has secured a tonne of high-profile clients eager to tap into new technologies like DreamWorks, Suncorp, Ekka, QUT, Tennis Australia and Adidas.
"We deliver top tier technology with an easy way for clients to invest; simply license for a period you need and pay for what you use," says Hussey.
"Our business model is around simplifying a sector that brands are wanting to engage with but are unsure how the technology works."
Recently, Hussey launched District Race in Singapore, allowing explorers to see a city like they never have before.
The event series is a first of it's kind (think Pokémon Go meets the Amazing Race). The team are working hard on the last stages to bring it to Australia, the United States, and the rest of the world.
---
82. Salpi Baroudjian (27) & Jacob Markarian (28)
OWEST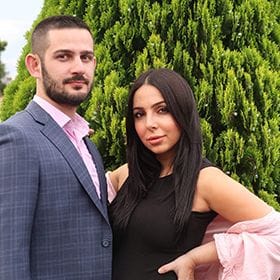 Co-founder of OWEST Salpi Baroudijan came to Australia in 2010 and worked for three years as a telemarketer when she realised she could really crack into the sales business.
After striking up lucrative and impressive deals with Samsung, Baroudijan and Jacob Markarian co-founded OWEST, now one of the key dealers of Samsung photocopiers in Sydney.
The team sells and services the machines to major Australian companies in the New South Wales capital.
Between the two powerhouse directors, they are driving expansion further into Stockland Shopping Centres with the innovative OWEST Print Hub, where customers can print on the go directly from their phones.
Baroudijan says her passion for helping to build a thriving business alongside Markarian has inspired her in ways she's never imagined.
"My mind never stopped working to innovate new ideas, execute them, bring them to realty and succeed."
---
83. Jack Corbett (27) & Ryan Tuckwood (36)
ISR Training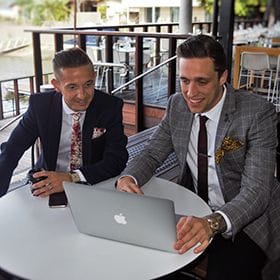 Corbett and Tuckwood say they started ISR out of frustration more than anything else, but only a few years down the track it's become one of the Gold Coast's most successful
social enterprises.
"We both knew how difficult it was to both obtain and retain high quality staff in sales and telemarketing, which is one of the most transient industries there is," says Corbett.
With ISR, the two have found a solution and that solution is with training.
ISR Training & Recruitment is a private not-for-profit firm that has re-invented the way the recruitment process is completed. All employees are recruited through a process called the
ISR Academy, which offers the employee online training courses in their chosen field, a support agent to assist them, and mentoring sessions.
Over the year since ISR featured in the 2016 list, ISR has been making plans to expand nationally and have continued improving their unique not-for profit firm.
"From the very start we wanted to get more people into work, not generate massive amounts of revenue to go in our pockets," says Corbett.
This year the company took on Glen Richards, Steve Baxter and Andrew Banks as investors after Corbett and Tuckwood pitched on Shark Tank.
---
84. Mia Plecic (26)
Bondi Smile, Downtown Pressed Juice Co, Mia Plecic Entrepreneurs Academy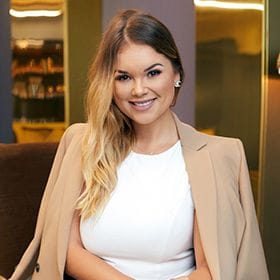 Every entrepreneur knows what it's like to suffer from a setback. Things don't always go according to plan, and sometimes it feels like nothing's going right.
For Mia Plecic that reality of entrepreneurship is all too familiar. Massive setbacks have, unfortunately, been a big part of her story. But they've only made her more resilient.
With two of her ventures in the past she's been burnt by too-good-to-be-true offers.
But she's come back fighting, and has distilled the lessons learned from her past into her Mia Plecic Entrepreneurs Academy.
Plecic also runs a teeth-whitening kit business called Bondi Smile, and recently sold her pressed juice company Downtown Pressed Juice Co to New Zealand Ice Cream.
"Even the times where you hit rock bottom and don't think there's hope, there is always a light. Knowing that I've grown so much more resilient, I have the ability to brush myself off and move forward. I don't have that fear anymore because I feel like it can't get much worse," says Plecic.
---
85. Nikias Leigh (30)
Real Property Photography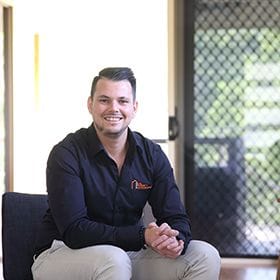 Photography is a skill that's gone from the hands of a few to the hands of many thanks to smartphones. But if you want beautiful photography done right, you've got to go to the professionals.
Nikias Leigh founded his real estate imaging business in 2013 and has kept up with the cutting edge of digital and photographic technology ever since.
The company doesn't only take photos. They'll design floor plans, virtual staging, digital decluttering and most recently drone photography.
Real Property Photography runs a franchise model allowing franchisees to take control of their own business and run it on their own terms, but Leigh says the introduction of the fresh model wasn't smooth sailing.
"Franchising has been a major learning curve for someone who has no real managerial experience as emotions can often be high especially in the early stages of the franchising journey," says Leigh.
"Not a day goes by that I look back, as we have had and continue to have franchise partners that are achieving dreams they never thought possible."
---
86. Shannon McLaughlin (age)
CJM Law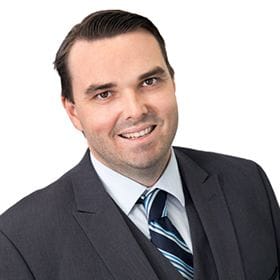 After many years working as a lawyer, Shannon McLaughlin felt it was time to start having more control and "run the show a bit more".
With Ashley Cronin and Kent James, McLaughlin acquired Bruce Graham Lawyers on the Gold Coast, followed by acquisitions of Carter Green Law Practice and KL Legal.
To simplify matters, Carter Green was sold last year to the staff member who was running it, and the remaining two practices have been rebranded to 'CJM' which stands for Cronin James McLaughlin.
"It's been a pretty busy four years," says McLaughlin.
While the lawyer's background is in property and estates law, his team has a wide range of specialties of the law including family, insolvency and bankruptcy, commercial and finance, conveyancing and litigation.
"We like to think of ourselves as a general commercial practice," he says, highlighting growth been through both acquisition and referrals.
He adds the last 12 months have been mostly focused on consolidation.
"We've actually tried to not grow and just consolidate, taking a step back from that growth model at the moment; if you just grow for growth's sake, you get yourself in trouble.
"Once you get to this type of size you have to focus more on the processes and procedures."
---
87. Luke Vaughn (30)
Crown Realty International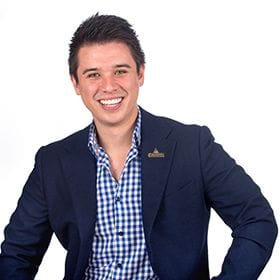 When Luke Vaughan saw how poorly real estate agents performed in trust index surveys, he wasn't satisfied with letting it slide.
With Crown Realty International, Vaughan set out to change the perception of his industry, and wanted to give his customers a memorable experience.
He achieves this by ensuring his employees go above and beyond the low barriers of entry typically associated with real estate agents.
All agents at Crown Realty are trained in financial planning and economics, which Vaughn believes differentiates himself from the numerous real estate agencies on the Gold Coast.
For a four-year-old company, Crown Realty has grown exponentially.
The group is hoping to move into the South East Asian market, specifically Vietnam, to tap the growing middle class who will soon be looking to buy pristine Gold Coast property.
---
88. Jonathan McCullough (35)
SP Financial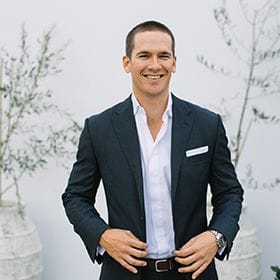 It's no secret that the Australian economy is harder to predict than ever, especially for families doing it tough.
That's why Jonathan McCullough left his job at Westpac to fill a niche and help Australians be prepared for anything the economy might throw their way.
"Since inception we have moulded and changed with the market and legislation," says McCullough.
"We focus no more on helping people reduce debt. We believe that Australians are over capitalised in their homes, most would struggle to make ends meet if interest rates were to jump even a few per cent.
"Our main goal now is to help people reduce their debt and have a clear picture of what their retirement will look like."
---
89. Joel Prokic (29)
G1 Asset Management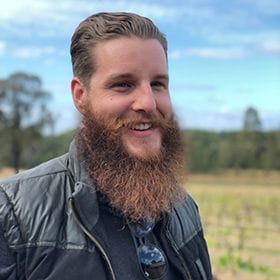 We're constantly surrounded by various pieces of tech, but what happens when they become obsolete?

Spotting a gap in the market, Joel Prokic founded G1, a company that collects, tests, wipes, and recycles old IT products around Australia.
Prokic was no stranger to starting up businesses when he founded G1 in 2011, having established a retail computer sales business in 2006 incidentally during his last year of school.
That business model became no longer viable though, and G1 emerged as the restructured version.
"We provide IT Lifecycle services to corporates, education and government. Essentially we collect, test, data wipe IT equipment which we sell if possible and recycle if not possible.
"We also offer IT relocation services and IT deployment services across Australia."
In late 2017 the company opened a facility in New South Wales and has secured big-name clients along with accreditations around quality, the environment, safety and e-waste.
---
90. Giovanna (31), Paul (29), Simon (34) & Matt Shakhovsky (36)
Directors of the Extraordinary and Escape Hunt Brisbane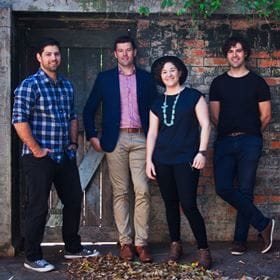 Founded by four passionate siblings Paul, Giovanna, Simon and Matt Shakhovsky, Escape Hunt Brisbane was the largest escape room in Brisbane when it was launched in 2014.
Over 80,000 visitors have passed through its doors and more than 1,000 corporate groups have done team building exercises in the centre.
Since launching Escape Hunt, the siblings have expanded into a range of exciting and intriguing experiential attractions in Brisbane under the umbrella company Directors of the Extraordinary (DoE).
These attractions include The Great Escape from Boggo Road Gaol and Containment; both large-scale, immersive entertainment products.
By utilising ground-breaking tech solutions, DoE hopes to create more immersive, exciting, and thrilling experiences for those brave enough to take them on around Australia.
---
91. William Strange (29)
Sports Performance Tracking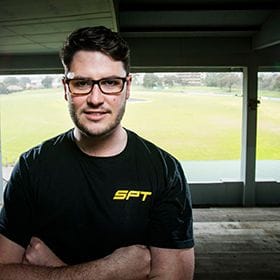 Serial entrepreneur William Strange has a knack for garments, but his latest venture sees him going hi-tech.
Strange cut his teeth with an underwear subscription model Three65 Underwear that revolutionised men's shabby wardrobes around the country.
Three65 got him a feature spot on Channel 10's Shark Tank, which helped him eventually sell the business.
Hot off the heels of Three65 is another wearable Sports Performance Tracking.
By designing and manufacturing GPS hardware and developing software and apps, SPT provides elite level analytics to amateur and sub-elite level sports teams, high schools and universities.
SPT is sold in more than 90 countries and used in more than eight different sports.
By using SPT's GPS tracking hardware and analytics software Strange is helping teams and players understand how hard they are working during training and on game day, and provides feedback on how to improve.
---
92. Madeleine Buchner (26)
Little Dreamers Australia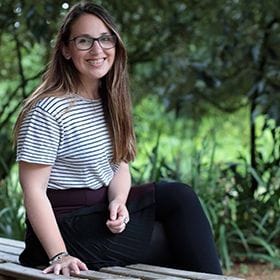 Little Dreamers Australia founder Australia Madeleine Buchner built her not-for-profit to help kids going through what she endured as a child.
It all began when she was just 16 to fill a gap in the social services sector: support for young people caring for a parent or a sibling with a serious illness or disability.
"The idea first surfaced when I was nine years old. I had grown up as a secondary carer for my young brother who had a range of chronic illnesses and allergies and was regularly in and out of hospital," says Buchner.
"When I was 15 years old my mum was diagnosed with breast cancer and it was at this point that we decided to turn our fundraising project into a fully-fledged independent not-for-profit organisation."
Little Dreamers improves the lives of these vulnerable young Australians by increasing their social connectedness through holiday programs, a yearly festival and the Dreamers Hub a communication platform for young carers.
"Young Carers are disadvantaged in their mental health, academic performance and job prospects. By eliminating these barriers and highlighting the skills that young carers gain through life experience, we strengthen their future and that of the community at large by ensuring they are given the opportunity to be fully engaged in society," says Buchner.
---
93. Casey Lyons (30) & Sam Webb (30)
LIVIN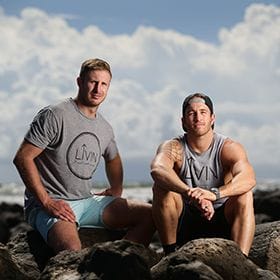 "It ain't weak to speak" is the motto of Sam Webb and Casey Lyons, who founded LIVIN to break the stigma of mental health through education, trendy fashion and awareness initiatives.
The company was created in honour of their good friend Dwayne Lally who took his own life after suffering in silence from mental illness.
"LIVIN is all about living your life at the top and breaking the stigma of mental health," says Webb.
"Through the development of cutting-edge education programs, trendy fashion apparel and cool awareness initiatives, LIVIN will launch a generational change."
The group encourages social connectedness via its community fundraising events, and drives awareness via carefully selected relationships with individuals and organisations.
"We bring the brightest minds together to inform education that will change behaviour for the better.
"The organisation is growing at a rate of 20% year-on-year give or take. A large part of the organisations success has been helped by the community from all over Australia.
The strategy now is to collaborate with service providers in the mental health space, as well as key stakeholders in the school system to implement '360 degree' solutions for young people.
Webb adds LIVIN also plans to expand into international markets to sell and market its fashion label.
---
94. Eric Perez (30)
Division Z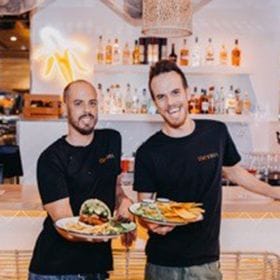 Migration waves of Venezuelans and Colombians have made the 'arepa' best described as a taco burger but still quite different to a typical Mexican taco - one of the hottest food trends in the Americas, but the cuisine is still relatively unknown on this side of the Pacific Ocean.
Eric Perez is helping to change that. After his family came to Australia by sail boat, a journey which took four years, he set about bringing Venezuela's rich culinary traditions to our shores.
His restaurant chain Fiery Deli serves up arepas, succulent meats, avocado, lime sales, caramelised or fried plantains, black beans and a range of other ingredients that delight the palate.
"We started off as a stall at the local farmers' market, and then grew to a food truck attending more and more larger events like Splendour in the Grass," he says.
"We then where offered a location in Robina town Centre (Gold Coast) and then in the same year at Westfield Chermside's (Brisbane) new dining precinct as a lot of people loved that we offered something new, fresh and healthy.
"We are fine-tuning what we have and turning it into a working business model. We are starting to franchise as there are a lot of people approaching us wanting us to open more locations including interstate, as they all say they don't have anything like what we offer."
---
95. Georgio Batsinilas (30) & Aaron McAllister (38)
FitazFK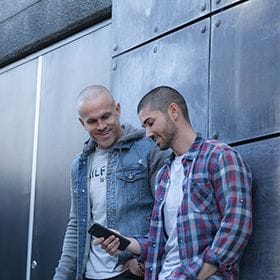 The last few years have seen a slew of fitness influencers and guides popping up all over social media, but not many have done it as well as FitazFK founders Georgio Batsinilas and Aaron McAllister.
Originally, the duo sold a health and fitness guide online, which became insanely popular. To date, they have sold 60,000 copies worldwide. But now the boys are looking to branch out.
In the last year, the team opened a gym where devotees to the FitazFK lifestyle can receive help, follow programs, and get fit as f*ck.
"With the help of our angel Yasmin Angelika we wanted to create a FitazFK home that took your gym workouts to a whole new level, both emotionally and physically," says Batsinilas.
"We now have over 550 members and aim to reach capacity within 12 months of operating."
---
96. Jeremy Hassell (30) & Tim Butters (35)
City Cave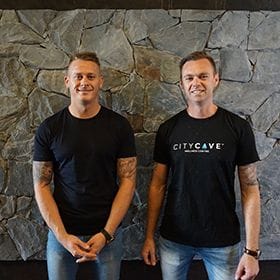 Hassell and Butters were both in the building industry before they ventured into wellness with City Cave.
Their business was born out of what they saw as a common trend with people in the modern world - stress, fatigue, overstimulation and no 'me-time'
City Cave Float Centre was created to help people cope with the physical and emotional demands of modern life and achieve wellness, in the true sense of the word, through alternative therapies.
"Living by the motto 'prevention is better than the cure', we wanted to make a space that was not a stark medical environment but was nurturing and warm," says Hassell.
City Cave now has four locations that have between them float pools, infrared saunas, nutritionists/naturopaths, dieticians, psychologists, GPs, sports physiotherapists, musculoskeletal therapists, massage therapists, exercise physiology and infrared yoga/Pilates studios.
"Our vision is to create an algorithm specific to our services that calculates years given back to our client," Butters says.
"The goal is to create a life clock that counts what City Cave has given back in years to the planet and our goal is to put one million years back on the earth through preventative measures.
"This idea has grown bigger than our business and goes beyond any financial gain. It has become City Cave's mission."
---
97. James Fielding (31) & Christopher Jeffery (32)
RER Labs, Audeara, Field Orthopaedics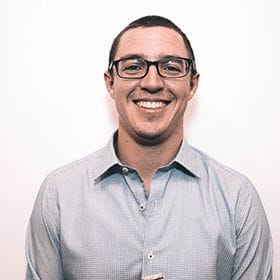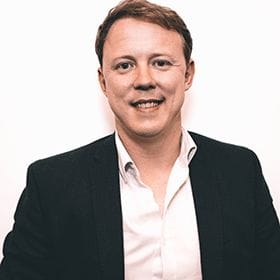 Med-tech entrepreneurs James Fielding and Chris Jeffrey are in the business of making life easier for those suffering from debilitating physical conditions.
Their company, Field Orthopaedics, focuses on the design and manufacturing of orthopaedics devices to address the shortcomings in the trauma, extremities and biological markets.
Jeffery graduated from his studies in medicine in 2014, but mid-way through 2016 whilst completing a PhD in bionics his entrepreneurial drive had taken full fight.
He had successfully translated three aspects of his PhD into three different commercial entities and went on to focus his time as the CEO and co-founder (with James Fielding) of Field Orthopaedics.
Jeffrey says the company is different from others in the sector, as it was made from within the medicinal community.
"Field Orthopaedics is different from a traditional medical device company as it was formed from within the medical community and grew out of collaboration with the users, stakeholders and existing problem solvers," says Jeffrey.
"The company is focused on creating products that provide a social good and lead to improvements, not just generating revenue and addressing a market segment."
READ MORE:
The Brisbane entrepreneurs who cut through US red tape to develop medical devices
---
98. Michael Huxley (30)
Huxley School of Makeup, Huxley Group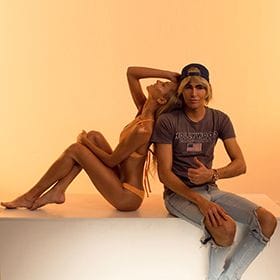 Running his own business has been Michael Huxley's dream ever since he was a kid.
"Something uniquely mine and yet, something bigger than myself. A legacy!" says Huxley.
And a legacy he has created in the form of the Huxley School of Makeup Australia's leading makeup education provider with courses that encompass all aspects of professional makeup artistry.
"Our motto is, Be Inspired, Be Informed and to Be Yourself; a sentiment communicated through our company ethos which endeavours to help our students reach their educational objectives and personal goals," says Huxley.
"It is extremely exciting to see our students succeeding in their given career paths; whether that is working on feature films, TV shows like X-Factor, for makeup manufacturers and retailers like MAC and Sephora, or succeeding in their own freelance business ventures."
---
99. Genevieve Day (27)
Day Management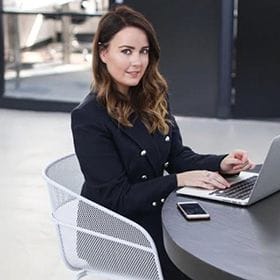 In a time before bloggers and influencers reigned supreme, Genevieve Day worked for a luxury PR firm.
As she noticed the shift in the digital landscape was occurring Day jumped out of her safety net and established her very own influencer marketing company: Day Management.
"I noticed that our clients were requesting more and more digital coverage, and I saw how bloggers and influencers at the time weren't charging for their valuable service and promotion," says Day.
"I saw this rising demand for blogger representation and need for an interface between talent and brands and started Day Management."
Day Management is a bespoke agency representing some of Australia's leading social influencers and digital personalities.
Their influencer reach spans over 2 million throughout a range of social platforms with talent located in Australia, LA and New York.
"We are committed to producing inspiring, innovative campaigns with our top tier talent," says Day.
"Our talent are exclusively selected and managed with a personal, individualistic approach designed to take our influencers to the next level, moving them from behind the computer to in front of a camera as brand ambassadors, emcees and media personalities."
---
100. Julia Maguire (35) & Lelde Smits (35)
The Capital Network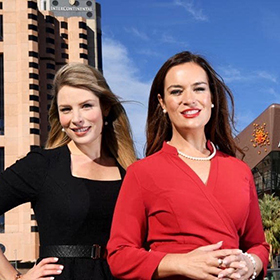 The founders behind The Capital Network have always been interested in the financial services sector and the allure of large listed companies.
With a wealth of experience working as journalists and investor relations advisors for ASX-listed companies, going into marketing for listed giants was a no brainer.
The two happened to meet in New York City in 2015 and realised they both had the enthusiasm and drive to make Australian companies more entrepreneurial and exciting.
"The Australian financial market is traditionally conservative, risk averse and slow to apply digital technologies and communication," says Maguire.
"We knew we had the ability and a unique opportunity to connect Australian companies with capital and provide a network of media to generate exposure."
The Capital Network's team of financial communications and corporate professionals pride themselves on bringing traditional financial communications into the new century through offering services and skills to make businesses better.
Receive the latest news as it breaks
Sign up to Business News Australia's daily news updates. Get the latest news, trends and special offers straight to your inbox
Get our daily business news
Sign up to our free email news updates.
Help us deliver quality journalism to you.
As a free and independent news site providing daily updates
during a period of unprecedented challenges for businesses everywhere
we call on your support