To be an entrepreneur, one must be tenacious in securing opportunities even when the chips are down.
Many of the entrants in this group have shown grit against the odds and grown powerhouse companies in industries where the competition was already well established.
Leaders in the finance space, a handful of digital disruptors and even one of Australia's biggest social media influencers each make an appearance in this group.
---
21. Hooman Fartash (27)
Aria Motors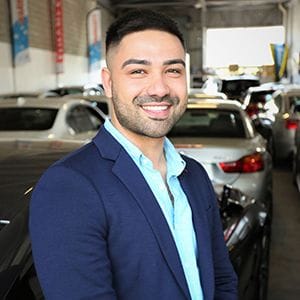 Fartash first recognised the potential profits to be made in the automotive business while working as a mechanic on European cars.
He bought and sold a few of his own prestige cars before setting up his luxury auto dealership Aria Motors in the southwest Brisbane suburb of Darra. The business has grown and he now has more than 120 cars in stock.
The approach has been straightforward: keep rent low and buy cars at the best price.
"We started off in Darra because the rent was cheap and to be honest we found it doesn't matter where you are, so long as you have the product and the price right, people will travel to you," he says.
The dealership is set to relocate to new premises which Fartash has purchased in nearby Sumner Park.
"It's fully renovated, we'll have finance and loans, maybe mechanical, and will grow into a one-stop shop," he says.
---
22. Daniel Holden (39)
HOLDENCapital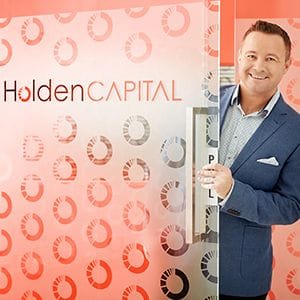 Having worked in acquisitions and development management, Holden knows very well how funding can make or break a property project.
In 2011 he founded HOLDENCapital as the catalyst that could get projects over the line, and the model has been a success with a solid reputation for mortgage broking.
With offices in Brisbane, Sydney, Melbourne and Hong Kong, Holden has established a full-service capital partner to elite property developers.
In the past 18 months the company has set up a new investor platform that has already facilitated more than $50 million of investment into new projects around Australia.
"This platform offers large scale real estate property development investment to smaller investment amounts of $100,000 and over, allowing our investors ranging from medium wealth to some of the country's billionaires to invest passively into construction projects around the country," he says.
"The new investment platform has pushed our business into a new dimension; this platform will take our business from a boutique consulting firm to being a national real estate hedge fund."
In September the company updated its fintech platform as well so that all investments can be fully automated, and the company has a pipeline of secured assets in retail and medical commercial property worth $140 million in end value.
---
23. Steven Lampsakianos (35)
Alphatex Industries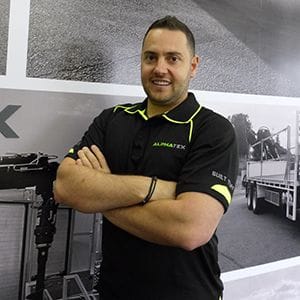 When his former employer went into administration, Lampsakianos thrust himself into the entrepreneurial mould because he had the skills and the contacts to turn the ship around.
With a forte in fit-outs for specialty vehicles and trucks, he took over the company and Alphatex was born from the rubble.
It was a rocky start to begin with. The cash flow wasn't there, he didn't have an understanding of the mechanics of business, and at times he questioned why he took on the hefty task in the first place.
The big break came after winning some defence work, and with persistence and patience Lampsakianos successfully turned the company around to grow revenue more than 20-fold in the space of two years.
"Now we're building fire brigades, so we've got a five-year contract with the New South Wales Rural Fire Service, and a contract with Sydney Trains," he says.
"And we've got a contract running at the moment with Tafe NSW building their MTUs (mobile training units), and that's where we are today."
He is currently looking at real estate around the country to potentially expand, and also plans to diversify his investments into other industries.
"Every bit of money I make, I put back into making more money," says Lampsakianos.
---
24. Rory Boyle (39)
Hampers with Bite, Promotions Warehouse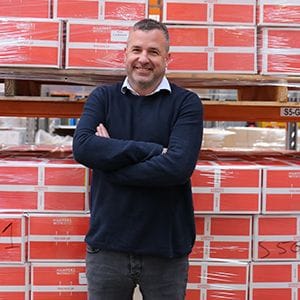 Delivering gift hampers every 22 seconds during the busiest periods the year - such as right now - Boyle has changed the hamper game from traditional wicker baskets to reusable packaging such as cooler picnic backpacks and tote bags.
The goodies inside are also a step up from your standard fare, with an emphasis on quality products to keep customers coming back year after year.
"We ensure that we deal with you know, quality local suppliers and come up with good products, and we've got a pretty extensive creative team as well," he says.
"I've got a team of five in my creative team and that's probably not what most hamper companies would do, and we put a lot of content out there we do a lot in video.
"All but one of our staff are between 20 and 30, so I guess we attract a lot of young talent who want to work somewhere pretty vibrant. We're located in Brunwick Street, Fitzroy."
Boyle says the effort put into the Christmas catalogue starts in February; curating colours, sourcing out the right brands, filming unboxing videos for every gift, filming profiles behind the scenes, doing taste testing videos of the products, and much more.
"The traditional hamper company doesn't do that. They roll out willow baskets and promote corporate hampers," he says.
"We move into aromatherapy gifts and if you look at our range there's a lot of diversity in terms of what we offer as opposed to just wine, chocolates a fruit cake; we don't sell mince pies for example."
---
25. Jürgen Himmelmann (30)
Global Work & Travel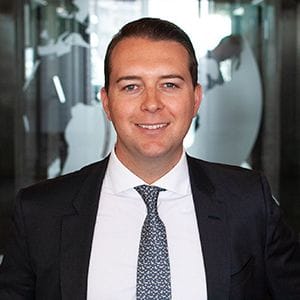 From a business that began in his garage in 2008, Himmelmann has created Australia's - and arguably the world's - leading travel company specialising in gap years and work & travel.
From working holidays to volunteering, teaching to internships, Himmelmann helps young people all around the globe gain memorable experiences as more than just tourists.
"We send thousands of people per year to the UK, Canada, US, NZ, Asia, Europe and Central and South America, as well as into Australia to work and travel at the same time, where they can stay for as long as their visa permits - usually two years - without needing to burn through their savings from back home," he says.
The company has had a Vancouver office since 2009 and a London office since 2013, but in March this year a second office was set up in the British capital to cater to rapid growth.
"The UK market is the biggest gap year travel market in the world and that's where we're currently operating from [in Europe], but we also have been expanding into the Western European market because there's huge demand for Dutch, Germans, Belgians, Irish, Finnish and other Nordic regions to go overseas and work and travel abroad," says Himmelmann.
Global Work & Travel has already built its own leading-edge customer management platform in-house called gForce, but the next step is to develop e-commerce website technology that would scale the sales process to a worldwide 24/7 service.
"We've been working on a lot of tech and e-commerce technology because one of our biggest barriers to growth is that we can't possibly handle the potential amount of inquiries we can get from our advertising," he says.
---
26. Jane Morrell (40)
Carer Solutions Australia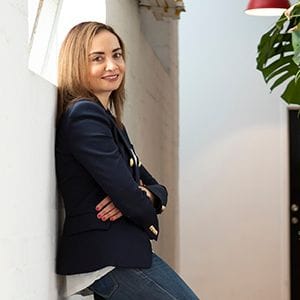 After making a career switch from sports marketing to the disability sector, Morrell observed the overwhelming obstacles many people face just to choose who looks after them.
As a firm believer in human rights, in 2011 she took it on herself to create a service that empowers disabled people to take control of their own destinies.
"Anybody who wants to directly employ their own chosen support workers, we take care of all the administration on their behalf," she says.
"The reason why we've been successful is that we don't eat into people's funding - we make it a very cost-effective option for them, and it's a lot cheaper to go down this road for a lot of people than it is to engage a traditional care agency."
Morrell was in the right place at the right time when the National Disability Insurance Scheme (NDIS) Act was passed in 2013, and the business has been galvanised ever since. The focus is currently on Victoria, but she plans to expand the business into Queensland next year.
"The business that we're operating at this point in time, it's not even the tip of the iceberg in terms of rollout and reach and opportunity," she says.
"There are also opportunities in the aged care space for this model as well, and we're being approached in that vein as well."
---
27. Nic Blair (33)
Search Factory, Brus Media
At the time of writing Nic Blair is due any day now to complete the terms of his earn-out sale of Search Factory to Dentsu Aegis Network, following through on a process that began in 2016.
When the sale took place, Blair was already four years in with another business called Brus Media, running campaigns for promotions on mobile apps and mobile search feeds.
"Our main focus of business is app marketing for Android and iPhone apps we essentially run a large ad network which is powered by our own software platform," he says.
"We have ACI (application centric infrastructure) integrations into thousands of mobile publishers who mostly own mobile apps but also a few mobile website publishers as well.
The company's biggest clients in Australia are Ladbrokes and BetEasy, but the largest amount of business overall comes from international clients including direct clients and agency.
"We work with M&C Saatchi across clients in Australia, India, Indonesia as well. We also work with brands like eHarmony and Indeed Job Search."
---
28. James Greig (36)
iVvy, Bloomtools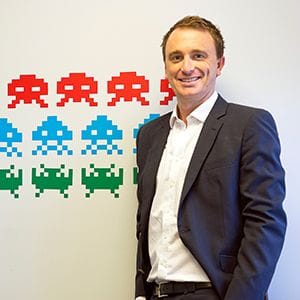 With a decade of business leadership now under his belt, Greig's online events booking platform iVvy is growing quickly thanks to the hard yards put in early on.
Now with teams across Europe, North America and Asia, iVvy has been raising funds and increasing the size of its team significantly.
"It's one of those stories where you hear about something that sounds like it's an overnight success," says Greig.
"I guess iVvy is growing quickly, but it's from all the work that we did early on when we didn't have that kind of growth because we were trying to figure out our product, our market, the problems we were solving and the customers that we were going after.
The company's main clients are large venues like Accor, Treasure Island in Las Vegas and Twickenham Stadium in the UK, as well as restaurants like Rockpool Dining and Australian Venue Company.
"Because they use this software, we can then distribute the inventory to our partners like Flight Centre and Amex GBT who allow their corporate customers like pharmaceutical, banking or mining customers to make bookings through our white-label platform," says Greig.
"We found a spot in the market that suits us."

iVvy complements the entrepreneur's longstanding SaaS enterprise Bloomtools, as well as his more recent dabbling in distilling with Wildflower Gin.
---
29. Brad Illich (36)
NewBook, Xtreme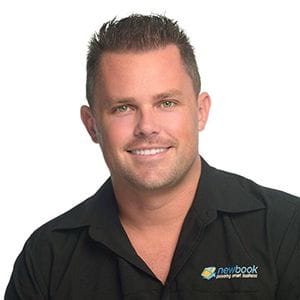 A decade after founding B2B IT business Xtreme when he was fresh out of high school in the early 2000s, Illich capitalised on his strength in the tourism sector to set up tourism property management software group NewBook.
Reinvestment and innovation have been critical to NewBook's success, disrupting the accommodation bookings sector through a cloud-based property management system.
Now with a fairly large share of the Australian market, Illich is taking the platform to the US where feedback has been positive so far, particularly with RV parks.
Another milestone has been the launch of NewBook's AI-powered chatbot NEW.B.I.E, which can do bookings for all kinds of accommodation and tourism services.
It's the only one on the market that's heavily integrated with a property management system. It doesn't just answer questions; it can book them an Uber, tell them how far it is to the airport, order room service, make bookings, change bookings," he says.
Illich notes big hotel chains around the world are pumping millions into startups trying to build chatbots like the one he has already developed.
"We've already got it built and running, and it's already taken 5,000 bookings for hotels and had about 80,000 odd conversations with customers, so we're really ahead of the game."
---
30. Tammy Hembrow (25)
Saski Collection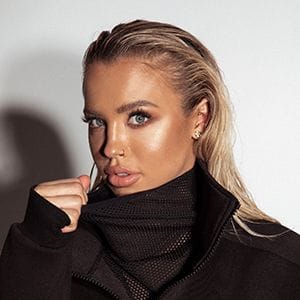 The winner of the Australian Young Entrepreneur Fashion & Design Award 2019, Tammy Hembrow, has had a remarkable year.
Packed with plenty of highs, including a bundle of accolades both in Australia and overseas, it certainly was the year that Hembrow proved unstoppable.
While awards are certainly nice, they likely don't compare to the high of hitting the 10 million follower mark on Instagram.
It was on this very platform that she crafted her entrepreneurial spirit, turning followers into customers and making bank in spades.
According to Hypeauditor.com Tammy is ranked 11th in Australia, but if only Australian accounts are considered she actually comes in third place behind Hugh Jackman and Chris Hemsworth.
It is her Saski Collection that has really done the hard yards, and with a recently launched Saski Swim collection plus a Saski Mini collection for bubs on the way it's safe to say that Hembrow has a firm grasp on what it means to be a retailer in this new era.
In 2019 Tammy's fitness company has come back to the fore following the launch of the Tammy Fit app last year, which at one point was top of the Apple App Store Health & Fitness chart.
It's highly likely that we'll continue seeing a lot more of Australia's bona fide Queen of Instagram.
---
Click below for this year's top 100
Get our daily business news
Sign up to our free email news updates.
Help us deliver quality journalism to you.
As a free and independent news site providing daily updates
during a period of unprecedented challenges for businesses everywhere
we call on your support