They might be a mixed bag of leaders, but the entrepreneurs in this section of the list make a point of standing out.
From ethical sales to counter-culture clothing, solar installation to career development, financial services to wholesale, the #61-70 cohort are go-getters who chose to do take a different tack to the competition.
There are also a few marketing gurus and a veterinary medicine mogul in the mix for good measure.
---
61. Jack Corbett (28) & Ryan Tuckwood (37)
ISR Training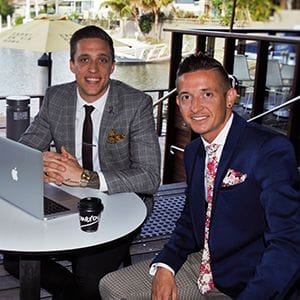 Corbett and Tuckwood's ethical sales company ISR Training is starting to reap the fruits of hard work and its backing from Shark Tank sharks Glen Richards, Steve Baxter and Andrew Banks.
The company is built on the motto SWISH, which stands for 'selling with integrity and selling honestly'.
The sharks have had a 30 per cent investment in the business since 2018, but have also brought on the expertise to help the charismatic pair execute their vision to gain market share.
Tuckwood says the sharks could have already made a return on their investment if they wanted but look set to stay involved for some time to come.
In FY20 alone they have secured significant deals with clients including National Storage (ASX: NSR), Australian Skin Clinics and a major luxury car brand.
ISR already has customers in the UK, Sweden, South Africa, Canada, the US and more recently Hong Kong through its digital offering, but the group hasn't really made a big push overseas yet. To date most of these deals have been organic.
However, as ISR Training has created an online training program they now have the capability to upscale en masse.
"We're going to go into the UK the back end of next year and then the US the following year, so I think in three to five years the aim is to obviously become the go-to ethical sales training organisation on the planet," says Tuckwood.
---
62. Doug Hainstock (32) & Alex Hainstock (29)
DVNT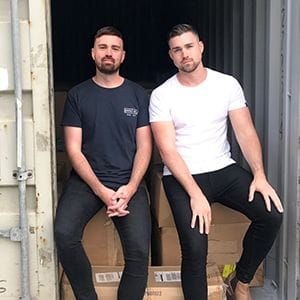 From a counter-culture fashion business that began its journey in the back of a van, the Hainstock brothers have grown DVNT to a worldwide brand in just a few short years.
"DVNT is a fashion brand that embraces the counter culture of the music industry and designs clothing and accessories for men and women," says Doug Hainstock.
"The brand offers a unique and diverse range of products for those who embrace diversity and want to look different."
The company designs four collections per year that are currently distributed to more than 4,500 stores in 19 countries including Australia, New Zealand, the US, Canada, the UK, Europe and South East Asia.
That international push has been made easier by the opening of a worldwide distribution centre in Hong Kong last year, giving DVNT logistical capabilities to deliver anywhere in the world and process orders with increased efficiency and speed.
"We intend to continue our growth through our existing markets, but also expand into other markets and also product categories," says Hainstock.
"Now that we have invested in streamlined our distribution process and warehousing, we have no limit on the scale-ability of our business," he says, adding the company also moved into a custom-built office in Brisbane this year with two showrooms, a photo studio and other amenities.
---
63. Layton Mills (32)
CannPal Animal Therapeutics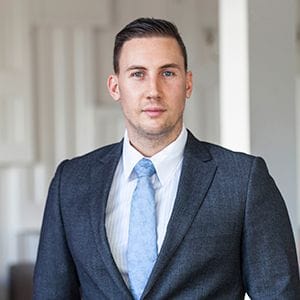 For many cannabis companies currently operating, business is a patient waiting game.
Considerable research and development is being undertaken to further understand the unique properties of the crop and its various varieties and iterations, while it takes time to develop that into a marketable, safe product.
CannPal Animal Therapeutics founder Layton Mills knows this better than many.
The company, which is developing medicinal cannabis products for pets, was listed on the ASX in 2017.
Since then he has been patiently testing his medical formulations, and is currently having them verified and approved for sale by authorities in Australia and the US.
CannPal Animal Therapeutics has seen its revenue grow, but as it is still in the development phase its results are still in the red.
"We believe the clear opportunity over the next 12 months is to re-position CannPal from a small R&D company, to a respected animal health business, with multiple clear and credible pathways to revenue that are aligned with the company's mission and values," says Mills.
---
64. Michael Huxley (31)
Huxley Group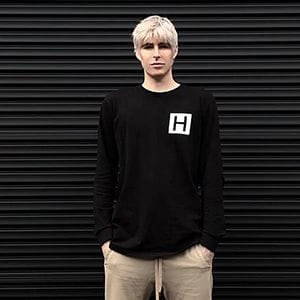 With a background travelling as a makeup artist for Yves Saint Lauren for three years and then getting into freelance for photographic projects and film, Huxley founded his eponymous makeup school in 2011.
Over the years he has built up a reputation for running high-quality courses with small groups so that students need not "battle for attention from their trainers".
"We have a relatively small amount of students but we have such a reputation that we have a lot of people who apply and not everybody gets in; what we're looking for is people who are particularly passionate," says Huxley.
"We're the number one ranked makeup school in Australia and the Asia-Pacific. I think we've definitely agitated the market; we might not enrol 1,000 students, but I know that I can sleep at night knowing that what we do is solid."
What drives Huxley is being able to provide an amazing experience for students and skills both creative and practical that will put them on track for successful careers.
The company is now ISO and TAFE accredited, and is rolling out new programs including expansion into online and new geographies.
"Specifically we're going to regional Australia first," he says.
"Regional Australia often gets forgotten about and they don't have access to incredible creative programs like this."
---
65. Kevin Porter (37)
Rayell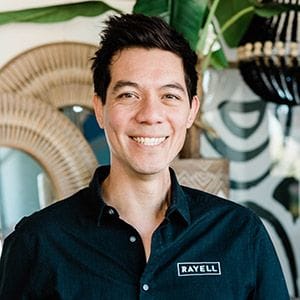 After a career in the corporate space working with major companies like Contiki, Flight Centre and Wotif.com, Kevin Porter needed something to change.
His breath of fresh air came in the form of Rayell, a wholesaler of homewares, artwork and giftware items.
Now in its eighth year of operation, Rayell has more than 1500 stockists across Australia and the Pacific.
So successful has his venture become that Porter can boast that the business sells, on average, one item a minute of the retail working day.
How did he get here? Porter says that rather than emulating a standard competitor he looked to the best in the industry and aimed to beat them.
"If you imitate a standard competitor then you'll get their results," says Porter.
"Alternatively, if you aim to be like the best, you get the same results as the best in the industry."
The company has recently extended business into New Zealand, but Porter has no intention on slowing down any time soon.
---
66. Scott Seward (39) & Dee Deng (35)
Right Hook Digital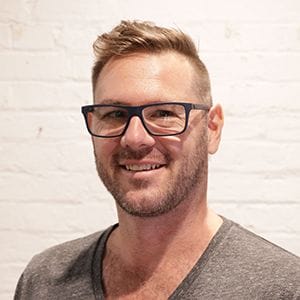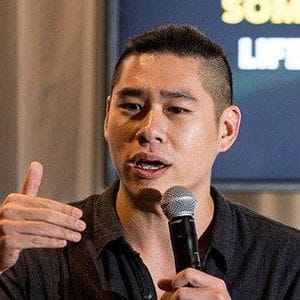 When starting a business, one of the first things you need to nail to get the plane off the ground is your digital footprint.

Being seen online is really what will drive revenue going forward, and Right Hook Digital prides itself on being able to get clients noticed.
The firm partners with clients in order to build brand visibility and growth by using creative, social, advertising and lead nurturing services.
The founders of Right Hook Digital are both proud uni dropouts who crossed paths by chance and realised what a great team they made.
The pair launched the company in 2017, and it only took them one year to see serious revenue coming through the door.
To get an indication of how successful the Right Hook Digital duo have been you just have to take a look at their clients' stories.
For example, fashion label TwoSisters saw 842 per cent growth on Facebook after employing the creativity of Seward and Deng, while label US Military Apparel saw a $1 million increase to its revenue after teaming up with Right Hook.
---
67. Robert Tadros (34)
Impressive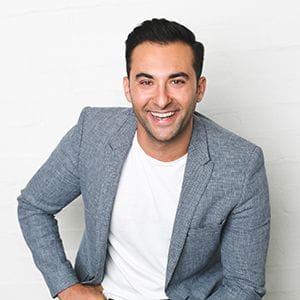 When Robert Tadros founded Melbourne-based digital marketing group Impressive he wanted it to break the mould.
Bespoke service is what Impressive is all about, turning away from the cookie-cutter approach taken by his rivals.
"When I first started, people told me I was insane to enter such a crowded market, but I knew I was on to something different," says Tadros.
"Through our progressive way of thinking, we're carving out a road of our own to become pioneers of the digital marketing industry."
After three years in business, Impressive expanded into the US in 2019, opening an HQ in Austin, Texas which he describes as a unique city with an exploding tech scene.
The time was right for the business that had attracted a suite of high-profile clients including fashion label Misha Collection, Mitre10, Coopers Tyers, and, most recently, T2.
While the company will be targeting clients in the US, the expansion overseas should prove fruitful for Australian clients as they also begin to scale internationally.
"Beyond that, I'm excited by the opportunities to introduce Australian ingenuity and our pioneering methods across regions in Asia including Singapore and Hong Kong."
---
68. Chris Christofi (40)
Reventon, CHC Planning Solutions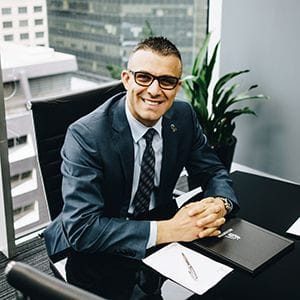 Helping clients build wealth and curate an enviable nest egg is what Christofi is all about.
His companies, Reventon and CHC Planning Solutions, are both highly awarded financial services providers helping both novice and experienced investors achieve their full potential.
Whether clients are looking to set up a self-managed super fund, manage an estate plan, sort out their property investments or even just get started with investing, Christofi's team becomes their "financial life partner".
"In recent years the company has expanded its services and has grown to become a premier property and financial services provider," says Christofi.
"Understanding clients' needs and offering the right solutions with the right support channels is what gives us an edge and helps our clients achieve their financial goals.
"We understand that current knowledge is the key and are committed to continuous learning to keep staff skills up to date."
Headquartered in Melbourne and with three offices nationwide, Christofi has ambitious goals for the business and plans a couple more office openings in the year ahead.
---
69. Peter Matthews (37)
Solar Service Guys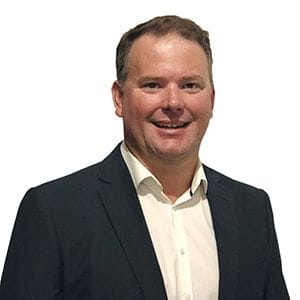 Peter Matthews proudly runs one of the largest solar specialist companies in the country.
The company's clients include major national energy retailers, international technology manufacturers and other major industry partners.
"Solar Service Guys (SSG) has refined his expertise in the renewables field and has invested in engineering and IT systems," says Matthews.
"This investment and leadership has resulted in long term relationships and partnerships with key manufacturers including ABB, Canadian Solar, SMA, LG Chem, Trina and national retailing and energy grid clients such as Origin, ERM, Red Energy, Energy Queensland, and Light Source BP."
Matthews has landed in this position by ensuring that quality is always the top priority in everything the company does.
Recently, SSG announced a new specialist service division: Solar Asset Management (SAM), providing commercial and utility scale solar solutions both in Australia and overseas.
Clients receive an all-inclusive solution for managing solar assets and maintaining the system's performance.
In order to keep pace with the growth opportunities available, in the past 12 months SSG has created a new model allowing it to onboard and manage sub-contractors.
"The key to this model was all about sharing our knowledge base with the subcontractors to make them successful in their own area," he says.
"Now that we have the proven track record it is becoming easier and easier but we believe staying in front of the technology and adding the faster response time using the augmented reality will allow us to acquire more work due to our competitive advantage."
---
70. James Marshall (35)
MWM Advisory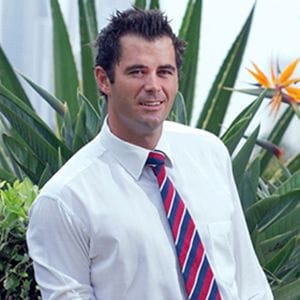 From startups and scaleups to large enterprises, MWM Advisory is one of those rare financial services firms that can handle them all.
James Marshall has been sure to preserve his firm's unique multi-tiered structure, where every client has a varied set of contact points including direct access to the director, client manager and administration support.
Marshall's ethos is that financial service is about going far beyond simply meeting his clients once a year at tax time.
"It's about being a business partner and a financial leader, and being across new back-end business tech and being able to step back and see the bigger picture," he says.
In 2017, MWM introduced an in-house data analytics team who were tasked with supporting the analytical needs of clients, as well as drive complete digital integration across the business.
"The inspiration for creating the Data Analytics Team emerged from feedback gained during our educational seminars," says Marshall.
"We discovered there was a significant gap in the local market to support our clients use and understanding of the software programs and data streams that inform their business needs. I believe that the in-house Data Analytics Team is unique to MWM here on the Gold Coast."
A year later the company introduced a new team which would provide support for more than 190 clients with self-managed super funds.
Both these solutions are now paying off for the company which aims to be as nimble as possible.
---
Click below for this year's top 100
Get our daily business news
Sign up to our free email news updates.
Help us deliver quality journalism to you.
As a free and independent news site providing daily updates
during a period of unprecedented challenges for businesses everywhere
we call on your support