It's a testament to the calibre of entrepreneurs we have in Australia that the final ten on this list are still at the helm of dynamo businesses making a significant nationwide impact.
Many of them use innovative technology to enhance their own business or the companies of others.
They have an exciting potential to scale in industries including construction, marketing, student tuition, environmentally-friendly manufacturing, sports technology and digital development.
---
91. Nicholas Chapman (30)
Chapcon Design & Construct, Newstart Homes Australia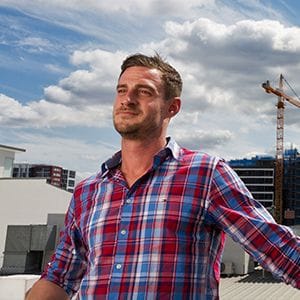 On the back of projects ranging from office fit-outs to nightclubs, Chapcon Design & Construct is growing at a swift pace as revenue doubles each year.
A carpenter by trade, Chapman founded the company in 2011, and his portfolio has been strengthened by a solid track record and willingness to take on unconventional builds.
These include a $2.2 million entertainment hub XCARGO created from stacked shipping containers in Brisbane's Fortitude Valley, while Chapcon has more creative design-and-construct projects in the pipeline.
"Being in the commercial building space you are only as good as your last project and growth is heavily dependent on the market cycle so the strategy for Chapcon is to continue delivering high quality projects and offering as much value as possible," says Chapman.
"Our focus on relationships and working with larger corporate outfits enables us to take advantage of the growth they have already experienced and capitalising on their need to expand, maintain or refurbish their premises."
As a true entrepreneur at heart, Chapman acquired Newstart Homes in late 2016 after it entered receivership and its former owner and construction mogul Bob Day went bankrupt.
This gave Chapman all of Newstart's IP but he was cautious with how to use it, taking the business off the market for a year before a formal relaunch in late 2017.
He says Newstart's processes and pricing are geared up to support a high volume of sales, which have been growing steadily to date.
"We have freshened up some of the designs as well as our spec and pricing so we're a lot more competitive with the broader market," he says.
He hopes to capture a lot of first home buyers with the company, but the group has a wide range of designs catering from that segment through to acreage-style homes with more extravagant designs.
---
92. Jeff Lynne (33)
Digital8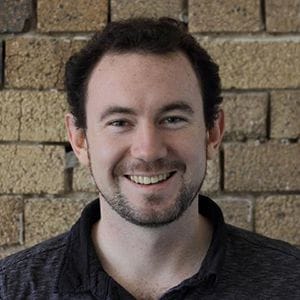 For several years Lynne's Digital8 was a boutique agency, until it wasn't.
In 2016 the company's reputation for custom web and marketing solutions led to a sudden growth spurt that saw the business mature, supported as well by a strong focus on SEO.
"We place a heavy emphasis on customer experience and solution architecture to make the best possible impact we can on our clients," says Lynne.
Much of Digital8's work comes from social enterprise, charity, NGO and government work, but around 75 per cent of new business opportunities right now are coming from SMEs.
"Ordinarily a business would just refine its service offering to become more niche but helping everyone is part of our fabric and having an organic pipeline of SME leads of the magnitude we have is nothing to dismiss," he says.
"As a result, we are preparing to establish two new entities in addition to Digital8 so that we can better refine each unit to service specific customer types we have.
"One of these organisations will be implementing a digital services membership solution that we believe will be an Australian first offering."
Lynne tries to give back as much as he can to the Brisbane digital community with a well-regarded internship program, and the company also offers reduced costs and sometimes zero costs to organisations Digital8 believes have much to offer society at large.
"One such enterprise is Girl Shaped Flames, which is an organisation that connects successful women with high school age girls to help inspire them and foster a creative spark," he says.
---
93. Hayden McEvoy (28)
A Team Tuition
After struggling through high school as a result of his attention deficit disorder, Hayden McEvoy has been on a mission to revolutionise education in Queensland.
McEvoy hopes to accomplish this with A Team Tuition, a style of teaching that helped him breeze through an undergraduate science degree with almost straight high distinctions.
His tutoring business doesn't hire just anyone; a rigorous screening process ensures that tutors go into the workforce equipped with the skills they need to boost the learning potential of students.
A Team now has school partnerships too, allowing McEvoy to implement his structure in 15 major Queensland schools.
Scaling nationally is next on the agenda, once the required infrastructure is set in stone.
---
94. Mark Lim (39)
Magnetic Alliance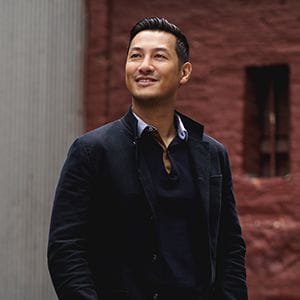 With management experience under his belt at major agribusiness lender Elders, Lim founded Magnetic Alliance eight years ago with a proven record of diagnosing companies' complex problems and finding solutions.
Through the company he was able to offer a level of consulting service usually only accessible to larger corporations, acting as a "co-pilot" for business owners so they can get ahead.
"We help businesses grow in size and value, and free up their owners' time to enjoy life," says Lim, who is Adelaide-based has clients around Australia in the world, and also hosts leaders events.
"We help install the right processes, systems, and infrastructure in place in order to give them the confidence to grow from their starting base."
In the past five years his vision has helped add $1.17 billion in client revenue across 85 industries in Australia and abroad.
"So many other 'growth services companies' specialise in one field, like accountants, or marketers or HR firms, and even then, go into specific specialties or niches, leaving business owners having to put pieces of the puzzle together that they don't even understand," says Lim.
"Magnetic Alliance are able to provide end to end service for businesses, from helping start-ups to getting businesses to maximum value for sale."
---
95. Rebecca Veksler (25)
Sol Products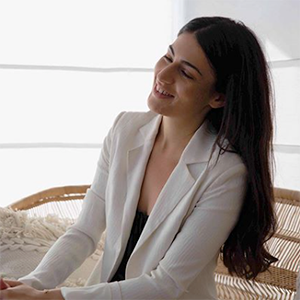 Veksler's career as a personal trainer was turned upside down when she was hit by an intense autoimmune disease, keeping her bedridden for months.
"My entire life and mindset had to shift. I could no longer be in the fitness industry and had to shut down the other start up I was working on a project on mental health workshops," she says.
Upon recovery, Veksler decided to take on a new challenge and developed SoL Cups 100 per cent plastic-free re-usable cups "for optimistic drinkers and half-full thinkers".
"We are for embracing taste and ending waste," she says.
"All of our products including our packaging are handmade, Our glassware is all individually hand-blown using the highest quality glass available, making both the environment and people happy."
She says Sol has gone from strength to strength since launching at the end of 2016, managing a reputable and innovative brand that hold itself as one of the top re-usable cup companies that suppliers go to globally.
"Within two full financial years we have expanded to the likes of NZ, the UK, the EU, the USA, Canada, Singapore, Hong Kong, Malaysia, UAE, and have much bigger plans to come," she says.
"We are currently seeking external investment, which will allow us to focus on marketing and expanding our global presence.
"Alongside this our core mission is to be a platform for education, so we are working closely to schools, universities and government organisations."
---
96. Jacob Banks (32), Dan Kerr (32) & Dexter Devlin (33)
Service.com.au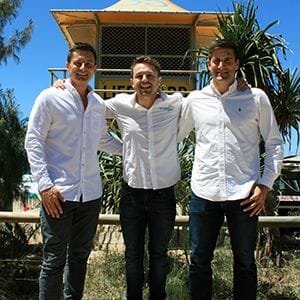 For a lot of people, the choice of a tradie often comes down to recommendations through their networks or a quick Google search. And for the professionals themselves, getting your name out there isn't all that easy or affordable.
Not so if you go through Service.com.au however, a company founded by Banks, Kerr and Devlin in 2012 as an online platform for people to find local trades and services providers in their area.
The completion of the Bond Business Accelerator at the end of 2014 put the business on track to significant growth, and now Service.com.au receives around 55,000 unique visitors a month.
"By allowing users to submit the job details once and wait to hear back from the interested tradies, this saves the ring around and allows the user to do their due diligence before committing to meet the business," says Banks.
Service.com.au has a very good spread of Australian trade businesses on its books, but getting access to third-parties has been the biggest barrier to growth.
In response, the company has been developing an enterprise application targeted at businesses.
"It's more where people are hiring trades on behalf of somebody else, whether that be an insurance company, an insurance builder, a real estate agent, a large corporate franchise," says Kerr.
"The cornerstone of it all is compliance."
Kerr says the strategy is also to allow real estate agents, often who have their own platforms and trusted trades, to tap into the platform as needed.
---
97. Johann Odou (33) & John Persico (37)
Vumero, Sports Analytics World Series, Perogon.com, SportsTechFeed.com, FMInstitute.com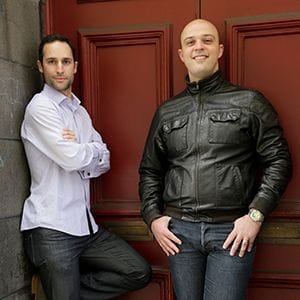 Not only have Persico and and Odou successfully sold four businesses in the space of a year, their sports technology-focused company Vumero is now in eight countries.
"We built Australia's biggest cyber event, Australia's biggest IT event, and the world's biggest finance competition, selling them all off within a few months in a good way, and also there's the investor we've had in our Canadian financial modelling certification," says Persico.
"Most people don't even achieve one of those things to be honest we've done four in a year and that's outside our core business."
That main business Vumero is at the forefront of sports technology, including consulting, websites, events and digital platforms for connecting with suppliers from China and India.
Persico says Vumero's dedicated staff in Melbourne, Canada, the UK and the USA help connect 35,000 professionals in the industry.
"We build the platform first. Now we are starting to monetise it rapidly," he says.
In September, Persico helped launch VARCIS Capital's first Asia-focused sports technology and advisory house.
He is a partner and investment manager at the fund, which makes investments of between US$500,000 and US$5 million in sports, media, entertainment, fitness, wearable, digital and health start-ups in Asia, including Australia.
---
98. Brad Moran (33)
CitrusAd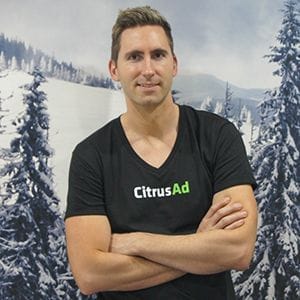 In the 00's you might have seen Brad Moran in action playing AFL for North Melbourne or the Adelaide Football club.
These days he's kicking goals of a different kind.
Moran proved his mettle by raising a successful food delivery startup called NoQ through the global financial crisis.
In 2016 he suffered a setback when the board decided to remove him from the company that was once his brainchild.
Rather than wallowing, Moran immediately jumped onto the next venture.
Enter CitrusAd, an auction-based advertising platform born from Moran's extensive experience in global e-commerce.
Retailers of any size can plug into CitrusAd and seamlessly run their own online store through the white-label platform.
In a space where his biggest competitors are Google and Microsoft, Moran certainly hasn't shied away from the challenge of securing big name clients.
Coles, Woolworths, Officeworks, Dan Murphy's and THE ICONIC all have accounts with CitrusAd.
After expanding globally, CitrusAd now supports more than 20 retailers and 230 brands across 11 countries, totaling in excess of 15 billion available ad impressions annually.
Moran intends to lead an aggressive expansion campaign for CitrusAd across the UK, Asia and USA markets in the year ahead.
"Much of the Australian market has been dominated by CitrusAd and our attention now turns to expanding in international markets and strengthening the local market," says Moran.
"The technology is geographically and industry agnostic, meaning expansion into key online retail markets is a priority."
Moran has revealed the end goal is to be acquired within the next year.
"USA companies typically pay the most for companies like us," he says.
---
99. William Strange (30)
Sports Performance Tracking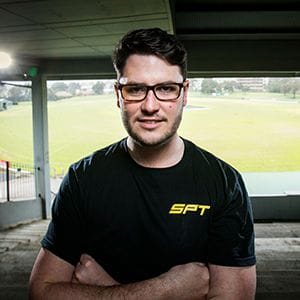 The rise of Fitbits and Garmins has shown just how much people love to have useful data for their health, but what about taking that premise to a higher level of peak physical performance for athletes?
Founded in 2015, Melbourne-based Sports Performance Tracking (SPT) provides elite level analytics to amateur and sub-elite sports teams, colleges, high schools and university programs.
The technology helps teams and players understand how hard they are working at training and on game-day, and provides feedback about how they can improve.
SPT is sold in more than 90 countries and is used in around eight sports at the moment, but the big jump in 2019 has been the expansion into the US market.
"The USA has been our biggest growth area with more than 300 colleges and high schools coming on board and buying the SPT product just in the first year of business in the US," says Strange.
"We see close to 200,000 to 300,000 potential teams over in the US in multiple different sports and levels, so for us it really is embedding into a couple of different states and getting some of those higher-level well-known programs; focusing on what I call social proof.
"What we're good at is simplifying the complex. The elite teams around the globe are using similar existing technology, but it is quite advanced and it is quite sophisticated, and what that means is it's quite expensive."
SPT is currently in the process of a Series A expansion round to fund expansion in the US, building on a $5 million raise completed two years ago.
The next stage of growth will not only involve pushing out product to more North American customers but also developing additional products outside the 'wearable-only' space.
"We are using advanced analytics and building our Virtual Sport Scientist to use advance algorithms to predict and engineer specific behaviours for athletes," he says.
"We are building out a Subscription model to lower the cost of entry into the analytics space and continue to drive newer software tools to enhance the athletes' and teams' behaviours and drive success at all levels."
This isn't Strange's first time in the business big leagues though. Previously he founded Three65 Underwear, which featured on Channel 10's Shark Tank in 2014 and was subsequently sold.
---
100. Sacha Kirk (40) & Warwick Walsh (40)
Lawcadia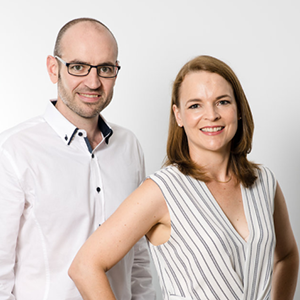 When Kirk and Walsh founded Lawcadia in 2015, they saw a legal sector that was "ripe for disruption" with in-house teams having little visibility over agreed budgets or who is briefing which firm.
"It is common to see legal budgets escalate with little structure or discipline in place to keep them in check," says Kirk.
Lawcadia seeks to resolve these pain points with a vision to transform the legal profession through straightforward technology for more efficient solutions.
It is a business model that garnered a $1.3 million pre-Series A funding round in September, taking the total raised over the last three years to $3.8 million.
One of the big four banks went live with a revamped platform on 1 August, and in the current financial year Lawcadia also secured its first New South Wales government department as a client as well as Queensland Rail.
Kirk notes there are now 140 law firms on the platform, and with positive feedback in Australia the plan is to now take the technology global in Asia and the UK.
"We plan to establish operations in the US and Europe in the next five years," she says.
---
Click below for this year's top 100
Get our daily business news
Sign up to our free email news updates.
Help us deliver quality journalism to you.
As a free and independent news site providing daily updates
during a period of unprecedented challenges for businesses everywhere
we call on your support