For nearly a decade now Australian domestic tourism has been a growing sector.
Except for a little blip in 2009 Australians have been spending more and more every year on domestic travel and holidays.
At the end of 2018 overnight spend from domestic tourists rose by 13 per cent to $72.7 billion. This is a growing sector showing no signs of slowing down.
Overnight trips by Australians within Australia also rose by 9 per cent, with nights spent vacationing within Australia up 7 per cent to 376.1 million nights.
Tourism Research Australia and Austrade says that growth in domestic overnight travel was shared across all purposes of visit.
Holiday visits were up 8 per cent to $42.4 million and spend was up 9 per cent to $35.3 billion.
Visits to friends and relatives increased by 8 per cent to 35.5 million, with spend jumping 15 per cent to $14.9 billion.
Business trips also grew by 14 per cent with the spend surging by 23 per cent to $19.6 billion.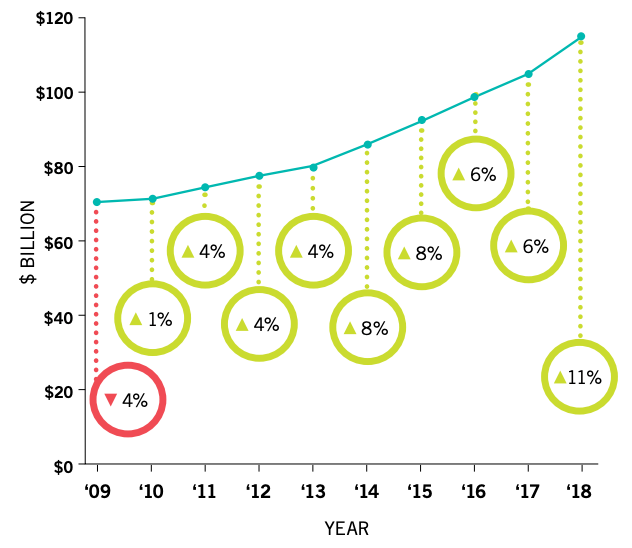 GRAPH: Total overnight spend 2009-2018
According to Tourism Research Australia there is a continuing shift towards active outdoor activities that can be done at low or no cost and improve health and well-being. This includes domestic overnight trips involving visits to botanical gardens (up 13 per cent annually since 2014) and bushwalking (up 9 per cent).
When it comes to accommodation, Australian tourists are keen on getting the best value for their buck. More nights have been spent in rented houses and apartments as well as non-commercial caravan and camping sites than ever before at the end of 2018.
Singles and couples are travelling a lot more than families, with the increase in trips taken by family groups at a modest 2 per cent. This is compared to an increase of 15 per cent for singles and 8 per cent for adult couples.
Tourism Research Australia says the lower value of the Australian dollar is making overseas travel less appealing, thus increasing the attractiveness of onshore travel.
All states and territories saw an increase in domestic overnight spend in 2018, with Queensland and Tasmania seeing the largest amount of growth.
In terms of increase in visitors Western Australia and Tasmania saw the largest growth, while the ACT visitor numbers remained steady.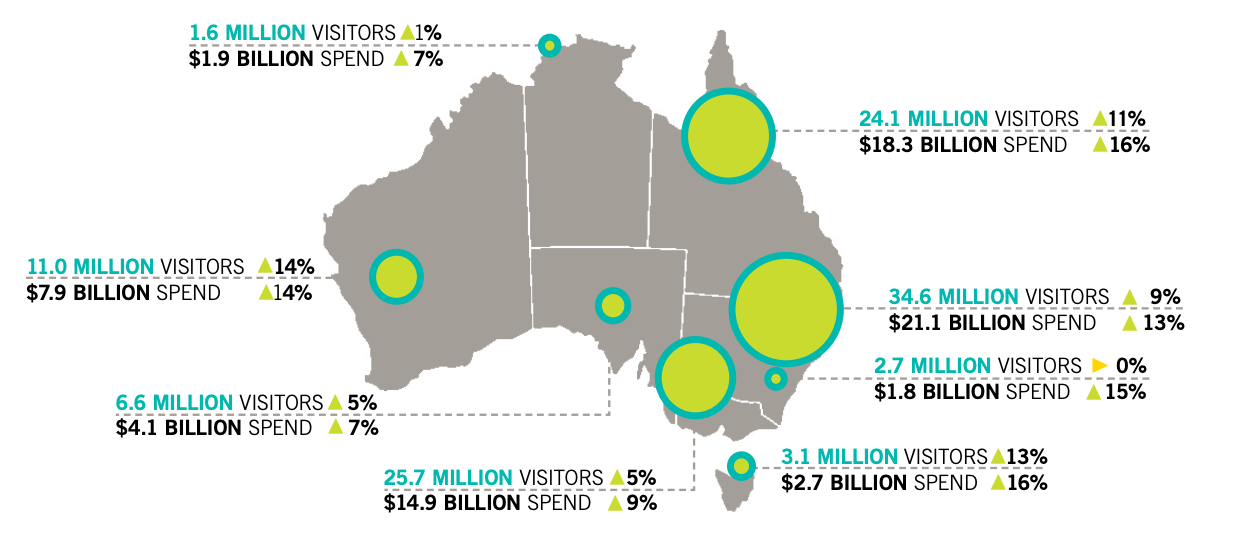 Never miss a news update, subscribe here. Follow us on Facebook, LinkedIn, Instagram and Twitter.
Business News Australia
Get our daily business news
Sign up to our free email news updates.