Sleep apnoea treatment company SomnoMed (ASX: SOM) was caught napping in 2018 when an ambitious US direct-to-consumer model failed to deliver results, sending shares plunging and triggering a retreat and rethink.
Known as Renew Sleep Solutions (RSS), the company's US venture was blindsided by a change to health insurance policies that placed a greater cost burden on patients, making sales an uphill battle for SomnoMed's mouthgard-like devices that make for a sounder night's sleep.
By the time a leadership change was announced in November that year, RSS had been discontinued and the SOM share price had fallen more than 60 per cent to $1.55.
Neil Verdal-Austin (pictured) was CFO back then and had been supportive of the RSS concept before it was announced in 2016, but in retrospect he would have done things differently.
Since his appointment to CEO in late 2018, Verdal-Austin has been focused on getting investors and customers on the same page by capitalising on SomnoMed's product, its core business and finding new opportunities.
At the time of writing SOM shares are trading at $3.44 each, just 14 months after Verdal-Austin took control.
Picking up the pieces
At Business News Australia, we ask him for his secret behind the turnaround success and how he plans to take on market leader Resmed (ASX: RMD). But firstly, as CFO was he apprehensive at first about the RSS expansion that ended up almost destroying the business?
"To be very frank I was not apprehensive at all," he responds.
"I thought this was a phenomenal initiative that we should try; I think the failure isn't in the initiative or the concept necessarily, but in the execution and how we probably mismanaged the roll-out.
"We went too fast, too quickly, with little insurance landscape information that was tested enough to continue rolling out the centres."
In other words, he would have done more due diligence and slowed down the expansion process.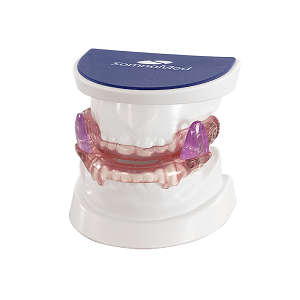 "If it was up to me I would have not opened the 16 centres - I would have stopped after four or five and given them a lot of time to prove out the concept and to hone that before doing it further," he says.
Verdal-Austin believes the company's range of SomnoDent products have helped the recovery effort.
"The most important thing for me at that stage given the failure of RSS and how everybody felt within the organisation, was to get everybody back onto the 'belief bus'," he says.
"The core business that we had before embarking on this strategic initiative that didn't work, was absolutely sound.
"It was a bit easier than I had anticipated to be honest, and I think that's because of my tenure; the fact that people knew me and the fact I probably had the respect of most people within the organisation."
A more lucid vision for SomnoMed's future
The results of the turnaround speak for themselves. SomnoMed's products are sold in 28 countries, core revenue was up 19 per cent year-on-year in the December quarter at $18.7 million, and volumes have been increasing for its new digitally manufactured range.
In stark contrast to a $12.4 million loss for the group in the first half of FY19, SomnoMed was also back in the black for the same period in FY20 with a net profit of $766,430.
But there still exists what Verdal-Austin describes as a "prescribing behaviour barrier" for sleep physicians globally, who tend to recommend Resmed's CPAP (continuous positive airway pressure) machines for sleep apnoea treatment instead of oral appliances like those produced by SomnoMed.
"We're really trying to reach patients and dentists and sleep physicians through a 'technology bridge', and learn from what Resmed has done so successfully in bringing some of that technology to the ease of treatment," he says.
"For now we want to go deeper within the markets we're in and to make sure we try and always swing a greater percentage of patients from CPAP to oral appliances, especially in the mild and moderate categories.
"We want to use our medical initiative to break down the prescriber behaviour barrier that all patients must go onto CPAP. That for us is not necessary, and certainly it's like putting someone into a wheelchair before trying crutches."
The executive says sleep apnoea is a condition that is often missed, but the general procedure for diagnosis is for a patient to do a home sleep test with indicators a sleep physician can assess, determining whether the person has a mild, moderate or severe case.
"If you're mild or moderate, the normal protocol would be maybe lose some weight, change your sleeping habits, don't drink so much alcohol, and/or look at a less invasive or severe treatment which is maybe an oral appliance," he says.
"But most patients get told they should go on CPAP. That's where the difficulty starts.
"CPAP is 100 per cent efficacious. You put this mask on your nose and mouth, strap it to your face, it is 100 per cent effective. The problem with CPAP is people don't wear it or they don't wear it for long enough in the night to be effective."
He explains compliance rates for CPAP machines are at around four hours a night, so the effective compliance is very low.
"Medical effectiveness is usually a function of the two concepts efficiacy and compliance. Does it work? Do you wear it? When it comes to CPAP they're 100 per cent efficiacious but maybe 30 per cent compliant which is what the papers and the literature tells us," says Verdal-Austin.
Unlike CPAP, SomnoMed's products will not work 100 per cent of the time, with the CEO claiming they are not an option for the 20-25 per cent of patients with the most severe cases.
"Our appliance is like a mouthguard that you wear over your top and bottom teeth, and it moves your lower jaw slightly forward at night it moves that mandible slightly forward at night by a millimetre or two and therefore mechanically opens up the airway, and can treat 75-80 per cent of all people," he says.
"Most of our patients are very compliant once they've worn it for one or two nights they will not sleep without it. They feel amazing in the morning, it's very comfortable to wear."
He says a CPAP machine will cost $2,500-3,000 with masks, hoses and replacements needed over time, whereas SomnoDent is sold for around $500 to dentists who then take an impression, fit the device and do the titration.
"For that they would charge a patient anywhere between $1500 in Australia, 1000 euros in Europe, but the problem is in America they charge an average of USD$3,000-4,000," says Verdal-Austin.
SomnoMed versus ResMed
He says Resmed is certainly a powerhouse in the sector, especially due to its distribution network in the US with sales through medical supplies company DMES.
"It's quite phenomenal. So it's a battle for us to try and break down what we would call a prescribing behaviour barrier for sleep physicians only prescribing CPAP and not considering an oral appliance, but they haven't really managed to block our efforts from an oral appliance perspective anywhere in the world," he says.
"Remember, they also have their own oral appliance. They bought this business eight or nine years ago called Narval, and they do pretty well in France although we take market share from them now month on month.
"They tried to launch [Narval] in the US and have pulled out of the US I think they just found it too hard."
He explains the next step is to continue the momentum of the company's digitally manufactured product.
"This is really fuelling and boosting our growth rates in the US so far, and also it will in Europe as we launch it there," he says.
"It's a much lower profile, stronger device the titration mechanism is unique, its fully patented, and dentists and sleep physicians just love the design. Patients find it very comfortable, and this drives our ability to talk about this effectiveness equation; efficacy multiplied by compliance.
"Our intention is to try and grow the overall market for oral appliances we're the leader in oral appliances and we take that position with a lot of respect and gratitude, but what we're trying to do is lift the water level for all boats."
He concludes it is no good to have just 10 per cent of all patients diagnosed going into the oral appliances market.
"It needs to become 20 or 30 per cent, and maybe a third in five to 10 years time should be on oral appliances versus CPAP," he says.
"The goal for me is that the market size grows and the opportunity to compete with CPAP in the mild-moderate-severe category is more fairly reflected.
Never miss a news update, subscribe here. Follow us on Facebook, LinkedIn, Instagram and Twitter.
Business News Australia
Get our daily business news
Sign up to our free email news updates.
Help us deliver quality journalism to you.
As a free and independent news site providing daily updates
during a period of unprecedented challenges for businesses everywhere
we call on your support