Aussies Tim Dawson and Wren Brier picked up two prestigious gongs for their zen-inspired game Unpacking at the BAFTA Game Awards, held at Queen Elizabeth Hall in London last Thursday night.
Unpacking picked up the EE Game of the Year award, voted for by the public, and scooped the best narrative award for their game based on challenging users to pull possessions out of boxes and fit them into a new home.
Developed by Witch Beam, a small indie studio based in Brisbane that Dawson co-founded alongside Sanatana Mishra and Jeff van Dyck in 2013, Unpacking is the second project from the developers behind arcade-style action game Assault Android Cactus.
Part block-fitting puzzle, part home decoration, the game was inspired by the real-life experience of unpacking when Dawson moved in with his Brisbane-based partner Brier in 2017.
"I think there's something satisfying about being asked to turn chaos into order," Dawson tells Business News Australia when asked why the game resonates with so many people.
"When someone is given some boxes of items and a bunch of empty shelves, it's a very natural feeling to want to put everything "where it should go", but as they're doing that, a very human story peeks through.
"Unpacking - the real-life activity - is a universal experience that practically everyone has had to do at some point. It also often aligns with major life events, giving the activity some potent association, and through that connection, we tell this small, authentic story that people can often find parts of themselves in."
A single-player game based on mediative gameplay with no dialogue, timers, meters, or scorers, players are confronted with unpacking a home, from a single bedroom to an entire house.
First prototyped in 2018, players are invited to create a satisfying living space while learning clues about the life they're unpacking. Over the course of eight house moves, users are given a chance to experience a sense of intimacy with a character they never see and a story they're never told.
During the gameplay, players are rewarded with stickers for experimenting with interesting object placements; a narrative Dawson wasn't always confident would resonate with the audience.
"Honestly, we had our doubts right up until launch - we were confident we had made a good game, and we knew we had a fan base waiting for it, but there's a big gap between "game people like" and "top seller on Steam and Nintendo eShop"," he said.
"The first few days of release were a bit of a blur; people were letting us know we were at the top of the charts on Switch in various countries and we stayed featured on the Steam top sellers list for longer than I could have hoped."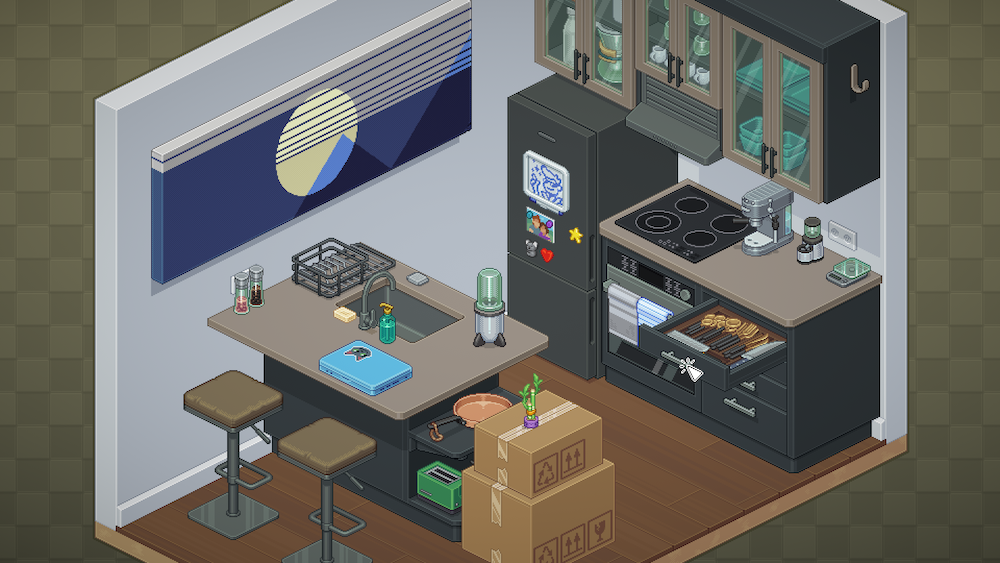 Unpacking was selected for the Stugan game accelerator program in Sweden in May 2018. A week after it finished, an animated gif of the game from the official Unpacking Twitter account went viral, achieving over 10,000 likes and attracting 6,000 new followers in 48 hours.
"The characters and locations in the game took inspiration from people and places we've known in real life with a healthy dose of imagination," Dawson says.
"In some cases, characters drew inspiration from multiple people, like the roller derby playing law studying cosplay making housemate in the third level.
"Other characters like the boyfriend in level four were largely invented to fit the needs of the stage and story. All the locations in the game are set in and around Brisbane to varying degrees of specificity, although the floor plans were invented from scratch to serve the gameplay."
In November 2021, the game was released to critical acclaim and commercial success, selling over 100,000 copies in its first 10 days. So far, the game has won 10 awards, including 2 BAFTAs and the DICE Award for Outstanding Achievement for an Independent Game.
Celebrating their recent success at the Bafta awards in London, the couple surprisingly doesn't seem to have mastered the art of unpacking for a real-life holiday just yet.
"Between the jet lag and just being worn out from the unexpected yet incredible wins at the BAFTAs, it took us a surprising amount of time to actually unpack our suitcases," Dawson said.
"Making a game about the activity doesn't seem to have made us any more eager to do it in real life!"
Get our daily business news
Sign up to our free email news updates.