NOW turning over around $15 million, Adore Beauty founder Kate Morris still vividly remembers Vogue and the big brands laughing at her plans to launch an online-only Australian beauty store.

Melbourne-based Morris expects a turnover of between $15 to $16 million this financial year, up 70 per cent from last year.

This figure will be buoyed by Adore Beauty's recent entry into China, the second biggest beauty market in the world behind the US.

Morris is now going with the trend, aided by the lower Australian dollar, and testing the Chinese consumer's level of interest over the next 12 to 18 months through Alibaba's Tmall platform.

Her business, however, was built on bucking the trend. Despite being developed in the tech boom of the late 90s and early 2000s, online retailer Adore Beauty was a stranger in a world of shopfronts and department stores.

With $12,000 in starting capital from her boyfriend's parents, Morris set out to build Australia's first dedicated online beauty store. It was enough to buy a very basic website, what Morris refers to as a 'stone tablet'.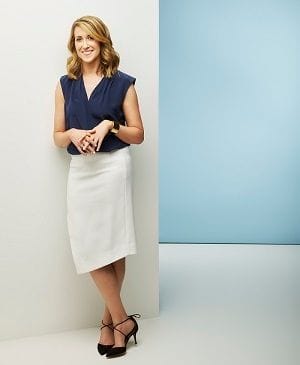 "For me it actually all started in 1989 when I crimped my hair and put on lipstick for the first time and I felt like a million bucks," she says.

"I went to university and got a job working on beauty counters and realised that most women found their beauty counter experiences really daunting and didn't want to put themselves through that. It was a high-pressure sales environment with a scary saleswoman telling you about your wrinkles and it didn't make sense for this to sell products.

"The worst thing that could happen was being 25, owing my boyfriend's Dad some money and not having a job - and doing an arts degree, that was likely to happen anyway."

Naturally, people thought Morris was crazy to sell something as intimate as cosmetics online. On the contrary, she thought it was a step-up from the intimacy any of the physical retailers were offering.
"But pretty much every beauty brand I approached said no," she says.
"I was shocked and it confused me that they wouldn't take my money. I still have the fax from one of them which was 14 pages - the first page told me my idea was so stupid that I'd actually offended them with the proposal, followed by 13 pages of the thumbnails of magazines their products had been in."

Morris says the beauty editor of Vogue at the time shut her down in a Devil Wears Prada Moment - 'darling, if you were meant to be in Vogue, I would have already heard about you'.

A 'store in the dessert with no foot traffic' is how Morris describes the early years of Adore Beauty, up until around 2005 when she noticed consumers started becoming more receptive of online shopping.
"The last five years have been crazy for us - but our growth doesn't look nearly as impressive when you stretch out to 15 years," says Morris.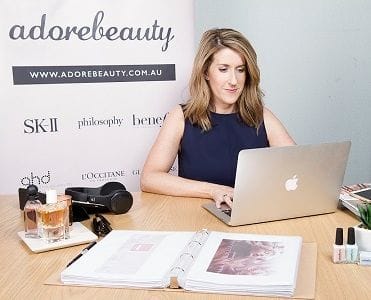 "It's been a really long story of slow grind and persistence."

Morris thinks it took over a decade for Adore Beauty to really grow into its own skin, sparked by an aha moment in 2011.

"I started wondering if I was even capable of taking the business to the next step and whether I should hire a CEO," she says.

"I got help from a business coach who told me to sit down by myself and write a letter to myself from 10 years in the future. This was like turning all the lights back on and I hadn't even realised how dark it had gotten.

"I knew my passion and purpose and the time was finally right to pull out all the stops and do it. I had to take some big steps to get all the brands I was missing, I had to invest in marketing, I had to rebuild the website which was still stuck on a bespoke platform from 2003, and I also had to take big risks with my margins to be a little more competitive."

One of the outcomes was wooing Woolworths, which took a 25 per cent stake in Adore Beauty in November 2015.

Beyond bootstrapped for the first time, Morris wanted to deploy her newfound budget correctly from the get-go. Morris sought advice from one of Woolworths' top digital marketers who instructed her to ramp up the budget on channels where she could easily work out returns like Google Adwords and place small bets elsewhere.

"I knew I was coming off an extremely short runway and if I didn't get lift off in time, I would crash into a mountain," says Morris.

"The biggest things we invested in were inventory, marketing campaigns and free shipping, and it took around four or five months for everything to payoff.

"I joke that we're an overnight success 15 years in the making. I think department stores do need to be worried because I don't think they've ever tried to add value to the customer experience. They have a lot of big brands locked down, a lot of history and real estate - but the customer is likely these days to turn away."

Get our daily business news
Sign up to our free email news updates.