While "extraordinary lumber inflation" and pallet scarcity continue to push up costs for logistics and transport giant Brambles (ASX: BXB), it has raised underlying profit growth guidance by three percentage points thanks to efforts to lock in supply and find efficiencies.
This profit growth guidance has been lifted from 3-5 per cent to 6-7 per cent, while the previous maximum of sales guidance is now the minimum in an 8-9 per cent range.
The Sydney-based supply chain company with global operations under the brand CHEP notched 7 per cent growth in revenue for the first nine months of FY22, reaching more than $4 billion.
"The sales performance in the third quarter was driven by pricing actions in response to operating cost inflation, pallet scarcity and increased pallet costs driven by extraordinary lumber inflation," Brambles CEO Graham Chipchase said in an ASX update this morning.
"The supply chain dynamics and inflationary pressures we noted in the first half of the year were further exacerbated in the third quarter by the conflict in Ukraine and Russia. Ongoing disruptions in global freight and lumber markets continue to impact the flow of goods across supply chains resulting in higher costs across our business," he said.
"The benefits of the commercial discipline to recover the significant cost-to-serve increases were particularly strong in the US business."
This success is partly due to US automation and sawmill investments, and the group is now progressing with the next stage of a global automation programme Chipchase believes will strengthen Brambles' competitive advantage.
A digital transformation utilising data analytics has also helped Brambles achieve better prices and increase pallet recoveries, while the deployment of digital assets has helped teams explore new solutions with customers.
"We continue to face pallet availability challenges with ongoing constraints on new pallet supply and lower than normal pallet returns in all regions," Chipchase said.
"As a result, we are continuing to see lower pallet repair activity across our network which we expect to normalise in FY23.
"Our teams are working around the clock to improve asset efficiency and secure new pallets to service our customers and create capacity for new business growth."
CHEP Americas - Brambles' largest division by revenue - saw the strongest sales growth at 11 per cent even though the volume of pallets declined by 2 per cent as the business cycled through COVID-induced higher pallet demand in the prior year.
The decline in North American volume was however offset by organic growth in Latin America and modest net new business wins across the region despite pallet availability limiting growth.
Net new business wins in the European market drove a 3 per cent rise in sales for Brambles' EMEA (Europe, Middle East & Africa) division, although in constant currency terms the uptick was more pronounced at 6 per cent.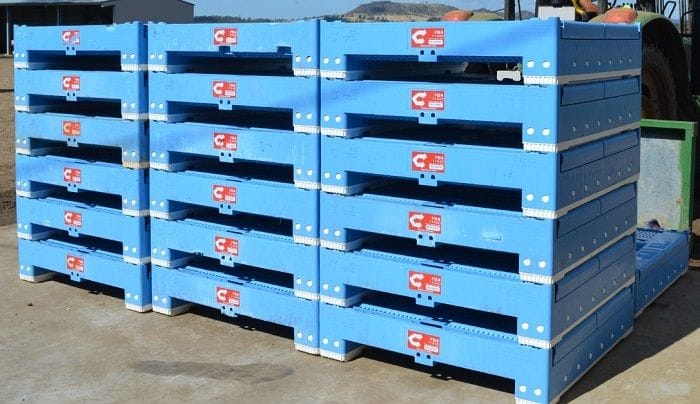 CHEP Asia-Pacific, Brambles' smallest business accounting for less than 10 per cent of revenue, saw 4 per cent growth thanks to volume growth in the pallet and Australian reusable plastic containers (RPC) businesses, although transport revenue was down in line with lower pallet issues and returns in Australia.
"Despite all these headwinds, the success of pricing and business efficiency initiatives supports the upgrade of our FY22 guidance for sales, earnings and free cash flow after dividends," Chipchase said.
"Our plastic pallet trials with Costco are ongoing and we remain on track to make a decision by the end of FY22. Any investment in plastic pallets will only be made if returns are not dilutive to group ROCI (return on capital invested) after an initial ramp up period and will be subject to ongoing review as part of the Group's disciplined capital allocation process."
Container overflow in the US exacerbates global scarcity
Elsewhere in the logistics and transport space, recent analysis by Container xChange has found container prices have declined in the US by as much as 30 per cent in the past two months across the East and the West Coasts, with prices having halved in some ports on 2021 levels.
This is due to overflowing container depots in the US and the pileup of empties that are expected to push global container prices further downwards in the mid-term.
"In general, logjams and disruptions lead to increase in container prices, especially in second-hand container prices because more container volume is tied up along the logistic supply chain," Hamburg-based Container xChange co-founder and CEO Christian Roeloffs said.
"However, in the United States, there is a pile-up of empties as those containers cannot be repatriated back to Asia because of several disruptions one after the other in the past two years, and more recently due to the China lockdowns and Russia Ukraine crisis."
Roeloffs said carriers and other container owners in the US will be getting desperate to get rid of the overflowing units, and once turnaround times accelerate the availability of containers globally will become more abundant again.
"As more and more containers will be required to be stored in depots in the US and because the depot space is limited, there will be a massive downward push on container prices in the immediate short to mid-term," he said.
He also expects a lot of disruptions when lockdowns are lifted in China, which will likely lead to container shipping vessels 'storming' US ports.
Disruptions may also come from US port negotiations.
"We know that the port labour unions are very aggressive negotiators, and the event has historically also resulted in work stoppages in the past. If that happens this year too, it will cause unloading and loading of cargo practically impossible," he said.
"I am doubtful whether the negotiations are done within one and a half months because that's effectively the time that we have before the current contract ends at the beginning of July.
"And it's just doubtful whether the port and terminal unions will find an agreement with the employers by that time. This will of course lead to disruptions at the beginning of the early peak season shipping, a crucial time for the shipping industry, set to have implications on consumer demand fulfilment."
Get our daily business news
Sign up to our free email news updates.
Help us deliver quality journalism to you.
As a free and independent news site providing daily updates
during a period of unprecedented challenges for businesses everywhere
we call on your support