CHALLENGES are things Thankyou Group drinks for breakfast, and they have a fair few every morning.

The Melbourne social enterprise's co-founder, Daniel Flynn, spoke candidly to Business News Australia at the Alliance of Girls' Schools annual conference at Bond University about the different challenges the team has faced over their nine-year journey.

To recap, there's been a lot. There always is in the world of social enterprise, a place where business meets charity, particularly though when the core product - bottled water - is up against the world's biggest multinationals and the founders are all still in their twenties.

Flynn's journey is paved with lessons for other social enterprises, startups and small businesses looking to scale new heights on the product aisle, customer database or for the causes they are working for.
Don't listen to everyone
Flynn says a big retailer's feedback can sum up most feedback Thankyou Group received in the first three years.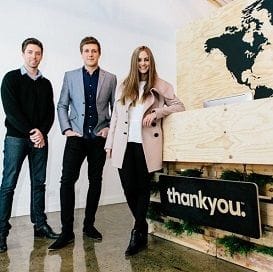 "It was along the lines of we love your passion and idea - but you are up against brands investing millions of dollars every single year into marketing," he says. "Cause and word-of-mouth marketing and social media aren't enough."

Thankyou Group may not be playing in the big marketing league like Coca-Cola Amatil or Pepsi Co, but it still managed to attract global credence through its cause.

One year later, actress Katie Holmes picked up a bottle of Thankyou Water in Melbourne, which would be featured as prime real estate in the Herald Sun newspaper.

"We knew this buyer was wrong about us so for 12 months, back and forward, we passed on all of our news to him regardless if it was big or small," says Flynn.

"We made this out to be huge, that Hollywood was drinking our water. He was in."
Talk can be cheap
Hollywood helps, but it won't always seal the deal.

Flynn says this got the team their first big order for a mass Australian retailer - which was negated shortly after.

"I called to confirm the size of the order and the guy who answered the phone was new there and had taken over the category and didn't know about us," says Flynn.

"The old guy said he told the new guy all about us but the new one said to me: 'stop right there - we have the big brands and our own brand and don't need yours, you had a verbal agreement; I don't need to honour it'."
Again, celebrity isn't everything
Whether it's celebrity you are chasing for yourself through entrepreneurship, or actual celebrities to support your brand, you should probably refocus your efforts.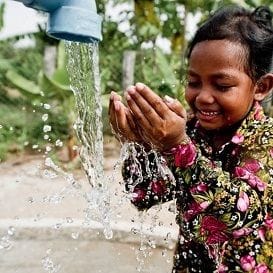 It's cause before celebrity at Thankyou Group. Stars fade but the cause is long-lasting, with potential to shine bright forever. Through body care and food and beverage product sales, Thankyou Group has given more than $3 million to projects in 16 countries towards safe water, sanitation and food access programs, on top of teaching sustainable farming methods.

"In year three, I wrote a letter to the senior producer of Sunrise and he came back two days later and wanted to fly us to Cambodia all expenses paid for a two-day TV feature," says Flynn. "They flew us over, our website crashed both days, our 1300 number went off the charts."

Flynn thought this would give Thankyou Group the right platform to propel off.

"We had all this national media coverage and went to retailers who previously said we didn't have awareness - they said it was a one-hit (even though it was over two days)."
Fly the flag above competition
This has been taken in a literal sense at Thankyou Group.

Gearing up for their biggest pitch yet, the team pulled together 'The Coles and Woolworths Campaign'.

"People said you couldn't group the two biggest retailers into the same sentence," says Flynn.

"We put a video on YouTube and said two weeks from today we present everything to these guys, please voice your support.

"Some like to call it ambush marketing; we say it's awareness marketing."

Flynn commissioned a pilot to fly above the headquarters of both companies and trail a sign 'thank you for changing the world (if you say yes)'.

The YouTube campaign amassed 100,000 hits and all efforts combined led to Coles and Woolworths coming on board.

After the retailers signed, Thankyou Group quickly ballooned from 10 staff to now 37.

Flynn says the past two and a half years have been spent on working at their 'next big move' which he says 'will change the game completely' and is their 'biggest announcement and campaign yet'.

More will be revealed on February 26.

Get our daily business news
Sign up to our free email news updates.
Help us deliver quality journalism to you.
As a free and independent news site providing daily updates
during a period of unprecedented challenges for businesses everywhere
we call on your support