BERNIE Uechtritz may have pocketed an estimated $10 million commission from the record-breaking sale of WT Waggoner Ranch in Texas earlier this year, but that's not the reason the Aussie expatriate ranks the deal among the best of his career.
"It's not the most financially rewarding deal I've ever done, but it was the most emotionally rewarding," Uechtritz tells Business News Australia.
"It was satisfying because everybody said both internally and externally that the deal could never be done and would never be done."
The US-based real estate broker, who spent three years on the Gold Coast as a boarder at The Southport School in the late 70s, concedes he went out on a limb to ultimately secure the sale of America's largest cattle ranch to businessman, sports-team owner and rancher Stan Kroenke for $US725 million.
The property had been unofficially on the market for 22 years through two different receivers following bitter infighting by family members over how to split up the sprawling 2000 square kilometer property.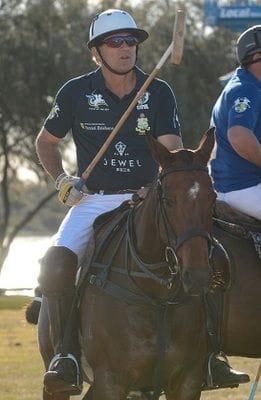 While hundreds of real estate brokers over the years had pitched for the listing, Uechtritz ultimately won the job and immediately broke one of the golden rules of the profession.
"I break a lot of the rules in conventional real estate sales and one of them is that I often fall in love with the property that I'm selling," says Uechtritz. "I get very passionate about it."
That wasn't hard for Uechtritz, a knockabout bloke who grew up with 10 siblings on a cattle ranch near Lae in Papua New Guinea.
In his spare time, Uechtritz would accompany his father and brothers looking for World War II relics around the property which was located on Nadzab, one of the largest US air bases in the South Pacific during the war.
The fascination with American culture, particularly the pioneering west, was nurtured during Saturday matinees where Uechtritz would watch John Wayne on the silver screen in the morning as a cowboy and then in the afternoon as a US Marine.
American Dream
The American dream lived large in Uechtritz's thoughts, leading him to 'go walkabout' to the US 30 years ago. He never returned and, since then, has made a name as one of the country's big deal property brokers. He is also known as the go-to guy for assets that are hard to sell.
Uechtritz, with a vice-like handshake and 10-gallon hat, is every bit the Texan, but even after decades living and working in the US, his Aussie accent remains as strong as ever.
"Winston Churchill said polo is a passport to the world." says the polo-cross enthusiast. "I've always said your Australian passport and accent is equally strong. It's been a door opener for me."
The Waggoner ranch deal had it all for Uechtritz.
"It was a piece of Texas history, legacy, law, cowboy, and John Wayne stuff," he says.
"I immersed myself in the fact that three or four generations of families built that ranch. I'm not talking about the people that owned the ranch, but the people who built it, the people who lived and loved and died there.
"They have buried their family there, they've married their family there, they've raised kids who have gone away and fought for their country.
"I get very passionate about that and I'd like to think that part of my success is that I immerse myself in that. I live and breathe it, like an actor preparing for a role."
Biggest Challenges
Uechtritz admits that positioning the Waggoner ranch for sale was one of the biggest challenges of his career.
It was a far cry from one of his early successes in 1994, when he sold the Menendez's Calabasas mansion in Los Angeles. The home had notoriously lain dormant for years after the murder of Jose and Kitty Menendez by their sons in 1989, yet Uechtritz found a buyer in three months of being enlisted to sell it.
He says the fundamentals remain the same for any property he sells, and often it's about positioning.
"Every property is different. For me it's a fairly simple formula because every property has a story to tell. These days I get properties that usually have been stigmatised in some way by an event or by bad marketing. So it's been out there for a long time.
"I see an amazing amount of properties today all around the world that are just badly positioned in the marketplace.
"With the Menendez property, I had to take (the history) and put it in its box. I had to separate the story from the value and the opportunity.
"Usually you have to spin the properties 180 degrees from where they were. You have to look at who the buyer is and where they are going to come from. Then you have to create a competitive environment, and a closing window of opportunity."
The 'Go-To Man'
Uechtritz, who was on the Gold Coast for the Ferrari Brisbane Polo by the Sea competition last weekend, has built a reputation as a 'go to' man in real estate.
He often acts as a court-appointed receiver in the US for divorce settlements and bankruptcies.
He's no stranger to Australia, working on a range of deals largely related to major rural properties.
The Uechtritz family still has ties to cattle farming in Australia, but is also represented in business and media circles, with brother Richard a former CEO of JB Hi-Fi (ASX:JBH) and siblings Max and Cathy former ABC journalists.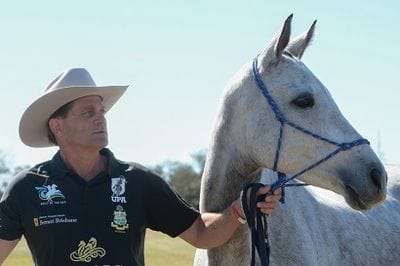 In between polo and catching up with family in Australia, Bernie Uechtritz has been engaging with clients and potential clients.He is currently consulting for one group on the proposed sale of the Kidman and Co cattle station in central Australia, after the federal government quashed a $371 million offer for the property from a Chinese buyer in April.
"The Kidman proposition is a lot like the Waggoner proposition," says Uechtritz. "It's a great piece of Australiana. It has everything from the practical to the romantic. It makes money and it's part of that history and heritage."
Super Asset Class
Uechtritz says major rural holdings such as Kidman are becoming sought-after assets due to the growing importance of food security globally.
"More and more people are realising around the world that Australia is Asia's food bowl. It's an overused saying here but it really is a truism.
"In America there are properties we call trophy ranches, but agribusiness and agrifarming cattle stations and big cattle ranches under the umbrella of food chain are becoming more valuable, in fact critical.
"They are an asset class all by themselves and I think they're a super asset class.
"Smart money always buys and hedges in land. They're not making any more of it so it's always going to appreciate. I don't care if it's out in the desert or on the coast. Ranch land in Texas appreciates anywhere between 5 and 7 per cent a year."
While Uechtritz says he has been trying to ease his commitments in recent years, the calls keep coming and he has become highly selective with his clients.
"There are only so many hours in a day and only so many people that you can give 100 per cent to," he says.
"So I now only pick three or four big projects a year. They're big numbers with high risk and high reward, but they're challenging."
Uechtritz is currently working on a $US250 million water rights and land deal outside of Austin for aluminium giant Alcoa.
"It's a fantastic piece of property and it will be the biggest water rights deal done there," he says.
"Water is the new oil in Texas and I like that because it's challenging.
"I keep saying I am going to make it simpler. The challenge right now is how to make the bench deeper and still keep the integrity of what I bring to the table."
For the record, Uechtritz playing for the Jewel team with Mark Lillyman, Lucas Rogers and Ed Goold - won the weekend polo competition in a surprisingly tough encounter, defeating Gold Coast Cabs by seven goals to three.
Get our daily business news
Sign up to our free email news updates.
Help us deliver quality journalism to you.
As a free and independent news site providing daily updates
during a period of unprecedented challenges for businesses everywhere
we call on your support