Brisbane Business News uncovers the city's leading companies and the stories behind their success.
21. AUSTRALIAN AGRICULTURAL COMPANY (AAC)

FOOD & BEVERAGE
Market Cap April 15: $855.18m
CEO: Jason Strong
HY15 Revenue: $151m (Half-year to September 2014)
HY15 Loss: $13.6m (Half-year to September 2014)
Staff: 500
Listed: 2001

IN July 2014, the Australian Agricultural Company laid out its new strategy to transition towards higher-value branded beef, and disconnect from volatile domestic sale prices.
Between July and September, when its half-year ended, the company was "singularly focused" on this strategy.
Offshore sales now constitute 90 per cent of its business, up from 80 per cent in HY14. Sales of branded beef increased by 38 per cent and now account for 76 per cent of total sales.
The company's live exports have recovered from the temporary ban four years ago, with the volume returning to pre-2011 levels.
However, dry weather in Queensland has increased grain and fodder costs, driving up total expenses.

22. GWA GROUP (GWA)

CAPITAL GOODS
Market Cap April 15: $775.53m
MD: Peter Crowley
HY15 Revenue: $212m
HY15 Loss: $12.8m
Staff: 1700
Listed: 1993

A 6 PER cent increase in net bathroom and kitchen sales helped GWA to offset its underperforming doors and access division.
Garage-door division Gilderol continues to lose money, despite increased revenue, and the company also experienced slower-than-expected restocking for its Gainsborough door products. It responded by installing a new leader and team for its doors and access division.

GWA also divested various non-core businesses in HY15, and wiped $45.7 million off its net debt.
It recorded a $12.8 million loss for the half-year, down from a $1.7 million profit in HY14. Its key priority for the next six months is to restore profitability to its doors and access segment. Read More

23. ERM POWER (EPW)

UTILITIES
Market Cap April 15: $578.43m
CEO: Jon Stretch
HY15 Revenue: $1.01b
HY15 Profit: $75m
Staff: 130
Listed: 2010

AFTER eight years in charge that included ERM's move onto the ASX in 2010, CEO and MD Philip St Baker stepped down in late 2014.
He was replaced by Jon Stretch, executive vice-president at energy management provider Landis+Gyr and former CEO of telecommunications company AAPT.
In HY15, ERM chalked up record electricity sales of 7.9 terrawatt-hours (TWh).
Unusual consumer activity prompted the company to downgrade its full-year prediction from 17TWh to 16.2TWh, but this would still represent a 15 per cent rise on FY14 and a sixth consecutive annual increase.
ERM has reduced its gas-focused capital expenditure as it prepares to sell its Western Australian gas assets to Empire Oil & Gas (ASX: EGO).
It recorded an impairment of $3 million in anticipation of the expected sale. The company has also acquired US-based provider Source Power & Gas, which holds retail operations in Texas, Ohio, Maryland, New Jersey, and Illinois. Read More

24. SHINE CORPORATION (SHJ)

CONSUMER SERVICES
Market Cap April 15: $543.06m
CEO: Courtney Peterson
HY15 Revenue: $73.18m
HY15 Profit: $13.3m
Staff: 600
Listed: 2013

SHINE Corporate posted a gleaming half-year result with net profit after tax up 24 per cent compared to the previous period.
Revenue was up 29 per cent, while EBITDA was also up at $22 million. A slew of acquisitions in 2014 bolstered the legal services company's results, including Emanate Legal Services, Stephen Browne Personal Injury Lawyers and Sciacca's Lawyers.
Shine has forecast its full-year earnings to be between $42.5 million and $47 million, with further acquisition prospects in the pipeline. Read More

25. CARDNO (CDD)

CAPITAL GOODS
Market Cap April 15: $534.84m
CEO: Graham Yerbury (Acting CEO)
HY15 Revenue: $686.1m
HY15 Profit: $31.50m
Staff: 8000
Listed: 2004

AFTER 11 years at Cardno but only 10 months in the top job, CEO Michael Renshaw resigned in January.
Renshaw, the successor to long-term CEO Andrew Buckley, did not reveal the reasons for his surprise departure. Chief financial officer Graham Yerbury remains acting CEO while the company begins the global search for a replacement.
The market responded by shaving 13 per cent off Cardno's share price, putting a dampener on its $31.5 million profit for HY15. Since HY14, the company's oil and gas segment has expanded from 14 per cent of its business to 26 per cent, with Cardno noting that its services often relate to regulatory requirements and are therefore less prone to negative effects from the weak oil market.
Less than 5 per cent of its activities are actual drilling and production. From July 2015, Cardno will consolidate its organisational structure into two regions: Asia Pacific and the Americas. Read More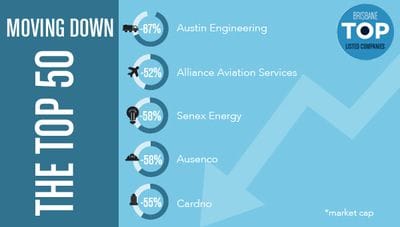 26. NATIONAL STORAGE REIT (NSR)

REAL ESTATE
Market Cap April 15: $533.46m
MD: Andrew Catsoulis
HY15 Revenue: $28.78m
HY15 Profit: $15.24m
Staff: 260
Listed: 2013

NATIONAL Storage finalised new acquisitions worth more than $80 million in HY15, with further acquisitions worth almost $70 million already completed in 2015.
Their income and underlying profit are already outstripping the original forecasts on their initial public offering (IPO). Occupancy for the IPO is standing at about 70 per cent, with 22 centres in Queensland and 82 across Australia.
The company retains about 21,000 residential customers and 9000 commercial customers. It also holds a 10 per cent interest in Southern Cross Storage Group.
Management of third-party centres provides another revenue stream for the company, with its net assets under management now worth more than $630 million.

27. NEXTDC (NXT)

SOFTWARE & SERVICES
Market Cap April 15: $490.11m
CEO: Craig Scroggie
HY15 Revenue: $28m
HY15 Loss: $5.8m
Staff: 150
Listed: 2010

COMMUNICATIONS company NEXTDC moved another step closer to jumping into the black in HY15.
The company posted a statutory net loss of $5.8 million, down from a $7.3 million net loss in the previous corresponding period. New data centre sales were up 164 per cent and revenue was also up 134 per cent at $26.7 million.
As a result, EBITDA was $3 million as opposed to a $3.4 million loss in the first half of FY14. NEXTDC is poised to deliver strong growth the remainder of this year, with a major international contract set to be earnings accretive and a strategic partnership with Dicker Data under way. Read More

28. CARINDALE PROPERTY TRUST (CDP)

REAL ESTATE
Market Cap April 15: $476m
CEO: Peter Allen
HY15 Revenue: $27.7m
HY15 Profit: $27.3m
Staff: n/a
Listed: 1996

THE Carindale Property Trust posted a HY15 profit of $27 million, a 45 per cent increase on HY14, and a 225 per cent increase on HY13.
The trust's sole investment is a 50 per cent interest in the Westfield Carindale shopping centre. At the end of December, more than 99.5 per cent of stores were leased, with total retails sales reaching $914 million for the previous 12 months. The centre is valued at $1.5 billion.
The trust currently has cash and cash equivalents of $1.6 million. The responsible entity for the trust is Scentre Management Limited. All of its operations are performed by Westfield employees. Read More

29. GBST HOLDINGS (GBT)

SOFTWARE & SERVICES
Market Cap April 15: $426m
CEO: Stephen Lake
HY15 Revenue: $55.7m
HY15 Profit: $6.9m
Staff: 450
Listed: 2005

FOR the first time, GBST's international revenue streams have exceeded Australian revenue.
Only 48 per cent of total revenue is now tied to domestic operations. The company has now repaid its senior debt, wiping out the $5 million owed at June 30, 2014.
It has launched three new projects in the UK, expanded further in Japan, and maintained its technology development centre in Vietnam. During the half-year, GBST added 45 staff to a new offshore development team that will primarily focus on research and development.

30. SENEX ENERGY (SXY)

ENERGY
Market Cap April 15: $362.14m
CEO: Ian Davies
HY15 Revenue: $69.9m
HY15 Loss: $65.9m
Staff: 200
Listed: 1984

SENEX produced a record 740,000 barrels of oil equivalent in HY15.
Despite the global plunge in oil prices and a loss of $66 million, the company remains debt-free and with $75 million cash in the bank.
It reacted to low oil prices by reducing capital expenditure, and re-allocating the remainder to lower-risk projects.
The weak oil market also drove Senex to record a non-cash impairment of $87 million before tax.
An asset swap with QGC, Tokyo Gas, and the China National Offshore Oil Company has set up Senex to build its gas business in Queensland's Surat Basin.
Senex is aiming to begin production by the end of 2017, with the current focus on environmental approvals, land access, and selecting an engineering partner.
The company also chalked up its first gas sales from the Hornet field, in the Cooper Basin.
The neighbouring Vanessa gas field completed a successful production test in December. Read More

Help us deliver quality journalism to you.
As a free and independent news site providing daily updates
during a period of unprecedented challenges for businesses everywhere
we call on your support