Brisbane Business News uncovers the city's leading companies and the stories behind their success.
31. OROCOBRE (ORE)

RESOURCES
Market Cap April 15: $341.91m
CEO: Richard Seville
HY15 Revenue: $11.8m
HY15 Profit: $2.3m
Staff: 1000
Listed: 2007

OROCOBRE experienced a positive HY15, receiving the first customer order to its lithium mine in Argentina, finalising a 12-month contract to supply sodium metaborate to the South American oil industry, and recording a profit of more than $2 million - up from $1 million in HY14.
The company holds a 66.5 per cent interest in the Olaroz Lithium Project, which is expected to produce its first lithium carbonate for customers in the first or second quarter of 2015.
The Toyota Tsusho Corporation holds 25 per cent interest in the project, with Jujuy Energy and Mining holding the last 8.5 per cent.
In HY15, Orocobre also received its first European order for hydroboracite.

32. SUNLAND GROUP (SDG)

REAL ESTATE
Market Cap April 15: $341.61m
MD: Sahba Abedian
HY15 Revenue: $101.86m
HY15 Profit: $3.30m
Staff: 50
Listed: 1995

SUNLAND has returned to the multi-storey sector dramatically, with $2.3 billion of its $3.6 billion end value projects now tied to multi-storey developments.
Residential housing currently makes up $900 million of the total end value, while urban land lots constitute $450 million. The total portfolio includes more than 6000 properties.
The company has upgraded its profit guidance for FY15 to $28 million.
During HY15 it acquired 1600 new properties at a total value of nearly $100 million. Projects in Brisbane include the Abian tower in the CBD and Grace on Coronation on the former ABC studio site at Toowong.
The company, which relocated its headquarters from the Gold Coast to Brisbane last year, now plans to look even closer at the improving south-east Queensland residential market.
On the other side of the ledger, the company sold properties worth a total of $90 million. It retains unsettled lots in Brisbane worth nearly $250 million.
About 25 per cent of its total unsettled lots are in the city, with 10 per cent on the Gold Coast, 24 per cent elsewhere in Queensland, 27 per cent in Melbourne and 14 per cent in Sydney. Read More

33. COLLECTION HOUSE (CLH)

COMMERCIAL SERVICES & SUPPLIES
Market Cap April 15: $304.38m
CEO: Matthew Thomas
HY15 Revenue: $63.8m
HY15 Profit: $11.2m
Staff: 800
Listed: 2000

COLLECTION House continues to anticipate a FY15 profit of about $21 million, after recording a HY15 profit of $11.2 million. The company credits extra business from new and existing customers for its 19 per cent profit jump compared to HY14.
Having secured 8000sqm of new office space, Collection House plans to relocate its head office by June 2015.
It has also performed IT enhancements on its C5 platform to improve efficiency, and experienced improved productivity within its growing Manila operations.
These positive results have encouraged the company to further expand its interests in the Philippines. Read More

34. SILVER CHEF (SIV)

CAPITAL GOODS
Market Cap April 15: $245.79m
Chairman: Allan English
HY15 Revenue: $83m
HY15 Profit: $7.1m
Staff: 120
Listed: 2005

SILVER Chef has served up strong growth in the first half of FY15, with the company reporting it has increased net profit after tax to $7.1 million.
Highlights of the half year include a 23 per cent increase in revenue to $83 million, rental asset growth of 19 per cent to $335 million and fully-franked interim dividend of 16c per share, up 14 per cent.
Operating two brands - Silver Chef Hospitality Financing and GoGetta, which focuses on transport and construction financing - the company says it was the hospitality division that performed in line with expectations. Read More

35. IMPEDIMED (IPD)

HEALTH CARE
Market Cap April 15: $237.56m
CEO: Richard Carreon
HY15 Revenue: $2.1m
HY15 Loss: $4.6m
Staff: 30
Listed: 2007

CEO RICHARD Carreon says Impedimed is pleased with the progress of its signature L-Dex procedure for assessing lymphoedema.
In HY15, Impedimed launched the first of six pilot programs for L-Dex, and chose the Macquarie University Cancer Institute in Sydney as the Australian site for a post-approval study.
Leading US oncologist Frank Vicini has been appointed as the company's new chief medical officer.
Impedimed also undertook a successful capital raising of about $33 million before costs. Its net assets increased from $13.5 million to about $40 million, and its revenue increased by 30 per cent compared to HY14.
However, in the same period, expenses increased by more than 60 per cent.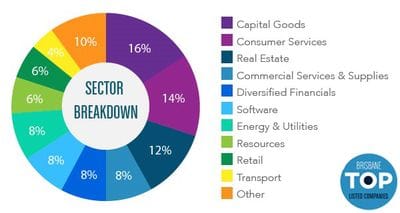 36. BLUE SKY ALTERNATIVE INVESTMENTS (BLA)

DIVERSIFIED FINANCIALS
Market Cap April 15: $234.55m
MD: Mark Sowerby
HY15 Revenue: $16.5m
HY15 Profit: $2.49m
Staff: 40
Listed: 2012

BURGEONING portfolio growth has delivered strong results for Blue Sky.
The fund manager posted a net profit after tax of nearly $2.5 million in HY15, up from $300,000 in the previous period. Underlying revenue also increased to $16.5 million, with EBITDA up from $0.9 million to $4.2 million.
Blue Sky has continued to ride a wave of success, after achieving $1 billion in assets under management well ahead of its June 30 target.
The company was also added to the All Ordinaries index. Blue Sky appears set to capitalise on further growth as alternative assets become more mainstream, backed by its investment performance history and Rainmaker data. Read More

37. COLLINS FOODS (CKF)

CONSUMER SERVICES
Market Cap April 15: $232.5m
CEO: Kevin Perkins
HY15 Revenue: $256.7m (Half-year to October 2014)
HY15 Loss: $22.9m (Half-year to October 2014)
Staff: 7000
Listed: 2011

COLLINS Foods posted mixed results in the six months ending October 12, 2014.
The KFC and Sizzler restaurant operator recorded a 37.6 per cent lift in EBITDA of $29.4 million compared to the previous period. However a non-cash impairment charge of $36.5 million hit the company's bottom line, leading to a statutory net loss of $22.9 million.
The company's portfolio of KFC outlets in Queensland and Western Australia contributed positively to revenue of $256.7 million - up 29.6 per cent. Revenue from Sizzler remained subdued, despite rolling out its "Get Refreshed" initiative and a number of store remodels.
Collins Foods says it will review its Sizzler summer campaign. The company also acquired a 50 per cent stake in Snag Stand and will look at expanding the concept with equity partners.
Collins Foods says it will continue to streamline operations and implement labour efficiency measures. Read More

38. VITA GROUP (VTG)

RETAIL
Market Cap April 15: $224.13m
CEO: Maxine Horne
HY15 Revenue: $292.7m
HY15 Profit: $13.43m
Staff: 450
Listed: 2005

SINCE 2010, Vita Group has been refocusing its investment strategy, divesting Fone Zone and investing in Telstra. During HY15 it established nine new "Telstra points of presence", including six retail points and three business centres. It currently holds net assets of $40 million.
The company turned around a $15 million loss in HY14 to post a $13 million profit in HY15. It began the half-year with $7 million in cash and finished with $20 million.
Revenue rose by 36 per cent, while the interim dividend is up 116 per cent. The telecommunications division posted a 50 per cent increase in revenue, but the company's Queensland-focused partnership with Next Byte led to a 25 per cent fall in revenue. Read More

39. NORTON GOLD FIELDS (NGF)

RESOURCES
Market Cap April 15: $181.71m
CEO: Dianmin Chen
FY14 Revenue: $242.33m (Full-year to December 2014)
FY14 Profit: $13.2m (Full-year to December 2014)
Staff: 500
Listed: 2005

IN January 2015, China's Zijin Mining Group proposed buying all remaining shares in Norton.
The two companies entered a binding agreement in February, and expect to complete the deal in May.
Currently, Norton holds a 1105 square kilometre tenement in Kalgoorlie. Production at its Paddington Operations, near Kalgoorlie, reached 178,000 ounces in the 2014 calendar year.
This represented a modest 3 per cent increase on 2013, but the company expects to push towards 190,000 ounces in 2015.
In April 2014, Norton took over Ballabulling Gold.
It later secured a $40 million facility with the Perth branch of the Industrial and Commercial Bank of China that will help facilitate a review of Ballabulling's operations.
In January it surrendered non-core exploration tenements, with a carrying amount of $1.1 million, to the Western Australian Government.

40. SEDGMAN (SDM)

CAPITAL GOODS
Market Cap April 15: $164.62m
CEO: Peter Watson
HY15 Revenue: $97.3m
HY15 Profit: $4.7m
Staff: 700
Listed: 2006

SEDGMAN turned around a $6.7 loss in HY14 to record a $4.7 million profit in HY15, driving its shares from 58c to 74c in a single day.
The company reacted to a weak mining market by identifying smaller-scale projects, with its order book standing at $596 million in December.
Since July the company has finalised a $60 million contract for the Alcoa Filtration Plant in Perth, a $37 million contract for the Barabala expansion in Queensland's Bowen Basin, and a $133 million contract to expand the GEMCO manganese mine in the Northern Territory.
The Thiess-Sedgman joint venture also received a $64 million contract to construct an iron ore processing plant for Fortescue Metals in Western Australia.
In December, the Sedgman-built Boggabri project in NSW produced its first coal. Sedgman is currently negotiating a contract renewal for the Sonoma project in the Bowen Basin and a two-year contract extension for a Glencore-owned project at Mount Isa. Read More

Get our daily business news
Sign up to our free email news updates.