BRISBANE'S biggest businesses are just getting bigger.
Brisbane's top 10 publicly listed companies have collectively grown by more than 5 per cent over the past year, lifting market capitalisation by $3 billion to more than $55 billion.

Although representative of a state on the move, the majority of our top performers aren't traditional Queensland businesses. Agribusiness, construction and resources don't rate a mention in the top 10, although energy scrapes in at number 10. Most of Brisbane's top 10 are direct to consumer.

Deloitte Queensland managing partner John Greig admits that Queensland's mining and energy companies, on the whole, have been impacted by a volatile broader environment in recent times. This is reflected in our list, where six of the 10 companies incurring the biggest year on year decline in market capitalisation have direct ties to these sectors.

However, Greig says the prevailing sentiment that mining and energy are "out of the money" isn't quite correct.

"Mining and energy are the big Queensland industries - traditionally coal from a mining point of view and gas from an energy perspective," says Greig.

"It's fair to say mining and gas continue as two industries very much under pressure, despite commodities being hard to generalise on.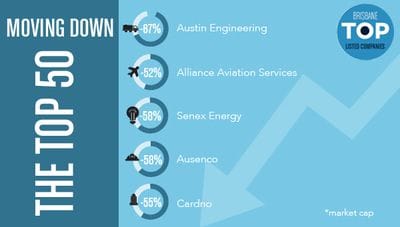 "Late last year, I would have said that coal prices had slumped and mining companies were losing money. But with the Australian dollar falling the way it has, our exchange rate has made us more attractive to world markets, so some of our larger and more efficient producers are probably starting to break even, some maybe even a little better.

"I wouldn't say the current situation is any more than green shoots of positivity - we are nowhere near making lots of money out of coal again, but it isn't completely out of the money either."
'THE MORE THINGS CHANGE...'
Greig says Queensland's five business buckets remain the same - mining, energy, agribusiness, tourism, and construction and infrastructure - despite variance in their contents.

All of these industries are underrepresented in our top 10 with the exception of tourism, which is seemingly the Sunshine State's true staple.

IBISWorld senior industry analyst Stephen Gargano says the tourism sector is "befittingly overrepresented" in our list.

"The high number of tourists, both international and domestic, is a strong driving force for these businesses within the state," says Gargano.

"Virgin Australia and Flight Centre are two of the largest beneficiaries of the impact of growing tourism to and from Queensland.

"At the same time, Echo Entertainment has also seen an influx of casino goers along its Brisbane operations, with plans for another hotel and casino project at its Queen's Wharf site in Brisbane.

"Queensland remains a strong tourist destination, which will continue to bring growth opportunities for these companies."
WHO ELSE IS IN THE MONEY?
The biggest movers up on Brisbane Business News' Top Companies list are companies diversifying and innovating their offerings to perfection.
Greencross' (ASX: GXL) acquisitive growth in stores and clinics has been rewarded with an almost 197 per cent growth on market capitalisation year on year. Likewise, Corporate Travel Management's (ASX: CTD) global acquisitions have paid off with a 96 per cent growth.

The techies and telcos are heating up too.

Electronics, IT and communications company Vita Group (ASX: VTG) has seen its market capitalisation grow 128 per cent year on year, and similarly, Technology One's (ASX: TNE) market capitalisation has almost doubled.

More tech companies are cropping up in Brisbane - OtherLevels (ASX: OLV) recently made a strong sharemarket debut, while Bevan Slattery's latest venture Superloop will be lodging a prospectus soon.

"The digital disruption movement is certainly alive and well in Queensland," says Greig.

"Our digital and technology business at Deloitte Queensland is one of the biggest growing parts of our practice.

"If you use that as a proxy for demand for those types of services, I think you will see some of those emerge as listed companies."
CONSUMER SENTIMENT
There is also a critical measure - a catalyst for all else - missing from our list, according to Greig, and we think he is right.

"It's one thing for businesses to have their fundamentals right - but where is business confidence heading exactly?" says Greig.

"Uncertainty in general, whether around the state's political situation or the powers at hand, isn't necessarily a confidence booster."

IBISWorld's Stephen Gargano says record low interest rates are driving increased purchasing power, and we are especially seeing the effects of this on real estate, Australia's most loved asset class.

"Over the past 12 months, Queensland has been subject to many of the same conditions driving fevered buying activity across the southern states of Australia, and Brisbane's relative affordability compared to Melbourne and Sydney is expected to lead to further activity," says Gargano.

"Record low interest rates are driving increased purchasing power, and increasing interest from foreign investment and domestic funds managers such as Cromwell Property Group are combining to push up prices.

"Despite these conditions, the underlying health of the commercial property sector is weak. Office property vacancy rates remain high in Brisbane, and large increases are expected over 2015 and 2016, which may cause rates to deteriorate further."

FRESH FACES, AND A CRACK IN THE CEILING
Another year, another lot of new faces.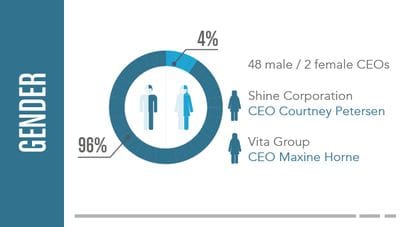 Stuart Grimshaw left Bank of Queensland (ASX: BOQ) for a Texan-based Cash Converters subsidiary. CFO Jon Sutton assumed the top executive role and the company's transition has appeared smooth to shareholders.

On the other hand, long-time Cardno (ASX: CDD) CEO Andrew Buckley's departure from the company in February 2014 has simultaneously occurred with a shrinking market capitalisation, while the company still continues its search for a permanent replacement.

PanAust (ASX: PNA) founder Gary Stafford has left his executive duties to Fred Hess, while Shine Corporation (ASX: SHJ) has welcomed CEO Courtney Petersen, a fitting reflection of the company's culture of diversity.

Petersen is by no means in the majority, despite the Australian Institute of Company Directors (AICD) recently reporting that women comprised 25 per cent of new appointments to ASX boards to date in 2015.

She may have a namely correlation to popular Peter, the moniker of CEOs running 13 of the top 200 ASX-listed companies in Australia, but she is one of only two female chief executives among Brisbane's most successful public companies. There are four CEOs named Peter in this year's Brisbane Business News list - still outnumbering females in the top jobs.

Get our daily business news
Sign up to our free email news updates.
Help us deliver quality journalism to you.
As a free and independent news site providing daily updates
during a period of unprecedented challenges for businesses everywhere
we call on your support