CAPILANO Honey (ASX: CZZ) should be feeling like the bees knees this week, since the business has just buzzed a 70 per cent profit increase.

The company is seizing the expanding honey category, and growing usage of the condiment, to solidify its position as market leader. It experienced a $34 million revenue increase to $120.9 million year on year, and a 70 per cent NPAT increase $7.85 million.

The trend away from refined sugars towards health and wellness products (some pictured right), such as apple cider vinegar and Manuka honey, is being matched by Capilano's adaptive strategy.

At the same time, the company is 'determined to be the lowest cost operator' by continuing to improve its operational cost structure through a new retail packing line and processing system.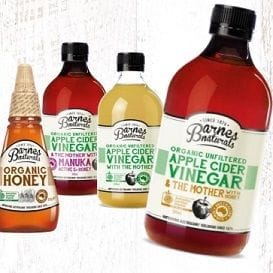 "The introduction of more premium branded offerings both locally and overseas and new products, along with the expansion of health and wellness products has helped maintain momentum achieved in recent years," says Capilano chairman Trevor Morgan.

The mixed fortune of beekeepers in Australia is challenging Capilano's operations though.

Domestic honey receivals were 9,265 tonnes, up about 1,500 from last year, but this includes the acquisition of Chandler's Honey earlier this year.

The company reports the honey supply sting has hindered its ability to take full advantage of all opportunities available, but it's relocation to a recommissioned Maryborough facility should help source more honey from this fruitful Victorian production region and nurture relationships with beekeepers.

"Australian honey supply conditions have been better than the previous season's lowest ever production, but remained abnormally low when compared to historical averages," says Capilano managing director Benjamin McKee.

"Raw honey prices paid have remained high in a market of short supply; however, we have seen some improvement in inventory holdings of Australian honey as the year has progressed."

Going forward, Capilano is conscious an El Nino weather pattern may significantly reduce rainfall where much of its honey is normally produced.

McKee says it is however an 'enduring priority' to source 100 per cent of Capilano Brand honey from Australia and notes it's 'well positioned to purchase a larger honey crop'.

Capilano is also placing 'considerable effort' on implementing digital sales through website and social media, recognising the medium is well suited to its product line.
Get our daily business news
Sign up to our free email news updates.