THE Chamber of Commerce and Industry Queensland (CCIQ) says after analysis of both major parties election policies and commitments, small business owners would be at an advantage under a re-elected LNP government.
CCIQ analysed the policies released by the LNP and Queensland Labor and how they will impact the economic growth and prosperity of the state.
CCIQ General Manager of Advocacy Nick Behrens says the key point of difference between the LNP and the ALP was the privatisation of state-owned assets.
"The LNP's Strong Choices proposal essentially creates an $8.6 billion war chest for infrastructure projects and a $3.4 billion cost of living war chest," he says.
"That's a lot of money to invest in the small business community and, accordingly, is likely to win over their vote.
"We are seeing a lot of money available to the LNP, whereas there is a degree of fiscal restraint by Queensland Labor in terms of the money that it has been allocating to business initiatives.
"Quite simply for every $1 Queensland Labor is promising, the LNP is promising $5."
CCIQ adds that Labor's commitment to reverse workers' compensation reforms of last year that reduced workers' compensation premiums on average by 17 per cent, delivering $1 billion in savings over four years as well as the lowest premiums across Australia, would risk their vote.
Opposition leader Anastasia Palaszczuk says the LNP's plans to sell Queensland's assets are "risky" and put thousands of jobs in jeopardy.
"Campbell Newman's entire fiscal strategy is predicated on selling assets and even he has admitted he may not be able to sell them," she says.
"This leaves the LNP with no way of funding their election commitments and no way of ensuring economic growth."
Mr Behrens says both parties put some "very good policies" on the table.
In regards to the LNP, CCIQ is particularly impressed with the $91 million Jobs of Tomorrow plan, the $60 million Queensland first tourism fund, lifting the payroll tax exemption threshold to $1.4 million, cutting red tape by 20 per cent, offsetting electricity General Tariff 22 by $1,400, allocating $590 million for business focused practical innovation, and the long list of transport infrastructure projects that will boost Queensland productivity.
Queensland Labor also has a number of good initiatives with $40 million for tourism marketing, a payroll tax rebate on apprentices and trainees, $50 million over three years for the Advance Queensland initiative to reinvigorate science and innovation, and a $40 million business development fund for start-ups.
"It is widely acknowledged that the economy and jobs is the most important election issue. CCIQ reminds Queenslanders that small business is the engine room of the economy, employing one million people," says Behrens.
"On this basis, when people vote on Saturday they should do so on who they think will best address the concerns raised by Queensland small businesses delivering a landscape for them to grow, employ and provide the foundation for community prosperity."
The comparison of policies includes analysis of the both the LNP and Labor's fiscal and economic management, reduction of red tape and government costs, as well as productivity, innovation and entrepreneurship improvements.
"Our role is to provide the information to allow small businesses to make an informed decision on which party is offering the best policies to enable them to grow and employ," says Behrens.
WHAT DO SMALL BUSINESS OWNERS THINK?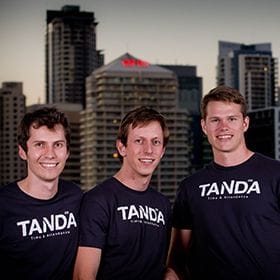 Tasmin Trezise, co-founder of Tanda
Following the commitments made by both major parties leading up to the election, do you believe small business owners are better off under an ALP or LNP government? Why?
As a young business owner I believe it's vital for Queensland businesses to have the confidence to invest in innovation. A strengthening economy and reinvestment for new jobs relies on more certain and competitive Queensland businesses. I don't think any party aside from the LNP can offer us the commitment of stability.
What do you believe should be the key areas of focus for the incoming government in regards to small business?
Paying down the debt, small business tax reform and reducing unnecessary red tape.
Dani-elle Davidson, founder of XiXi Lu
What policies/commitments (by either the ALP or LNP) do you believe will have the greatest impact on your business for the better?
Broadly, both parties have committed to supporting entrepreneurship and innovation which is certainly something that I am pleased about. I hope that in particular, assistance is given to young entrepreneurs seeking seed funding. So many businesses never take off, or quickly fail, because of a lack of capital or because new businesses are funded by high interest loans - particularly credit cards. From a personal perspective, I must say that certain members of the ALP have assisted me greatly in regards to my personal development and the fruition of my business. Credit must go in particular to Grace Grace (of Brisbane Central) whose commitment, encouragement and support has been unfailing.
Labor is planning to reduce the number of ministries if elected to government. Do you believe small business needs to have its own, dedicated minister? Why?
If I'm not wrong, small business accounts for the highest rate of employment in Australia. Because of this, it would certainly seem appropriate that there be a dedicated minister advocating for and representing small business owners.
Clarissa Rayward, Brisbane Family Law Centre
Following the commitments made by both major parties leading up to the election, do you believe small business owners are better off under an ALP or LNP government? Why?
I'm not sure that I would suggest that small business is better off under either of the major parties in government. It seems to me that both parties give very little attention to small business as a part of their policy structure.
What do you believe should be the key areas of focus for the incoming government in regards to small business?
It would be great to see the government taking real initiative in supporting small business, particularly in relation to innovation and funding. Small businesses are more often than not community based and community driven. More active support at a government level for initiatives to support small business can only be good for our local communities who benefit, both through the creation of jobs, but also with the monies earned from businesses being returned to the community, which is often not the case with larger corporations.
Get our daily business news
Sign up to our free email news updates.
Help us deliver quality journalism to you.
As a free and independent news site providing daily updates
during a period of unprecedented challenges for businesses everywhere
we call on your support