An Australian startup that is upcycling a small part of the world's 20 billion-kilogram coffee fruit waste problem has today announced a partnership to roll out its functional snack bars across Harris Farm stores nationwide, building on momentum from a Woolworths ranging deal in May.
I Am Grounded (IAG) was founded in Brisbane in 2018 by Lachlan Powell and Vanessa Murillo, the latter having migrated to Australia from Colombia as a child with family links to the coffee industry.
More than a decade ago her father introduced them both to coffee fruit extracts and explained the huge waste issue in coffee farming, whereby only 20 per cent of the fruit is used for the beans that go into daily brews around the globe.
It is estimated the average coffee drinker will consume roughly 11kg of coffee beans per year, creating approximately 57kg of coffee fruit waste.
"Globally, this waste represents 20 billion kilos of coffee fruit dumped, resulting in over 3,300 Olympic-size swimming pools of landfill or 16 million tonnes of CO2 emissions yearly," says Murillo, highlighting the current system also neglects a high-antioxidant and natural energy source.
"We aim to be a leader in the fast-growing upcycled foods segment and to be known as a company that pushes the envelope with what is possible in food and beverage products."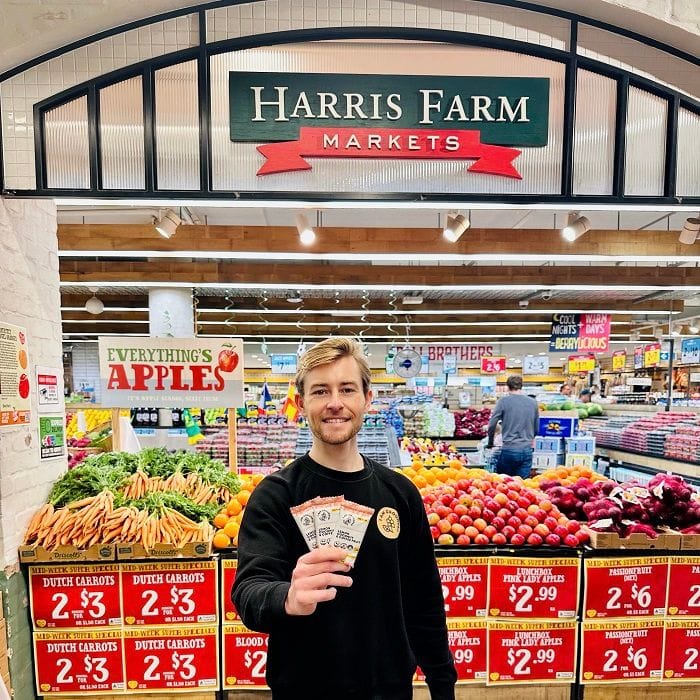 After many trips to coffee farms in Colombia, Australia and Indonesia, the pair identified a lack of innovation in this space or an end-market to commercialise coffee byproducts. They embarked on a 1.5-year period of research, minimum viable product (MVP) trials, recipe iterations and discussions with farmers before officially launching their product in 2020.
At Harris Farms, I Am Grounded joins a line-up of upcycled and 'imperfect picks' products, highlighting the retailer's ongoing commitment to sustainability and food waste reduction.
"We're thrilled to see our snack bars land in Harris Farm stores across the country," says Murillo.
"It's a perfect alignment and natural progression for us. I Am Grounded is built on sustainable practices, and minimising food waste is at the core of what we do.
"I Am Grounded is now more accessible to a wider range of healthy and environmentally conscious shoppers who really care about where their food comes from, which we're really excited about."
Powell says both entrepreneurs were amazed the first time they tasted the coffee fruit, describing it as berry-like in flavour but more like honey in its consistency.
The latest Australian retail deal is part of a much bigger plan for the company, which recently relocated to Sydney with a warehouse and office space in Alexandria.
"We have a big vision at IAG, one that reaches far beyond just the snacking category here in Australia. We see our business as one that is synonymous with innovative food and beverage products that push the boundary of functional nutrition while maintaining a core basis of sustainability," says Powell.
"We see our brand achieving strong penetration and disrupting overseas markets, with our brand entering the UK market in 2024 and the US West Coast in 2025-26," adds Murillo.
Get our daily business news
Sign up to our free email news updates.