BRISBANE creatives Nadine Bates and Kristen Souvlis are two of few. They know how to get to Sesame Street.

Now, the children's content producers - who both got their breaks through Channel Ten - are turning their attention to pioneering a new wave of children's content with their startup Like A Photon.

Queensland University of Technology's Creative Enterprise Australia (QUT CEA) has invested in Like A Photon's newest project, Pixapop, an immersive digital multi-platform of books, videos and games for kids.

Souvlis tells Business News Australia the sum of investment is confidential but it delivers startup expertise and cashflow for Like A Photon's team of 12.

"Pixapop is our ability to be a scalable company worldwide," says Souvlis.

"There's still a bit of life left in the linear television old girl, but it can be quite insular and domestic, so we are moving more heavily into digital now and this is where international sales come from.

"QUT CEA saw Pixapop as our opportunity to act like a startup and have given us seed funding and from there, we are looking to raise Series A in about 18 months' time."
Bates and Souvlis say together they are a 'creative hurricane'.
Bates is the creative director and writer who previously had a children's publishing company, and Souvlis is the managing director and producer who started at Totally Wild when she was 19.

They are gutsy - their business cards read 'don't be a dick' - and they think their attitude has made all the difference in landing roles where gender disparity is commonplace.

Last year, Like A Photon was one of only 16 companies around the world invited to pitch for Sesame Street.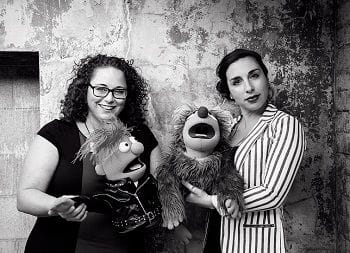 "We were one of six teams that got commissioned for our material and pitched four segments - the minimum was one - and we got commissioned for one," says Bates.

"We had a full creative brief complete with animation and music. I think they really valued the passion and work we put into the pitch.

"The Australian companies that get these opportunities tend to be male because of the gender disparity in children's content production.
"The statistics are kind of terrifying. Overall in Australia, 17 per cent of all directors and writers are female. We are absolutely a minority. The industry is undergoing massive changes at the moment in terms of addressing that, particularly Screen Australia. It's long overdue."
Like A Photon are the first female writer and producer team that Sesame Street has ever commissioned. It's also the first Queensland business that Disney has commissioned for animation - a 26-episode Balloon Barnyard series will air in 2017.

The focus now is split between this and developing Pixapop's subscription-based gamified content platform.

A mother of two, Bates says the online platform functions like a 'digital playpen'.

Children can't make in-app purchases and all advertising and revenue streams are directed at adults.

"Pixapop gives feedback on how kids are going and is play-based with curriculum learning points integrated into it," says Bates.

"The children's content market is in a growth period and there's a lot out there but not a place parents can agree on is safe, fun and engaging.

"The fastest way to effect any kind of change in the world is to create a society of open-minded, educated young people and when you get to be part of that, it's a privilege you can't turn down."

Pictured top left: Like A Photon founders Nadine Bates (L) & Kristen Souvlis (R).
Get our daily business news
Sign up to our free email news updates.