While the Federal Government's roll-out of a Covid-19 tracing app has received some pushback, a QUT data scientist says available technologies can protect privacy while informing better policy decisions on both restrictions and their relaxation.
Professor Raja Jurdak, from QUT's Centre for Data Science, says blanket Covid-19 lockdowns could become targeted to designated hotspots or neighbourhoods with the increased availability of personal location data.
He says as the pandemic continues to restrict people's movements, data about transmission sources and location or transport route 'hot spots' are paramount to prevention methods.
"We need to have a transparent conversation about what the public has to say about privacy and whether some individual freedoms can be relaxed at this critical point to secure public health benefits," he says.
"If we had all that data about where people are moving and who they are in contact with then we would be able to zoom in and control the spread of the disease much faster and that would then better inform the public and influence policy decisions."
He says privacy considerations are equally important, as individuals need to maintain control over what data they share.
"There are technologies that can be used to balance this need and automate contract tracing while preserving citizen privacy, such as a proposal that would involve transferring only encrypted contact data to a central server," he says.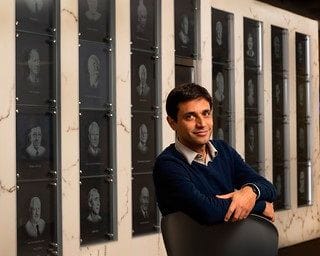 The Australian Government plans to roll out a new smartphone coronavirus tracing app to notify people who have encountered a person infected by Covid-19, and requires 40 per cent of the population to subscribe to be effective.
Professor Jurdak, in collaboration with researchers from CSIRO, John Hopkins University and the University of New South Wales, has recently conducted a case study using smart card travel data in Sydney to identify highly influential travellers for spreading disease on a public transport system.
The study traced possible infection flows between groups of passengers who displayed different mobility behaviours to investigate changes in spreading dynamics.

"The tap on and tap off information is valuable as we can look for patterns of who is on trains, buses and ferries at the same time and what areas are at risk based on movement profiles of the travellers," says Jurdak.

"This can allow for a more targeted response for specific transit routes, or specific stations or identify individuals who should avoid public transport due to either their high potential to spread the virus, or their high vulnerability to getting infected."
Open letter from leading economists urge Australia not to "squander" success
It has often been said, including from the WHO Director General Dr Tedros Adhanom Ghebreyesus, that the discussion of a trade-off between health and the economy is a false dichotomy.
The reason for this is that any benefits gained from having no restrictions would be offset by the exponentially higher costs of allowing the virus to spread.
A similar sentiment was shared by Prime Minister Scott Morrison last week when he said: "If you move too early, and the health response gets out of control, then the economic consequences will be even worse."
To hammer home this message, more than 200 of Australia's leading economists have written an open letter to the Prime Minister and Members of the National Cabinet emphasising "we cannot have a functioning economy unless we first comprehensively address the public health crisis".
"Some commentators have expressed the view that there is a trade-off between the public health and economic aspects of the crisis. We, as economists, believe this is a false distinction," the undersigned said.
"The measures put in place in Australia, at the border and within the states and territories, have reduced the number of new infections.
"This has put Australia in an enviable position compared to other countries, and we must not squander that success."
The economists recognised the measures taken to date have come at a cost to economic activity and jobs, but believe these are far outweighed by the lives saved and the avoided economic damage due to an unmitigated contagion.
"We believe that strong fiscal measures are a much better way to offset these economic costs than prematurely loosening restrictions," they said.
"As has been foreshadowed in your public remarks, our borders will need to remain under tight control for an extended period.
"It is vital to keep social-distancing measures in place until the number of infections is very low, our testing capacity is expanded well beyond its already comparatively high level, and widespread contact tracing is available.
"A second-wave outbreak would be extremely damaging to the economy, in addition to involving tragic and unnecessary loss of life."
Updated at 4:26pm AEST on 20 April 2020.
Help us deliver quality journalism to you.
As a free and independent news site providing daily updates
during a period of unprecedented challenges for businesses everywhere
we call on your support