With the market value of its portfolio companies now sitting at $6.8 billion, Main Sequence has come a long way since it was founded by the CSIRO in 2017 and is now cashed up to seek out more pioneering deep tech companies and apply its 'venture science' model to establish new startups from scratch based on novel research.
The deep tech investment fund has today announced the first close of its third fund, raising $450 million and surpassing the milestone of $1 billion in funds under management.
It is also the group's largest raise so far, compared to $240 million for the original fund in 2018 and $330 million for the second fund in 2021.
Main Sequence has to date backed 53 companies including Regrow, Advanced Navigation, Q-CTRL, Samsara Eco and Endua, with its combined investments contributing to the creation of 2,100 new jobs across all portfolio companies.
The fund has welcomed the participation of large institutional funds, wealth groups and top tier climate investors, including Hostplus, LGT Crestone, Morgan Stanley Wealth Management, Temasek (subject to regulatory approvals), NGS Super, Australian Ethical Investment, Daiwa Securities Group and The Grantham Foundation.
The fund also includes the first half of the committed $AU150 million CSIRO investment announced as stage three of the federal government's Australia's Economic Accelerator program.
It comes as Main Sequence backs and builds companies that reflect Australia's national priorities investing in ideas that will diversify and transform Australia's industry and economy.
"Our last fund saw the launch of five Venture Science startups— Endua, Eden Brew, Quasar Sat, Cauldron, and Samsara Eco. We are keeping up this momentum with Fund 3, pioneering new frontiers in biotechnology and plan to continue co-founding new companies at the bleeding edge of exciting advances in food and fibres with Fund 3," says Main Sequence partner Gabrielle Munzer.
"We are continuing to harness the forces of entrepreneurship and research to address the 'Valley of Death'.
"We see incredible promise in pre-seed investments and our involvement with Australia's Economic Accelerator, CSIRO's ON Accelerator and University accelerator programs like UNSW Founders' SynBio 10x program means we can deepen our focus on unearthing cutting-edge ideas."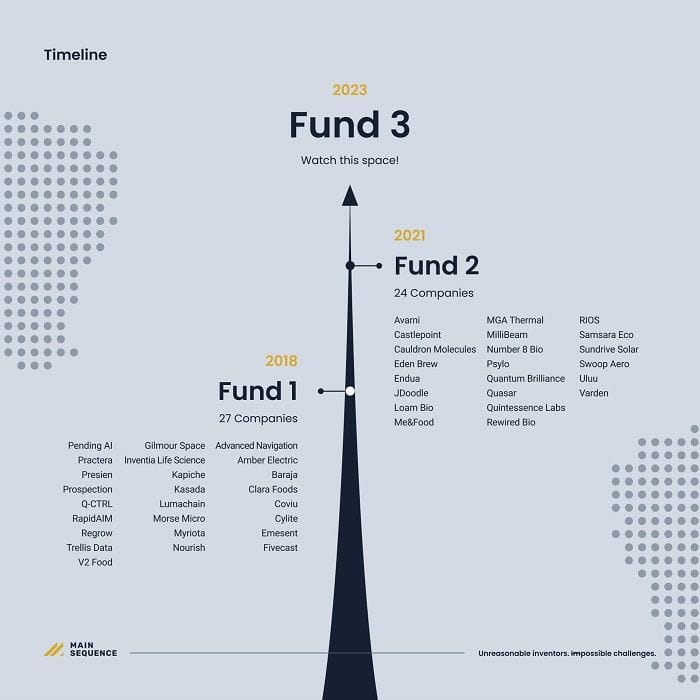 Main Sequence's venture science model of investment pairs deep scientific knowledge with the industry expertise and capital funding required to build entire industries and ecosystems around solving a global-scale challenge.
Main Sequence partner Mike Zimmerman says this fund is embarking on an extraordinary journey guided by two key imperatives - decarbonisation and critical technologies.
"We want to ensure more translation of climate research into the solutions urgently needed to address our environmental impact," Zimmerman says.
"Alongside this, we are advancing critical technologies central to Australia's national interest including cybersecurity to protect citizens and infrastructure, quantum computing to unlock new possibilities, and advanced semiconductor technology to fuel innovation.
"Our focus remains on big, global challenges that need scientific backing, patient capital and long-term vision to solve."
He says the community Main Sequence has created around this mission cares deeply about finding and scaling solutions to planetary problems like decarbonisation, feeding a growing population and enabling the next intelligence leap.
"Thanks to their support, we have the flexibility and fortitude to back and build breakthrough companies grounded in research, and help them actualise their impact for decades to come," he says.
"Deep technology companies have the potential to deliver strong long-term returns on behalf of our members whilst aiming to provide solutions to societal, technological or ecological problems," adds Hostplus chief investment officer Sam Sicilia.
"NGS Super has a focus on sustainable investing, which is why we are so excited about the collaboration with Main Sequence Fund who share the same ethos around addressing global challenges like decarbonisation," adds NGS Super CIO Ben Squires.
Daiwa Capital Markets Australia Limited CEO Susumu Handa says the company is the first Japanese investor in Main Sequence, an "excellent venture capital fund".
"Through the collaboration with Main Sequence, we are confident to be a bridge between two countries' startup ecosystems to leverage our bilateral relationships for creating shared values," says Handa.
"We can't wait to work with partners who have passions for global challenges like decarbonisation, food, healthcare, space, and more."
Get our daily business news
Sign up to our free email news updates.