IT'S unfortunately official: people now have a three-second window to make their first impressions count online.
For entrepreneurs and startups, this fact can be especially catastrophic to visibility, considering that's three seconds to cram in a brand, pitch and identity before the reader decides to find out what's behind the 'next' button.
Despite the gravity of the challenge, one Sydney-based photographer has made it her mission to find a way for business people to secure an audience's short attention span in the online space.
By harnessing the power of personal visual branding, Zahrina Robertson has achieved her goal and released the new book Magnetic Branding: The Complete Guide to a Brand that Attracts to help businesses crack the competitive online market.
According to Robertson, a strong brand image begins with a focused mindset, a clear sense of identity and a mapped-out list of personal and professional goals.
"If you're a personal brand or business and you don't know exactly who you are, then how can you expect to attract the customers that you want to be doing business with every single day?" says Robertson.
"From the very beginning I always ask 'what are your strengths and weaknesses, where is your mindset and what are you going to attract,' because if you're a business person who isn't aligned with what you're going to produce then you're never going to be as successful.
"I always encourage people to look for an alignment with their own values, what they want to do and how they want to help people."
Robertson has helped the likes of Richard Branson, Carla Zampatti and Matt Church in addition to numerous budding entrepreneurs and startups keep their image alive in the competitive cyber space.
One of her hottest tips for launching a brand successfully is to tap into a personality before trying to market the business behind it.
"Images that are personality driven and not pretentious will make a person looking at that image immediately understand what the subject is all about, and make them feel a sense of approachability," says Robertson.
"You need to make the person in the picture look influential and give viewers confidence that the person is actually going to deliver the goods.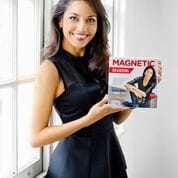 "It's about making sure the brand and the photography speaks volumes about the person getting snapped."
Robertson says her passion for working with businesses stems from a love of visually capturing a person's drive, revealing clear messages to the world and stripping back exposure woes for people struggling to make an impression.
"The problem we have now is that everyone is trying to make an impact as fast as we can online, and I just wanted to dedicate my gift for photography to capturing business brands, clearing and turning it into a very strong visual message," says Robertson.
In addition to the release Magnetic Branding, Robertson is looking forward to launching her new online course which focuses on achieving the best results from online video marketing.
She says videography is equally important when capturing the internet's attention.
"With videos you need to approach things from a holistic viewpoint because it's not just about finding that imagery and mindset, it's also about finding your voice."
Robertson's new workshop series Magnetic Branding for Magnetic Influences will be launching in May.
Help us deliver quality journalism to you.
As a free and independent news site providing daily updates
during a period of unprecedented challenges for businesses everywhere
we call on your support