A Sydney-based startup that has tapped into the gig economy with advertising-enabled smart bags for delivery riders has raised $800,000 in a pre-seed funding round to further roll out its technology domestically and abroad.
Not only generating extra income for gig workers, the LUMOS technology helps bridge a hyper-localised gap between out-of-home ads and digital exposure for brands.
Co-founder Eric Fan told Business News Australia the business was conceived at the start of the pandemic as a means to link small business owners with the growing gig-based delivery infrastructure to reach consumers more effectively.
"We realised at the time that the delivery industry was sort of dominating our streets, our community. Everyone was starting to rely on them for our day-to-day, and I thought this was a great moment to digitalise this entire new infrastructure," said Fan, who established LUMOS with Jerry Yip, Cynthia Rahardia, Anmol Nayak and Sidney Ramos.
The team then set about developing hardy screens to advertise from the gig riders' delivery bags, and the digital technology underpinning its application for advertisers with advanced audience analytics.
"We have access to two-thirds of Australians' mobile smart devices – we know where they are, we know what types of people they are, so at the same time we are cross-matching them against the smart bags that we have on the road, we can easily and accurately map out the kinds of people who are engaged with our advertising.
"Because we're able to capture those mobile devices, eventually we can do digital re-targeting. So we're pretty much bridging the gap between the physical world and the digital world to display the same content pretty much throughout your journey, when you're on the road driving to work, or when you get home."
Fan said the real innovation came from the fact the founders had to essentially build this type of product from scratch.
"We went through multiple iterations of testing and refining the product, so now for the final iteration that you see on the road today the material is perfectly designed to withstand the heat in Australia, the 40-degree weather, and also we have a lot of screen protections, waterproofing, mechanisms all built into the bag. Once we've rolled them out, we've never had to go back to do any maintenance," he said.
The client mix however has gone well beyond just small local businesses, with the likes of Zip Co (ASX: ZIP), national franchises Sushi Hub and Crust Pizza, and not-for-profit social enterprise Sister Works among the organisations that have utilised the service.
With this momentum in place LUMOS has undertaken an oversubscribed seed round that has attracted a wide range of investors from angels and growth equity firms as it looks to democratise the $40 billion global out-of-home and digital retargeting ad market.
Investors backing LUMOS and its Internet of Things-powered Smart Bags include Claremont Capital, Dorcas Capital, Imprint Capital Partners founding partner Curt Shi, Beames Capital partner Hugo de Jong, Metagrove Ventures managing partner Barry Winata, and the Trampoline Syndicate led by Matt Perkes and Abraham Robertson.
"We are so pleased by the overwhelming support that we've received from our investors," Fan said.
"LUMOS was born while we were still in the thick of an economic downturn and businesses were pushed to reimagine the possibilities of innovative and disruptive technologies like ours to stand out more.
"The great investor backing we've received is a true testament to the global market opportunity for our innovative mar-tech platform in Australia and beyond."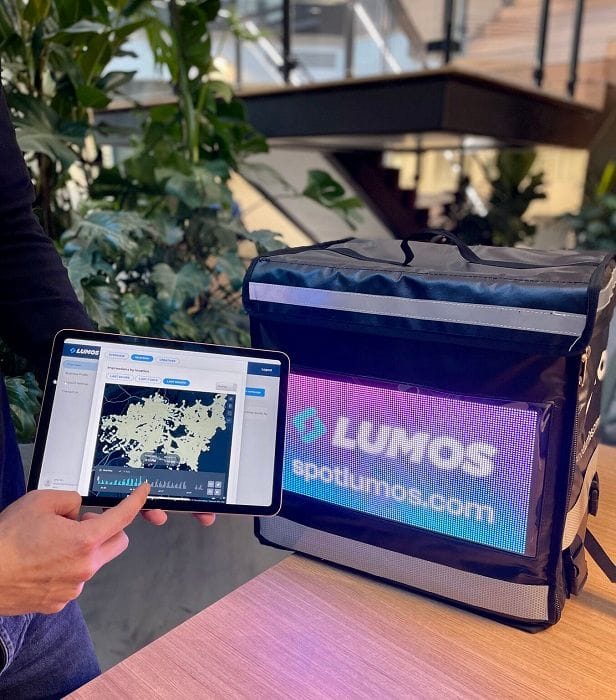 Fan added LUMOS was currently working with more than 20 well known domestic and international brands and agencies of all sizes, empowering them to attract, retain and create customer advocacy using an affordable and competitive solution.
"LUMOS makes scalable and impactful marketing accessible to all brands because our platform significantly lowers the barrier to entry, expands the possibilities for all brands and furthers their reach when it comes to advertising," he said.
Many new investors were attracted by LUMOS' disruptive nature in a sector that has been tracking on a well-trodden path for years.
"For a long time, the advertising industry has been quite traditional and antiquated, however it's now finally being disrupted by Lumos who are using technology and logistics to create a new paradigm for this space. I'm excited to be on this journey with them," noted Barry Winata of Metagrove Ventures.
"I invested in LUMOS given the combination of technologies brought together as well as the scalability of the solution to larger and denser markets," explained Hugo de Jong of Beames Capital.
"I feel the passion of the team and disruption of the technology and business models. Crossover effect also contributes to these innovative and intelligent solutions for the marketing sector. I did see huge venture success in MarTech before and am happy to be part of the journey from the early stage," added Curt Shi from Imprint Capital Partners.
LUMOS advisory board member Jerry Hsu described the company as a real game-changer for businesses and governments to find new ways to engage with customers and the public.
"I'm excited about how LUMOS is disrupting the advertising space with their innovative solution to modernise digital out-of-home and digital advertising," he said.
Get our daily business news
Sign up to our free email news updates.
Help us deliver quality journalism to you.
As a free and independent news site providing daily updates
during a period of unprecedented challenges for businesses everywhere
we call on your support