Australian retailers have a healthy dose of Christmas cheer as they hurtle towards the year's busiest trading period, with a Deloitte survey showing 80 per cent expect improved year-on-year sales.
Confidence has been buoyed by strong product mixes, while investments in omni-channel business models have made traders bullish on online sales.
Notably, the Deloitte 2018 Retailers' Christmas Survey found 83 per cent of retailers believe Amazon will not have an impact on their Christmas trading performance.
"Broadly speaking, our retailers are optimistic. The overall market has performed relatively well in 2018 and, in spite of competitive and economic challenges, they appear to be carrying this optimism forward into the Christmas trading period," says David White, national leader of Deloitte's retail, wholesale and distribution group.
"Discounting will remain an important Christmas sale strategy, with more than 60% of retailers planning to discount, and a further 21% still to make a call on this front.
"Importantly, they are looking to hold strong on pricing this side of Christmas, with lower pricing only on the agenda as part of Boxing Day sale strategies."
More than half of the retailers surveyed expect to see some form of maring increase, while two in five are predicting sales growth of 5 per cent or more.
"Their intentions on pricing auger well, but they will be highly dependent on customers being enticed by great products, convenience and customer service, whether in store or online," White says.
"With shoppers choosing to look and buy later and later each Christmas, helped by continuing improvements in online offerings and faster and more reliable delivery services, the first trading week in December will be of intense interest, and likely to cause at least some jittery nerves."
White emphasises 2017 saw a significant increase in retailers strategically investing in their digital capabilities, and now four in five are expecting growth of 10 per cent or more in online Christmas sales.
And there is plenty of room for growth if developments overseas are anything to go by. In the US consumers expect to spend a staggering 57 per cent of their holiday retail budget via online, while in China the recent 11 November Single's Day shopping bonanza yielded $42.5 billion in sales for e-commerce mammoth Alibaba.
"Australia might finally be seeing the true acceleration of online retail that other developed markets have already experienced," says White.
"We're undoubtedly seeing a local shift to similar business models it's just taking more time.
"This year, it appears they are looking to reap some reward from these investments, and online is set to be a key sector battlefield this Christmas."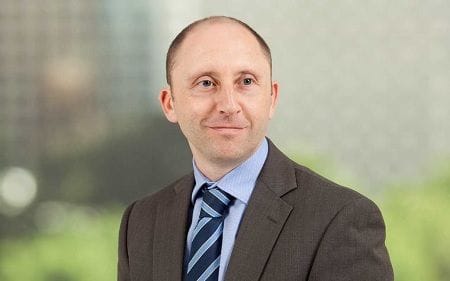 David White, national leader of Deloitte's retail, wholesale and distribution group.
But the analyst clarifies these online developments do not mean physical stores are in need of "life support".
"The role of the store is changing away from just being a transactional space to an opportunity to build brand through an experience and service that can often only be achieved face-to-face with the customer," says White.
"Customers can expect to enjoy more innovative store designs and concepts this Christmas, as retailers experiment with new ways to build brand and connect."
Be bold to stay in the game and "under-estimate Amazon at your peril"
Now is not a time for retailers to rest on their laurels, with increased competition giving rise to a greater need for investments in understanding customer preferences, how they shop and when.
"Retailers would appear to be attuned to this need, with 35% identifying customer engagement and experience as their number one strategic priority," says White.
"Running a close second is omni-channel at 31%, which aligns with retailers telling us they see building sales outside their store networks as critical to their growth strategy."
It was only recently that Amazon opened up a local store front for Australian fashion labels, and while most retailers are not intimidated by the giant there is still the 17 per cent who are worried about what it might mean for sales. White describes the retailer as one very large elephant in the room.
"While we've yet to see the full force of Amazon locally, its Prime offering isn't as compelling, yet, as in the US and UK in terms of driving volume of impulse buying and loyalty to the platform," he says.
"This may help explain why 90% of our respondents said Amazon hasn't affected their business since its local launch.
"But it's important to learn the lessons from other countries where Amazon has been so successful. Amazon Australia continues to invest heavily in its infrastructure and people, but it's not realistic to expect the creation of a multi-billion dollar business overnight. So it's a word of warning under-estimate Amazon at your peril."
He adds opinions remain divided on the size and timing of Amazon's impact, but this Christmas will give everyone a better idea of how much progress the company has made.
Looking ahead to 2019
Despite some warning signs in the economy like falling house prices and the prospect of higher interest rates, rising energy costs and a weakening dollar, White says retailers remain relatively bullish about their prospects for 2019.
"Over half of our survey respondents expect consumer confidence to decline in the next 12 months, but more than 90% expect to see positive sales growth in 2019, and nearly a third are predicting growth in excess of 10%," he says.
"The role of the store will continue to be a critical part of retailer strategies, but it seems they are confident their investment in digital will provide the impetus to drive their growth prospects in 2019.
"Amazon has set the cat amongst the pigeons, bringing scale and capabilities that have the potential to strike in those areas in which Australian retailers are most vulnerable.
"Over 50% of respondent retailers are currently not generating revenue from overseas, and only a third are currently considering building overseas operations. But with the Australian market becoming more saturated, it's only a matter of time before they do, and perhaps have to, shift their attentions offshore."
Related stories: Amazon Australia launches local storefront for home-grown labels
Alibaba managing director on how to succeed in Chinese e-commerce
Never miss a news update, subscribe here. Follow us on Facebook, LinkedIn, Instagram and Twitter.
Business News Australia
Get our daily business news
Sign up to our free email news updates.