Government and business investment in Australian projects is expected to grow steadily in 2022 before accelerating in 2023 and 2024.
This is the prediction of Deloitte Access Economics in its latest quarterly Investment Monitor report, which studies individual Australian construction and investment projects with a fixed gross capital expenditure of $50 million or above.
Public investment, in contrast, is forecast to grow in 2022 before falling in 2023 as the pipeline of infrastructure investment work reaches a plateau.
Investment Monitor, which considers project investment a key source for predicting future economic growth, analyses 1,393 Australian investments with a projected value of $846.4 billion, a 6.7 per cent increase from the previous quarter.
The report details that before the Omicron outbreak business investment had returned to pre-COVID levels and had never dropped more than 5 per cent below where it was before the pandemic hit.
"Investment has been supported by government investment incentives, record infrastructure spending by state governments, the strength of the share market, as well as the fall in interest rates that accompanied the outbreak of COVID," Deloitte access economics partner and report lead author Stephen Smith said.
"Yet there are still a number of concerns for the outlook in 2022; contractors are facing some significant challenges.
"Delta lockdowns in eastern Australia created a backlog of work, tight borders and a highly competitive global market are making it difficult to get workers from overseas, a large pipeline of residential construction activity in Australia creates additional competition for workers, and global supply shortages are leading to large increases in the cost of building materials such as timber and steel.
"These factors, along with Omicron-related risks, make it harder than ever for contractors to deliver projects on time and on budget."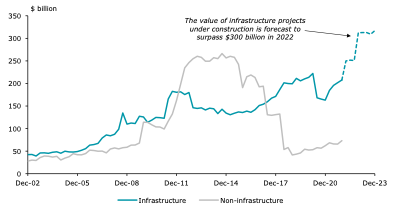 Despite the global economy growing by 5.6 per cent in 2021, matching the pre-GFC growth record of the past three decades in 2007, the global economy is forecast to only grow by 4.7 per cent in 2022 before further reducing.
The weakening in economic growth is likely due to the impact of supply disruptions, higher input costs, rising interest rates and ongoing pressure from new COVID infections.
As a result of rising global interest rates, investments will likely become costlier, putting them at a disadvantage and resulting in their decline.
Consumer price inflation has reached 30-year highs in the United States and the Eurozone. A combination of solid demand has driven this amid easing COVID restrictions and high levels of government spending when global supply chains are being stretched.
The report details a long list of concerning observations, including tax incentives such as accelerated depreciation, which tends to change the timing of investment spending rather than adding to it overall.
The report also calls out the slowdown in China's property construction industry, which will likely have implications for the future of many Australian businesses, particularly in mining and energy.
Suggesting that uncertainty over COVID is likely to continue, one of the report's outcomes is the belief that ambiguity will weigh heavily on decision-makers as they contemplate the 'when' and 'what' of any future expansion plans. The suggestion is that there could be a pandemic 'tax' on investment expectations that may be slow to erode.
"There are also a number of longer-term risks. Capital city mobility didn't return to pre-COVID levels in either 2020 or 2021, and the Omicron outbreak points to this trend continuing in early 2022," Smith added.
"That will have implications for transport networks, with likely changes in weekday peak demand and a greater preference for private transport.
"Potentially more important still, the longer that the COVID disruptions continue, the greater the chance that some changes – such as people working from home – will prove permanent, with implications for office demand in particular."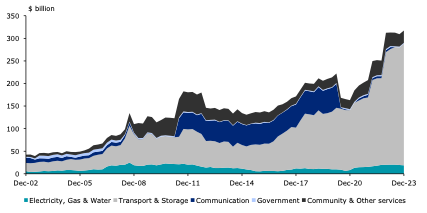 The Australian dollar is forecast to depreciate only modestly over the coming years – remaining at $0.70 US cents per Australian dollar.
The report identifies two critical factors for this forecast; the Australian central bank is proving to be one of the more dovish central banks, leading to markets placing higher interest rate returns elsewhere. In addition, China's slowdown is expected to weigh on prices of essential commodities like iron ore, coal and gas, which apply downward pressure on the AUS dollar.
Investment in New South Wales and Victoria, the states hardest hit by COVID, is expected to grow fastest. Investment in Victoria jumped 35.2 per cent in December 2021 against December 2020, while NSW rose 10.8 per cent over the same period.
Focusing on macro trends, this edition of Investment Monitor determines that the value of publicly funded infrastructure projects under construction is forecast to surpass $310 billion in 2022. This is a 50 per cent increase from current levels and an almost 150 per cent increase from the levels seen during the trough in 2015.
The rapid increase in infrastructure investment is almost entirely due to the transport industry, with the value of transport projects set to surpass $250 billion over the coming years.
Get our daily business news
Sign up to our free email news updates.