After spending the past seven years cultivating enterprise clients and building a base of 32 million registered users worldwide, Australian graphic design platform Desygner is making no secret of its plans this year to finally go head-to-head with capital-rich rival Canva.
The Gold Coast-based company is already growing organically at the rate of one million new users a month, attracting large-scale corporations such as Oracle as clients.
To put the scale of the business into perspective, Canva, the Melbourne-based unicorn that is currently estimated to be worth $39 billion, is accessed by 135 million people a month globally.
However, after spending the past decade developing and refining its platform to suit its clients' needs, Desygner is now preparing to lift its profile to the wider high-volume retail market.
The looming 'David and Goliath' battle doesn't faze Desygner co-founder Alex Rich who says Desygner is ready to take on the competition despite the weight of venture capital that supports the market leader.
"We're a bootstrapped company. We've never taken funding and we've done it all organically. They have thousands of people, and we have 80, but we're profitable now and we're pretty proud of it," Desygner co-founder Alex Rich tells Business News Australia.
"We're not as big as Canva. Sadly, we don't have the same valuation, but we have 32 million users on the platform.
"Not many tech companies choose to self-fund and there are massive ramifications to that as its harder to compete with the likes of Adobe, Microsoft and Canva that have billions of dollars to invest."
The origins of Desygner, which was founded by Rich, Mariana Assuncao Aguiar and Sayan Bhattacharya in 2016, are not that far removed from those of Canva, with the company starting as a photobook company 10 years ago. Canva began as an online yearbook design platform.
"After three years, we weren't going very far with the photobook business and we decided to pivot, so we started Desygner in 2016," Rich says.
"It was a time when Canva was starting up. There were lots of us back then, about 60 or 70 in that space starting up. There were at least 20 really strong ones, but now there's only us, Canva, Adobe, Microsoft and a few others left.
"We started very much with an enterprise focus and we didn't invest on the website as companies like Canva did.
"Instead, we invested in the app. We were the first to market in the world with a design app and we were doing extremely well in that area. We were getting a huge number of downloads until about a year later when Canva released a product to compete with us.
Keeping inside their lane
"Obviously they had a really big warchest of funds and we ended up not pushing that as much, so we just focused on the enterprise customers from 2017.
"To be honest, we haven't done any PR outside of the Gold Coast and we haven't done any marketing because we have been solely focused on building a kick-arse product."
If mainstream consumers haven't heard of Desygner, some of the world's biggest corporations certainly have.
Microsoft at one point had sought to partner with Desygner, but that deal never proceeded. Interestingly, the Microsoft Designer graphic design app was launched this year.
Desygner's biggest customer has 250,000 people using the platform every day, while the company's top three customers account for a combined 590,000 users to the platform.
In 2020, Desygner partnered with Shutterstock, giving its customers access to more than 150 million images and helping drive the company's launch of its video suite next month.
"We've always had the mindset from day one that we are going to reinvent how businesses operate in a marketing world," Rich says.
"Whereas Canva appeals more to marketing teams within a company - 20 to 40 people, for example - we're much more about giving all employees of our clients access to our product.
"It's a very different model and we really focus on brand governance and compliance. We have the most advanced restrictions in the market today.
"We have the full gambit from extremely complex documents all the way to social media posts, adverts and animations, along with video editing, music and audio. That's where the Shutterstock partnership adds a lot of value for our users.
Rich says translations are built into the product to cover all regions where the platform is used
"We have translations built into the product to cover all our regions. We have clients like Oracle, and big names using our product, and they use it on a huge scale, not just the marketing department.
"On top of that we have integrated a lot of AI into our product for small to medium businesses which we are about to launch next month. That will go out to all SMBs around the world in 35 languages."
Customer retention is another sign of the longevity of the platform.
"The first five customers that signed in 2017 are still with us today," Rich says. "One of our competitors even offered to replace us free of charge but they stayed with us."
Despite the number of users on the Desygner platform, the company has a relatively small customer base which Rich says gives has the Gold Coast group a key advantage in the enterprise space.
"We talk to our big customers every week and our smaller customers every month," Rich says. "In a way, that's been our beta testing. We've used our customers to tell us what's important to them, and what they need to make money."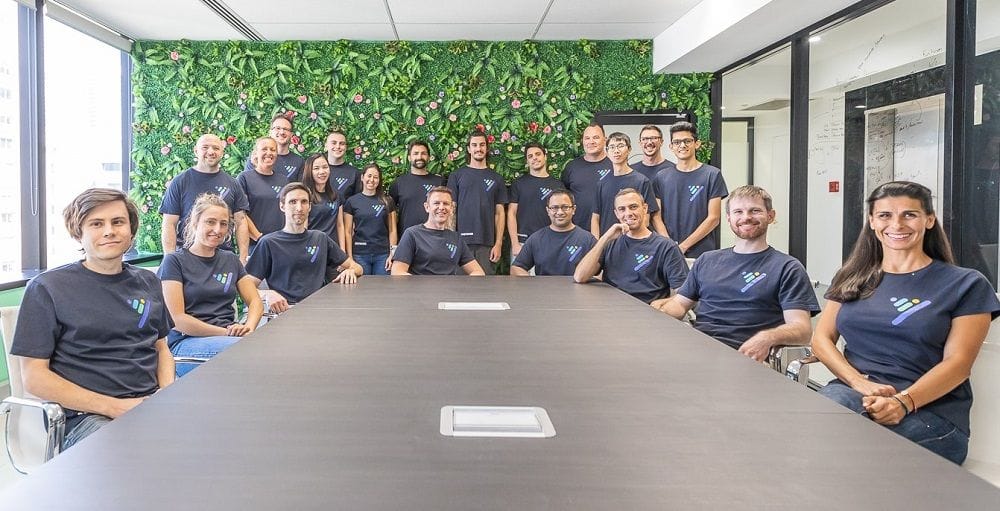 Rich, who hails from England, has an angel investment background and was highly active on the Gold Coast in the aftermath of the GFC. It was then that he saw first-hand what companies were looking for in a design platform.
"I had five investments as an angel investor and all of these businesses had the same problems," he says. "They couldn't get designers to use a PDF file, or they were forcing us to use InDesign or Adobe products, so it became a really slow process to get ad works out to Google as well as documents and marketing material."
While Desygner's focus so far has been on enterprise markets on a big scale, Rich says the platform is primed for its move into the consumer market.
It's game on for the team
"The reality is that we haven't even touched that market to date," Rich says.
"We're launching some incredible products in the small to medium enterprise space and our enterprise product will become really competitive because we are going to open it up to everybody later this year."
Canva, keen to protect its turf, is unlikely to take the competition lightly but Rich is prepared for this. However, the company remains reluctant to seek capital investment to help Desygner scale – although the founders haven't ruled it out completely. That includes CEO Remi Morault, who has also come on board with an equity interest in the group.
Desygner was prepared for global expansion prior to the pandemic, opening an office in Lisbon in 2019. While COVID led to that office closing, Desygner still has a team in Portugal working from home. Similarly, the company has staff in the US to service its clients in North America.
Rich says a capital raise for growth is still a topic of conversation at the board level.
"This is a conversation Remi and I have had a lot in the past few months," he says.
"We've been told by many investors that we have an amazing product and if you look at what we have built with hardly any money, it's unbelievable.
"We have 90 per cent of the product that companies like Canva have. Four years ago, we were 20 people, and now we are 80.
"We didn't have an active sales team until a few weeks ago and, if all goes well, which we think it will, we will see where we sit in about three months on whether we need investment to scale.
"It certainly would be easier if we took a $20 million investment, but we've done all the hard work to date; we've all committed our 100-plus house weeks.
"Even the team out there have committed incredible time and now we are at the point where we are asking ourselves if we want to enjoy the fruits of our labour or take some money and scale up that way.
"Either way, we will be heavily targeting all of our competitors because we have a great product."
Get our daily business news
Sign up to our free email news updates.