Two Queensland companies have joined forces to give small businesses a more flexible and accessible outdoor advertising set-up, transferring the pay-per-play model to out-of-home (OOH) platforms like billboards.
Jeff Lynne, the founder of Brisbane-based custom web solutions and marketing agency Digital8, believes the new partnership with Logan startup CAASie will make advertising more cost-effective for SME clients.
"They're coming to us to help grow their platform that is like an ad brokering system allowing people to buy and sell ad slots; they could be digital signage, they could be TVs that are in doctors' surgeries, they could be billboards at bus stops or above the road," says Lynne, who was a finalist in this year's Brisbane Young Entrepreneur Awards.
"They allow people to do on-demand digital ad spots, because at the moment there are not a whole lot of ways to buy other than taking a whole month at a time."
This flexible arrangement makes billboard advertising comparable to social media advertising, with advertisers able to bid in real time for individual ad plays ranging from 5-30 seconds.
Digital8 inbound marketing specialist Liam Fogarty describes CAASie's technology as incredibly innovative.
"We are so excited to be able to provide our clients with more well rounded and comprehensive marketing campaigns," says Fogarty.
"OOH (out of home) advertising has always worked hand-in-hand with digital marketing to further legitimise a company's campaign and can boost brand awareness significantly."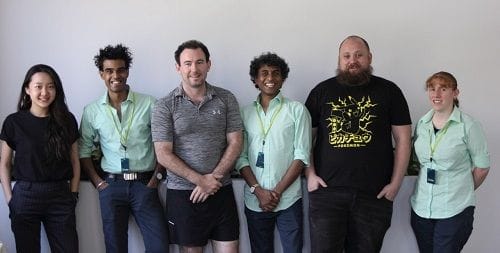 Digital8 and CAASie team members who will be collaborating through the partnership (L-R): Mia Jiang, Jeff Jaraved, Jeff Lynne, Joe Jaraved, Joe McCord and Taryn Syratt.
Digital8 will also be available to design the artwork for clients who sign on to the CAASie platform, providing a one-stop-shop solution that will enable omni-channel campaigns not just in Brisbane but across the entire global marketplace for OOH media.
CAASie director and project lead Taryn Syratt says the platform, developed by branding and creative agency Heurist, will also help small businesses bypass the red-tape that usually comes with traditional media.
"CAASie aims to bolster the advertising efforts of local small and growing businesses by making out-of-home more accessible and more flexible," says Syratt.
"Combining digital marketing with out-of-home enables these businesses to create brand awareness and associations that will drive their all-important click-through rates.
"From CAASie's perspective this partnership means that we have a reputable and local agency to recommend to our users to for integrated/dynamic campaigns."
Never miss a news update, subscribe here. Follow us on Facebook, LinkedIn, Instagram and Twitter.
Business News Australia
Get our daily business news
Sign up to our free email news updates.