SHE'S been hailed a 'drone master' and 'drone pioneer' and has done it all without an engineering background.

Brisbane-based Dr Catherine Ball has been working with drones for nearly four years and delivered a number of world firsts in environmental and infrastructure surveying.

While she has no engineering degree under her belt, Ball tells Business News Australia that her success has come from approaching problems with a 'fresh perspective'.

"I have always been someone who asks 'why' and who is not afraid to push the envelope and engender change," says Ball.

"The reason we have been so successful is because I'm not a drone pilot, I'm not even a pilot.

"I'm taking something that's been around for 20 years and applying it to something new.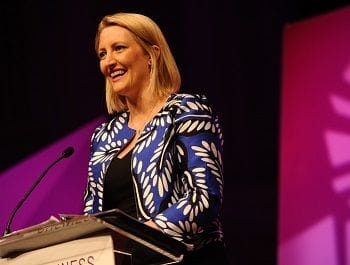 "The innovation isn't in the technology but the application. We are looking at these problems from data up rather than methodology down."
Ball is leading the charge in drone technology, using them to explore remote islands, vegetation and improve environmental outcomes for engineering projects. The drones explore areas unaccompanied, shedding months off the job.

Ball is big on marine fauna protection, but on top of that is involved with more than 25 projects across Australia and New Zealand concerning everything from search and rescue, bushfires, international development, agriculture, road surveys, and helping business make better decisions about infrastructure to preserve native species.

"I've always liked the idea of solving problems and almost went into medicine because I like diagnostics," says Ball.

"I did my gap year in Zambia when I was 18 and, although I loved the idea of medicine, I felt like there were already enough doctors.

"Some of the problems I was looking at you couldn't fix with a vaccination."

Ball 'reverse engineered' her way into a new solution rooted in environmental protection. She says that, as a scientist, she tackles problems following 'safety first, data quality second and money third', which differs from the standard commercial culture.

"Our world's biggest problems of climate change mitigation and human health require a healthy environment first where people are well fed - and for that you need to understand agriculture, which stems deeper into soil science, weather patterns, rainfall and water management," Ball says.
"Environmental protection, for me, starts with the eradication of poverty and the empowerment of females.
"It's been talked about for many years that if we can lift the girls in developing countries, their income goes back into the village. Pieces of recent research have proven that if, all of a sudden, all women had equal pay alongside men, up to $US28 trillion would go back into the global economy right away."

Ball is fiercely passionate about bringing up women - and making sure the tall poppy syndrome doesn't get the better of us while she's at it. She says where she's from in the UK being called a tall poppy was a good thing which meant you were doing something impressive that everyone liked you for.

Being in a male-dominated industry, and without the cookie-cutter engineering training for that industry, Ball says in her 20s and early 30s she 'bounced off the sides' of herself until she came into her own, which coincided with meeting husband and entrepreneur Jeremy.
"You do this until you feel like you can stand up and be counted," says Ball.
"One of the things I've been guilty of in the past is denying my power as a woman and it's only now in my mid-30s that I've really stopped giving my power over.

"It's still a pyramid and the men are still the ones in that management stream, while some 50 per cent of engineering graduates are female and only 25 per cent of engineering lecturers are female.

"The guys are doing a very good job at dropping ladders down though. Some of my most supportive mentors and managers are men."

Help us deliver quality journalism to you.
As a free and independent news site providing daily updates
during a period of unprecedented challenges for businesses everywhere
we call on your support