DTL Constructions made quite a splash with its recent Hope Island project.
The design and construction company, which used to subcontract its swimming pools, has earned the Master Builders Award for Best Residential Swimming Pool.
Building the pool required more craftsmanship than meets the eye, with the foundation below the high-tide line of the canal it sits beside.
DTL Constructions director Darren Teasdale says his company decided to take pool delivery into their own hands after previously having to finish half-done projects.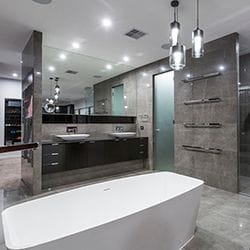 "We used to subcontract pools but the contractor went broke and we ended up having to finish off eight pools ourselves," says Darren.
"We eventually decided to handle the entire delivery ourselves, which is easy to do realistically. All you need is a base below the water table and building a pool above the water table is easy."
The sleek, modern pool includes a water feature and mosaic tiling, adding a resort-like quality.
Darren says the clients emphasised their desire for a high-end finish for their entire Hope Island property, from the basement of the house to the waterfront pool.
He says this made for an incredible project, with every feature making an impression.
"The base of the pool was below the high-tide line which made it difficult because of the water table," he says.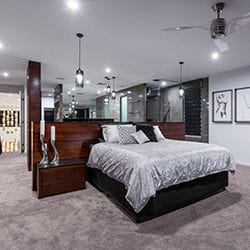 "Once we laid the waterproof membrane under the slab a blotting layer we used a waterproofing system which looks like carpet when its rolled out on top. This works under pressure, swelling when it detects water and restricting water ingress of any type. It was a real mission.
"If the site is open for 10 hours a day, then in the initial stages I'm also there for 10 hours every day. If you're discussing everything with the client as you are doing it then there are no disappointments at the end,
"You always offer the clients different options and suggest all possibilities so they feel like they are building as well."

Get our daily business news
Sign up to our free email news updates.