Having crossed the in-house milestone of 200,000 edible coffee cups sold, the co-founders of Good-Edi are ravenous for growth as they look to transform how we consume caffeine sustainably.
Business News Australia hopped on a video call with the Melbourne-based duo to learn all about the brand's origins, their success to date, and how the pair hopes to continue scaling their edible takeaway cups brand.
---
It was a passion for sustainability and a desire to solve the problem of single-use disposable coffee cups that brought former co-workers-turned-co-founders of Good-Edi, Catherine Hutchins and Aniyo Rahebi, together.
Both having backgrounds in food packaging and processing, the two were uniquely placed to tackle the issue - and where better to start a revolution in the space than in coffee-loving Melbourne?
Now, with just over two years of research, development and trial runs of manufacturing their edible coffee cups, the duo has hit a milestone of 200,000 cups sold.
Though just a small dent in an enormous takeaway cup supply chain which sees around 1 billion cups sent to landfill each year in Australia alone, this is a major tick of approval for the co-founders who are now looking to secure funding to take Good-Edi to the next level.
This would give the pair capital to scale up their pilot manufacturing facility in Coburg, Melbourne in order to bring down costs, enabling them to compete with much cheaper compostable or biodegradable coffee cups already on the market.
Speaking to Business News Australia, the co-founders said any investment would build on funding received through accelerator programs they've participated in previously, as well as angel investment from family, friends and other outside capital.
"We are in the process of a capital raise at the moment - we really want to scale up," Rahebi said.
"The main reason for that is ultimately we want to have a bigger impact. Our pilot plant has a very small capacity, so we want to scale up.
"Not only will this help us unlock more output but it also brings down our price point, which will be very competitive to the normal compostable cups or biodegradable cups that you find in the market."
For context, Good-Edi currently sells its edible coffee cups made out of natural ingredients like flour, wheat bran, oat bran, salt, sugar, coconut oil and water for about $5.50 per cup if one buys a six-pack. This price point can go as low as $2.75 per cup when buying the 'office pack' of 100 cups.
In comparison, regular non-biodegradable coffee cups can be bought wholesale for around 10 cents per cup, or 21 cents if you're looking for biodegradable bagasse-based cups.
This is a pressure point the co-founders acknowledge, but they believe customers - including businesses that buy the biodegradable and compostable cups that break down in just a few weeks - are happy to pay the premium.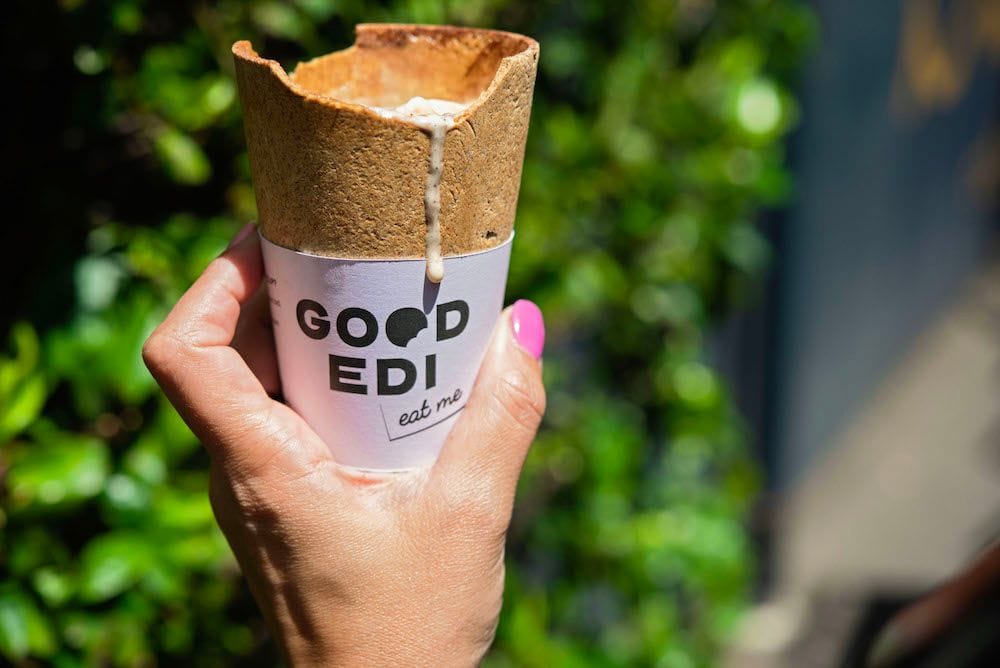 "Although our cups are very much more expensive than normal disposable cups, we've found that for many cafés with a focus on sustainability, they can afford our product," Rahebi said.
"And for the consumers, they normally pay for something extra like a surcharge for alternative milk, so it's not a shock for them."
The co-founder added that the cup has been designed with an international market in mind, with a standard size that is used around the world with 6-ounce and 8-ounce options.
"It's the product type that cafés are looking for," Rahebi said.
"We make them locally, we sell them locally, we're not using any plastic. So from that perspective, we are quite unique."
From a home kitchen to your local café
Having started the business in Hutchins' kitchen where the duo experimented with different recipes for their coffee cups, the co-founder said she knew they were onto something after walking into a local café and seeing Good-Edi cups stacked near the espresso machine.
"One day we really felt like something from the bakery when we were out for lunch and we said 'let's just go to this bakery next door and grab some chocolate croissants'," Hutchins said.
"And then, out of the corner of my eyes, I saw they had a really similar point of sale to what we have, and I was like: 'Hold on - that's our cups on the coffee machine' - so that was quite cool."
These moments are becoming more common for the pair who met in Melbourne while working together in the food processing and packaging industry.
Hutchins has an international background, having grown up in New Zealand and lived and worked in the Netherlands before making her way to Melbourne.
Rahebi similarly has an international backstory, and was born Tehran, Iran where she lived for the majority of her life. She studied there before moving to Sweden and eventually Australia in 2013. The day she spoke to Business News Australia was her 10-year anniversary of living in Australia.
Determined to solve the problem of coffee cups going to landfill, the two set up a makeshift facility in Hutchins' kitchen to make a prototype cup. The initial goal here was to make something that could at least hold coffee.
"After many, many different recipe trials, we finally had a cup that didn't leak," Hutchins said.
"From there, we needed to source our equipment and we also needed to learn about running a startup.
"We also really needed to raise money."
So the two signed up to the HATCH Accelerator Program which focuses on climate-smart, sustainable food transition businesses and is run by Taronga Zoo's Conservation Society.
"At the end of that program we won a big grant - that was about $50,000," Hutchins said.
"Meanwhile, we were researching which company could source the baking equipment that we needed. We finally found one and then we put a downpayment once we won the grant.
"Come June 2021 and we had our pilot plant running in Melbourne where we are now producing cups here in Coburg."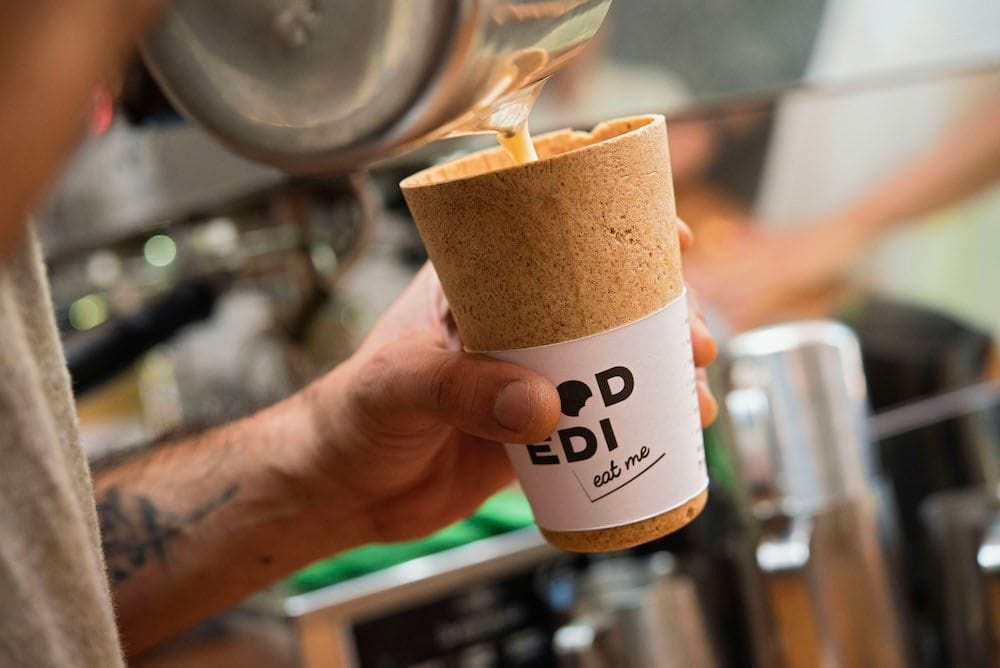 With the plant pumping out as many cups as it could, Hutchins said Good-Edi has received a very positive response from the market - 'more than we could have expected'.
"We were basically at max capacity all the time - so we can only make to order and sometimes our lead time is quite long because we're so full with orders," Hutchins said.
"We're now in seven states in Australia and over 100 outlets and we've just hit the 200,000 cup milestone," she added, noting that Good-Edi can even be found in one café in Singapore.
"We just love the response from all the consumers out there - people post about us on social media all the time. I see our cups out there at different cafés with different drinks and different people using them - so it's really nice."
Though the co-founders keep their recipe a secret - 'a little bit like the KFC herbs' - Hutchins said the cups made for a healthy snack as well as a vessel for coffee.
"It tastes like a Weet-Bix waffle cone but a bit more savoury," Hutchins said.
"We didn't want to overtake the flavour of the coffee so we didn't make it too sweet. And that means when the coffee goes in it actually tastes really good.
"It's sort of like when you dip a cookie into your coffee."
In addition, the cups break down naturally in 'a few weeks' according to Rahebi.
"If you eat it it's waste free. If it ends up in landfill it breaks down," Rahebi said.
Convenience is also core to the premise of Good-Edi, with Hutchins noting that the cup was a good alternative for those who don't want to lug around a reusable coffee cup everywhere.
"The adoption of reusable coffee cups has been really low despite how long they've been around, and the main reason is it's just so inconvenient," Hutchins said.
"People forget them, they have to wash them, they have reusable cups in the car and in the gym bag and all these places and then you get to a café and you've forgotten one of the ten that you own.
"So we wanted to put a solution in place for all of those people that turn up thinking 'I want to have a takeaway coffee but I don't want to have one of those disposable cups that just ends up going into landfill."
Beyond the convenience element, the co-founders hope consumers will appreciate the fact that the cups are locally manufactured.
"We're manufacturing locally and we want to continue to do that," Hutchins said.
"That supports the local community, it supports local suppliers."
Despite that, Hutchins said that Good-Edi has struggled to find investors who really understand the business model.
"We've struggled to find investors that really understand that when you look at our growth compared to say a really fast-growing tech business, we're much slower," she said.
In any case, the pair hope that an investor will appreciate what they've built to date and will be excited about the company's prospects.
"We want to go to other markets. We are already receiving a lot of inquiries and requests for partnerships from other markets like the US, UK and Netherlands," Rahebi said.
"But our final goal for the product is to get people up every morning and start their day with having their Good-Edi cup as their breakfast and coffee together.
"We really want to reach that goal. Maybe it will take five or six years, but that's the ambition we have and that's what we're working towards."
Get our daily business news
Sign up to our free email news updates.
Help us deliver quality journalism to you.
As a free and independent news site providing daily updates
during a period of unprecedented challenges for businesses everywhere
we call on your support