Over the past 18 months stories have abounded of established retailers branching out to online, but The Somewhere Co. (TSC) founder and CEO Ellen Powell has gone in the opposite direction with her business of baby wares, picnicware and fashion designed in-house.
The Brisbane-based entrepreneur took the pandemic as an excuse to execute ideas she had been mulling over for a rebrand, merging her two wholesale and e-commerce businesses Blushing Confetti and Livvy + Harry under the one banner, leading to tenfold revenue growth in FY21.
To risk-proof the business Powell made the call to trial a bricks-and-mortar store in Indooroopilly, Brisbane in late 2020, which went so well that the company has expanded to Victoria and Western Australia more recently with a fair share of logistical rigmarole for the business owner between lockdowns and home quarantine.
Following last week's launch of The Somewhere Co's store in Karrinyup Shopping Centre in Perth, and with a Melbourne CBD store yet to open, Powell tells Business News Australia about overcoming challenges to forge ahead with her vision.
---
For most shoppers passing by the pink arches of The Somewhere Co's newly opened Perth store last Thursday, few would have had any idea of the work that went into it in a state that has been largely shut out from the rest of the country.
Ellen Powell knew she had a strong customer base in WA, but shipping to them from the eastern states was no walk in the park. No matter what she did - stick to just e-commerce or set up an offline store - it was always going to be difficult.
"We're finding that shipping time is really challenging for a lot of our locals there, so by opening a brick-and-mortar store we're able to offer click and collect, and also shipping out of the store where required," says Powell, who is a finalist in the upcoming Brisbane Young Entrepreneur Awards.
"Also they can come and touch and feel our product. We have a lot of picnic products, and I think it's important for people to test the quality and see it firsthand," she says.
She flew to Perth after three weeks of trying to expand the business in locked-down Melbourne where a planned store opening had been delayed, and upon arrival she needed to home quarantine with family.
"I did it off the back of Melbourne so it was doubly challenging, and thankfully I was able to quarantine in Perth. Without my family helping me we wouldn't have been able to have such an amazing result, but it was very mentally challenging to be away from the team," she says.
"I've met one of our Perth team members in person. Everything's been done via Zoom, and there have also been very big challenges with builders and trades at the moment, in particular out west because normally for a big shopping centre like this with the big expansion they've just had they bring out Victorian and New South Wales contractors as well.
"Obviously no one is able to get into Perth with such high restrictions – I'm very lucky, I just happen to be fully vaccinated, have family there and work there, so I was allowed in, but many others didn't have all their ducks in a row and weren't able."
She emphasises workers have pulled "insane shifts" to get the Karrinyup centre open generally, and the same goes for her store, not to mention the challenges of having her build and design team based in Melbourne and unable to travel to Perth.
"It's 67 square metres, so not huge, but we've utilised space quite well. The frontage is quite tall, very high ceilings. I'm quite impressed with this build," Powell says.
"This is the poster child of our future TSC stores. It was really fun to work on as much as it was challenging.
"We've got a lot of summer products – hats and picnic rugs etcetera that are suited to summer - and WA beaches are the perfect market for us, but also the centre itself is very well aligned with the brands that we see ourselves next to. It's undergone a massive expansion and they've thrown a lot of money at it to get that higher-end feel, and out of everywhere in WA that shopping centre has become the pillar of high fashion."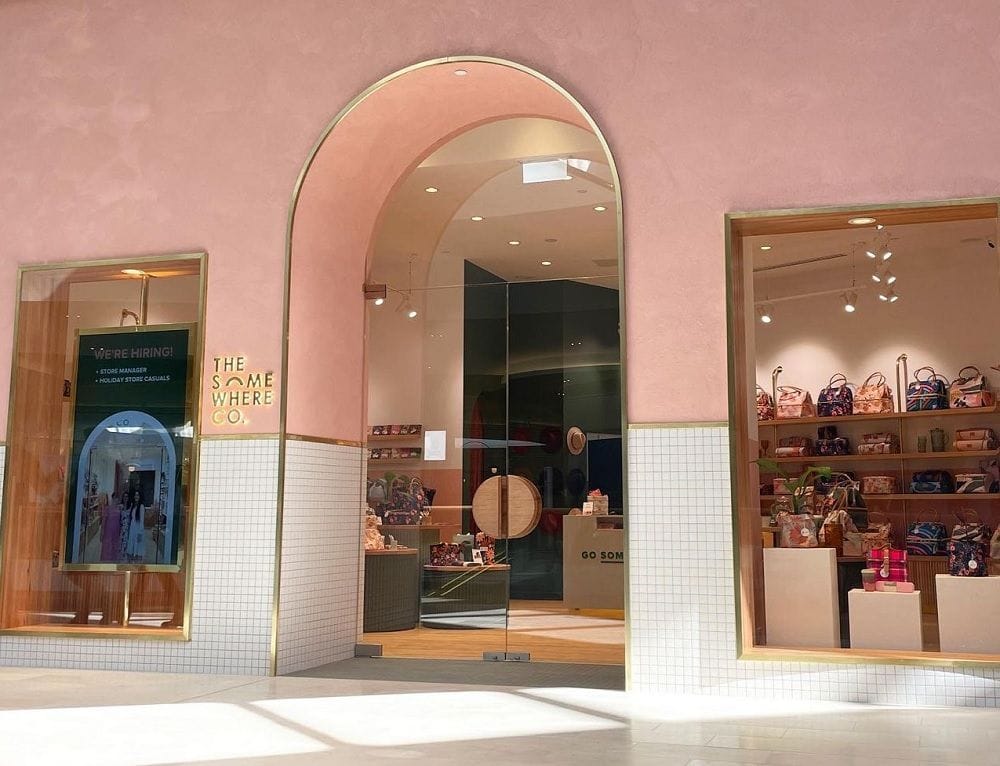 Powell is also optimistic for the Melbourne store for when it is able to open, but notes rental negotiations have become more favourable for launching new endeavours in the city's CBD.
"I think the whole how it was done before has been completely turned on its head, and the reason I've moved forward with bricks and mortar is not necessarily because they're offering it for cheaper, but they are coming to the table with less lease terms," she says.
"It's given us a lot more opportunity with flexibility, where if it doesn't pan out we've reduced our risk."
The Somewhere Co. has come a long way since bringing two e-commerce companies together with a very similar target demographic - women aged 25-35.
"I took a step back and looked at our problem areas. We had double of everything - double the expenses, the same customer but disjointed communication when we could have really made some magic for our end consumer," she says.
"Those two brands [Blushing Confetti and Livvy + Harry] really started as a wholesale-based model, selling into different boutiques around Australia at that time, and when COVID hit basically everything I had been thinking about, I actioned. I immediately moved forward with our rebrand.
"I'm a designer by trade so branding is my background, and I was able to take everything I was mulling around in my head and execute quite quickly."
At its core the business is about providing practical products that are eco-friendly and designed beautifully, in a market for items "things that people are using every day but weren't ever designed nicely".
"We design almost all of our products. On the odd occasion there'll be something that we will buy off the shelf, say a stainless steel fork, but the bulk of our products are fully designed by our in-house design team from scratch to finish," she says.
"Our point of difference is our willingness to be bold in a sometimes-boring market, with functional, practical lifestyle products that stand apart with beautiful design, and a commitment to sustainability that's more than skin deep."
"A lot of brainstorms go into it to make it all happen. We also stock other Australian brands both online and in our retail stores, to support them but also to fill any gaps that we see with our market where we aren't going to create that kind of product.
It is a philosophy that has poised TSC for more than 300 per cent growth in the current financial year, also lifted by its growing wholesale business in both Australia and the US.
"Pre-The Somewhere Co there was just myself and two employees, and both were part-time. Now we are over 30," Powell says.
"As the world recovers from Covid, TSC is expanding aggressively across all its channels across online, brick and mortar and wholesale.
"After being stocked in Bloomingdales, Free People, Food52 and other large USA retailers, we plan on leveraging these partnerships and increasing our operations in the USA through both online and wholesale. And this is just the beginning. Watch this space."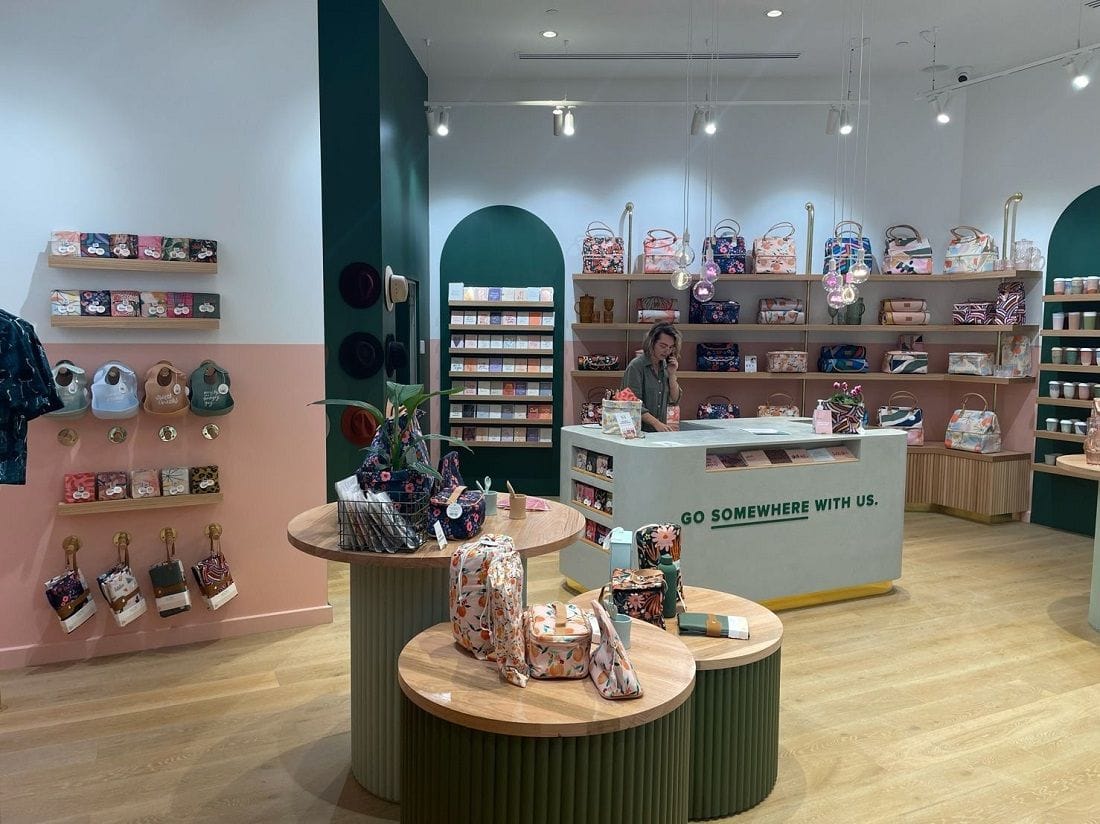 Get our daily business news
Sign up to our free email news updates.
Help us deliver quality journalism to you.
As a free and independent news site providing daily updates
during a period of unprecedented challenges for businesses everywhere
we call on your support