Employment levels in Australia have continued to tumble in the month of May, down 227,700 people according to the Australian Bureau of Statistics (ABS).
Speaking to the press this afternoon, Prime Minister Scott Morrison described the figures as "devastating" but stressed the situation was improving with consumer and business confidence on the rise.
The drop in employment of close to a quarter of a million people, when added to the dive of 600,000 people in April, brings the total fall to 835,000 people since March when the COVID-19 pandemic began to take its toll on the Australian economy.
Unemployment also increased by 85,700 people to 927,000, representing a rise in the unemployment rate of 0.7 percentage points to 7.1 per cent.
This compares to the eight per cent unemployment rate Treasury Secretary Steven Kennedy forecasted for September in a recent Senate inquiry, and is much lower than a previous estimate that the rate would be in double digits by June.
The participation rate in the workforce, representing the number of people currently in the workforce or actively looking for work, is now at 62.9 per cent. This is the lowest level of participation since 2001.
Underemployment has decreased in May by 0.7 per centage points to 13.1 per cent, but remained 4.3 points above March's rate.
The majority of those counted as newly unemployed are female, with 180,00 or 52 per cent of the jobs lost in May being women.
Young people continue to be impacted disproportionately, with youth employment (people aged 15 to 24 years) falling by 103,000 in May, representing 45 per cent of the total jobs lost.
The underutilisation rate, which combines unemployment and underemployment rates, rose to a new record high of 20.2 per cent.
Monthly hours worked also fell by 0.7 per cent in May, to be down 10.2 per cent since March, with the April fall revised up to 9.5 per cent.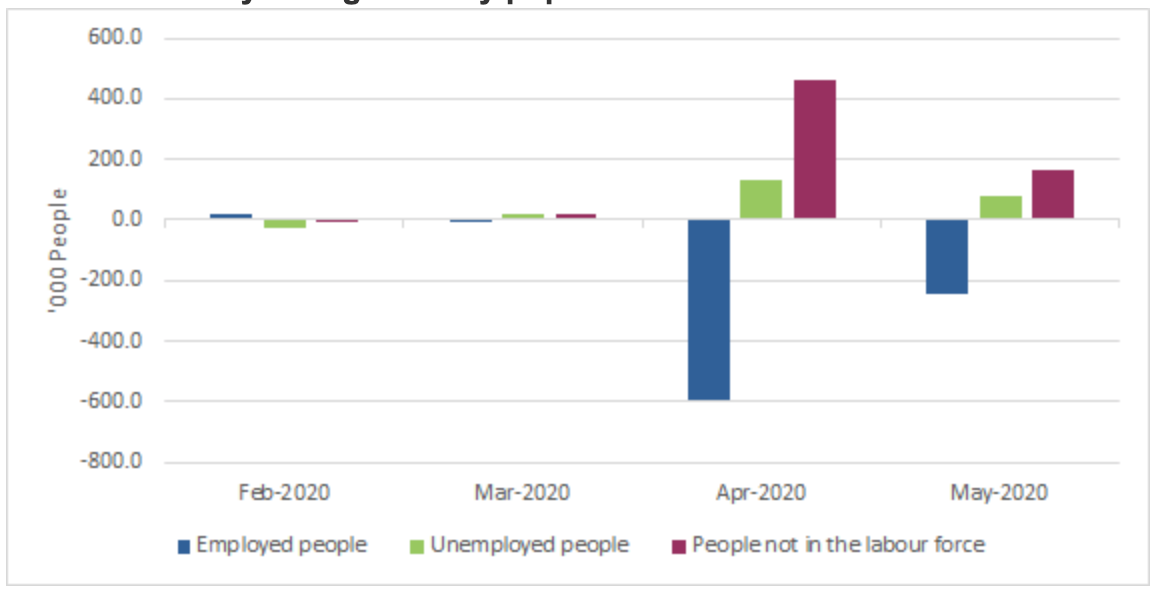 Chart: Monthly changes in key populations (via ABS)
Despite these dire statistics, Prime Minister Scott Morrison remains optimistic about Australia's future.
"I can see that ray of light, and I'm sure Australians can too, but we've got to keep moving towards it," PM Morrison said.
"We're looking at around two years to get the economy back to where it was before COVID hit it, and let's make no mistake, this recession is a product of the coronavirus pandemic.
"We estimate around two years to get back just to where we were when that happened and I believe over five years we can catch where we were planning to be."
Federal Treasurer Josh Frydenberg pointed toward some signs that an economic rebound is slowly emerging, citing how consumer confidence has regained 93 per cent of its lows, and business confidence regaining 70 per cent of its lows.
"We still have a very steep mountain to club, but as the Prime Minister said, we are working day and night to get Australians back into work," Frydenberg said.
Updated at 1:10pm AEST on 18 June 2020.
Get our daily business news
Sign up to our free email news updates.