A CHEAPER, stronger and more powerful electric wheelchair and a car that can be driven by head controls are among the inventions entrepreneur Scott Gordon is busy working to create.

Gordon (pictured), 36, a finalist in the Social Entrepreneur category of the 2016 Gold Coast Young Entrepreneur of the Year Awards, is a C3 quadriplegic and has used electric wheelchairs since he was 13, but says most are expensive and lack quality.

The engineering enthusiast, who wasn't able to study the subject at university due to his disability, has been inventing improvements to electric wheelchairs since he was 15, when he designed an improved head control, which was taken up by the manufacturer.

Gordon says today's electric wheelchairs lack quality for their price and believes his improved model can be sold for half the cost of a typical chair - $15,000-$$20,000.
"There is a fairly substantial mark-up on chairs at the moment - it should be illegal, and every chair I have ever owned has broken on me," he says.
To counter this, Gordon is using aerospace materials in his chassis and is using industrial gearboxes to enable his chair to drive up inclines of 15 degrees, whereas current wheelchairs need only ascend eight degree inclines.
"I want to be able to do a 15 degree include, and have 60Nm of torque. It will be more like a tractor. You need that torque to be able to pull. I want to be able to handle 120 kilograms, where a lot of wheelchairs have a limit of 100kg," says Gordon.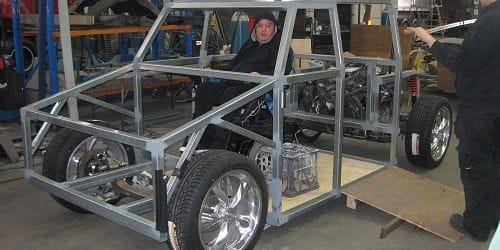 The former budget analyst at the South Australian Department of Education and Child Development is currently studying an occupational therapy degree at Southern Cross University.

He is focused on furthering his knowledge of assistive technology and so he can get a license to design his own products.

One of those is his custom-made vehicle for quadriplegics that can be driven by head controls, a project he has been working on for five years.
"I started from scratch," he says.

"A trucking company custom made the chassis with space for a Toyota Camry engine in the back. I can get in the driver's seat with my chair. I want to sell them for $60,000 at most, which is around half the price of a wheelchair accessible car."

As Gordon says, cars are far more expensive than wheelchairs.

"Currently, a wheelchair-accessible van, such as a VW Transporter, will cost $45,000 then $50,000 to make it accessible, and that is without the controls to get in the vehicle."

"It will also be a lighter and more compact than a VW Transporter they are a big van and a lot of people don't like driving it. It doesn't fit in car parks. The one I am building is the size of a Toyota Camry.

Gordon, who has been supported by various engineering firms and manufacturers, spoke at the 2015 Australian Occupational Therapy Conference and at the Asia Pacific Occupational Therapy Conference, where he says his work has been well received.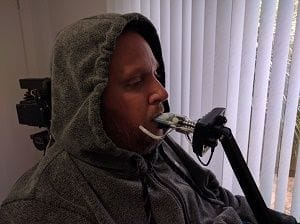 Help us deliver quality journalism to you.
As a free and independent news site providing daily updates
during a period of unprecedented challenges for businesses everywhere
we call on your support