Competitive online gaming platform Esports Mogul (ASX: ESH) has developed its first monetisation feature, a VIP subscription service which will help the company tap further into the global market of an estimated 2.2 billion gamers.
Esports Mogul allows players to compete in and organise gaming tournaments for many of the world's most popular online games including CS: GO, DOTA 2 and League of Legends.
Through the new VIP Service, players will be able to access exclusive tournaments, private e-sports leaderboards, extra awards for daily tournaments and, most attractively, vie for larger prize pools.
Esports Mogul managing director Gernot Abl says the company looks forward to releasing the finished product and attracting more punters to its platform.
"I am extremely pleased to announce to the market that Esports Mogul is ready to enter into monetisation through the VIP Subscription feature on Mogul Arena," says Abl.
"The additional offerings to users will not only entice registrations, but greatly increase the value of the platform."
The announcement of Esports Mogul's new VIP service comes just one day after the company rebranded its entire suite of gamer platforms from 'Mogul Arena' to simply 'Mogul'.
The company says the rebrand was essential considering it is now no longer solely a tournament platform.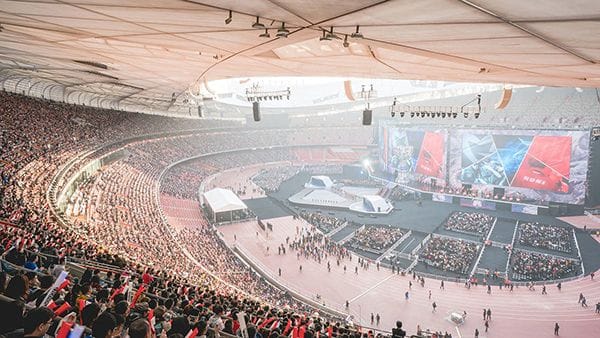 The 2017 League of Legends World Championships in Beijing
It is also now a news site and networking hub for the world's e-sports elite.
"This is a busy and thrilling time for Esports Mogul as we are expanding rapidly," says Abl.
"Rebranding to 'Mogul' will allow this to become the umbrella for our existing and new features to stand as independent products with more room for growth."
Esports Mogul has enjoyed a solid year of growth after it announced in January that it had partnered with League of Legends.
Some might call League of Legends the 'soccer' of e-sports, with 24 teams each year competing for its annual World Championship title and a top prize pool of more than US$5 million.
In June, it was reported that around 80 million active users play League of Legends each month, both competitively and socially.
The company also burst into the Latin American market in April when it partnered with Axeso5, one of the continent's largest online game publishers.
At the time, Mogul Arena rolled out across Axeso5's network of over 7000 cybercafés throughout Mexico, Brazil, Argentina and Colombia.
In 2017, the gaming market in South America was valued at $4.4 billion and accounted for 4.1 per cent of the global gaming market. Eports Mogul says its a sector brimming with potential, growing 13.9 per cent from 2016 to 2017 alone.
Never miss a news update, subscribe here. Follow us on Facebook, LinkedIn, Instagram and Twitter.
Business News Australia
Get our daily business news
Sign up to our free email news updates.