AT HOME he is known as Dad, while at work he is known as John - this is the reality for one father and daughter duo as they work together to create an Australian business empire.
And, it seems the working relationship is proving successful with John and Hannah Staples (pictured below) distributing their unique candle, diffuser and bath and body products to more than 400 stockists nation-wide, including all Myer stores in Australia and Farmers in New Zealand.
Launched in December 2014, Peppermint Grove Australia had just 30 products. Fifteen months on the offering has doubled with another 21 products in the pipeline.
Along the way, the Peppermint Grove Australia team has grown from a trio to staff of more than 25.
Hannah Staples says working with her father is easier than some might think, adding the majority of staff don't know the pair are related.
"At work it is John, it is not Dad and nothing personal is ever discussed at work," says Staples.
"He wouldn't work with anyone else in our family, both extended relatives and immediate family, but it just so happens that we have a very unique relationship that just works."
Peppermint Grove Australia products are handmade in the Southern Highlands of NSW and are targeting a gap in the Australian market for eloquent offerings.
Staples says she and her father wanted to develop products that focused on great fragrances, that were delivered in a piece of glassware that added to the aesthetics of a home.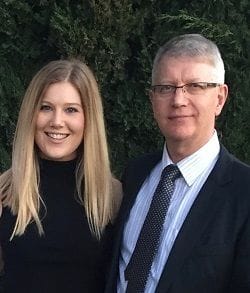 "I noticed that when I would buy a candle or a diffuser, I would actually end up hiding it behind a book or something in my home because it actually took away from the aesthetics of the home," she says.
"For us it was all about developing a piece of glassware that people would actually want to display and people would actually want to make as a feature of their home, not only because of the design elements but because of the fragrances too."
Staples attributes the interest shown in Peppermint Grove Australia by retail majors to the uniqueness of its product.
"We were shocked that after nine months Myer wanted to be part of our brand, but that was because they saw that we had something that was completely unique in the marketplace," says Staples.
"There are so many candle brands and home fragrance brands out there, but a lot of them just use the same vessels and they all end up looking the same.
"What we were able to do was just separate ourselves from the competition and, because of that, Myer wanted to support us.
"They saw the growth and potential and they wanted to be on board with a successful Australian brand."
Staples says the business plans to continue carving out a unique Australian brand before looking at export opportunities.
Get our daily business news
Sign up to our free email news updates.