MR WHIPPY is making a comeback on a tuk-tuk as Franchised Food Company increasingly looks to the theatrical side of food retail to lure a hotly contested customer.

Franchised Food Company is Australia's biggest multi-brand franchisor with more than 130 stores across six brands internationally.

None are more famous than soft serve Mr Whippy and, despite the competition heating up, founder Stan Gordon is determined to take the brand out of the freezer and return it to the streets.

After a 15-year absence, Gordon tells Business News Australia that Mr Whippy will relaunch in Melbourne as a low-cost tuk-tuk franchise before a fleet of 200 are rolled out across the nation..

"We are completely reinvigorating Mr Whippy and even going back to the original logo we bought from the London-born business in the 60s," says Gordon.

"It's a quirky vibe and we're coming back with Greensleeves recorded in jazz, rap and reggae versions.
"We're taking the man out of the van - my philosophy with retail now is we don't have barriers."
Gordon has a deep understanding of novelty, treat and fast food.

Despite his cool taste - Gordon runs around 10 per cent of the Australian ice cream industry - he steered clear when frozen yoghurt was all the rage.

He's also avoided getting involved in the pizza and burger wars of late.

Gordon says Franchised Food Company 'sells smiles', and if the product will only make a couple of people smile and isn't 'sugary naughtiness', it doesn't belong under the group's umbrella.

The South African-born businessman also doesn't like high Australian rental costs raining on his parade, hence the appeal of a moving tuk-tuk store.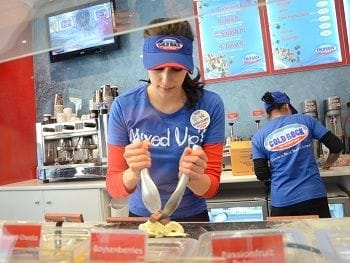 What's worked and set Gordon apart over the years is marrying food with theatre, something he learnt from an early career in advertising with Ogilvy & Mather where he was the youngest ever senior executive.

"The area I ran at Ogilvy was all about below the line advertising, campaign and product launches; all theatrical type of marketing," says Gordon.

"Anyone can serve a scoop of good ice cream, but not everyone can smash that ice cream on the table and turn it into something fantastic.
"Everything in retailing that I believe in is theatrical. People want to be entertained. Creating an experience is our strength."
With his hands dipped heavily in the coffee and ice cream markets, Gordon says he really doesn't know what the next 'it' category in food will be.

His expertise and location - Melbourne, the foodie capital of Australia - would quickly refer him in the right direction if there were any hints.

He tosses around the idea of milkshakes - 'not just flavoured milk, indulgent thickshakes' - but says it's hard to be sure what the Australian customer will really take to.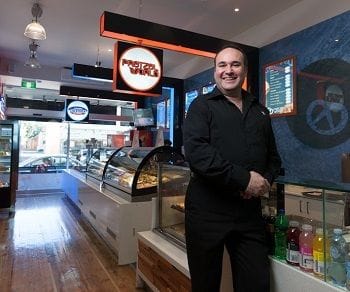 Gordon believes Australia is the most difficult market to crack, requiring almost a mass-market strategy, but new entrants are often a little too trigger-happy.

He made that mistake decades ago, overlooking the appeal of Four'N Twenty and launching a meat pie product, and in 2000 upon purchasing the failing Mr Whippy business and trying to revitalise the brand in 2010 with no luck.

"It's a very, very difficult market, and I don't think Australia is that big that we can afford to be too prescriptive here," he says.

"We have a sophisticated market of 24 million people, a very discerning customer, and massive differences in logistics with ridiculous labour wages and rentals.

"We're now seeing more than ever a number of international brands coming into Australia, and as quick as they come in, they fall over. You just have to look at the rise and fall of US brands like Krispy Kreme, Carl Juniors and Starbucks Coffee in Australia.
"I can say this because I lost everything here 20 years ago and really had to start again."
Gordon gives a top tip to those interested in business, especially those who are a little risk-averse.
"I think franchising is the way to go for someone who really wants to do it for themselves but doesn't have the expertise," he says.

"It gives you a system and we've found that when people swallow a system, it works.

"People who want to be entrepreneurs though, franchising just isn't for them."
Get our daily business news
Sign up to our free email news updates.