WHEN Eoin Daniels arrived in Australia with nothing but a suitcase, a working holiday visa and a passion for carpentry, he didn't expect that in just over a decade's time he would be running his own national company.
Around 13 years ago, Daniels was fresh off the plane from Ireland when he secured his first job in Sydney with a local carpentry and joinery team.
After falling in love with the country and the work he was doing, Daniels took a leap of faith to secure his residency and start his own company.
"After spending a couple of months in Australia I realised I really liked it here and applied for permanent residence," says Daniels.
"I always loved working in carpentry, working with my hands and seeing the finished product and at thetime I saw that there was definitely an opportunity to go out on my own."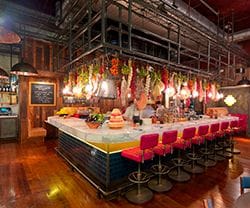 Armed with a laptop and the keys to a humble Sydney apartment, Daniels launched Top Knot Carpentry and Joinery on a shoestring.
In the years that followed, after a long haul of door-knocking, hand-shaking and deal-making, Daniels managed to build a solid base of clients.
Today, he operates a 300-strong team across New South Wales, Queensland and Victoria, boasting a high-profile portfolio of work including the Royal Randwick Racecourse, The Sydney Convention & Exhibition Centre and Darling Harbour's iconic Opera Bar.
Daniels largely credits the success of his company to the tireless efforts of his team, who continue to take the Top Knot brand from strength to strength.
"I always expected I would set up shop here and end up with a team of 10-15 guys and that would be my peak, whereas now we've ended up with a team of 300," says Daniels.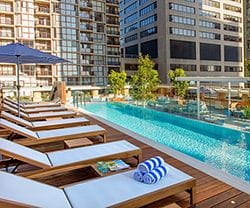 "I tried to do a lot of the management by myself up until about five years ago, but the more I was bringing good people on board, the more I could step off and take a good look at the business and the areas it needed improvement."
For Daniels, the biggest point of pride is seeing how significantly his company has developed since day one.
"To see the brand where it is now, becoming more of a household name particularly in NSW, it's the greatest achievement for me," he says.
"For something that has grown from just me sitting in asmall apartment with a laptop I couldn't use, to a 3000sqm office space and a factory with great workers, it's the best feeling."
Daniels won the 2016 Irish Australian 'Established Business' Award, which recognises outstanding achievement by a company older than five years with a turnover greater than $10 million in any sector.
See below: Top Knot's video in the Irish Australian Business Awards event.
Get our daily business news
Sign up to our free email news updates.