A DECADE ago I faced an important career decision which could have changed the course of my life.
Option one, pack our bags and head to Brisbane to head up Greencross as we finalised plans to list on the ASX. Option two, seek endorsement by a political party to run for State or Federal Government in the local Townsville area. Lisa, my wife, had our bags packed faster than the speed of light - and the rest is history for the Richards family.
As the double dissolution election looms, I reflect on what could have been.
CEO of a publicly listed company versus representing the local community as a politician. Both tough gigs - but at the end of the day - where I'd end up was probably a no-brainer.
A responsible CEO is held accountable by the public through institutional and retail investors generally every 6 months in line with half year and full year results. There's a saying that 'performance equals freedom'. A politician is held accountable to the electorate every three years, with an occasional roasting by a conscientious media contingent.
An ethical CEO must deliver on promises and build up, over many years, a reliable and credible reputation.
This is via company performance and the success in maximising shareholder value. Politicians seem to do the opposite, where time and again we see them over promise and under deliver. In their doorstop soundbites, there seems more time spent bagging the opposition than confirming their successes for the communities they serve.
A fiscally responsible CEO is 'paranoid' about managing the company's finances and ensuring growth in shareholder value. Any slippage on this front and the CEO will be offering up a letter that states 'due to personal reasons' they will be retiring from the company. What has changed in our political landscape that suggests it's ok to run up deficit after deficit and expect our children and grandchildren to pay for today's lack of fiscal discipline? Please give me a Treasurer and a Prime Minister in July who are willing to deal with this serious economic challenge with a sense of urgency.
A visionary CEO has to think five to ten years ahead in laying the foundations for a great company.
Politicians are fixated on a three-year journey as elections get in the way of laying long term plans. With such short termism, how can our politicians seriously consider nation-building initiatives and reforms?
An effective CEO develops a motivated and loyal management team to drive company performance and stakeholder engagement. This CEO is held accountable, by an esteemed group of directors, for delivering the company's business plan. As of late, politicians seem to have a massive target on their back, coming from both their own parties and the opposition. Despite the economic emergency, it's probably time to give the next elected Prime Minister room to lead, room to make the hard decisions and room to put the right platforms in place for the future security and prosperity of this great country.
Upon reflection, I have zero regrets about my career choice.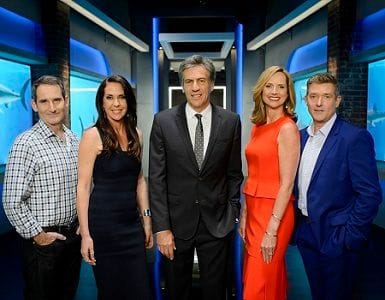 Dr Glen Richards joins resident Sharks Steve Baxter (internet pioneer), Janine Allis (Boost Juice), Andrew Banks (Talent2), and Naomi Simson (RedBalloon) for season two of the Network Ten series Shark Tank Australia. Follow 'From the Tank' - Business News Australia's Think Tank - for Richards' views on everything from private equity to IPOs and those unbelievable Shark Tank pitches.

Read about the much-loved tool Richards uses to navigate business, and his column from last week on what he's looking for on Shark Tank.
Get our daily business news
Sign up to our free email news updates.