Has Australian-founded social media network Tinybeans (ASX:TNY) found the sweet spot between keeping user data strictly private and also monetising it?
With 3.2 million registered users and expectations cash flow will start to break even by the end of this calendar year, the now US-headquartered company is starting to reap the rewards of the seeds sown upon its founding in 2012.
Whilst the company has 1.1 million monthly active users in more than 200 countries and territories, the bulk are in the US and this is likely to remain the case for at least a few years.
Tinybeans is about sharing family photos and tracking children's development milestones, but CEO and co-founder Eddie Geller (pictured) claims the business model has gone beyond its origins with a content platform and targeted branding that incorporates machine learning.
"We see ourselves to be much more of a family platform where you can access content, products and services based on the age and stage of your kid," Geller tells Business News Australia.
"We see that as being a sizeable business and you don't need a hundred million people for that - we could have five million super active users and we could be a $100 million business on our way to $1 billion."
In light of social media privacy concerns worldwide with Facebook in the firing line, the idea of tracking family photos with artificial intelligence would likely be raising eyebrows if it weren't for Tinybeans' promise from "day dot" that individual data would never be sold.
"The opportunity there and power there is aggregated up in millions of data points, so there's never one individual data point that is shared or even dozens that are ever shared," says Geller.
"The reason for it is we're dealing with the most precious memories of their [users'] lives, their kids' lives, so if they don't know it's going to be private and they can't trust us then we have no business.
"Companies approach us all the time [to sell data] and we decline that's not our business model. We were private before privacy on the web was an important thing - it's always been a part of the DNA and it's always going to be there."
This is not to say brands can't benefit from Tinybeans' data. In fact advertising accounted for more than three quarters of total revenue in the third quarter with 187 per cent growth, and that was before the official launch of the machine learning platform.
"The way we do advertising is brands come to us and they want to get to a certain target we'll work with them, we'll craft content, we'll craft messaging and then we'll add them to our platform and we'll message our user directly," says Geller.
"We're never sharing our user information with any advertiser it's always us targeting on our own platform and integrating them accordingly."
"This technology offers trends and insights that companies have never been able to access before. It's all about understanding how families are developing and how behaviours are developing in families and households."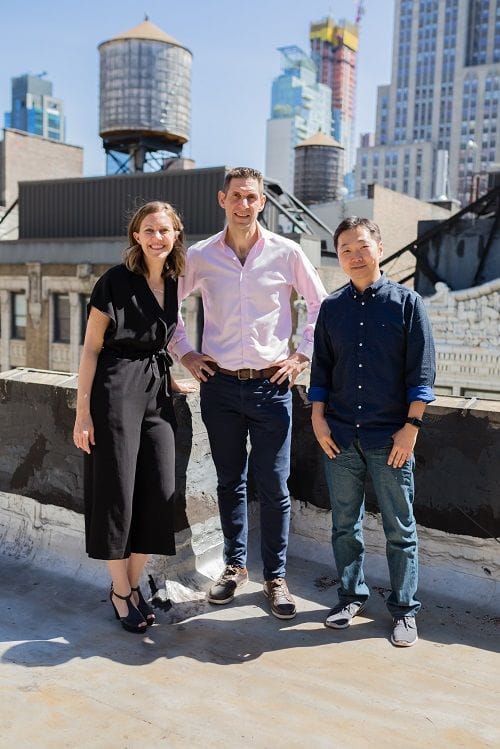 Tinybeans co-founders (L-R) Sarah-Jane Kurtini, Eddie Geller and Stephen O'Young.
The company's share price has more than doubled in the past 12 months, with spurts coming from a breakthrough advertising deal with Lego in mid-April which was almost immediately followed by strong third quarter results of close to $1 million in revenue.
Since then the machine learning platform has been released along with the platform becoming one of under 500 exclusive apps to be featured as "App of the Day" in Apple's App store, available in 76 countries including Australia, France and Brazil.
"We have invested heavily in our iOS app since we first launched in the App Store in 2012 and are incredibly proud that we have always maintained our 5 star rating," Geller said after the announcement.
"From the beginning we always knew the importance of privacy and designing a beautifully simple app that people around the world have come to adore.
"So being recognised as App of the Day is a special milestone that the Tinybeans team is really excited by."
So how, in the space of just over two years since listing, been able to build such a thriving business with a market cap of close to $40 million? After all, the service itself may not be too hard to imitate.
"There have definitely been lots of companies that have tried and continue to try to find and develop products in the space," says Geller.
"There are are a lot of niche photo sharing apps in the baby space, and the biggest issue they have is twofold and it's something we knew at the start of the company.
"Number one, it's fairly easy to launch a product or app for starters but it's much harder to build a sizeable audience that's engaged."
Geller says the second point is about having a commercially viable business model, and in in Tinybeans case there are multiple revenue streams including from consumers and brands.
As the company leaders are parents themselves, they are constantly considering what might be helpful to other parents and that guides their creativity and opportunities.
"There are many who have tried and failed because of not having the ability to grow revenues and make something sustainable," says Geller.
"If there are other competitors out there I think it's a good thing for the industry and it's a good thing for us - I'm a big believer of staying paranoid, being innovative and thinking beyond what we have today."
"Just because we're successful today it doesn't mean we're going to be successful in the future. Who knows what's going to come around the corner?"
So with a fast-growing business and a strong brand reputation, does Geller think large multinationals in the space could set about acquiring Tinybeans?
"I don't think we're there yet. I do think we're growing nicely and we're sort of under the radar those companies are significant and much bigger than us," he replies.
"When we're still a rock in their shoe I don't think we'll get much attention. We really want to build a phenomenally amazing business and I've always believed and building a great business and lots of people want to be a part of it.
"I've always been a believer that you never create something to be sold; you create something that is amazing that always people want to buy.
He says the founders have a big mission ahead and believes there "nothing out there that's doing the job we believe we can create".
"Hopefully we can build it with the patience, perseverance and grit that have got us here today," he says.
"You never know. Someone may come across in a few years' time and want to make us part of their business and it's too good to refuse, but it's not something we're planning and it's not something we're in active conversations with either."
Never miss a news update, subscribe here. Follow us on Facebook, LinkedIn, Instagram and Twitter.
Business News Australia
Get our daily business news
Sign up to our free email news updates.