Two Sydney-based dental entrepreneurs who sold their business to Smiles Inclusive (ASX: SIL) last year have lodged a claim against the embattled company over alleged non-payment.
Smiles' acquisition of Future Care Dental Group (FCDG) was part of a 2018 spending spree backed by an April IPO that saw the Gold Coast company expand its scope to 56 dental practices nationwide.
While these acquisitions were taking place, the company's financial results were deteriorating as various parties battled it out for control. After a cashflow update in October revealed disappointing performance, SIL shares started to plunge from 91 cents to around the 27-cent mark.
When founder Mike Timoney stepped down in February, SIL shares dropped again and lost half their value. When the group announced a last-ditch capital raise yesterday to execute its turnaround strategy, the offer price was just five cents.
---
---
Meanwhile Arthur Bushell (pictured) and Christian Perez of FCDG have been waiting on the sidelines. They sold the company to Smiles for $1.1 million in December but claim they are still owed $330,000; roughly the equivalent of the company's cash position as at 13 September.
"Yesterday we submitted a claim against Smiles for $330,000 in respect of a payment the Company defaulted on in April," says Bushell.
"Smiles shamelessly defaulted on a debt that it knew was due."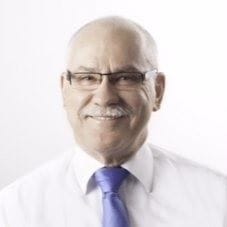 FCDG's letter of demand issued by Brisbane lawyers Holding Redlich alleges that in its clients view, Smiles CEO Tony McCormack has continued to draw a salary at FCDG's expense.
"It is clear, just like now, that back in April Smiles was heading for the rocks," says Perez.
"It had only $600k in cash at the end of March 2019, 3 weeks before Smiles was due to pay us. What's more the dental industry knows that April is a shocking month for sales due to Easter."
Bushell says Smiles has until tonight to reply before a "statutory demand will follow a 21-day process and winding up of Smiles thereafter if we are not paid in full".
"We lost out to the NAB [Smiles' primary banker which is owed $19 million] back in April. We are not prepared to lose out again. NAB and other debt holders clearly want their money back. So do we," says Bushell.
"Just like the dentists endured delayed pay cheques two weeks ago, we will not wait any longer for payment."
Perez says he and Bushell have "come to Brisbane to collect what belongs to us".
"We are done with being pushed around by local hot shot lawyers that have sought to intimidate," he says.
"If the Company wishes to run the gauntlet and take us on in a public forum, so be it. We look forward to Smiles CEO explain his way out of this one. He will have an audience."
In response, a spokesperson for Smiles says the FCDG claim is subject to a contractual dispute.
"The claimants have previously withdrawn a similar claim in acknowledgement that there is a genuine dispute," says the spokesperson.
Aggrieved Brisbane-based joint venture partner Arthur Walsh has also raised questions around the wording of Smiles' 3B Appendix that accompanied its capital raising announcement yesterday, stating "Morgans expects to underwrite".
"It looks like Morgans is hedging its bets, waiting to see share market reaction. But that's not what the rest of the other Smiles documents state - 'Fully underwritten' the Company states," says Walsh.
"Is it or not? Smiles needs to disclose asap. This is material price sensitive information."
"Unlike the grey suits in HQ, our entire livelihoods and the wellbeing of 200,000 patients and 50,000 kids are on the line. We will not stop until the extraction job is done and healthcare DNA is infused into Smiles heart and soul," adds Perth JVP John Camacho.
Never miss a news update, subscribe here. Follow us on Facebook, LinkedIn, Instagram and Twitter.
Business News Australia
Get our daily business news
Sign up to our free email news updates.