IT'S safe to say that every girl in Australia has once muttered the words 'I don't have anything to wear'.
In response to this conundrum, husband and wife duo Dean and Audrey Khaing-Jones co-founded GlamCorner - a clothing hire company that aims to be to Australia what the $650 million Rent The Runway business is to the US.
Founded in Sydney in 2012, GlamCorner is fast achieving its vision, with the business growing around 400 per cent in the past year.
Stocking more than 40 different leading brands, including Alex Perry, Zimmerman and Camilla, the business is evolving as the leading online destination for women searching for high-end gowns.
Audrey says the business evolved after she looked in her wardrobe and discovered she had nothing appropriate to wear to an upcoming event.
"I was thinking that it doesn't make sense that every time you have an event, you have to buy a new dress, so I wondered if there was anywhere that you could rent or recycle a dress," she says.
"I Googled around and found Rent The Runway in America, which is a big company, but in Australia there were not many companies that were offering the same service.
"We are now the leader in this field, with more than 800 dresses on stock and we are adding to that every week and will have more than 1000 in the next month or so."
Both Audrey and Dean entered the fierce world of fashion from the finance industry, and say although they didn't have any e-commerce experience, that has played in their favour.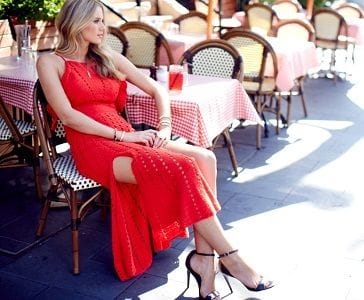 "It was interesting because neither of us had a background in fashion or e-commerce, but like anyone setting up a business, just because you don't have a background in that space it doesn't mean that you can't do it," says Dean.
"There were quite a bit of transferable skills - one of the key things for any early-stage business is to be across your finances. You can have a great idea but if the finances are not managed properly, businesses can sometimes burn out early.
"Being across the numbers and understanding the economics, which is fundamentally the DNA of any business to be able to support its viability, is important and was transferable from my previous job.
"Also, another transferable skill was not just understanding the building blocks of the business, but understanding how to finance future growth strategies. Once you see a business that has huge potential, you ask yourself what sort of capital is needed to actually give it some real scale."
Customers are able to jump on the GlamCorner website and filter dresses by event date, certain kind of dress or by price.
Dean describes it as 'e-commerce meets hotel bookings'.
"Typically customers will find a dress they like, take a look at the booking calendar and see if there is a booking slot available for the size they are after and then they can book it and we ship it direct to them," he says.
"We even deliver to the outback. We have customers on Army bases in the outback who have a lot of formal dinners with their husbands but there isn't exactly any designer boutique stores in the outback where these remote Army bases are. Everywhere Australia Post delivers, we deliver."
The online service for designer fashion rents dresses at 10-15 per cent of the retail price of the clothing.
In April last year, the company secured its first round of seed funding from AirTree Ventures, the third Australian business to do so after DesignCrowd and Pawshake. The $500,000 helped the business more than triple its size.
Get our daily business news
Sign up to our free email news updates.