TODAY we reveal the "best of the best" in our Top 40 under 40 Young Entrepreneurs Gold Coast with our top 5 emerging business leaders who are changing and disrupting their respective industries in Australia and overseas.

These top 5 entrepreneurs have taken the world by storm with bespoke wedding dresses exported to 65 countries, sold their haircare and beauty business to a UK giant for "multi-millions", developed one of the most recognisable health product brands in Australia and include a pair of early 20-somethings who've embrace social media to develop their own multi-million dollar teeth whitening business.
Over the past week we've revealed our Top 40 under 40 Young Entrepreneurs Gold Coast who represent some of Australia's most inspiring young business people and highlight the diversity of ideas which have driven their successful entreprises.
Our top 40 entrepreneurs and business leaders under the age of 40 have all built a thriving business, delivered innovation, led social change or have an idea that will change lives.
These young entrepreneurs are the game changers of modern business. We've already revealed our top 6 to 10, our 11 to 20, our 21 to 30 and our top 31 to 40.

Next, we'll turn our attention to our Top 40 under 40 Young Entrepreneurs in Sydney, Melbourne and Adelaide.

Time to meet our Gold Coast Top 5.
1. Megan Ziems (32)
Grace Loves Lace
The highly awarded wedding dress disruptor and Gold Coast Young Entrepreneur of the Year came up with the idea of owning her own business after failing to find the perfect dress for her special day.
Uninspired by traditional, repetitive and lackluster designs, Ziems saw an opportunity to showcase her designs to the woman not 'the bride' and Grace Loves Lace was born.
In 2016 one of Grace Loves Lace's iconic designs, the Hollie 2.0 dress, was 'pinned' on Pinterest more than 2.5 million times, making it the most pinned dress of the year.
The e-commerce business delivers to over 65 countries annually with products available exclusively online and through showrooms in Burleigh Heads, Venice Beach California and Shoreditch London.
"Our first European Showroom in London opened April 2017 and as a result of a combination of customer demand, market research and keen interest from the UK Government," said Ziems.
"We engaged PR companies in London, LA, and Sydney to assist in our growth into our international markets including the appointment of bilingual stylists."
"International headlines have spread our brand message to a broader audience than we could ever reach on our own."
Collaborations with leading brands in the wedding, beauty, and jewelry scene including US cosmetic brand Too Faced, have also contributed to the brand's success.
"We have had multiple collaborations with venues, photographers, models, influencer, florists and fashion brands," said Ziems.
2. Brad Carr (32)
Ry.com.au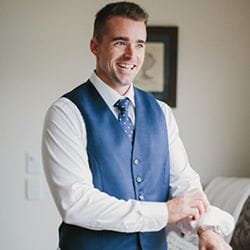 Brad Carr achieved the entrepreneurs' ultimate end goal when he sold his successful haircare and beauty product business to UK retail giant The Hut Group in August this year.
Carr says Ry.com.au has always been an ambitious business "dominating the world one shampoo bottle at a time", so to sell it off to a major company which promised to maintain its core values was an extraordinary coup.
Alongside co-founder James Patten, Carr built the business 12 years ago from nothing.

"What people probably don't realise is that in the early years we did it pretty tough. We operated out of tiny little home office in Southport and literally worked off a tumble dryer so we really started small but each year we made progress," Carr says.
"We had a lot of hurdles to jump over and a lot of businesses have to do this, and yes the early days were tough but we battled through and here we are now.

"The sale really was 12 years in the making and there was a lot of hard work building the business up and I guess all along the long term vision was to sell it off.

"It became a multi-million dollar business and it received the attention of one of the biggest players in the market so really it was the perfect exit for us."

As for the future, Carr says he has no immediate plans to start a new venture an is happy just to "kick back" and enjoy life for a while.

"I'm happy just to take it easy, have a few beers and just enjoy what's been achieved. I think it's important to do that to fully appreciate all the hard work that's gone into this.

"I've got nothing in the works at the moment but that's fine. It may well change in the future but right now I'm going to kick back and just enjoy."

He says the future of the Ry.com.au brand is bright and he expects the acquisition will maintain, if not significantly boost, the company's current 30-50 per cent year-on-year growth margin.

In 2016, Ry.com.au made the Gold Coast Top Companies list following the landmark opening of its first bricks-and-mortar stores on the Gold Coast.

For the past two years, Brad Carr has taken out the Retail and Services award at the Gold Coast Young Entrepreneur Awards.
3. Dwayne Martens (32)
Amazonia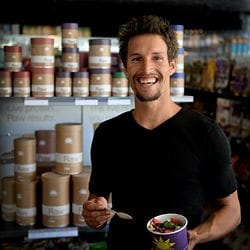 There's no question that Amazonia is one of the most recognizable health product brands in the country.
As its director, Dwayne Martens steers the company to produce and sell a range of raw and organic food products including proteins, smoothie packs and medicines.
What started as $3,000 in Dwayne's pocket is now a multi-national empire which sources one of its best-known ingredients, Acai berries, from the heart of the Amazon.
"We've set ourselves up as a global company, we are going straight to the source with key ingredients," says Martens.
"Acai opens up the market for us, we go in with one key product and then we manufacture at the source."
Not only does Amazonia distribute to hospitality venues and health food stores around the world, it also stocks pharmacies Terry White Chemmart and Chemist Warehouse with its signature health supplements and Raw ranges.
Martens says 2017 was a key cross-step for the business, a year of preparation leading up to the launch of Amazonia's brand new website and app.
"Revamping the whole back end of the business is what we've been focused on in the past year or so," he says.
"It's going to be a big summer ahead for the Raw range especially, as we are on the other side of setting up those systems."
Recently Amazonia opened its first office in Europe and is now distributing to more countries including the United Arab Emirates, Kuwait and Saudi Arabia.
In the past year Amazonia also brought on pro surfer Sally Fitzgibbons as its ambassador.
4. Nick Ray (36)
One Sector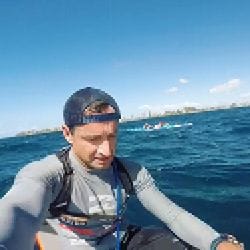 ONE Sector is a familiar name to those who live on the Gold Coast.
The group is one of the city's leading commercial and industrial building companies, growing faster and larger every year, and has completed over 150 projects since Nick Ray founded the company in 2008.
However, it wasn't until 2017 that Ray really felt his work really being acknowledged.
"I think we got to a point where I decided at the start of this year that we'd become a recognised company," says Ray.
"I wanted to show up and give back and be part of the community. And as the market keeps growing, being part of One Sector is going to be important, not just an outsider."
In addition to donating money and time to Men Of Business, a Gold Coast charity that mentors young men going through various struggles in their life, Ray has established One Sector Community soon to be a registered not-for-profit which helps raise money for Cystic Fibrosis.
One of Ray's passion projects at One Sector is the development of some Gold Coast 'man caves'.
Fitting in the gap between industrial warehouse space and smaller storage areas for those without the land for a shed, Ray's 'man caves' are perfect for those looking to store cars and follow a hobby without worrying about security.
"A couple of years ago I saw this gap in the market for affordable storage space," says Ray.
"There's a big gap between what an industrial warehouse was costing and what I thought I could build these smaller spaces. I put these units on the market, and the first project sold out in under six months."
5. Nik Mirkovic (22) & Alex Tomic (24)
HiSmile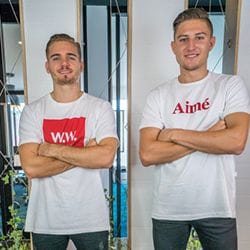 It all started with a modest $20,000 they managed to scrape together doing part-time and temporary jobs, and Nik Mirkovic and Alex Tomic are at the helm of arguably the fastest growing teeth whitening company in the world.
Mirkovic and Tomic, aged 22 and 23 respectively, are as much social media marketers as they are retailers and their strategy of staying ahead of the curve on digital has delivered an exponential growth in sales which they say they're struggling to keep up with.
"Facebook and Instagram have been pivotal in driving rapid business growth. Our marketing strategy began on Instagram through visuals and an influencer strategy as part of this," Mirkovic says.
"Facebook and Instagram work for us as they allow us to tailor our marketing strategy, reach the right audience and use visuals which really help to sell the brand."
"To survive in the current e-tailer market place, it is critical to have your business evolve with the times and ensure you're always abreast of what's coming next," says Mirkovic.
"It is also important to identify how and why these digital platforms have evolved in the way they have to be able to recognise how you can best capitalise from these developments."
Mirkovic and Tomic created the product itself which incorporates bi-carbonate paste with an application mouthguard and an attached ultra-violet light.
It promises whiter teeth in 10 minutes and a basic kit starts from $79.99.

Help us deliver quality journalism to you.
As a free and independent news site providing daily updates
during a period of unprecedented challenges for businesses everywhere
we call on your support