THIS week, we'll be revealing our Top 40 under 40 Young Entrepreneurs Gold Coast, who represent some of Australia's most inspiring young business people from a variety of industries.
Our top 40 entrepreneurs and business leaders under the age of 40 have all built a thriving business, delivered innovation, led social change or have an idea that will change lives.
Today it's our top 21 to 30 and these entrepreneurs are changing their respective industries in IT, recruitment, accounting, financial advice, real estate, physiotherapy along with one of the new breed of influencers.
Each day we'll introduce you to a batch of young entrepreneurs who are the game changers of modern business. We've already revealed out top 31 to 40, and tomorrow it'll be the top 11 to 20.
21. Adam Boote (34)
Local Web Experts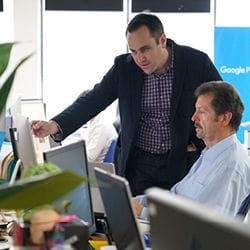 After some career hopping, which saw him move to London to work for a NASDAQ listed digital agency, Adam Boote finally found his true calling.
"I excel in digital advertising and I knew I had found something that I was really passionate about," says Boote, founder of Local Web Experts, "I knew that online advertising was going to be "my thing" for a lot of years to come."
Local Web Experts is a full-service digital marketing agency helping businesses acquire and retain new customers via conversion-driven, strategic digital marketing campaigns.
The group offers innovative, digital products and solutions, combined with the benefits that come from being a Google Premier Agency, to drive sales and customers to clients.
Recently, the company has white-labelled its products, allowing other companies like web designers to offer Local Web Expert services to their clients. Boote hopes to take the white label product national in the next 12 months.
22. Simon Livingstone (31) & Kris Simmons (33)
Simmons Livingstone & Associates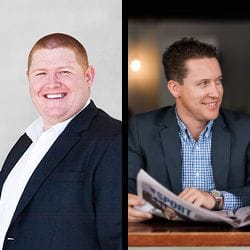 Simon Livingstone and Kris Simmons, directors of accounting firm Simmons Livingstone & Associates, have expanded and grown their company into a solid standalone practice.
Since taking out the Gold Coast Young Entrepreneur Professional Services category in 2016, Simmons Livingstone & Associates has diversified into financial planning and insurance.
In the last financial year, the company has experienced growth of 39.5 percent which Simmons says comes from being a one-stop-shop where all clients are treated equally.
"One of the biggest mistakes in the industry is focusing on key clients," he said.
"Whether we're looking after a Mum and Dad's tax return or working on a $100 million business the service and attention to detail is the same," said Simmons.
The duo's unique business model is designed to support clients from the initial start-up phase through to succession planning for retirement.
23. Jesse Phillips (26)
Crest Wealth, Crest Lending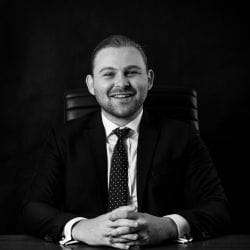 Jesse Phillips is seeking to make financial advice more accessible to 80 percent of the Australian population who go it alone.
Since starting his wealth and lending businesses in 2013, Phillips has experienced incredible growth with the wealth business increasing by 300% and the lending side increasing by 75% on the year prior.
"Our business has implemented a unique advice model that differs from 90 percent of all other advisory firms in the market today," said Phillips.
"This allows us to steer clear of some of the issues associated with most financial planning businesses like low-profit margins, administrative burdens, and ineficiencies," he said.
Despite the existing business database containing high net-worth individuals, Phillips is working on an advice model that is more accessible to the broader community.
"This will come by way of reducing our costs to serve the client (fees), and building trust through results," said Phillips.
24. Brad Beer (36)
Pogo Physio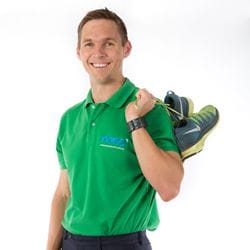 Where other business owners might fear defying their industry, Brad Beer of Pogo Physio is relishing the opportunity to become a disruptor.
Traditionally physiotherapists operate on a session-by-session basis, but in the last 18 months Beer has launched an Australian-first unlimited access subscription service which is flexibly designed depending on the patient's diagnosis.
"It may not make sense commercially at a first glance, but for me as a business person I'm thrilled when people get more than what they pay for," says Beer.
"All I want is to be able to say the magical words 'you have finished your rehabilitation, and you are back at your physical best'."
Beer says the uptake of his Finish Line subscription service has been phenomenal, and in just two years Pogo's complete 'physical best' rehabilitation rate has jumped from 34 per cent (industry standard) to 69 per cent.
In 2018 Beer will continue to roll out his Finish Line service and is looking to open fully fledged practices in Sydney, Newcastle and Brisbane.
25. Sophie Guidolin
Sophie Guidolin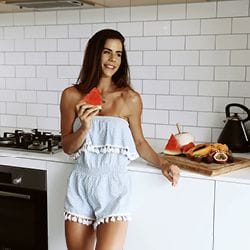 Influencer and model Sophie Guidolin is not only the brains behind her successful online health and fitness brand, she is also the face of it.
Guidolin initially struggled to lose weight and regain a healthy approach to life after gaining 30 kilos during her first two pregnancies.
Getting back to square one was a life-changing experience for Guidolin, one which she now passes onto her loyal followers on a daily basis.
Guidolin has amassed 356,000 followers on Instagram and more than 340,000 page likes on Facebook where she shares recipe and workout insights from her 12-week program and 'Macros' cookbook.
26. Mat Ralston (39)
GC Suspension Steering and Brakes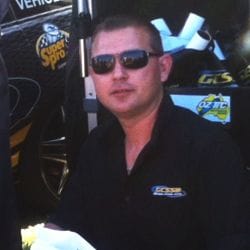 Mat Ralston started GC Suspension Steering and Brakes in 2008 and has seen it grow considerably since then.
GC Suspension Steering and Brakes is a comprehensive solutions company for automotive customers providing a one stop outlet for all vehicle requirements from general maintenance through to custom and performance applications.
Ralston says he started the company to give something to customers that wasn't on the market.
"I've always been in the motor industry and wanted to start a company that listens to customers concerns and addresses them rather than just following the book," says Ralston.
"We look outside the box and provide solutions to customers' wants and needs."
27. Luke Vaughan (29)
Crown Realty International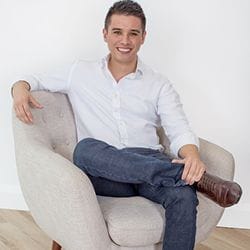 When Luke Vaughan saw how poorly real estate agents perform in trust index surveys, he wasn't satisfied with letting it slide.
With Crown Realty International, Vaughan set out to change the perception of his industry, and wanted to give his customers a memorable experience.
He achieves this by ensuring his employees go above and beyond the low barriers of entry typically associated with real estate agents.
All agents at Crown Realty are trained in financial planning and economics, which Vaughn believes differentiates himself from the numerous real estate agencies on the Gold Coast. For a four year old company, Crown Realty has grown exponentially.
The group is hoping to move into the South East Asian market, specifically Vietnam, to tap the growing middle class who will soon be looking to buy pristine Gold Coast property.
28. Jack Corbett (26) & Ryan Tuckwood (35)
ISR Training & Recruitment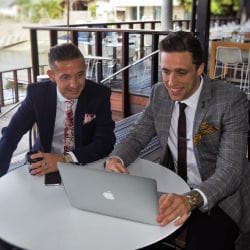 Before starting ISR Training & Recruitment, Jack Corbett was a call centre manager and Ryan Tuckwood was an engineer. The two say they started the business out of frustration more than anything else.
"We both knew how difficult it was to both obtain and retain high quality staff in sales and telemarketing, which is one of the most transient industries there is," says Corbett.
With ISR, the two have found a solution and that solution is with training.
ISR Training & Recruitment is a private not-for-profit firm that has re-invented the way the recruitment process is completed. All employees are recruited through a process called the ISR Academy, which offers the employee online training courses in their chosen field, a support agent to assist them, and mentoring sessions.
Over the year since ISR featured in the 2016 list, ISR has been making plans to expand nationally and have continued improving their unique not-for profit firm.
"From the very start we wanted to get more people into work, not generate massive amounts of revenue to go in our pockets," says Corbett.
29. Bernard Mangelsdorf (31) & Kane Sajdak (29)
BITS Technology Group, BITS Wireless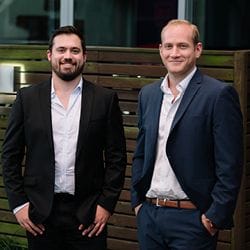 If you want a full-service IT team, but don't necessarily want to part with the cash to hire one in-house, Bernard Mangelsdorf and Kane Sajdak are the guys to speak to.
Mangelsdorf and Sajdak's business BITS Technology is a managed IT services and IT consulting firm, it does everything that a regular on-site IT team does at a fraction of the price.
"We do everything from IT strategy to day-to-day support," says Sajdak.
The duo's clients include ASX-listed giants G8 Education and National Vet Care as well as private company Maven Dental Group.
In the last year business has boomed and Sajdak says a touch of personality and class is all part of the BITS offering.
"We are not the team of traditional IT guys, we are all approachable and not basement-dwelling super nerds," he says.
"We employ people who want to talk about business. There is more to life than just sitting in front of a screen all day."
30. Daniel Herr (31)
Tech Help Direct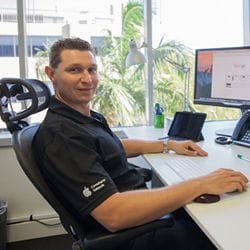 In the early days he was "besotted with the simplicity and sophistication" of Apple technology, then he became a Mac 'Genius', and now Daniel Herr is the entrepreneur behind one of Australia's leading Apple systems ICT service providers.
Tech Help Direct offers an array of Apple-based services including networking, mobile device management and point of sale tech to support government, education and corporate clients as well as individuals.
Daniel has grown the company from servicing 30 clients in 2011 to more than 2,200 managed and ad hoc clients in 2017, including Goodstart Early Learning, TAFE East Coast, Gold Coast City Council, BAM BAM and Ugg Australian-made.
A major highlight came when Tech Help Direct achieved official Apple Consultants Network status and earned the business of enterprise level clients.
Tech Help Direct has deployed more than 3,500 devices for Goodstart Early Learning alone, and Herr is looking forward to growing the business further in the year ahead.

Get our daily business news
Sign up to our free email news updates.