WE'VE BEEN revealing our Top 40 under 40 Young Entrepreneurs Gold Coast over the past week, and today it's our top 6 to10.
These tech-savvy entrepreneurs put on display exactly what makes the Gold Coast a fantastic place. They are broadcasting to an audience of millions and designing incredible clothes at the same time. They are streamlining access to the world class facilities and venues around the world, building the infrastructure which keeps the Coast ticking, and attracting prestige clients into beautiful, luxury homes. All of these entrepreneurs are global players, and their expertise with technology has allowed them to innovate and disrupt their pre-existing fields.
Our top 40 entrepreneurs and business leaders under the age of 40 have all built a thriving business, delivered innovation, led social change or have an idea that will change lives.
Each day we'll introduce you to a batch of young entrepreneurs who are the game changers of modern business. We've already revealed our top 11 to 20, our 21 to 30 and our top 31 to 40. Tomorrow, the top 1 to 5.
6. James Greig (34)
Ivvy, Bloomtools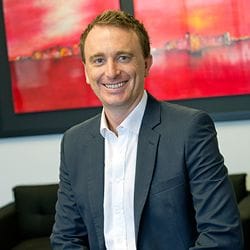 Many might know James Grieg as the owner of Bloomtools, but it is his other company, iVvy, which has landed him in the 40 under 40 list.
iVvy was started with Grieg's partner, Lauren, and is the world's first online booking platform for venues.
The two spent eight years building the software which allows venues to see live availabilities, and allows event organisers to make instant bookers.
Recently, iVvy opened offices in New York City and South Africa, and the group hopes to continue expanding in those markets.
The group is currently focused on its partnerships with large companies like Flight Centre, Dimmi, and MPower.
In an exclusive partnership with Flight Centre, the live corporate meetings management platform will streamline the entire meetings planning process, providing complete visibility over spend and saving significant time for planners and procurement managers alike.
There are no limits to the type or size of meeting that can be booked on the platform, from a corporate cocktail function or an intimate board meeting, to a multimillion dollar exhibition for thousands all with a simple click.
7. Tammy Hembrow (23)
Tammy Hembrow Fitness, Saski Collection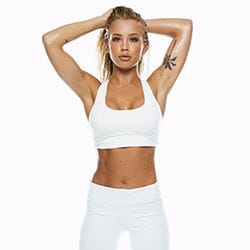 The young mum has partnered with some of the biggest celebrities in the world including Khloe Kardashian thanks to her 7.3 million followers on Instagram and close to one million subscribers on Youtube in less than five years.
With the celebrity exposure and support of her fans, Hembrow has created a health & fitness empire which now includes a clothing line.
"Three months ago we launched my fitness clothing brand Saski Collection which is a luxury athleisure label created to inspire confidence in women inside and outside of the gym," said Hembrow.
"Since launching, we have had to get a second warehouse to hold more stock as we have not been able to keep up with demand," said Hembrow.
"We are currently working on inventory strategies to address this problem," she said.
The Saski Collection is cross-promoted through the Tammy Hembrow Fitness community to help build the new brands awareness online.
The only direction for Tammy is the blue skies, as she transforms success on social media into a fitness and fashion empire.
8. John Ramsden (39)
Ramsden Lawyers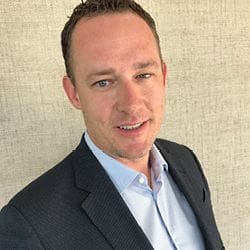 The founder of one of the Gold Coasts largest law firm has set his sights on expanding into other regional and metropolitan markets.
Since 2003, John Ramsden's legal practice has evolved from a commercial and property law firm to a full-service law firm covering areas of corporate, business, litigation, property and family law.
The lawyer prides his firm on being born and bred on the Gold Coast.
"We pride ourselves on the fact we are born and bred here but realise there is a limit to future growth given the size of the Gold Coast market where it is easy for law firms to be conflicted for acting parties." ," said Ramsden.
"It's why we intend to expand to other markets with the same style practice we have now," he said.
When questioned on his strategy to deliver a competitive edge, Ramsay says their investment in technology offers a more effective delivery of their services.
"Our clients are generally from a younger demographic where electronic and digital platforms are key to adapting to the style of how business is evolving," he said.
9. Sam Fairless (29)
LEAD Consultants, LEAD Design Group, INCON, Expert Planning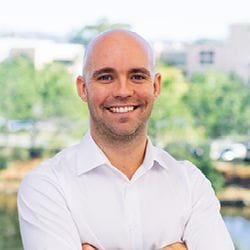 Lead consultants was born in 2012 when Sam Fairless, its fearless founder, was just 25 years old.
After working alone for 18 the project management company finally brought on its first employee. Fairless now has 10 full-time staff, all under the age of 35.
"We have a very energetic young team, made up of what I believe are some of the best young talents in the industry," says Fairless.
Because of the youth of the team, Fairless says this allows them to experiment with new technologies to not only increase their efficiency but also to offer clients better value for money.
"We have fortnightly meetings where the team discusses innovation and allows everyone to have a creative approach to their work," says Fairless.
"I believe, no matter what your role is in a business, you should always have a voice when it comes to doing things better and being innovative."
10. Michael Kollosche (39) & Jordan Williams (38)
Kollosche Prestige Agents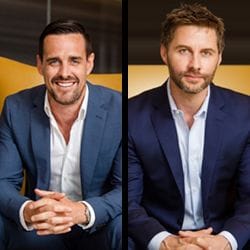 Jordan Williams and Michael Kollosche fill a gap that they say no one else fills true prestige property.
"We offer a prestige service to our clients and the market," says Williams. "We believe in quality not quantity. There's no agency out there that is just focused on high-end product. We focus on the upper echelon of prestige real estate on the Gold Coast.
Focusing on the top of the market means Williams and Kollosche have carved out a reputation for themselves as the dealers of luxury homes on the Gold Coast.
"We get so many enquiries, and have to call them back and say 'sorry we don't focus on that price point," says Williams.
It's not just quality homes you'll find at Kollosche Prestige Agents its quality real estate agents too. The group only hires fully licenced real estate agents with a minimum of 10,000 hours in the industry.

Help us deliver quality journalism to you.
As a free and independent news site providing daily updates
during a period of unprecedented challenges for businesses everywhere
we call on your support